cool! ! Wake border to jump over sightseeing water bus! !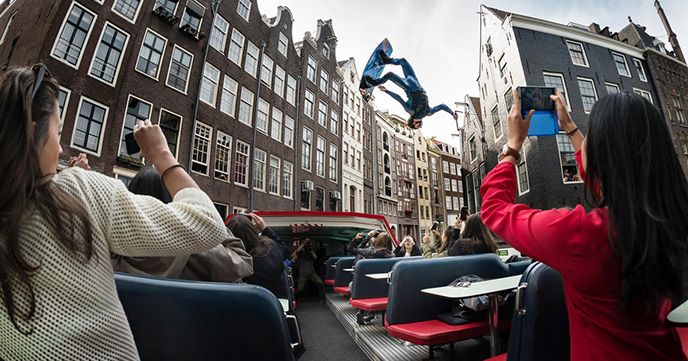 The Netherlands is a water bus that runs on the canal of Amsterdam. It is very popular with tourists as it can cruise while watching the city of Amsterdam with open air. What a wake border passing over that water bus! !

This is Redbull's plan, the rider is the Dutch wake border "Mark Kroon". When I watch a video, I ride the canal of Amsterdam all over and down and decide the big air over the water bus over the last.

Naturally applauding, if you are such a cool surprise tourists are also happy. I wish I could do this event in Japan. I have thought Nante. No, I do not have a wakeboard this year ~.
▼

Wakeboarding popular plan

プランID:6404
Rapport Marin Shonan (Lapole Marine shonan)
7,000

yen~

​ ​(tax included)
Wake surfing experience. Up to "four" is composed of a "small group" of participants, leading to the road to more progress! While enjoying Shonan of the sea along with his friends and family and enjoy the surfing experience! Fun memories also surely be yours! ※ It is also possible to perform the wake board together. Since there is a need for preparation, please tell us at the time of booking without fail. ※ The photograph we are on both wakeboarding wake surfing.

プランID:10936
Kouri Oceanside
4,000

yen~

​ ​(tax included)
The wake board is a popular water activity pulling the board like a water ski. The friendly staff at Kouri Oceanside will be happy to teach the straightforward tips even for beginners. Why not enjoy a wakeboard in the beautiful Kouri Island.

5,000

yen~

​ ​(tax included)
First person I would like to wake board experience! ! In the first one limited, we offer a beginner experience course that can be fun and experience of the wake board itself. Since the necessary tools, such as board and life jackets will be free rental, come in peace please.

プランID:2299
静山荘ボート・Rio de Emocion
6,000

yen~

​ ​(tax included)
Very happy of course that plus one more round in the normal course!

プランID:12419
Okumanabi - Okuma Navi -
29,000

yen~

​ ​(tax included)
せっかくだから、ボートチャーターして、とことんウェイクボードをたのしんでみませんか? 沖縄の海を遊びたおす圧倒的なおもしろさ。 仲間同士、家族旅行にぜひご利用ください。
At Activity Japan
Nationwide variety of activities
You can book and experience