Feel the breath of magnificent nature and history
Fujikawa/Minobu Expressway
romantic route
The Fujikawa-Minobu Road Romantic Route, which is full of nature, is full of highlights!
Through activity experiences and meals of local specialties,
Enjoy your stay in the Fujikawa basin area!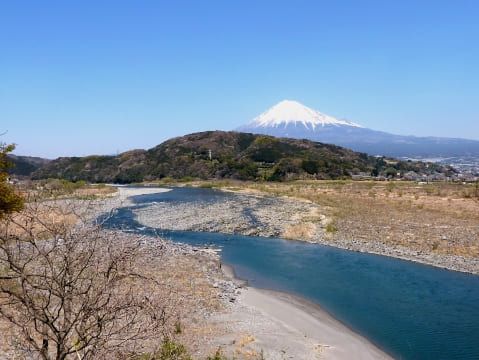 Fujikawa/Minobu Road Romantic Route
Fuji City, Shizuoka Prefecture
Fujinomiya City
Nanbu Town, Yamanashi Prefecture
Minobu Town
Known as one of Japan's three major torrents, the 128km-long river originates in the Southern Alps, flows through Yamanashi, Nagano, and Shizuoka and empties into Suruga Bay. For more than 300 years until the early Showa period, it was a major transportation route connecting Suruga Province (Shizuoka) and Kai Province (Yamanashi).
On the other hand, the road along the river is also a road for Minobu pilgrimage, where many believers visit the head temple, as Nichiren Saint Nichiren founded Mt.
Fuji City in Shizuoka Prefecture, Fujinomiya City, Nanbu Town in Yamanashi Prefecture, and Minobu Town in the Fuji River basin have worked together to create the charm of this area hidden behind Mt. Fuji. I would like to spread the word and have many people visit.
Access to Fujikawa
Access: JR Minobu Line "Fuji Station - Minobu Station"
Please use your favorite station according to the facility you want to see.
※"Limited Express Fujikawa" is in service from Kofu Station and Shizuoka Station.
*Rental bicycles are available at Michi-no-Eki Fujikawa Rakuza, which is attached to the Tomei Expressway Fujikawa Service Area (Inbound Line).
Recommend Movie
Sightseeing video introduction
"Fujikawa/Minobu Road Romantic Route" concept movie
Fuji/Fujinomiya area concept movie
Feature
Recommended sightseeing spots
Recommend Activity
Recommended activities
Recommended picture spots