Activity Japan editorial department
On this page Summer trip to Kyoto "It will make your memories of sightseeing walks even more photogenic. Yukata rental We will thoroughly introduce popular plans and recommended kimono rental shop information. Focusing on shops in popular areas such as Gion, Kawaramachi, and around Kyoto Station Supports a wide range of needs such as the cheapest plan, plan including hair set, plan that can accept last minute reservations such as the day and the day before We are introducing a lot of yukata rental plans that you can do. Let's leave a stylish and cute SNS / Instagram photo of your trip to Kyoto with "Yukata Rental", a Japanese culture experience that is recommended not only for couples and girls traveling, but also for families, children, and men's groups.
Kyoto Yukata Rental Plan Reservation Reference Data
The charm of Kyoto Yukata rental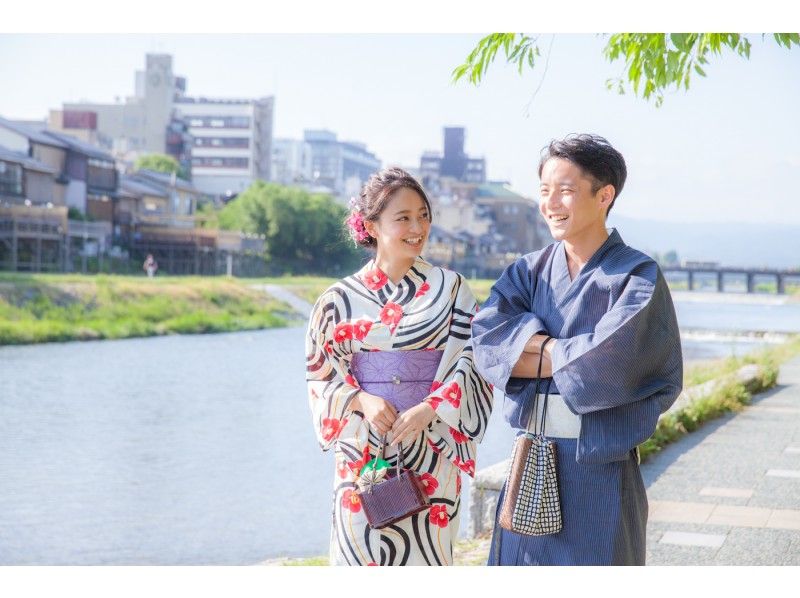 Gion, Kawaramachi, Kiyomizu-dera, Yahan Shrine, Noryo Yuka (Kawadoko) along the Kamo River, etc. Kimono suits the streets of Kyoto, which retains the scenery of good old Japan. ..
In Kyoto travel sightseeing walks, not only fireworks festivals and festival fairs, but also Use yukata rental as fashion in every summer scene The number of people who are being asked is increasing rapidly.
First of all, for tourists and travelers visiting Kyoto in the summer Why Yukata Rental Is Popular Will be unraveled point by point.
Cheap, cute, and abundant types!
One of the reasons why Kyoto Yukata rental is so popular is Easily transform into a full-fledged yukata at a reasonable price There is something you can do.
Choose your favorite design from a wide variety of colors and patterns such as yukata, obi, hair ornaments, and Japanese bags, and enjoy the glossy and cool summer outfit.
Kyoto Yukata Rental Popular Plan
Review / word-of-mouth experience
Ideal for couples, girls traveling, and adults walking around Kyoto!
The yukata rental plan in Kyoto has become popular, especially among couples and women's groups, and is now popular. Indispensable content for your trip to Kyoto It is one of.
It goes without saying that transforming into a yukata looks great on photos and SNS. Upgrade your Kyoto sightseeing mood even more fun It's an experience that lets you.
Kyoto Yukata Rental Recommended Plan
Review / word-of-mouth experience
Many shops with excellent access to tourist spots!
Currently in Activity Japan You can reserve a yukata rental plan around Gion / Higashiyama and Kyoto Station, as well as around Kawaramachi / Karasuma, Kinkakuji / Kitano Tenmangu. is.
Make a schedule so that you can fully enjoy your limited travel time in Kyoto by using the shops near your hotel / ryokan or the tourist spot you are looking for.
Yukata rental plan with good access to Yasaka Shrine
Review / word-of-mouth experience
Flow of using Kyoto Yukata rental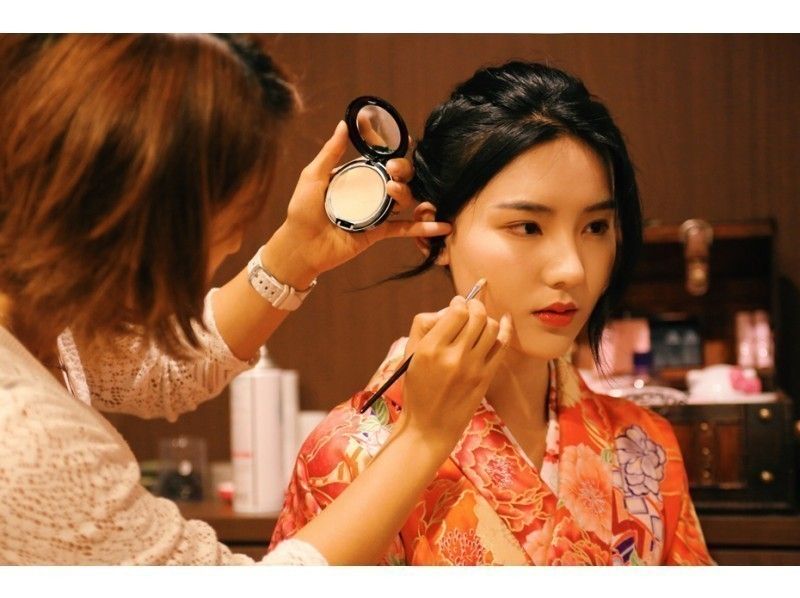 Below, from the reservation the flow of using the yukata rental plan in Kyoto 5 easy steps to return I will guide you at.
1. Internet advance reservation
Currently at Activity Japan We accept online advance reservations for abundant yukata rental plans mainly in Kyoto city such as Gion and Kawaramachi I am.
Find your favorite plan by comparing the conditions such as price (price), service content, location, etc. from the yukata rental plans of popular kimono rental shops.
2. Reception and yukata selection on the day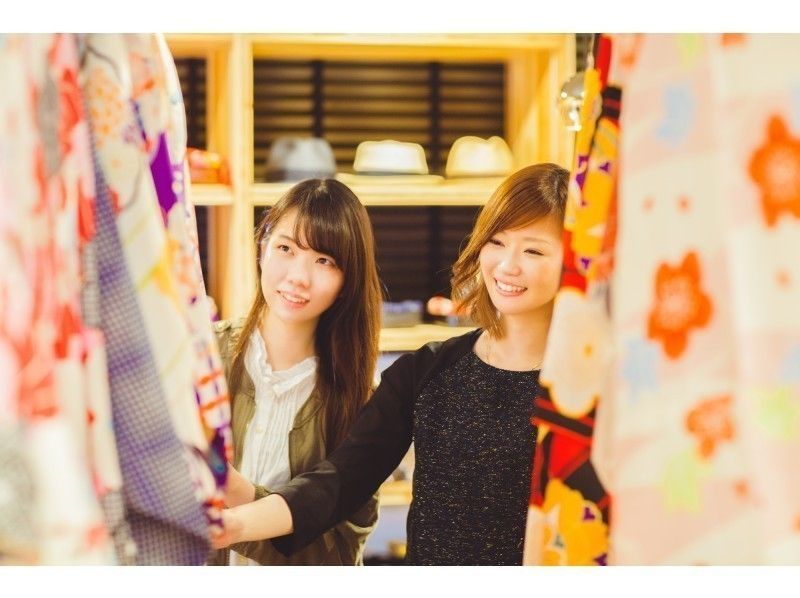 After going directly to the shop on the date and time when you secured the reservation and completing a simple reception, choose the yukata (obi, footwear, bag, hair ornament, etc.) to wear.
From traditional patterns to trendy fashionable ones Choose your favorite yukata from a wide variety of colors and patterns can.
3. Kimono and hair set included
The selected yukata is enrolled in the shop Dressed by a professional dresser or staff in a shape that is hard to lose and fits your height Can be given.
In addition, hair sets with hair accessories are often included in the price, so you can easily transform into a cute kimono. (Hair set and makeup may be a paid option)
4. Free time wearing a yukata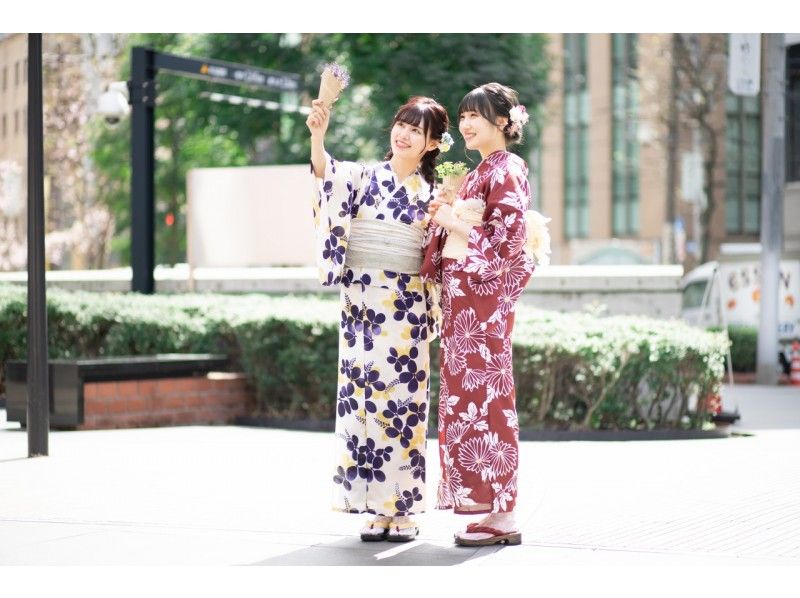 After dressing and hair setting and transforming into a cute yukata, it was set for each kimono rental shop Free time until return time (mainly during business hours) It will be.
If you are visiting Kyoto on a trip A service that keeps heavy luggage such as carry cases and travel bags There is also a shop where you can go for a walk in Kyoto in a light condition.
5. Return within business hours
In many kimono rental shops, Mainly from the rental start time to before the shop closing time (30 minutes before closing, etc.) Yukata rental use can.
Also, if you want to wear a yukata at night at a fireworks display or a date such as a fair, or if it is difficult to return it on the day Return the next day or by mail as an additional option You can also use a plan that allows you to take some yukata with you.
Kyoto Yukata No Return Plan
Review / word-of-mouth experience
Kyoto Yukata Rental Plan Popularity Ranking
The following is based on the latest booking data from Activity Japan Introducing "Kyoto Yukata Rental Plan Popularity Ranking" To do.
Standard plans for female groups and couples and student discount plans for elementary, junior high, and high school students are gaining popularity.
Please use it for comparison and examination of plan selection by referring to the evaluation based on the reviews and word-of-mouth experiences from the users who actually used the service, including the usage fee (price) and service content.
List of Yukata / Kimono Rental Shops in Kyoto
Finally, we are currently accepting online advance reservations at Activity Japan. Introducing "Kyoto Yukata / Kimono Rental Shop List" by region / area in Kyoto Prefecture To do.
You can check the lineup of handling plans, including basic store information such as shop location / address, business hours, and regular holidays, from the link below.
Higashiyama Ward, Kyoto City
Chuo-ku, Kyoto
Shimogyo Ward, Kyoto City
Ukyo Ward, Kyoto City
Minami-ku, Kyoto
Other Kyoto city
Find activities / experiences / leisure / play in Kyoto
Find kimono rentals and yukata rentals nationwide