sparkle! Niigata
"Winter Trip"
The snow activity season has arrived! The snow in Niigata Prefecture is the best powder snow, And it is a ski slope powerhouse with many ski resorts that are very accessible from the city center and are popular among winter sports fans! Of course, it's not just skis and snowboards! We will introduce the charm of Niigata prefecture where you can experience various activities at once. This winter, go to Niigata, the glittering city!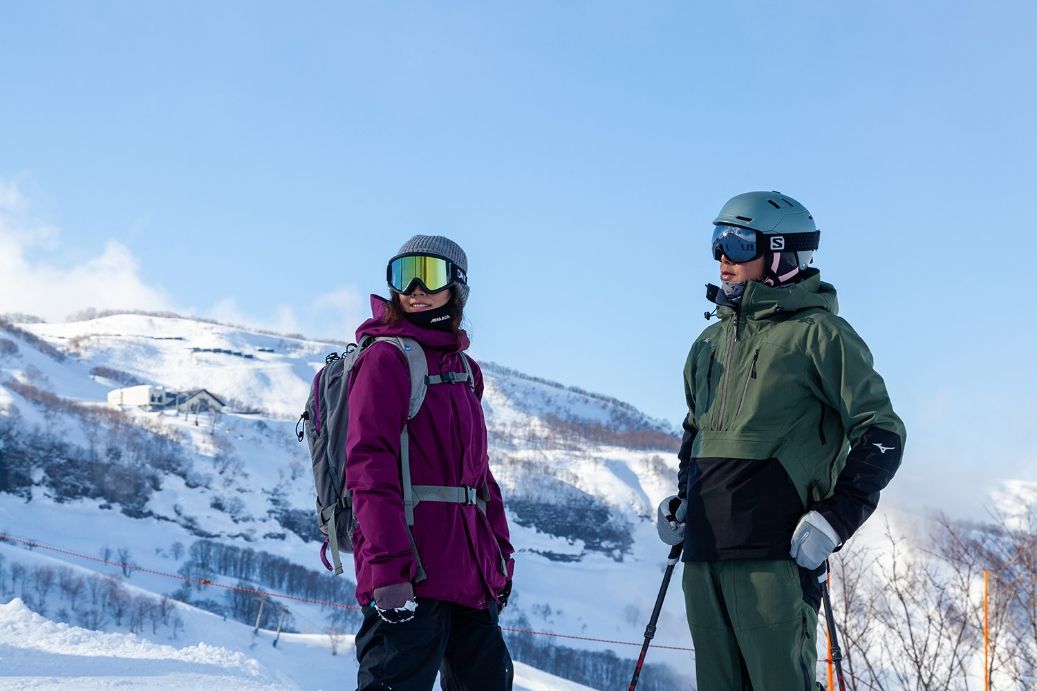 Recommended snow activities
ski lift ticket
ski lesson
snow activity
Original tour only here

[Niigata/Yuzawa] Yuzawa Onsen ☆ Two days of fun activities at the ski resort directly connected to the station
Activity Japan (inbound attraction promotion business in collaboration with Niigata prefecture OTA site (snow experience))
Yuzawa/Naeba
29,000

Yen~

(tax included)
A two-day, one-night plan where you can experience snow activities, hot springs, and local sweets making experience! Playing in the snow, hot springs, cooking, and experiencing everything all at once *Schedule*☆★Transportation expenses are not included in this plan. ☆★ [Day 1] 10:00 Gala Yuzawa Station ⬇︎The only ski resort in the world directly connected to a Shinkansen station


\ campaign in progress /
Period of use: Saturday, December 17th to Friday, March 24th, 2023
Target: Limited to the first 100 people
▼ If you get a coupon in advance, the reservation will be smooth ▼
*Notes on using coupons*
・ Member registration of Activity Japan is required to acquire and use coupons.
・This coupon has applicable products, so please check below.
・To use, please enter the coupon code directly on the application screen or select the coupon you have acquired in advance.
* This coupon does not apply to "Go with Ryuuu TV! Kirameki! Niigata "Winter Trip" Event Tour".
Campaign overview
Limited to the first 100 people! Discount coupon campaign!

Campaign details
If you enter a special "discount coupon code" at the time of reservation, the activity experience fee will be a special treatment of up to 5,000 yen per reservation.
campaign period
December 17, 2020 (Saturday) to March 24, 2023 (Friday) Scheduled
* To participate in the campaign, it is necessary to acquire the coupon distributed to the target person.
Coupon distribution period
December 17, 2020 (Saturday) to March 24, 2023 (Friday) Scheduled
Target experience
Activity experience in Niigata Prefecture (*Cannot be used multiple times)
* Bathing fees, meals only, and facility entrance fees are not eligible for discounts.
Target audience
Foreign visitors to Japan (non-Japanese citizens only)
*You will be asked to show proof of residence (passport, etc.) when you participate.
*Depending on the status of the new coronavirus infection, etc., the scope of eligible people may be changed.
Notes

● The following products are excluded from this campaign.
・Admission only to facilities such as museums, art galleries, aquariums, and hot spring facilities (entrance tickets, tickets, etc.)
・Food and drink only (restaurants, restaurant reservations, etc.)
・Provision of lodging only (hotel, inn reservation, etc.), etc.

● The maximum discount amount is 5,000 yen per person.
● The distribution and usage period of discount coupon codes are subject to change without notice.
● Experience menus reserved and participated during the campaign period are eligible.
(* Experience menus reserved before the campaign period, cancellations are not eligible for coupon use)
● The discount coupon code must be entered at the time of booking. Post-registration and discounts cannot be accepted after the reservation is completed.
● Please note that if the fee division of the application plan is not based on the number of people, but on a group/group, day, etc. basis, it will be applied per reservation.
(Example) In the case of a plan of 30,000 yen per pair, the payment amount will be 25,000 yen, a discount of 5,000 yen.
● In the event of cancellation, a cancellation fee determined for each product based on the regular price before discount will be incurred. Please check the cancellation policy for each plan before booking.
● After participating, please cooperate with the "survey". (* There is a registration form in the email after participating)
Niigata area introduction
Yuzawa/Uonuma area
Needless to say, it is the center of Niigata snow activities. There are many famous ski resorts such as Naeba and Gala, and the area is blessed with good quality snow! There are also many hot springs, so it's perfect for relieving fatigue after activities. The area is also known as one of the best rice-producing areas, so you can enjoy the delicious rice and sake that Niigata Prefecture is proud of.
Naeba Ski Resort
Maiko Snow Resort
New Greenpia Tsunan Ski Resort
Myoko/Joetsu area
It has a long history as a ski resort and has a wide variety of courses, making it an area that satisfies both beginners and advanced skiers. It has a long history of hot springs, and is one of Niigata's best hot springs known as a hidden hot spring for Kenshin Uesugi. Since it is an area facing the sea, you can also enjoy delicious fresh seafood from the Sea of Japan.
Lotte Arai Resort
Cupid Valley Ski Resort
Myoko Suginohara Ski Resort
Murakami/Shibata area
It is a snow activity area that is newly attracting attention, and there is plenty of snow, and there are plenty of courses for families and beginners! Tsukioka Onsen, known as a hot spring for beautiful skin, is attracting attention from many women. It is a very satisfying area where you can get snow activities and beautiful skin.
Ninox Snow Park
Tainai Ski Resort
Murakami Grape Ski Resort
Nagaoka/Kashiwazaki area
Even within Niigata, which has a lot of snow, this area is known as one of the heavy snowfall areas. There are plenty of courses for beginners, children, and families. There is a ski resort where you can relax. Teradomari Fish Market, also known as "Fish Ameyoko", after skiing and snowboarding You can fully enjoy the seafood.
Tochio Family Ski Resort
Koshi Kogen Ski Resort
Nagaoka Municipal Ski Resort
Yahiko/Tsubamesanjo area
Yahiko Shrine and Tsubamesanjo, an area famous for its Western-style metal tableware, also have cozy ski resorts that families can enjoy. It is also famous for its hot springs, which have a history of nearly 300 years, and you can enjoy sightseeing and snow activities.
Mikawa Onsen Ski Resort
Winter Torigoe Ski Garden