[Latest in 2022] Okinawa / Blue Cave x Diving Tour Ranking for beginners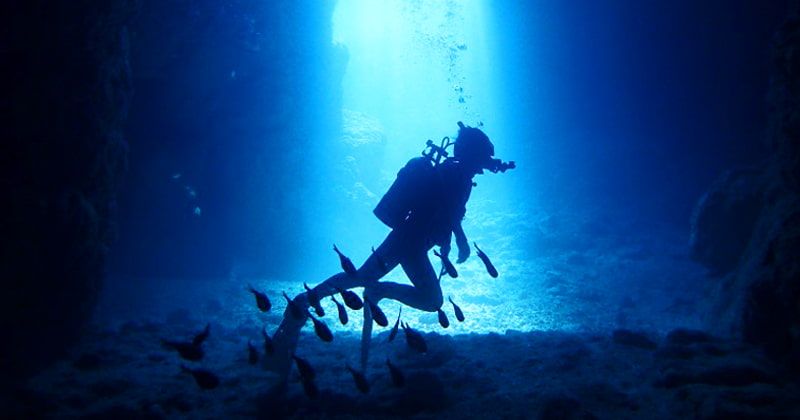 Activity Japan editorial department
When winter has passed and the footsteps of spring have begun to be heard, Japan is a world-class outdoor activity paradise and is the most popular domestic travel destination. Full-scale summer season has arrived in "Okinawa" To do. In "Okinawa" where popular beaches on the island are opening one after another from the beginning of March every year, from this time Almost all marine leisure / experience / play events can be enjoyed in full summer mode Will be. On this page, the popular marine leisure spot "Golden Week Popularity Ranking" and "Summer Vacation Popularity Ranking" have achieved two crowns. Okinawa Blue Cave A classic event that keeps the name of King of Activity as you want Experience diving (for beginners) We will announce the popularity ranking of.
Reservation reference data for beginner diving (scuba diving) experience in Okinawa / Blue Cave
What is the famous diving spot "Okinawa Blue Cave"?
A popular area in the central part of the main island of Okinawa, dotted with famous resort hotels and standard sightseeing spots Onna Village ".
A little further along the sea from Route 58, " Cape Maeda / Blue Cave Is one of the best marine leisure spots in Okinawa, which is often featured on TV, magazines, and online media.
Not only can you enjoy colorful fish and coral reefs, but you can also enjoy the reflection of light that shines into the cave. Diving point & snorkeling point where you can enjoy the mysterious blue glowing scenery is.
In the surrounding area "Experience diving" that beginners can participate without diving license One-day experience tours such as "snorkeling" that can be enjoyed by children and small children are held, and it is overwhelmingly popular with tourists as a synonym for experiential tourism and leisure on the main island of Okinawa.
Location of Blue Cave in Okinawa
Blue cave experience diving popular plan
Review and word-of-mouth experience
What is experience diving?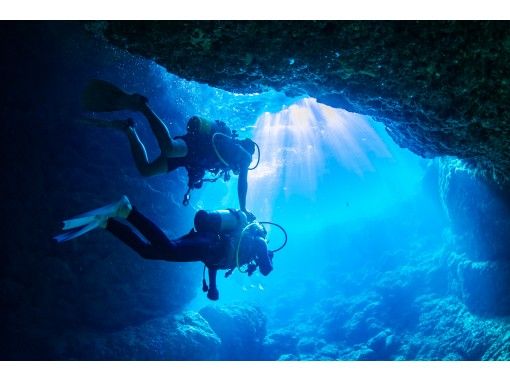 What is "experience diving"? Diving license ・ Diving / scuba diving tour for beginner divers and diving license (commonly known as C card) It is.
As an introduction to diving and as a marine leisure destination It is possible for beginners as well as small children (mainly elementary school middle school and above) to the elderly to participate regardless of age or gender. is.
Experience fees include regulators, masks, snorkels, fins, tanks, BCs, wet suits, etc. Diving equipment rental fee included Therefore, if you are ready to swim in the sea, you do not need to prepare specialized tools.
In addition, I was familiar with the attractiveness of diving, as well as the precautions and dangers of diving and the characteristics of diving points. Experienced guide instructor accompanied Everyone can enjoy diving and scuba diving safely.
Blue cave experience diving plan that can participate from 8 years old
Review and word-of-mouth experience
Activity Japan Recommended Plan
The number one achievement in the area regarding the Blue Cave Boat Tour! We promise safety and security without any accidents for 16 years.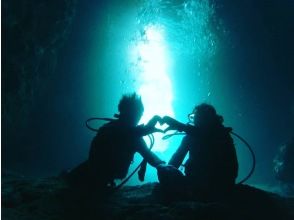 【Okinawa 青の洞窟】ボートで行く体験ダイビングツアー!8大無料特典付き【催行確率No.1、快適施設No.1】スーパーサマーセール実施中
Okinawa Blue Cave Specialty Store Blue Ocean
Blue cave, Onna village
11,000

Yen ~

(tax included)
4.8
(14 reviews / experiences)
The first dive is in the blue ocean! !! !! An instructor dedicated to one group is in charge. It is a great experience diving that you can participate in empty-handed. The staff in charge are all veterans, so you can participate with peace of mind. We will support you slowly and politely from the beginning. Experience that even beginners and those who can not swim can enjoy
---
All staff are qualified as certified sports instructors and are professional! Fun, bright and friendly, recommended popular shop ☆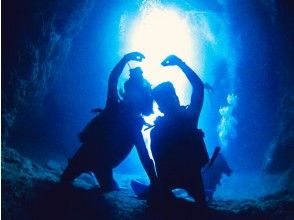 Diving experience in the blue cave! What do you recommend for boat entry or beach entry?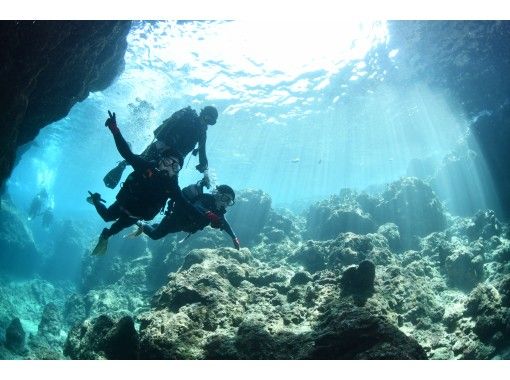 For Okinawa / Blue Cave Tour " Boat entry "" Beach entry " Two ways there is. To enjoy the blue cave to the fullest, boat entry & beach entry Features, advantages and disadvantages It is important to know.
The method that suits you Choose and enjoy the blue cave to your heart's content!
What is a boat entry?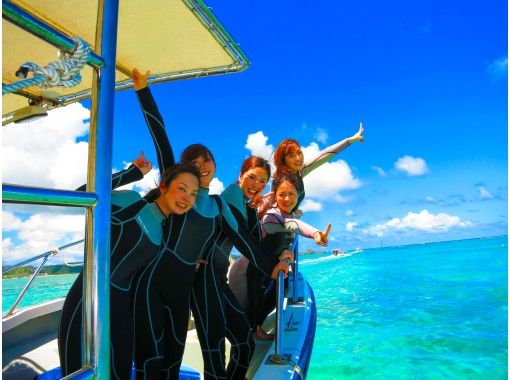 How to enter by taking a boat from a nearby port and traveling to the point for about 5 to 10 minutes That.
You don't have to wear a fitsuit to walk or swim to the blue cave, It is attractive to be able to enjoy diving efficiently ..
You can go to the blue cave by boat to near the diving point Probability is about 80 to 90% per year .. Than beach entry Another advantage is the high probability of going to the blue cave is.
However, for those who are prone to seasickness Take anti-sickness medicine Let's take measures in advance.
What is a beach entry?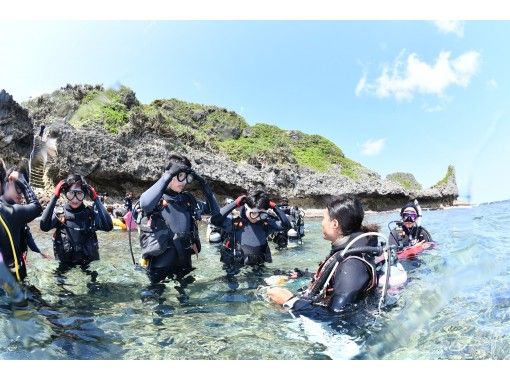 Beach entry is a method of entering while walking from shallow water That.
How to go to Okinawa Blue Cave by beach entry About 100 steps of stairs Down to the blue cave Walk or swim about 100m is needed.
Instead of suddenly diving into the deep sea, you will walk and swim along the way to the blue cave. You can gradually get used to the sea and enter the sea Can be said to be a merit. Because you don't have to board a boat Beach entry is safe for people who are prone to seasickness ..
On the tour Underwater stay time is about 50 minutes Because it is set longer than the boat entry Enjoy the blue cave and the surrounding sea more I can do it.
One of Okinawa's most popular tourist spots, the Blue Cave. In the high season of summer The stairs and roads leading to the blue cave are crowded and it takes time to arrive It can be said that there are some disadvantages.
For beach entry, Okinawa Cape Maeda Management Office But " No swimming If you decide, Can't go to the blue cave .. Therefore, you can go to the blue cave Probability is about 60 to 70% per year .. The chances of going to the Blue Cave are slightly lower than the boat entry.
Okinawa / Blue Cave Experience Diving (Beginner) Popular Tour Plan Ranking
Below, "Activity Japan" based on the latest reservation data Okinawa Blue Cave Experience Diving (Beginner) Popular Tour Plan Ranking Will be announced.
In addition to basic experience tours that include beginner diving classes and equipment rental, a great set plan that can be reserved together with "parasailing" and "whale watching (held only in winter)" is also being held and is gaining popularity. ..
Okinawa Blue Cave Experience Diving (Beginner) Recommended Shop Store Information
"Experience tour plan is currently posted on Activity Japan" Okinawa Blue Cave Experience Diving (Beginner) Recommended Shop Store Information We will introduce carefully selected 10 businesses.
In addition to various diving tours, there are many shops that hold other popular leisure experience plans such as "snorkeling" and "parasailing", so please find a shop that suits your needs.
Okinawa Onna Village Cape Maeda / Blue Cave Diving Experience

Frequently Asked Questions
Q

What are the recommended diving spots in Okinawa's Blue Cave?

A There are three places in Okinawa called "Blue Cave". The most popular and famous diving spot is "Blue Cave" in Cape Maeda, Onna Village on the main island of Okinawa. It is a spot that even beginners can easily enjoy, as it is easily accessible by car from Naha Airport in about an hour by car using the highway. At Ishigaki Island in the Yaeyama Islands and Miyako Island in the Miyako Islands, you can enjoy the beauty of the sea and the abundant nature unique to remote islands.
Q

How old can you start diving in the blue cave of Okinawa?

A Many shops allow you to participate from the age of 10 when you can get a license. However, there is also a "OK from 8 years old" shop in the diving shop that deals with the experience diving plan of Okinawa's blue cave. There are also diving shops that offer kids diving plans for families with small children, so please feel free to contact us.
Q

Can I make a reservation for Okinawa's blue cave diving on the day?

A There are also tour plans that can be booked the day before or on the day. However, because Okinawa's Blue Cave Tour is a popular activity, it is often not possible to make a reservation for the desired plan depending on the reservation situation. Especially during the busy season such as Golden Week and summer vacation, it is highly possible, so it is recommended to make an early reservation.
Q

I'm a beginner. Isn't the experience diving in the blue cave of Okinawa scary?

A The depth of the blue cave in Okinawa is about 10m even at the deepest part, which is a spot for beginners. The instructor will accompany you to support the experience diving. You can rest assured that you can hold hands and swim even in the deep sea where you can't touch your feet. We also recommend a beach entry plan where you can gradually get used to your body from the shallow water where you can reach. Choose a diving shop that will explain how to use the equipment, have training time, and respond politely.
Recommended articles for Okinawa travel, activities, leisure, experiences, and play
Find activities, leisure, experiences, and play in Okinawa, Blue Cave, Onna Village