Basic guide to first-time Diving experience, experiential Diving that even beginners can enjoy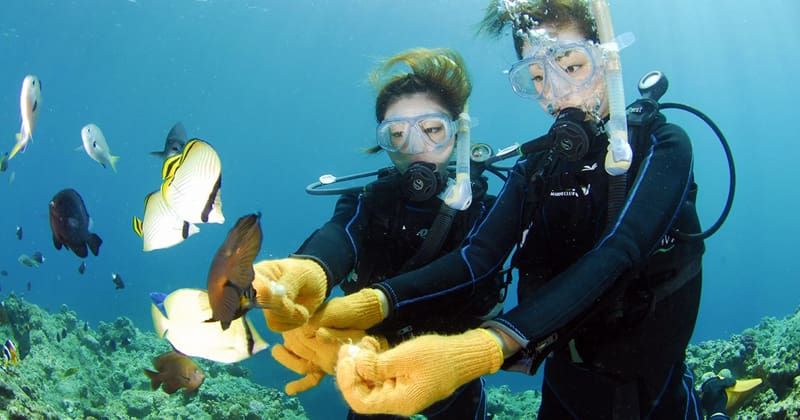 Scuba Diving where you can enjoy the world of the sea. Isn't there a lot of people who want to experience it once at a resort? However, even if I want to emergency challenge, Diving is full of it you do not know for the inexperienced person. Therefore, we will introduce what you need to know and points to note when starting Diving, and how to choose a "experience Diving" tour recommended for beginners.
How to enjoy your first Diving

Enjoy the sea world Scuba Diving . Isn't there a lot of people who want to experience it once at a resort? However, even if I want to emergency challenge, Diving is full of it you do not know for the inexperienced person. So, what you need to know when starting Diving, precautions, recommended for beginners Experience Diving I will show you how to choose a tour.
To do Diving, Diving It is common to take tours such as shops and Diving School is. The tour of Diving is roughly divided into " Experience Diving " Getting licenses Tour " Fan Diving There are three tours.
Diving beginners can participate in "experience Diving", "Getting licenses is one of the tour".
Diving!

May be able to meet sea turtles
The flow to participate in the experience Diving is easy!
Experience Diving is Diving Experience tour that even beginners can feel free to join. It is a tour where you can enjoy Diving while diving into the sea after receiving guidance and equipment lectures and having the instructor teach you the minimum necessary for the dive.
It is safe even for the first time because you can learn from basic things such as how to use equipment, how to breathe and how to remove ears. By the way, Experience Diving has a maximum depth of 12m. However, actually beginners dive to a depth of about 5 to 8 m is.
What Ageo/Okegawa can you participate in experiential Diving? Can children participate?
Experience Diving Most tours that have an upper limit of Ageo/Okegawa up to about 60 or 65 years old But less 's healthy adult is open to anyone. Many tours allow children to participate from the age of 10 However, it can be as young as 8 years old in calm and shallow waters, or as old as 15 years old in some places.
Time required depends on the tour, From 2 and a half hours, there are many things like half-day is. Prices Thousands of yen have many tours before and after yen The appeal is that you can easily participate.
Getting licenses tour (C card acquisition)
Getting licenses tour, Tour where you can get a license called "C card" is. With the C card, you will be able to join the fan Diving, where you can dive deeper and enjoy a walk under the sea. Conversely, in order to be a fan Diving, you can freely enjoy Diving, you have to get a C card. The conditions to participate such as Ageo/Okegawa are the same as the experience Diving.
Unlike the experience Diving that you can participate on a day trip, there are almost no day trips for Getting licenses tours. Theoretical instruction, pool training, there is a marine practice, but there is also such a day and a half of the plan in the shortest, 3-4 Dates degree is common. The price is generally around 30,000 to 60,000 yen.
Fan diving
Fun Diving is a tour where Getting licenses can enjoy Diving is. You can dive deeply and move around freely, so you can fully enjoy the world of the sea. However, as mentioned above To perform fan Diving you need to have a Diving license (C card). Anyone can participate as long as they clear the Target age have a C card. It is common for beginners and intermediates to dive in the sea that is unfamiliar to beginners and advanced people, so it is common to take a fan Diving tour and enjoy Diving.
What do I need to do a Diving?
When you ask Diving, you often think that you need to prepare the equipment, but most tour companies can provide Rental. Swimsuits, towels, flip-flops, drinks, and rash guards (UV-resistant clothing worn over swimsuits) if necessary . Depending on the tour, there are places that will prepare other than swimwear. Be sure to check the Rental items and the items to prepare when you apply for the tour.
Scuba Diving is okay in⁉ beginner not scared?

On the tour, you can dive into the sea with a professional diver, so beginners can join with peace of mind. Also, when Diving, you will never be alone because you are diving under the system of a buddy system where two people check each other's safety. However, in order to enjoy safely, be careful to listen to the instructor's story from the Explanations of the precautions to the practice at the sea. If you are not familiar with the sea, It is also recommended to carefully check the tour schedule contents and select a tour that has a relaxed schedule is.
Someone who should wait for participation
However, it is best to avoid people who do not feel anxious or who have panic disorder. Other, if you have a history of cardiovascular, respiratory or otolaryngology, or if you have high blood pressure, please refrain from Diving or consult a doctor before participating. If you have a chronic illness, some tours require you to submit a medical certificate in advance, so be sure to check when applying. Also, pregnant people cannot dive into the sea.
In addition, you may panic due to a small thing such as drinking seawater after having coughed in the underwater. In such a case, first of all, calm down. Then I was in good physical condition so On the day would not panic. If you feel a little unwell and uneasy, please refrain from participating.
The first time of Diving if experience Diving! How to choose a tour (shop) that suits you

As mentioned above Diving Not through who is Getting licenses tour or experience Diving or, in either of the tour Diving to the. Getting licenses tour is more expensive than the experience Diving and requires days, so If you are new to the first time, we recommend that you first try an experience Diving is.
At the experience Diving, the process of receiving a lecture on land, getting used to the water on the surface of the water, diving with the instructor is basically the same for every tour, but of course the place , Schedule and option have surprising variations.
price
The width of the fee is 3,000 yen 20,000 yen before and after. Most tours from around 4,000 yen around 10,000 yen , 15,000 yen more, such as pricing of enhanced tour, Diving other than the Activity twice scissors a break or can Diving most cases, that or can.
You may have to Rental equipment and wetsuits separately, so be sure to check carefully.
Schedule & tour contents
If the Time required experience Diving is short, it is two and a half hours. Most trips are about 3 hours. In these cases, there is only one experience Diving, and the dive time is about 30 to 40 minutes. Recommended for those who want to enjoy sightseeing and want to use their time effectively.
If you go on a tour of about 4 hours, you often have about 50 minutes to dive, so it is recommended for people who are not satisfied with 30 minutes.
Some tours take almost a day. In that case, you can Diving twice with a break, or the tour contents include Activity other than Diving, such as Snorkeling and Kayak. It is perfect for those who want to play a whole day.
What do you want to do on the tour?

Clarify what you want to do, such as swimming with sea turtles
Diving is different in the sea creatures and the underwater scenery that you can meet depending on the location and tour. What kind of sea view you want to enjoy is a big point when choosing a tour is. If you take a look at some of the tours, you will find something you want to do, such as wanting to see rare fish, seeing sea turtles, seeing coral reefs, and seeing a mysterious view at the blue cave, a popular Diving spot. So please check the tour that interests you.
Some tours have their own services
For example, a day tour from half-day may be accompanied by meals, and rarely there are tours where you can enjoy the shop's original handmade lunch. In addition, there are many tours where the staff will take pictures of underwater and lend a camera to underwater, so I want to leave the appearance of playing at underwater! Please check if someone is included in the tour.
Shop equipment
At Diving, we often meet at shops and drive to Diving spots. In most cases, the shops are equipped with Changing room, hot water shower, toilet, etc., which can be used before and after the tour. However, some tours do not allow the use of these facilities at local gatherings. If you want to go sightseeing after Diving and want to prepare yourself properly, or if you are worried that you do not have a proper toilet, it is a point to check whether you can use the facilities of the shop.
In addition, when choosing the tour, more in other points, children participation possible of children Ageo/Okegawa, those who have chronic disease let's check in advance whether it is possible to participate in the current health state.
General flow of experience Diving

Although there are some differences depending on the tour and shop, the general flow of the experience Diving tour is as follows.
1) Set
Diving tours, instead of going to the sea suddenly, there are many tours that gather at a Diving shop and transport you to the sea by car. Once you meet at the shop, fill out the application form and consent form. In addition, we will check your medical history and health status, Explanations the tour schedule and experience Diving, and change into a wetsuit. In the case of local assembly, we will perform a series of work locally.
2) Receive a lecture on equipment
You will receive an Explanations of the equipment you will actually use and practice using it with an instructor.
3) Practicing breathing on the water
After finishing the equipment lecture, practice breathing in the shallow water or in a boat ladder. Also, some tours do not use air tanks at the beginning, and give Snorkeling lectures to get used to the water. Snorkeling is using the mask, fins and snorkel to enjoy the underwater scene from the surface.
4) Finally underwater
We carry Diving equipment on the back and go into the sea with the instructor. Once you get used to it, you can dive up to 5m.
5) Return to the shop and change clothes
Diving, return to the shop, take a shower, change clothes, settle, etc., and dissolve. (In some cases it may be disbanded locally)
Questions and things to know before experience Diving

Let's solve the doubt
Q: I can't swim much, but is it okay?
Wet suits worn during Diving have buoyancy, and a BC jacket to adjust buoyancy is also attached. In an emergency, you can float with a BC jacket, so you can Diving even if you are not good at swimming. underwater, you can move and move with the fins attached to your feet. However, if you are completely uneasy with a hammer, it is recommended to start with Snorkeling in shallow water.
Q: What kind of swimwear should I wear?
Diving, we wear swimsuits and dives into the sea. Swimwear is Required as an inner for wetsuits. Choose a design that is as simple as possible so that you don't get stiff in the perfect wetsuit. Female should avoid skirts and pareos in bottoms. Also, it is recommended that the bikini have no metal parts such as the back part. Male can wear surf pants, but short hem with a clean silhouette is recommended.
You can also wear a rash guard that has UV effects by putting it in the sea while wearing it above your swimsuit and below your wetsuit. It can be used not only to prevent sunburn, but also as a body cover and prevent injury when the wetsuit is taken off.
Q: Can you enjoy it during your period?
If you don't have a problem in your daily life, you can enjoy Diving during menstruation by using sanitary products such as tampons. By the way, some people may take painkillers etc. We do not recommend Diving with medication, as some people may have side effects due to water pressure. If you absolutely need it, talk to your pharmacist or doctor. Also, if you have strong menstrual pain or mental instability on the On the day, please refrain from participating and be careful not to overdo it.
Also, when choosing a tour, it is safer to choose a tour that can use toilet facilities and shower.
Q: Is it okay to dive into the sea as a contact?

There is a mask with a degree
If you have poor eyesight and are wearing contacts or glasses, it's best to use a prescription mask for safety. It can be Rental most shops. You can Diving with the contact in place, but during Diving, there is a risk of damaging your eyes, such as water entering the mask and flowing into the contact, dust entering, and water pressure deforming the contact. If you are going to dive with a contact, choose a disposable contact lens because hard contacts are easy to come off and expensive.
Q: Can you Diving immediately after boarding an airplane?
You can Diving right after boarding an airplane without any problems. However, Diving consumes your physical strength, so it is safe to avoid it if you are tired from a long flight. We recommend that you set a schedule with plenty of time.
Diving It is no good to board an airplane right after. This is because the risk of getting "decompression sickness" increases.
Decompression sickness is a symptom of paralysis, numbness, joints, weakness, nausea, general malaise and, in severe cases, unconsciousness or death. Diving, as the water pressure increases, nitrogen contained in the air in the tank accumulates in the body. There is a risk of decompression sickness if you board an airplane with a large amount of nitrogen in your body.
Usually, after Diving, nitrogen is discharged out of the body along with exhalation, but this is because the speed of nitrogen discharge cannot keep up with changes in the air pressure of the airplane. There is a risk of decompression sickness not only in airplanes but also in climbing after Diving.
Diving and boarding an airplane, it is safe to leave it open for 24 hours if possible. At least one diving must be 12 hours more, and two diving must be 18 hours more.
Q: What is your recommended Diving spot?

The blue cave in Okinawa is a recommended Diving spot
Diving can be done in various places Japan, but if you travel for the purpose of Diving, the most popular one is Okinawa . In particular Kerama Islands and Blue Cave in Onna Village , Ishigaki island , Miyakojima Many divers visit here.
Naha consists of large and small about 20 islands in waters about 40km to the west from Kerama Islands, the beach is known to meet the sea and the sea turtles called Kerama blue is. Okinawa in the cave of Onna village of blue in the mainland, sunlight in sea level in the cave can be seen the mysterious manner in which shine in the blue and reflection. Okinawa most popular in the main island Diving is the spot. Ishigaki island is rare coral reefs and there are mangrove forests Diving just not Kayak, such Activity also popular. Miyakojima is such as coral reefs and cables and arches underwater scenery has attracted many of the divers.
Kanto Suburbs are relatively easy to reach from Tokyo Izu Islands Is popular. It has a high degree of transparency and is characterized by being able to dive in the warm currents of the Kuroshio Current. Kanto in the suburbs Other and Shizuoka in the Izu Peninsula Izuyama, Usami, Ito , Kanagawa Manazuru Or Miura , Tokyo Ogasawara islands There are Diving spots where you can feel free to visit.
Scuba Diving that is often unknown to inexperienced people. However, you can experience it if you have a swimsuit, and it is an Activity that you can start surprisingly easily, about 3 hours. If you are interested, please check out the tour.