Summary of remote islands in Okinawa! What do you recommend for day trips, children, and Diving?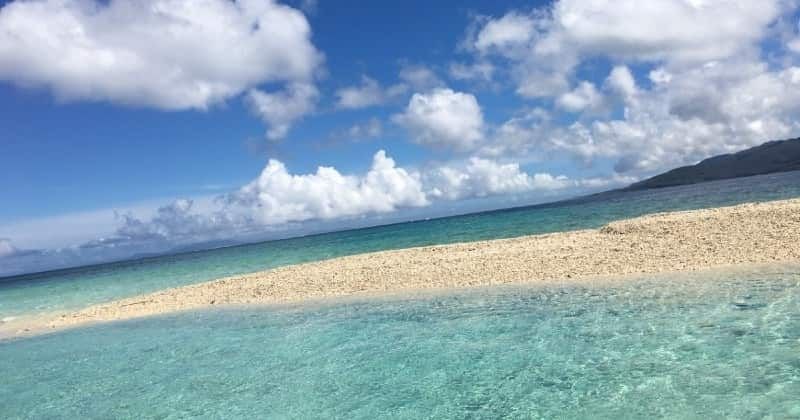 A remote island in Okinawa where you can enjoy the rich nature and the beautiful sea. In terms of numbers, there are 160 remote islands, and where should I go? You may worry about it. Therefore, this time, we will introduce remote islands that can be visited on a day trip from the main island of Okinawa, remote islands that can be safely stayed with children, and remote islands recommended for Snorkeling and Diving.
Let's know about remote islands in Okinawa! Where is it on the map?

Okinawa prefecture When you think about it, you may think of the main island of Naha. However, the prefecture area is wide, About 1,000km east-west, about 400km north-south It will extend to

Not only on the main island but also in the prefecture area 160 islands The islands are scattered around, and even if they are called remote islands, they have different geographies and cultures. In terms of distance, not only can you go by car from the main island of Okinawa, but you can also go by ferry or airplane. In terms of culture, there are places such as the Yaeyama Islands where dialects and food culture that are slightly different from the main island of Okinawa take root.
All of the remote islands have their own attractions and attractions that are unique to that island. Another atmosphere You can taste
A person lives in a remote island 47 islands for inhabited islands and 113 islands for uninhabited islands is. Some uninhabited islands have been developed as sightseeing spots and you can fully enjoy the feeling of a resort.
Looking at these remote islands on the map, Okinawa Islands Islands", "Kerama Islands Islands", "Miyako Islands Islands" and "Yaeyama Islands It is roughly divided into four. Okinawa except Islands, Okinawa in an ascending order of distance from the main island, Kerama Islands, Miyako Islands, are lined with the Yaeyama Islands. Let's look at each feature.
Okinawa islands in the Islands

There are about 113 islands around the main island of Okinawa, which are collectively referred to as Okinawa Islands I am calling. Of these, 26 are manned islands.
From the main island Connected by a bridge The 11 islands that are being built can be visited easily from Naha while driving. The islands that can be reached by car are Senagajima, which is known for its Hot spring, Sesokojima, which is loved by the cobalt blue sea, and one of the prefecture's best power spots, "Sirmichu" and "Amamichu's grave". There is a certain Hamahigajima.
In addition, there is also an island that you can visit by ferry from the main island in about an hour, and you can make a day trip from Naha. A typical one is Minnajima. About 40 km west of the main island of Okinawa, there is Kumejima the island at the western end of the prefecture, which is the closest to the beach of Hatei, which is famous for having the best view in the Orient, and attracts fans with great views.
Okinawa Prefecture, Positioned 148 islands as "remote islands" excluding 11 islands connected by a bridge from the main island I am. For this reason, this article will mainly focus on remote islands accessed from the main island by ferry.
Kerama Islands

​Kerama Islands where the highly transparent sea of emerald green is called "Kerama blue". Okinawa It is a group of 20 islands about 40km west of the main island. There are only five inhabited islands inhabited by people: Tokashikijima, Zamamijima, Akajima, Gerumajima, and Maejima. There are also uninhabited islands, such as Nagannu Island, which have been prepared for the island.
Kerama Islands are relatively close to the main island of Okinawa among remote islands, Sightseeing on a day trip The point is The islands and the surrounding sea were designated as national parks in 2014 Year and they boast beautiful scenery. When designating a national park, it is said that the area around the island is a breeding ground for humpback whales and beautiful coral reefs.
In the surrounding waters, you can also meet the Kerama Blue Sea and beautiful coral reefs, sea turtles, manta rays, humpback whales, and spawning corals. The longing sea of divers But there is.
To go to the islands in the Kerama Islands, take a ferry from Tomari Port in Naha. There are flights to Tokashiki Island, Zamami Island, Aka Island and Naganu Island, so please use it.
Miyako Islands (Miyako Islands)

The Miyako Islands are the islands centered around Miyakojima, which is about 30km west of the Okinawa main island. Ishigaki island is about 130km west. It is located between the main island of Okinawa and the Yaeyama Islands where Ishigaki island is located. It may be surprising, but Miyakojima is a famous food production area that many people think of as Okinawa, such as snow salt, sugar cane, Miyako beef, and mango. It is also recommended to taste gourmet food locally.
The Miyako Islands, Miyakojima other, Irabu, Ikema Island, there are eight of the island such as Taramajima, also has a flat shape that coral reefs are Deki was raised one of the island. There are many beautiful beaches, and it is a popular spot for Diving and Snorkeling.
When traveling from Haneda or Naha to the islands of the Miyako Islands, first Go to Miyakojima Airport, which is a hub, and take a ferry from Hirara Port of Miyakojima to the surrounding remote islands. To do.
Tokyo or Okinawa main island Travel to Miyakojima only by plane.. Please note that there is no ferry from Naha to Miyakojima.
Yaeyama Islands

About 400 km west of the main island of Okinawa Yaeyama Islands is. About 23 islands are scattered around. Among them, 12 inhabited islands are Ishigaki island, Kohama, Taketomi, Iriomote and Hateruma.
On the map Closer to Taiwan than the main island of Okinawa, Climate is hot and humid subtropical ocean climate. Inhabited by tropical flora and fauna that can only be found in this area, such as a type of mangrove, Yamapuki, nippa palm of the palm family, Iriomote wildcat and Iriomote botaru, Rare ecosystem I'm keeping
Divers are well-received in the surrounding sea, where you can see the underwater scenery of Ryugu Miyagi, such as colorful corals, sea turtles, manta rays, sea slugs, and flock of buckthorns. The fun of the terrain of the sea, such as the crevasses (cracks in the rocks), reef edges (edges of coral reefs), and undersea caves, is also a popular secret. You can fully enjoy the sea world from beginners to advanced Diving.
To the islands in the Yaeyama Islands, first Go to New Ishigaki island Airport, which will be a hub, and then transfer to each island by ferry To do.
In the next chapter, we will introduce Okinawa 's recommended remote islands for each access and Activity.
Are there direct flights from Haneda, Narita, Kanku and Naha?

Don't worry if you want to go to a remote island but worry about access. From Haneda, Narita, Naha Direct flights There are some remote islands where
Remote island with direct flights from Haneda Airport
From Haneda, Miyakojima Miyako Airport, Ishigaki island New Ishigaki Airport (South bran island Ishigaki Airport), Kumejima of Kumejima and it has direct flights to the airport.
It takes 2 hours and 50 minutes from Haneda to Miyako Airport, 3 hours to Shin-Ishigaki Airport and 2 hours and 40 minutes to Kumejima Airport. Please note that flights to Kumejima run seasonally in July and August, and are not scheduled. Reservations may be filled during the high season, so book early.
Narita remote island where there is a direct flight from the airport
There are flights from Narita to New Ishigaki Airport. Time required takes about 3 hours and 40 minutes.
Kansai remote island where there is a direct flight from the international airport
Kansai from the international airport Miyako Airport When New Ishigaki Airport There is a direct flight to. 1 hour 20 minutes to Miyako Airport, 2 hours 30 minutes to New Ishigaki Airport. There are no flights to Kumejima Airport.
A remote island with direct flights from Naha
From Naha, go to Miyakojima, Ishigaki island, Kumejima In addition, there are direct flights to Yonaguni Airport at Yonagunijima. Time required is about 50 minutes at Miyako Airport, about 1 hour at New Ishigaki Airport, about 40 minutes at Kumejima Airport, about 1 hour at Yonaguni Airport. is. Regular flights run from Naha to Kumejima.
In addition, there is an airport called Kerama Airport on Akajima at Kerama Islands, which is mainly used for charter flights and emergency patient transportation.
Day trips from Naha are also OK! A remote island where you can enjoy the feeling of a petit resort
Okinawa Islands and Kerama Islands Some of the islands located in the Okinawa also island just a short day trip from the main island. You can easily feel the resort feeling at Naganu Island, Zamami Island, and Minna Island.
Naganu Island

Speaking of the Kerama Kerama Islands closest to Naha, Naganu Island.. About 20 minutes by ferry from Naha, White sand beach and sparkling emerald green sea It is popular to enjoy.
It is an uninhabited island, but the island has restaurants and rest cottages (arbors) for tourists, so the point is that it is easy to spend. You can also stay overnight.
Snorkeling, experience Diving, Parasailing, ocean walk (underwater walk with a helmet containing oxygen), etc. Various marine Activity Also prepared. adult to children, you can fully enjoy the beauty of the sea by participating in Activity. Activity include things that can be booked on the island as well as tours from Naha.

Kerama Islands are breeding grounds for humpback whales, Whale watching is also held from January to March. There is no doubt that you will want to repeat once you visit the various Activity and the beautiful sea.
Zamamoto Island

Among the Kerama Islands, Beautiful scenery registered in the Michelin Green Guide Is proud of Zamami Island is. Naha, you can come to the island by ferry within 1-2 hours. The island is a man-made island, and there are shops, guest houses, hotels, restaurants, etc. on the island, making it suitable for staying for several days and enjoying sightseeing.
Furuzamami Beach, where coral reefs spread in shallow water, is a popular Snorkeling spot. Since the shallow sea continues, children and beginners can enjoy Snorkeling with coral, tropical fish, and sea turtles.
Minna Island

​Minnashima, which is popular for its "croissant island" because of its shape, is a popular island that is 1 km from Naha main island and about 15 minutes by boat. Since it is not connected from the main island, it is popular for being able to meet the scenery of an untouched remote island. Many people come not only from outside the prefecture but also from the main island of Okinawa.

Known for its white sand and highly transparent water, Mizuno Beach is home to coral and tropical fish in the swimming area. It is also popular with children if you can encounter the underwater scenery unique to southern countries while swimming.
Please enjoy the beautiful sea with Snorkeling and SUP!
A lot of facilities and Activity! A remote island you want to visit with children

Some people may say, "I want children to enjoy the rich nature of Okinawa! But in the unlikely event that the child feels sick, I'm worried." When traveling with children, I want to choose a place that is safe and equipped.
Therefore, we have put together a lot of Activity in the remote islands where facilities such as hotels and medical facilities are well established. Enjoy the nature of Okinawa with peace of mind I can do it!
Iheya Island

Okinawa about northwest of the main island 45km, Okinawa islands of the northern end of the Prefecture Iheya Island is.
One of the reasons we recommend it for families with children is that it is easily accessible by ferry from the main island of Okinawa. There is no convenience store and only one traffic light. Children from the city should be able to shine in a completely different environment than usual!
Although you can enjoy the peaceful scenery, there are hotels, guest houses, restaurants, souvenir shops, clinics, etc., and the point is that you can stay with your children at ease.
There is a reputation for the beauty of the sea, The clear ocean color is called Ihei Blue.. You can also meet coral reefs and colorful tropical fish.
The administrative division is Iheya Village, and the village itself is an auto campground, marine leisure, BBQ And so on. Run by the village Iya Ai Land Yonezaki", you can Rental camping goods, equipment such as Sea kayak, and barbecue sets, so it's nice to visit by hand and enjoy leisure with your children!
Diving goods can be Rental privately owned Diving shops.
There are Diving spots such as sukabuya where you can meet a large group of migratory fish such as bluefin tuna, barracuda, turtles and horse mackerel, and flowers where you can meet Ryukyu Kika coral communities and giant clams.
Marine leisure is also affordable, so the whole family can enjoy it. There is also a plan where you can watch corals with box glasses from the top of the Kayak, so even children and those who are not good at swimming can easily enjoy the underwater scenery.
In addition, village trails and marathon competitions are held by the village, so those who are interested should participate.
Ishigaki Island

The center of commerce and administration of the Yaeyama Islands, Ishigaki island Is one of the remote islands that you can fly to from Tokyo, Osaka and Naha. It is well-accessible, and is fully equipped with facilities such as resort hotels, guest houses, Euglena Mall with shops, convenience stores, and hospitals.
Underground beach, Maesato Beach, Maibara Beach, Ishigaki island Sunset Beach etc. Many beautiful beaches.. Marine Activity such as Snorkeling, Diving and SUP are also popular.
Be aware that the famous scenic spot, Kabirawan, has a fast tide and no swimming. You can experience Activity such as SUP.

On the island, there are mangrove forests, Ishigaki island limestone cave, and Iharama Sabichi limestone cave. A spot where you can enjoy natural modeling There is also a tour and you can enjoy the adventure feeling as a parent and child. In the Yaeyama Islands Dec. from the fact that Southern Cross can be seen from the end until the next day around June, Starry sky observation tour Also held. You can apply for these tours through the internet, island Diving shops and travel agencies. Some resort hotels own their own private beach and can even book their own Activity.
Miyakojima

The center of the Miyako Islands, Miyakojima Is a beautiful beach, the Theme parks "Ueno German Culture Village", "Miyakojima Tropical Botanical garden", Shisa-lion making and Goya champloo. Various experiences There are many family-friendly spots such as "Miyakojima City Experience Craft Village" where you can enjoy!
"The East beautiful beaches" and the nickname high given Naha and foreshore (foreshore Yonaha), as transparency is high Yoshino coast seen through the coral from the sea surface, the arch of the huge rock, such as sand hill beach attractions, sea of beauty It has a well-established reputation for its marine Activity. There are plenty of facilities such as resort hotels, guest houses, convenience stores, and hospitals, so you can stay with children with peace of mind.
Especially popular given the island Naha in the foreshore beach Activity rich. There are many unique plans such as banana boats, Jet ski, and souvenir photos on the beach.
Iriomote Island

​Iriomote Island of the Yaeyama Islands, where 90% of the island is a tropical rainforest. It has a unique ecosystem such as Iriomote wildcats and mangrove forests, and is called "Oriental Galapagos".
In addition to resort hotels and clinics on the island, parents and children can enjoy a comfortable stay. Beaches such as the star sand beach where you can find star-shaped sand are also famous. In the surrounding sea, you can also experience Snorkeling and Diving.
In addition to marine Activity, in the mangrove forest trekking From (mountain walking) to canyoning (mountain stream) to SUP, there are Activity that make use of the rich nature! adult and elementary school children can participate, so be sure to participate in Activity with your family and enjoy the great nature of Iriomote Island.
Boasting a beautiful sea! Recommended remote islands for Diving and Snorkeling
On remote islands of Okinawa, speaking of Diving, Kerama Islands is relatively major, but other than that There are recommended remote islands. This time, dare A remote island where you can enjoy a secret experience Pick up. It's a great Diving spot where you can meet beautiful underwater scenery and sea turtles.
Kumejima-Hatenohama

It is Okinawa islands that boasts the beautiful sea that is said to be the best in the Orient. Beach of ate is.
The beach of Hatei is not the name of the beach, but Kumejima It is a generic name for three small uninhabited islands made of coral sand. From Kumejima, you can land by ferry boat or boat, A scenic place surrounded by the emerald green sea at 360 degrees Known as
There are many people on the island who enjoy the beauty of the sea not only by swimming but also by Snorkeling and Diving! The water is highly transparent, and Snorkeling allows you to see colorful tropical fish and corals near the surface of the sea. If you are lucky, you can even meet sea turtles.
The shallow water continues, so if you want to do full-scale Diving we recommend the sea around Kumejima. There are plenty of spots where you can meet manta rays, bluefin tuna, and whale sharks.
Arakisukujima

Aragusukujima is an unexplored island at the southern end of the Yaeyama Islands. It is nicknamed "Panari Island," which means "away" in the Yaeyama dialect.
It consists of two islands, Kamijijima and Shimojima, and it is popular for its untouched nature and the emerald green sea called Panari Blue. Snorkeling is active on the island, and you can immerse yourself in the underwater scenery unique to southern countries such as colorful corals and anemone fish!
Diving in, over the spot of the more depth 3~5m fan Diving tour so rich, Diving can also enjoy the beautiful sea beginner.
There is no ferry to the island, and it is usual to take a tour from Ishigaki island, Kuroshima, Iriomote Island of the same Yaeyama Islands and go to Shinshiro Island by boat. You can apply for a tour from the local travel agencies, marine Activity shops, or even from the Internet.
Kohama Island

In the Yaeyama Islands, where you can enjoy a laid-back scenery, such as one sided sugar cane field Kohama Island.. In the surrounding sea, various corals such as about 400 types of table corals and Eda corals inhabit, A good spot for Diving, also called "sea rainforest"..
In Japan's largest coral reef area (where corals grow) about 20km east-west and 15km north-south, you can also encounter creatures such as anemone fish, sea turtles, and manta rays. The set tour of Snorkeling and Diving with the phantom island "Hamajima" that appears only when the tide is low is popular.
Let's go to a remote island in Okinawa where you can meet beautiful nature and the sea!

A remote island in Okinawa where you can encounter untouched nature and the beautiful sea. Some islands are easy to visit for families and girls, including islands that can be reached by a single plane and those where you can spend a comfortable time with resort facilities. Take part in marine Activity and tours and enjoy the island's nature and sea!
*Information on plans, charges, timetables, Phone Numter etc. is as of July 2020.