Minna Island is about 15 minutes from the main island of Okinawa! Sightseeing spots & recommended tours that you can enjoy on a day trip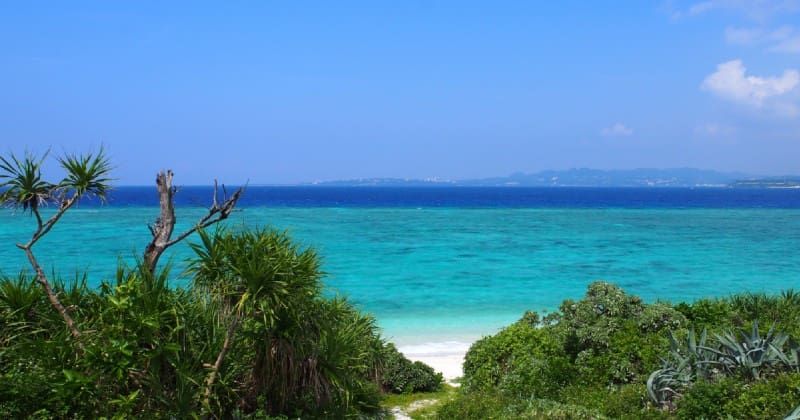 Activity Japan editorial department
" Minna Island 」とは,Okinawa本島からおよそ約1.5kmの沖合に浮かぶ三日月形の離島のこと。フェリーに乗れば,Okinawa本島からわずか15分程度で行くことができます。In emerald greenShining sea,White sand beach,更衣室やシャワーなどの設備が整ったMinna Islandは, Perfect for sightseeing !!
So this time, Minna Island's attractions and attractions, recommended sightseeing spots, popular activities And so on.
About 15 minutes from the main island of Okinawa! What kind of place is Minna Island?

Okinawa本島の北部に位置する"本部半島」のおよそ沖合1.5kmに浮かぶ" Minna Island ". When viewed from the sky, the shape of the island looks like a croissant, so " Croissant Island It is also known by the nickname of ".
The area is only 0.47㎢. The circumference is about 4.6km. The population of the island is 21 (according to March 2022), which is a small island, The number of tourists visiting each year is over 60,000! Easy access from the main island of Okinawa, shallow and calm waves, so every summer Marine Sports It is crowded with young people and families who enjoy themselves.
There are also seaside houses and parlors around the beach, such as floats and umbrellas. Full rental service doing. It's also a nice point to be able to play with a minimum of luggage!
Are there two islands of Minna?

In fact, There is another island written as "Minna Island" in Okinawa Prefecture To do. Minnajima is a remote island located between Miyakojima and Ishigakijima, further north of Taramajima in the Miyako Islands.

Minna Island in the Miyako Islands は直通便が無く,多良間島からチャーター船で向かうため,気軽にアクセスできる場所ではありません。しかし, Minna Island on the Motobu Peninsula Like, it is a charming island with abundant nature surrounded by coral reefs. Please be careful not to make a mistake when sightseeing.
How to get to Minna Island: Tour or Ferry

There are two ways to access Minna Island.
Below, we will explain in detail how to take a tour and access by ferry.
Take a tour
The most recommended way to access Minna Island is to land on a tour To do!
In the case of a ferry, it may not be possible to make a reservation and get on the ferry, but Tours Then you can rest assured. It is advantageous to take a tour because it is advantageous to be able to depart from northern Okinawa, land on other remote islands, and enjoy multiple marine sports!
Take a ferry from Tokuchi Port in the northern part of the main island of Okinawa
"" In the northern part of the main island Watakuchi Port (Toguchiko) "departs from the high-speed ship" New Wing Everyone II The general route is to cross over. You will arrive at Minna Island in about 15 minutes while looking at "Sesoko Island" on the left and "Kaiyohaku Park" on the right.
Reservations cannot be made for ferries and regular flights Therefore, it will fill up quickly during the season when congestion is expected. If you are uneasy, than the scheduled schedule Go early and buy a ticket It's a good idea to do it.
Number of flights
Off-season: 3-5 bottles a day
High season: 6-11 flights a day
* The number of flights is subject to change depending on the season and time of year.
Time required from the main island of Okinawa
About 15 minutes
Round-trip fee
Adults 1,730 yen / Children 880 yen
One-way fare
Adults 910 yen / Children 460 yen
Please tell us the recommended Activity on Minnajima!

Buoys and nets are set up off the coast of Minna Beach for safety measures, Many colorful tropical fish and coral inhabit the swimming area doing. Therefore, you can fully enjoy it just by looking into the sea with underwater glasses, but if you want to enjoy the sea of Minna Island more deeply, Diving and snorkeling such as Marine activity Why don't you try it? Therefore, we would like to introduce some recommended activities on Minna Island.
You may meet sea turtles! ?? Snorkeling
The sea on Minna Island is shallow, so even beginners and children can feel free to Snorkeling Can be enjoyed.
In snorkeling tours, it is common to go by boat to a point outside the swimming area and dive. Depending on the tour company, some Tropical fish feeding experience Or if you're lucky Plan to meet sea turtles and have BBQ (barbecue) If you are interested, please check in advance.
You can swim with tropical fish! diving

The sea on Minna Island Excellent transparency So Also popular as a diving spot is. Diving tour Then, since a veteran instructor is always attached during the experience, even beginners can experience with confidence. The time to swim while surrounded by a surprising number of tropical fish and corals is truly a blissful time. It would be nice to take a commemorative photo with colorful tropical fish in the sea!
Enjoy two deals! Snorkeling + diving
I want to enjoy both snorkeling and diving Click here for those who say! You can enjoy two activities at a great price!
Enjoy both the sea and the sky! Parasailing

You can enjoy an aerial walk 40 to 50 meters above the ground as if you were a seabird. Parasailing ". It is a popular marine sport that is equipped with a circular parachute and flies over the sea like a kite while using the engine of a motor boat.
The beauty of Minnajima Reef seen from the deep blue sky is just a masterpiece! Because you can see the islands of Okinawa Majestic panoramic view You can enjoy. You can enjoy both the sea and the sky of Minna Island, and you can feel luxurious.
refreshing! Touring with jet ski
Jet ski (watercraft) If you have a driver's license, we also recommend touring. Minna Island is a small island, so you can go around the island in no time with a jet ski. The exhilaration of gliding through the beautiful emerald green sea with splashes of water is addictive once you taste it.
On a jet ski tour, a veteran instructor will set up a course that matches the skills of the participants. Enjoy to the fullest from beginners to advanced players Probably.
This is for those who want to enjoy at a great price and have fun at the sea!

At the rental shop on Minna Beach, " Banana boat You can rent various types of boats such as "U-Boat", "U-Boat" and "Marble". All of them slide on the sea while being pulled by a marine jet, so Thrilling and exhilarating .. In addition, you will surely be excited about the tropical fish and coral reefs that you can see from the surface of the sea! You can experience it as a group, so you can enjoy it with your friends and the whole family.
Depending on the type of boat, you may need to make a reservation, so please check in advance when you wish to rent.
Kayak & SUP
If you want to take a walk on the sea freely, Kayak "or" SUP Is recommended.
At Minna Beach, the bottom is transparent " Clear kayak Can be rented, so you can enjoy touring while watching the tropical fish and corals swimming in the sea directly below. Also, because the transparency of seawater is high, if you float a kayak or SUP on the sea, A mysterious sensation as if floating in the air You can taste.
Recommended beaches and sightseeing spots on Minna Island

There are various beaches such as classics and hidden spots on Minna Island To do. Facilities such as changing rooms and toilets are maintained Have been Minna Beach , One of the leading diving spots in northern Okinawa But also Seagull rock beach There are many attractive sightseeing spots! another The seabed appears all over at low tide Mysterious Nameless beach , Quietly in the back of the Mizuno Lighthouse A little-known tourist spot Beach under the lighthouse Variety is rich!
Below, we will introduce the features and attractions of each beach in detail.
Minna Beach
"Minna Beach", which is right next to the dock, is the most popular tourist spot. The white sandy beach made of coral fragments and the highly transparent sea are attractive. There is a general information center in front of Minna Beach, which is ideal for women as it is equipped with lockers, showers, toilets, etc., as well as changing rooms.
In addition, there are shops where you can rent floats, umbrellas, and rubber boats. BBQ (barbecue) is also possible with advance reservation. In addition, there is an observation post, and there is a net to prevent poisonous hub jellyfish in the sea, so safety measures are perfect, so it is recommended for families with children!
Seagull rock beach
The name comes from the fact that there is a rock where the Laridae tern comes to raise children. It is also famous as a diving spot because of its high transparency and the large number of fish inhabiting it.
There are more rugged rocks than sandy beaches, so sandals can cause injuries. Marine shoes are recommended. There are no changing rooms, showers, or toilets, so if you want to use it, head to Minna Beach.
Since there are few tourists, it is a recommended tourist spot for those who want to go to a little-known beach or who want to spend a quiet time.
Beach under the lighthouse
About 10 minutes walk from Minna Port. Under the Minna Lighthouse It is a beach in. A little-known tourist spot that is unknown to tourists. When you dive into the white sandy beach, the clear sea, and the sea, you will encounter colorful tropical fish, and you can see the main island of Okinawa in the distance, giving you a feeling of liberation.
There are no changing rooms, showers or toilets, so use it at Minna Beach.
Let's take a walk on Minnajima!

On Minna Island, where there are few cars running, the only way to get around the island is on foot. But, A small island with a circumference of less than 5km Therefore, it takes less than an hour to take a walk around the island.
In the village uphill from Minna Beach, you can see old folk houses with tiled roofs unique to Okinawa and the guardian deity of Okinawa. Shisa You can see the traditional scenery of Okinawa such as the statue of "" and the colorful hibiscus. After enjoying the sea, it's a good idea to take a walk around the island.
At the eastern end of the island, there is a 13m high " Mizuno Lighthouse Is installed. The lighthouse is not open to the public and the grounds are fenced, but it has been lit since 1972 to protect the safety of ships traveling off the coast of Minna Island.

There are two ways to get to Minna Lighthouse, one is from the village on the island and the other is from Minna Beach to the sandy beach. Both are about 15 minutes on foot, Be careful of the poisonous snake "Habu" when going through the village! There are many hubs inhabiting areas overgrown with grass and trees, so be careful not to enter the woods when strolling around Minna Island.
What are the precautions when playing on Mizuna Beach?

In emerald green Shining sea , Dazzling White sand beach Is attractive Minna Island .. However, because the reflection of the sun is stronger by that amount, Beware of heat stroke and sunburn I have to do it. There are many shops where you can buy drinks during the summer season, so Diligent hydration Let's also keep in mind. Also, apply sunscreen cream or wear a rush guard over your swimsuit. Good sunburn protection Please take it. There is nothing blocking the sunlight on the beach, so when you take a break on the beach Umbrellas are also essential is! This is, Can be rented for around 1,000 yen So, if you don't have one, try to use the rental service as much as possible. In addition, you can rent a set of chairs, mats, and seats for use on the beach.
By the way, if you participate in the tour, depending on the plan content, the umbrella rental fee may be included in the tour price, so it is a good deal!
Also, on Minna Island No cafe or restaurant So, if you want to eat, use the parlor. It's a bit far from the beach, At the parlor, you can eat B-grade gourmet such as Okinawa soba .. In addition, since it is open only in the summer, please bring your lunch if you go outside the tourist season.
Is there accommodation on Minnajima?

Minna Island is full of tourists during the season, but after the final high-speed boat departs, it is very Quiet and laid-back island Will be. On the island There are several facilities such as guest houses and log houses. So, if you want to enjoy Minna Island slowly, it is recommended to take the plunge and stay overnight.
When the sun goes down You can see the starry sky It is also a charm unique to Minnajima Beach. There is no doubt that it will be a quaint trip that is different from spending time at a resort hotel on the main island!
* Information such as plans, prices, timetables, and phone numbers is as of July 2022.
Editorial department recommended feature article