19 recommended beaches in Okinawa Check the marine sports that can be done locally and access information at a stretch!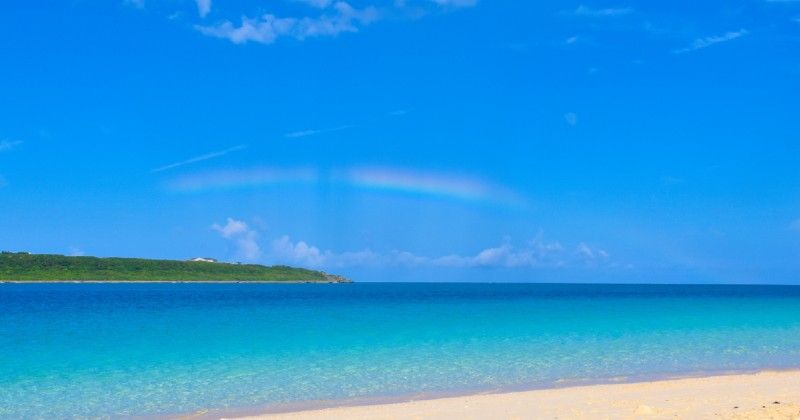 Okinawa is a beautiful beach! At Okinawa, which is dotted with unique beaches throughout the prefecture, you can thoroughly find the beach that suits your purpose of travel. You can enjoy the beach with good access together with sightseeing, or aim at the beach with a superb view of remote islands. Okinawa area for the northern, central, southern and remote islands We will send you information on recommended beaches.
Recommended beach map of Okinawa
Okinawa main island north
Onna Village Seaside Park Nabee Beach

Located in the bay between Manza beach and Manza hair, Citizen's beach in Onna Seaside Park.. The smooth white sand beach is well maintained and the waves are relatively calm. During the swimming period, a monitoring station and jellyfish prevention net will also be installed, Parents and children can enjoy it with confidence..
adult care of Diving spot "cave of blue, such as tours to go to", marine sports and barbecue is also thriving.
Manza beach

A scenic spot in Onna Village Manzamo (Manzamo) The beach is located opposite. Ministry of the Environment "100 selections of beaches" "Specialty" in only 3 places in Okinawa Was elected.
Diving It is close to the popular point of, and various marine Activity are also popular. Sunset sights Also known as. The beach in "ANA Intercontinental Manza Beach Resort" Free of charge is.
Moon Beach

Private beach of "Hotel Moon Beach". You can enjoy a resort-like scenery with tropical trees surrounding a sandy beach with a crescent-shaped arc.
Full of marine Activity There are many variations such as dragon boats, Jet ski, flyboards for aerial walks, Wakeboarding and Yachting. The hotel is holding A tour to an uninhabited island called Yojima is also popular is.
A charge of 500 yen for adult 300 yen for elementary school students from 3 years old is required for non-guests.
Ocean Expo Park Emerald Beach
An artificial beach known for its excellent water quality and a unique Y-shaped landform protruding from the northern end of Ocean Expo Park. The Ocean Expo Park "Okinawa Churaumi Aquarium There is also a" Okinawa as one of the tourist attractions adult is mind.
The beach is divided into three area, "play beach", "rest beach" and "view beach", and you can enjoy different views. Water quality is "AA" rank, 2006 Year has been chosen also to the Ministry of the Environment to have specified "beach hundred election".​
Kouri Beach

2005 Year Kouri Bridge was opened to the, Remote islands that can be reached by car As the Year there has been a growing 's popularity Kourijima.. Kouri Beach is a shallow artificial beach spread to the left and right of the entrance to the island. White sand beach and transparent sea You can enjoy
Including Kouri Beach on the island 5 beaches There is a heart-shaped strange rock "Heart lock There is Tinu beach And the Okinawa version of "Adam and Eve" legend remains Chigunu beach Is also popular.
Sesoko beach

It is connected to the main island of Okinawa the Sesoko Bridge with a total length of 762 m. Sesoko Island.. On the west side of the island, One of the most transparent on the main island and natural white sand Sesoko Beach boasts a wide range.
Diving Or Snorkeling, Winter Whale watching There are plenty of Activity. Minna Island (Minnajima) Or Iejima Sinks in the background Don't miss the romantic sunset is.
Busena Beach

Okinawa 's leading international resort The Busena Terrace The beach of 760m in length that spreads out in front of ". The area around Cape Busena is "Busena Marine Park It is called, and you can observe the seascape up close. Underwater observation tower There is also a "whale-shaped glass-bottomed boat" platform where you can easily take a walk in the sea.
Standing at the tip of the cape Mangoku Tsuryokan "Is 2000 Year of Kyushu-Okinawa is also known as a stage of the summit summit. A charge (3,000 yen adult) is required for non-hotel guests.
Okinawa main island central part
Ikei beach

Ikei Island A natural beach on the west side of. Ikei Island is a remote island, It is connected to the main island by the mid-sea road.. The beach is a small cove, so it is not easily affected by the wind, regardless of the tide. It is attractive to be able to swim all day long..
Colorful Besides marine Activity, barbecue It is a little-known spot that is loved by both tourists and locals because it can be enjoyed. adult 600 yen (day use 400 yen), child 400 yen (day use 300 yen will be required utilization rate).
Zanpa beach

Sunset sights Known as Cape Zanpa On the beach. One of the largest coral reefs in the prefecture Surrounded by, the waves are calm, Even parents and children can enjoy with peace of mind It is a precious beach.
The Zanpa Cape Lighthouse, which boasts a size of approximately 31m, is nearby. Japan to 16 it is one of the only "climb lighthouse", is from the top you can overlook the large panorama of the East China Sea.
Ginowan tropical beach

Ginowan Tropical Beach, commonly known as "Tropy," is a local beach adjacent to Ginowan Seaside Park.
The vast white sandy beach, the blue sea and sky, and the liveliness of the locals who enjoy barbecue, Okinawa A beach where you can fully enjoy the uniqueness is. It is popular as a hot spot for foreign tourists and young people from both inside and outside the prefecture.
Araha Beach

Inside Arara Park in Chatan Town It is in, Long beach with a total length of about 600 meters.. The beachside is lined with palm trees Exoticism reminiscent of the West Coast of the United States there is.
The nearby popular spot "Mihama American Village", in the whole city Theme parks there is a fun, such as the area is. The famous Chatan Sunset Beach, which is famous for its sunsets, is also within walking distance.
Southern Okinawa main island
Toyosaki Seaside Park Toyosaki Chura SUN Beach

Naha south side of the airport, 15 minutes by car In place Toyosaki Seaside Park An artificial beach adjacent to. 700m long That The largest long beach in the prefecture And it's also a filming location for the movie.
Marine Activity such as Snorkeling, banana boat, and marble are also very popular. In April-June and September-Oct., an uninhabited island in the southwest of the beach Okanami Island You can also land on.
Azama Sun Sun Beach

2000 Year large artificial beach that is open to. It features a clear sea and white sand beaches, and is loved by local families and tourists.
The beach house with a red tiled roof is equipped with a Changing room, a shower room, and a toilet designed to be barrier-free. Enriched facilities are also attractive One of. Colorful Marine sports and barbecue You can enjoy it to your heart's content.
Bibi Beach Itoman
An artificial beach opened in 2006 Year Itoman Fishing Port Fureai Park, a landfill district in Itoman City.
The sea is divided into a swimming area equipped with a jellyfish prevention net and area of Marine Activity, and beach soccer and beach volleyball are also popular. 1 Year I can have a barbecue inside Because it is loved by the locals who love beach parties. Because it faces west You can also enjoy the beautiful sunset..
Okinawa main island Naha
Beach on the waves

"Umisora Park on the waves On the beach inside Naha The only beach in the city is.
If you go through the completed "Naha Umisora Tunnel" at 2011 Year, Only 10 minutes from the airport Will arrive at. There are many shops, Changing room, Locker, toilet Buy ingredients at the shop and have a barbecue You can also enjoy it.
Okinawa remote island
Minna Beach (Minna Island)

Minna Island Is Approximately 1km from the main island of Okinawa A crescent-shaped remote island floating off the coast of Japan.
Right next to the dock is Mizuna Beach, where the ocean is so transparent that you can't even think of it right from the main island. It is a popular beach that is endowed with Diving points.
Given Naha foreshore Beach (Miyakojima)

Miyakojima Is proud of Given Naha foreshore (Yonaha foreshore) Beach Is "The best white sand beach in the Orient It is also said Superb view spot..
7km long beach In front of, about 1.7km connecting Miyakojima and Kurimajima Kurima Ohashi Will hang and show you a unique landscape. Marine sports are also popular and you can enjoy various Activity.
Furuzamami Beach (Zamami Island)

Furuzamami Beach Is Received 2 stars in the Michelin Green Guide Japon did Zamami Island Main beach of.
The contrast between the pure white coral sand and the blue sea is beautiful, Play with colorful tropical fish in the coral reef sea can do. The waters around the beach Sea turtle spawning ground.. If you are lucky, you may be able to swim with the sea turtles in the Kerama Blue Sea.
Hate no Hama

30 minutes by boat from Kumejima At a distance Hate no Hama Is Uninhabited island beach boasting a superb view like heaven..
There are three white sandbars, each of which stretches for about 7 km. Maeno beach, Nakanohama, Hateno It is called the beach. The beach of Hatei Collective of these It corresponds to. As far as the eye can see, the beach of Hate surrounded by the emerald green sea Famous among the tourist spots around Kumejima is.
Why don't you find your own plan on the unique beach of Okinawa?
A pure white sand beach and a clear blue sea. Okinawa 's spectacular beach where colorful tropical fish swim is a paradise on earth. When you find the beach you are interested in, be sure to search for nearby attractions, hotels, and various marine Activity plans. You will surely find your own way of enjoying it.
*Information such as plans, charges, timetables, and Phone Numter are as of August 2020.