Enjoy the beautiful beaches of Zamami Island! Summary of Activity you can experience on the island and directions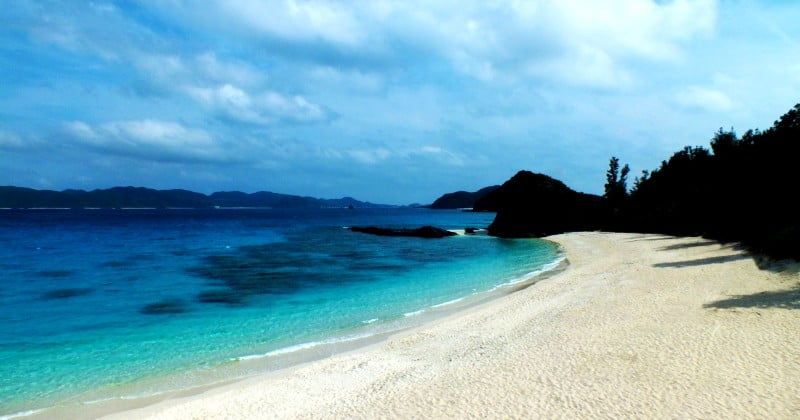 About 1-2 hours by ferry from Naha City. Among the Kerama Islands, Zamami Island boasts the beautiful scenery selected by the Michelin Green Guide. Facilities such as cafes and guest houses are also substantial. You can also enjoy Activity such as Diving, Snorkeling, and SUP. I will introduce how to go to the island and what you can experience.
Let's go to Zamami Island in Okinawa and Kerama Islands!

About 40km west of the main island of Okinawa, there are islands scattered in the East China Sea. Kerama Islands.. "Kerama Blue" The beautiful sea of emerald greens, which is called, attracts divers. Kerama Islands is made up of large and small than 20 of the islands and many of the reef, 2014 Year to 31st national park in Japan Was specified in. It is a rare area where the entire island and the sea are national parks.
In the surrounding islands, Okinawa Churaumi (beautiful sea) You can stay while enjoying the clear sea as if you were embodying this, and the white sandy beach. Snorkeling and Diving Activity doing. At the marine Activity, you can also meet colorful tropical fish!
Among the Kerama Islands, Zamamijima boasts the beautiful scenery registered in the Michelin Green Guide. Kerama Islands has the second largest area and is an island with a population of about 600.
Michelin Green Guide posted! What is Zamami Island?

Zamami Island is just on the map The center of the Kerama Islands Located in. Originally Zamami Island was famous among divers, but since it was designated as a national park in 2014 Year many general tourists have come to visit it. 2009 Year, the The island itself Was awarded two stars by the Michelin Green Guide Japon and is on the island Furuzamami Beach Also 2 stars at Michelin Greenguide Japon Earned. Attention from overseas is also increasing.
The popular Furuzamami beach is not only a contrast of the beautiful arctic coastline and the greenery of the surrounding islands and the blue of the sea, but also the coral reefs spreading in the shallow waters. Even children can enjoy coral and tropical fish by Snorkeling.

Maybe you can meet sea turtles !?
In addition to the Kozamami beach mentioned above, the island also has Ama beach where you can meet sea turtles and an observatory with a spectacular view.
Kerama Islands many islands Coral Sand (Fragment of Coral) Although it has a flat shape made of, there are mountains on Zamami Island. Observatory such as "Takatsukiyama Observatory" in the central part of the island, "Chishi Observatory" and "Inazaki Observatory" in the northern part of the island, and "Masenosaki Observatory" and "Kami no Hama Observatory" in the west. There is also a unique view of Zamami Island from which you can see the beautiful sea from the hill.

Takatsukiyama Observatory
In particular, the second observatory of Mt. Takatsuki is known as a superb view point overlooking Furuzamami Beach and the surrounding islands. The dynamic scenery of the Kerama Kerama Islands woven by the sea and the island is sure to be a memorable view.
On the other hand, if you want to capture the sunset over the sea with your camera, we recommend the Kami no Hama Observatory. About 15 minutes walk from Ama beach, you can stop by after playing in the sea.
How to get there, time and fare by ferry from Naha to Zamami Island?
It takes about 1-2 hours by boat from Naha to Zamami Island. Located at Tomari Port in Naha City Tomari Wharf Passenger Terminal Building "Tomarin" Since then, there are regular flights.
The ship that goes to Zamami Island "Ferry Zamami" When "High-speed ship Queen Zamami" Two of. Both head for Zamami Island via Akajima, which is next to Zamami Island. "Ferry Zamami" has a boarding time of 120 minutes, and "High-speed ship Queen Zamami" has a boarding time of 50 minutes. Fast ship arrives about an hour earlier I can do it. If you want to enjoy the view of the sea slowly, we recommend the ferry.
There are 1 ferry a day and 2 high speed ferry a day, and the fares are as less.
*1 child of less (5 years old) is free with adult. adult 2 out of 1 person more If you have a toddler, the fare for 1 person is child.
Ticket are in "Tomarin" Zamami Village Naha Branch Office Counter You can purchase at. It may be full during the July-September season, so Book early..
For reservations and inquiries about high-speed boats and ferries, call "Zamami Village Office Naha Branch Office". Reservations can be made from 2 months before the embarkation to the day before.
Tomari Wharf Passenger Terminal Building "Tomarin" / Zamami Village Office Naha Branch Office
TEL: 098-868-4567 (Reception hours 10:00-17:00)
How about moving from Zamami Island to the surrounding islands?
From Zamami Island, next door Akajima Or Tokashiki Island You can get there by ferry. The boarding time to Akajima is about 15 minutes and the fare is 300 yen (adult). It takes about 1 hour to board Tokashiki Island, and the fare is 800 yen (adult).
Although Aka Island is a small island with a population of about 300, it is known for its beautiful beaches where you can meet sea turtles and the abundant nature where the natural monument Kerama Deer inhabits. You can also go on a day trip from Zamami.
Tokashiki Island Is the largest island in the Kerama Islands a population of about 750. Aharen Beach, which has 800m of white sand, is also full of marine Activity such as Snorkeling. It is crowded with many tourists during the season. Events such as the "Whale Strait and Tokashiki Festival" where drums and Eisa are shown are also held.
Currently, there are no ships other than Akajima and Tokashikijima, so if you want to move from Zamami Island to another island in the Kerama Kerama Islands, you need to return to Naha once.
Transportation on the island (bus, Rental car, Bike rental, Bicycle rental)
On the island Village bus Is passing. Routes include Zamami Port and Furuzamami Beach in the southern part of the island. 1 or 2 flights per hour The price is 300 yen for adult and 150 yen for children. Like ferries, buses are crowded during the July-September season.
2020 As of July, taxis on the island are closed. Even during business hours, only one taxi company needs to make a reservation, so if you want to visit the northern part of the island where buses do not pass, or if you want to move according to your schedule, Rental car, Bike rental, Bicycle rental Is recommended. Both can be rented at the Rental shop on the island.
Notes on staying in Zamami Island-What do you want to prepare?
Let's check the precautions on the island and what you want to prepare in advance.
Points to note (whether ferries are operated/coral conservation, etc.)

The ferry from Naha to Zamami and the ferry from Zamami to Naha may be postponed depending on the weather. Whether or not the service is available is announced every morning at 8 o'clock, and you can check it on the Zamami Village official website.
The beaches of Zamami Island are also inhabited by corals in shallow water, but to preserve the coral, we are calling on the island not to break the coral by standing in the shallow water or to stand on rocks in the sea and crush the coral. I will.
At low tide, it may be easier for the coral to reach its feet. For swimming and Snorkeling Do not put your foot in the shallows In addition, wear a life jacket and give the child a float. Life jackets and floats can be Rental at a marine shop near the beach for around 500 yen.
In addition, water shortage is a concern on the island. shower and cleaning equipment after Diving as much as possible Conscious of saving water Please go.
Among the Kerama Islands, Zamami Island is introducing credit card payments, but there are also cash payments at small shops and guest houses. It is a good idea to have the necessary cash ready according to the length of stay.
Please read the official website of Zamami Island for other precautions.
What you want to have
It is safe to have sunglasses to prevent sunburn, sunscreen, etc. Both can be purchased at the island stores. If you are worried about seasickness, prepare a sickness stop.
There is an observatory on the island, but there may be no shops along the way. Don't forget to drink when you go to the observatory.
What kind of facilities are there on Zamami Island? (Beach facilities, shops, cafes, etc.)
Zamami Island, which is also visited by many tourists, has shops and cafes in addition to guest houses, creating an environment where tourists can easily stay. Let's look at the facilities on the island.
Beach facilities (toilet, shower etc.)
Furuzamami Beach has facilities such as toilet, shower, Changing room, Locker, vending machines, and shops.
Ama Beach has toilet, Changing room, shower, vending machines, and shops. There is no Locker but you can leave your luggage at the campsite administration building.
Hotel / guest house
There are more 20 inns on the island, including luxury hotels for around 20,000 to 30,000 yen per night, hotels for around 6,000 to 8,000 yen per night, pensions, and guesthouses run by locals.
There are facilities such as a washing machine, a washing place for Diving equipment, and Wi-Fi. It is a good idea to choose an inn that suits your length of stay and purpose. There are some guesthouses where children cannot stay. If you are traveling with a family, please check the Facility information in advance and make a reservation.
Shop / souvenir shop
On the island, there are several shops run by locals around Zamami Port.
In addition to "105 Store", the largest store in the island where you can find food, alcohol, sweets, ice cream, miscellaneous goods and souvenirs, "Nagisa" that sells drinks and ice cream near Zamami Port, also near Zamami Port "Komine Shoten" that sells lunches.
If you want to shop early in the morning or at night, use the "Zamami store" near Zamami Port. Open from 7:30 to 21:00.
For souvenirs, head to the Zamamimun Market at the east terminal of Zamami Port. In addition to specialty products of the island such as mozuku curry and mozuku chips, we also sell goods such as the island's original eco bags and T-shirts.
By the way There is no convenience store on the island So, get what you need at the store.
Cafe / restaurant
In addition to restaurants serving Okinawa local cuisine, the island also has restaurants serving Italian, French, creative and ethnic cuisine.
Speaking of the island's local cuisine, mozuku soba. Okinawa soba is characterized by its thick noodles made from kneaded mozuku, and it is offered at famous restaurants such as "Wayama Kaiun" near Zamami Port. Zamami is a dish you should definitely try.
There are also cafes that serve light meals and shaved ice around Zamami Beach and Ama Beach. Perfect for when you're hungry or for a break after playing in the ocean.
For more information on the island's cafes and restaurants, please visit the official website of Zamami Village.
Post office/ATM
On the island 1 post office Yes, you can send letters and packages. The post office is open from 9:00 to 17:00 Weekday. Luggage shipments may also be accepted at guest houses and Diving shops.
Also, at this post office The only ATM on the island There is also. It's a good idea to use it when you need cash. Please note that it is not available on Saturdays and Sundays.
Clinic / Residential police box
There is one clinic and one police box on the island. The clinic's business hours are as less. On Saturdays and Sundays, only emergency cases are available.
9:00 am to 11:30 pm Finished / 14:00 pm to 16:30 pm Finished
Items that can be Rental (parasols, snorkel sets, etc.)
Furuzamami Beach The, "Magii Sea Club" and "Rental 2 hotels of the shop Higa" Rental shops, umbrellas, Snorkeling can be rented and set.
Ama beach If you want to Rental marine goods at, use the "Oki Rental" and "Pension Hamayu" nearby. It's a bit far from the beach, so check the map.
On the island, several Diving shops offer snorkeling and Diving tours with equipment. For those who are new to snorkeling and Diving we recommend a tour where you can Rental the necessary equipment and have a guide by an instructor.
What you can do on Zamami Island (Snorkeling, Diving, SUP, etc.)
swim
Zamami Island Furuzamami Beach, Ama beach Is a swimming beach. During the April-Oct. season, lifeguards will check your safety for peace of mind.
In addition to the above two, there are Yuhina beach, Uhama beach, Touma beach, and Ino beach on the island. Swimming beach There is no lifeguard. When bathing on these beaches, Manage your own safety Please swim.
Diving / Snorkeling

The attraction of Zamami Island is the coral reefs that spread out in the shallow sea! You can meet coral and colorful fish even in shallow water. Since Ama beach is also a habitat for sea turtles, we often encounter sea turtles that come to shallow waters. The sea turtles you see up close will surely be good memories.
Sponsored by a marine sports company, experience Diving and Snorkeling tours from Okinawa are also held. Diving and Snorkeling because the instructor will guide you on the tour while considering the safety and level of the participants Safe for beginners And enjoy.
SUP (Stand Up/Buddle Surfing)

Stand on a board similar to a surfboard, paddle while standing up to the surface Stand Up Paddle Surfing (commonly known as SUP) Is not needed is difficult techniques, such as surfing, near from the fact that enjoy even beginners Year popular Activity.
In Zamami Island, in addition to a tour to enjoy SUP, snorkel goods loaded on SUP to enjoy both SUP and Snorkeling, yoga on SUP SUP Yoga Tours etc. are held. In addition to day tours that go during the daytime, sunset and Night tour where you can enjoy the evening sea!
Sea kayak / Clear Kayak
On the island, row a small boat yourself and go on the surface of the water Sea kayak Can be experienced. Clear Kayak (skeleton Kayak), which has a transparent bottom of the ship, allows you to fully enjoy the beautiful sea and fish and enjoy a blissful time. Both can be rented at the Rental shop on the island.
Fishing

A tour to enjoy sea fishing by riding a fishing boat from Zamami Port is also recommended for families. Equipment can be prepared by boat, so you can join by hand. You can catch fish unique to the sea of Okinawa, such as red grouper fish, Meeby!
Nordic walk
By using two dedicated poles (stock), you can walk while reducing the strain on your legs and waist Nordic walk.. On Zamami Island, you can go to the observatory with a local guide Walking tour around the beach Is being held.
Courses, times and dates will be decided in consultation with the guide. If you participate, you may find a surprising little spot. Apply to Zamami Village Tourism Association (TEL: 098-987-2277).
Whale watching (held from January to March)
Every Year from January to March, Kerama Islands is in you came humpback whales in order from Alaska breeding. On Zamami Island, the Zamami Village Whale watching Association holds Whale watching tours. From Zamami Port, it is held twice a day in the morning and afternoon.
For details on the tour, please see the official website of the Zamami Whale watching Association.
Day trip from Naha. Choose the tour you care about and join us!

You can enjoy the beautiful sea and greenery of the mountains in about 1-2 hours by ferry from Naha Zamami Island.. It is also a point that you can go sightseeing on a day trip. Kerama Islands have relatively well-equipped facilities such as shops, restaurants, and Rental shops, and I'm glad that there are few things to prepare for the trip.
In marine Activity, Snorkeling, Diving, SUP, etc. Kerama Blue You can fully enjoy the sea. There are various plan tours such as those departing from Naha and those gathering locally on Zamami Island. Why don't you find something you are interested in and participate?
*Information on plans, charges, timetables, Phone Numter etc. is as of July 2020.