Okinawa whale watching season, probability, price and popular experience tour ranking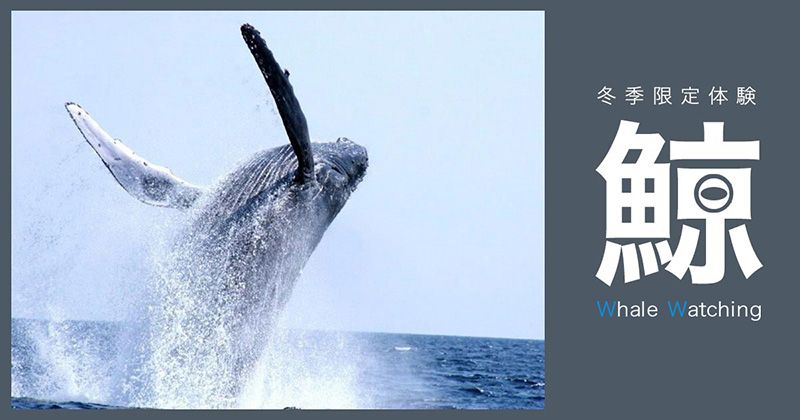 Activity Japan Editorial Department
On this page, you can find information about the " Whale watching (whale watching) Special feature on experience tours! Naha (South), Onna Village and Chatan (Central), Motobu (North), etc. Whale watching tour recommended plan departing from various places in Okinawa Thoroughly introduce! Reservation popularity rankings, cheap recommended plans, timing and probability, fees, costs, venues, clothing, reviews and impressions, etc. Helpful information for booking your first whale watching tour Let's check it out.
What is Okinawa Whale Watching?
Every winter, they search for warm seas to give birth. A humpback whale coming to the waters near the Kerama Islands in Okinawa herd.
is the largest mammal A tour where you can observe whales (whales and whales) at a close distance is "whale watching" or "whale watching".
On Tour, it measures approximately 15 meters in length and weighs approximately 30 tons. Giant whale show time can enjoy
And if I'm lucky again, I'll bring a baby whale Encountering parent and child whales .
A number of tours where you can experience the dynamic mystery of nature, Extremely popular for Okinawa travel and sightseeing in winter proud of
Okinawa whale watching season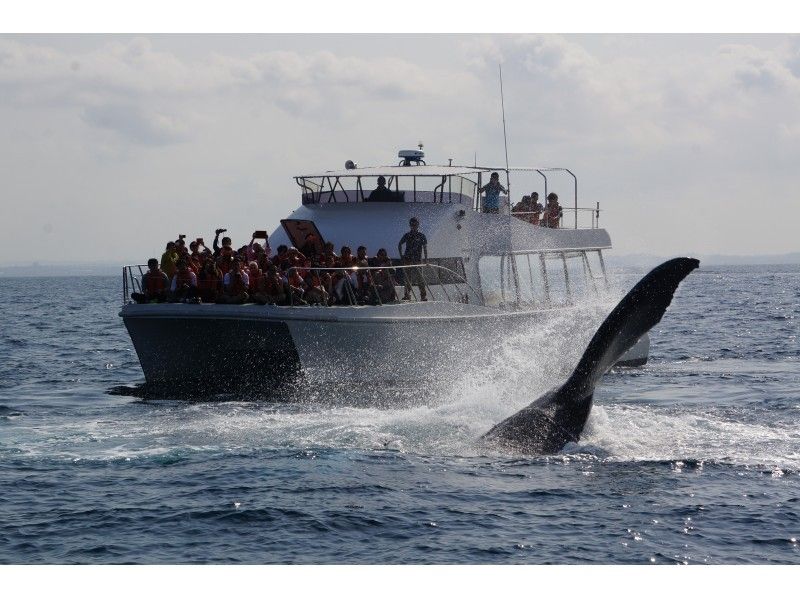 The season when you can enjoy whale watching in the waters near Okinawa changes every year. From late December to early April is.
During the tour period, several boats depart in one day. Set sail for the best spots where humpback whales live doing.
In addition, although they are wild whales, during the season of December, January, February, March, and April, Encounter rate exceeds 90% It is said that
Because you can enjoy the overwhelming force and excitement Planning a Winter Trip to Okinawa for Whale Watching Many people do.
Okinawa whale watching fee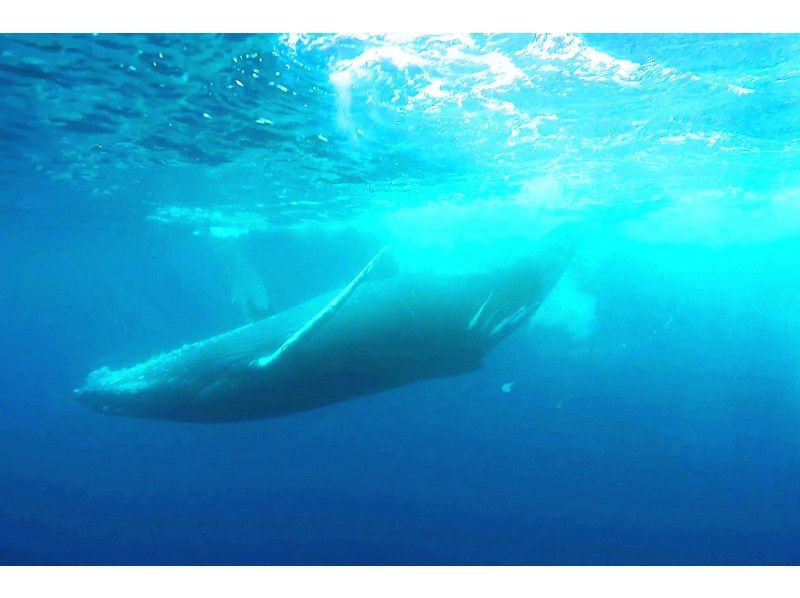 " How much does Okinawa whale watching cost? I think there are many people who want to know about the tour participation fee.
At Activity Japan, Lowest monitor price from 4,600 yen (tax included) We introduce experience tours that can be reserved.
A tour to enjoy whale watching alone is per participant Prices range from 4,800 yen (tax included) to 6,000 yen (tax included) is.
In addition, "snorkeling" and "experience diving" etc. We are also introducing advantageous set plans that you can enjoy together with other Okinawa activities is.
If you can't see it, there is also a full refund system!
The whale encounter rate of the Okinawa whale watching experience tour exceeds 90%, In rare cases, whales cannot be seen I have.
In that case" Full refund if no whale sightings There are several plans that have a system called ", so you can make a reservation with confidence.
Okinawa whale watching clothes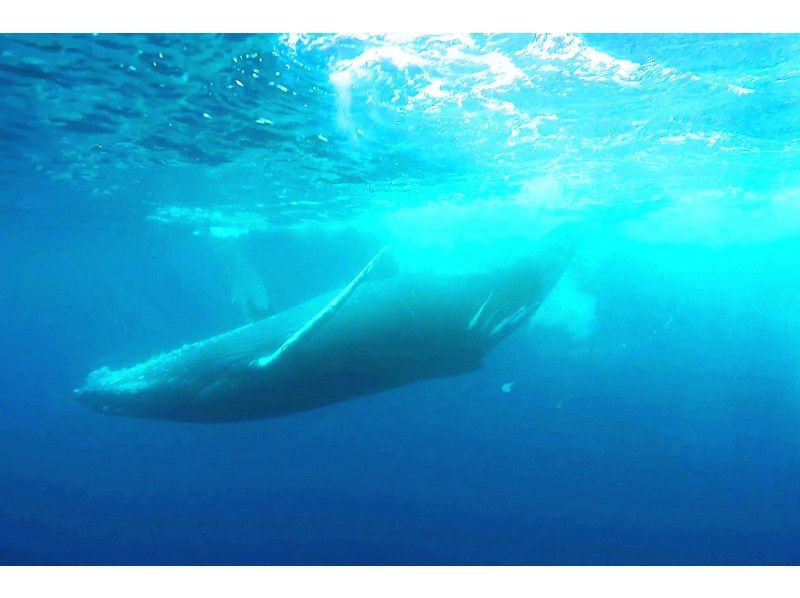 Enjoy whale watching in Okinawa Winter season (December to April) is.
Even in Okinawa, which has a hot, humid and warm climate, Temperatures will drop and cooler days will increase .
In addition, whale watching is an activity that can be enjoyed on a ship, Characteristics of strong sea breeze there is.
Therefore, the sensible temperature is lower than on the ground Prepare an outerwear to protect against the cold We recommend that you keep it.
Below is a summary of the recommended clothing when participating in Okinawa whale watching.
Even in winter, the sunlight is strong on the sea, It is safe to wear sunglasses and a hat can enjoy to
In addition, in preparation for sudden weather changes and splashes Prepare a raincoat (waterproof outerwear) It is a good idea to keep
Required when boarding a ship Life jacket (floating vest) rental fee is included in the tour price is common.
Precautions for Okinawa Whale Watching
From here Precautions when participating in the Okinawa whale watching experience tour I will review.
below typical 3 points Please follow the rules of the whale watching experience tour you participate in and enjoy it safely.
Cold protection measures
Whale watching spot offshore It feels chilly because the wind is stronger than on land .
Therefore, on Prepare outerwear and winter clothes that can be worn alone We recommend that you keep it.
Both windproof and waterproof A nylon mountain jacket is recommended. will be
Measures against seasickness
Whale watching basically has a lot of time to be shaken on the ship, Measures against seasickness and motion sickness are essential is.
If you are prone to motion sickness, Take motion sickness medicine about 30 minutes before departure would be good. (You may be able to purchase options on the tour)
again, Avoid extreme satiety, not to mention drinking just before and heavy drinking the day before It is also an effective way to prevent seasickness.
Advance reservation
When participating in the Okinawa whale watching experience tour, Advance reservations must be made online let's take
By making a reservation early, Secure boarding slot for desired date and time Not only can it be done, but there is also the advantage that the reception on the day can be done smoothly.
You can also book at a great price. Even when you can use discount campaigns and coupons I have.
Venue for Okinawa Whale Watching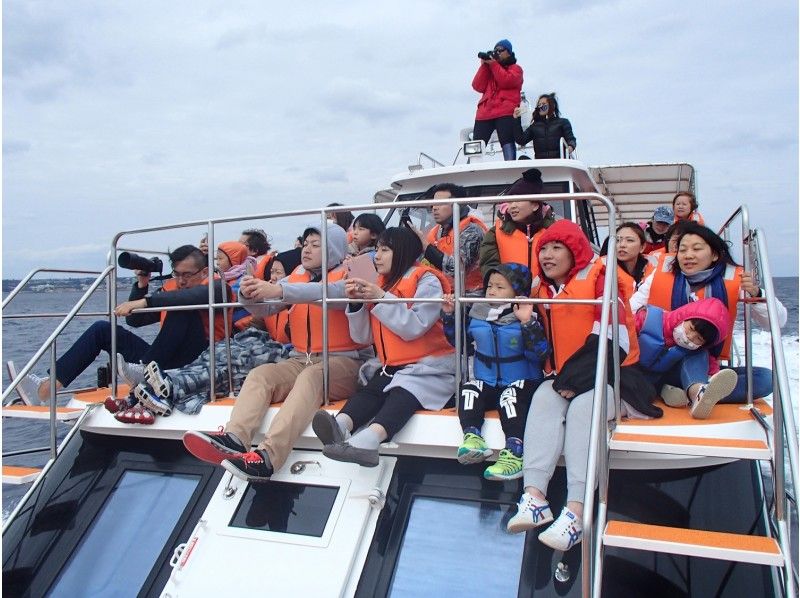 About Okinawa Whale Watching " where is it held? "or" where do you get on the boat from? Isn't there a lot of people who have doubts?
The venue (boarding place) of the Okinawa whale watching tour is Mainly Naha (southern), Onna village and Chatan (central), Motobu (northern) You can select from
Below, Recommended experience tour plans and reviews/word-of-mouth experiences for each of the three places Introducing
Whale watching recommended plan from Naha
Introduction of reviews and word-of-mouth experiences
Whale watching recommended plan from Onna village
Introduction of reviews and word-of-mouth experiences
Whale watching recommended plan from Chatan
Introduction of reviews and word-of-mouth experiences
Whale watching recommended plan from Motobu
Introduction of reviews and word-of-mouth experiences
Okinawa Whale Watching Tour Reservation Popularity Ranking
Finally, based on Activity Japan's latest reservation data " Okinawa whale watching tour popularity ranking " will be introduced on the main island and remote islands.
Please use the boarding place and experience fee (cost), as well as the reputation and impressions from reviews and word-of-mouth experiences, to help you compare and consider plan selection.
Okinawa Whale Watching Frequently Asked Questions
Q

Charms and Features of Okinawa Whale Watching

A In Okinawa, you can mainly see humpback whales. Humpback whales store up plenty of nutrients in the northern seas in the summer, and come to the waters near Okinawa and Amami Oshima in the winter. They travel thousands of kilometers in search of warm seas to give birth and raise their young. If you're lucky, winter in Okinawa is the best time to experience whale watching, as you might even see baby whales.
Q

What are the precautions for whale watching in Okinawa?

A For whale watching, you will travel by high-speed boat to the whale habitat point. Even in Okinawa, it can feel cold in the winter sea. Long sleeves that are easy to put on and take off are helpful. Attach a strap or hang your hat or camera around your neck to prevent it from falling into the sea. Pregnant women and infants may not be allowed onboard. Participation conditions must be confirmed at the time of booking.
Q

When and where can you see whales in Japan?

A Whale watching is actually an activity that can be experienced all over Japan without going to Hawaii. Whales migrate in the waters near Japan in each season, and appear in the Ogasawara Islands in early spring, in Hokkaido from spring to autumn, and around Amami and Okinawa in winter. Depending on the time of year, you can see whales even in areas where you can make a day trip from big cities, such as off the coast of Choshi in Chiba Prefecture and Nachikatsuura in Wakayama Prefecture.
Editorial department recommended feature articles