Summary of popular scuba Diving spots in Japan (Okinawa, Izu, Wakayama, Kagoshima, Kanto etc.)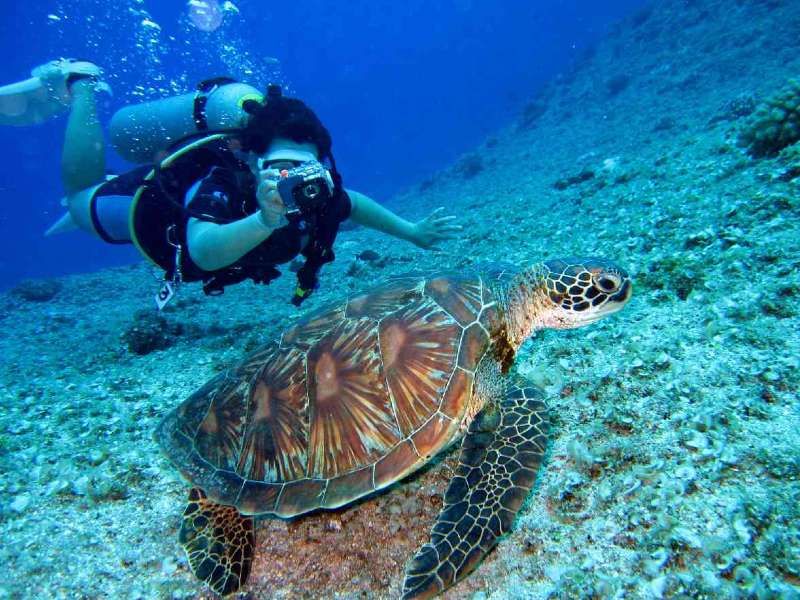 Speaking of Japan Diving spots, Okinawa and Izu There may be many people who think of such things, but in addition to both area, Kanagawa, Hyogo, Wakayama, Kagoshima, Goto Islands Such Kyushu and Kansai And so on. Also, although not well known, Hokuriku, Koushinetsu, Tohoku Are also scattered. This time, we have summarized the main Diving spots in Japan.
across Japan Diving spot map
You can zoom in and out on the map.
Kanto / Tokai Diving spots

Diving spots that are easily accessible from the city center
Speaking of
Kanagawa, Izu Peninsula and Izu Islands
there is.
Izu / Izu Islands / Numazu
The Izu Peninsula is fascinated by divers due to the complex terrain formed by volcanic activity. Many Diving spots are scattered around the peninsula.
Higashi Izu is where the most famous spots are gathered. .. It is said to be the birthplace of leisure Diving along the Jogasaki coast "Izu Ocean Park" Also known for its beautiful sand and anemones "Yokobama Beach" Also known for being able to observe a variety of sea creatures, it is also popular with photographer divers "Hachimanno Beach" And so on.
Minamiizu Is highly transparent and you can enjoy a tropical landscape "Hirizo beach" Is famous. Sea turtles and hammerhead sharks also appear There is also something to do.
Nishiizu /Numazu In addition to migratory fish, crustaceans, and popular sea slugs, Manta ray, sunfish in early spring You can meet various creatures such as Osezaki area Are popular. Next to Osezaki, Ida Then there is a total length of 200m "Ida Beach" You can Diving. The attraction here is that you can enter from anywhere on the shore and enjoy various courses.
Other than peninsula Izu Islands In, you can see the dynamic terrain created by the volcano that was certified as a Japanese Geopark Oshima Or drifting in a tropical mood Hachijojima Diving also popular.
Kanagawa

Diving spots are scattered along the Sagami Bay in Kanagawa. Around Enoshima, Miura Peninsula, Hayama, Manazuru, Nebugawa You can dive in.
The most popular area are the Miura Peninsula, Hayama and Manazuru. is.
Miura Peninsula The main spot of is connected by Jogashima Bridge Around "Jogashima" is. Benefit from Sagami Bay side of the Kuroshio, nutrient-rich Tokyo both sides of the Gulf side Diving there is a spot, is attractive to meet a variety of creatures, such as dozens of species sea slug.
Hayama The main Diving spot of Around "Shibasaki coast" .. Due to the influence of the Kuroshio, various creatures can be observed each season, and there are many invertebrates such as sea slugs.
Around Manazuru Rock Beach In addition to encountering various migratory fish and sea creatures, there is a large artificial reef where you can enjoy the beautiful scenery of soft corals and many fish. In Manazuru, there is also a colony of coral anemones designated by the prefecture as a natural monument. "Fukuura Beach" Spots such as are also major.
Chiba
Chiba Boso Peninsula, which is known as a mecca for surfing, has many Diving spots.
The most gathered spots are around Tateyama in Minamiboso. is. Namiza area It is in "Namiza Marine Park" Has The only submarine shrine in the world In the surrounding area, you can see the giant saltwater fish, Kobdai, nicknamed "Yoriko", and various sea creatures such as shrimps, crabs, sea slugs, and gobies around the roots and in the sand.
Located at the southern end of Tateyama Bay Okinoshima A popular spot for Diving and Snorkeling. The "Okinoshima Chinsen" is a famous shipwreck point where you can dive from beginners. is.
Besides Minamiboso, Sotobo area Is a beach point also known as "Sea slug paradise" where you can observe more 10 kinds of sea slugs on the Hamayuki River in Katsuura City. "Kominari Beach" There is, and entertains divers from beginners to advanced users.
Uchibo area Then in Katsuyama Around "Ukishima" Is a major Diving spot.
Kansai Diving spot

​
Wakayama is the most popular Diving area Kansai .. In particular, Diving spots are scattered in the southern and eastern parts of the Kii Peninsula. Among them, the most popular is Kushimoto, Shirahama area ..
Facing the Sea of Japan, Kyoto Kyotango, Hyogo Toyooka, Kami-cho and new Hot spring-cho, Tottori Iwami Town, of Tottori spans the city, San'in Kaigan Geopark extending about 120km from east to west .. Diving spots are scattered along the Sea of Japan line.
The transparency is high and Sanin is affected by the Tsushima warm current, so you can enjoy the unique creatures and colorful fish of the Sea of Japan from summer to autumn.
Above all Takeno in Hyogo Is a popular Diving spot.
Wakayama

At the southern end of the Kii Peninsula Kushimoto Is an area where tropical and temperate creatures coexist due to the Kuroshio Current. Located in Kushimoto Marine Park "Glass World" Is famous. It is a popular Diving spot for photographer divers, where you can meet colorful fish just like the southern islands. It is connected to Kushimoto by a bridge Around Kii Oshima There are also many Diving spots scattered around here, and you can also go cape Diving here.
Known for its beautiful beaches, adventure world famous for pandas, and Shirahama Hot spring "Shirahama" area where many divers visit. Many divers, from beginners to advanced players, are attracted by the dynamic terrain and abundant creatures such as the popular sea slug. Even beginners can enjoy 28m long shipwreck point Is also popular.
Hyogo
Hyogo facing the sea in the north and south. Diving spots are scattered in each area, but the major one is Takeno Town located in Toyooka City in the San'in Kaigan Geopark in the north. Selected as one of Japan's 100 best beaches "Takenohama beach" Of narrow terrain" "Nekozaki Peninsula" You can enjoy Diving around the area. The popular point is "Yodo-no-mon". The intricate waterways give you a sense of adventure. It is also known for its abundance of sea slugs.
Sanin Diving spot

Since the sea in the San'in Region is affected by the Tsushima Warm Current, it is highly transparent and you can enjoy the creatures and colorful fish that are unique to the Sea of Japan. Kansai Region of Kyoto, Hyogo from Tottori Sanin coast Geopark and that span, Yamaguchi remote islands such as Ainoshima and Mishima of, facing the Sea of Japan Shimane Ota City, Oki There are die bottle packaging attractions such as the island of.
Shimane
Shimane consisting of four inhabited islands and 180 too much of an uninhabited island floating off the coast of the peninsula " Oki Island" Is famous for its complicated coastline and strange rocks, and you can enjoy dynamic terrain even when Diving.
Due to the blessings of the Tsushima Current, migratory fish swarm around the island and you can meet a school of yellowtails with a high probability. Dolphins may appear offshore!
Shikoku Diving spot

Shikoku area In the sea,
You can enjoy the table coral and the waterscape of a tropical country under the influence of the Kuroshio Current.
Sea creatures are abundant and popular with camera divers.
Kochi
Kochi 's Diving spots are scattered in the southwest. The sea of Otsuki Town, which is famous for Whale watching, is also known as a Diving spot, and the area around Kashiwajima, which is a land connection, is the main spot. It is said that 1000 kinds of creatures live there, and you can also see one of Japan's leading colonies of table corals.
Located in Tosashimizu City, which prospered as a port town for a long time, next to Otsuki Town "Cape Ashizuri (Misaki Ashizuri)" Is said to be the first place to visit the Kuroshio in the Japanese archipelago, where you can observe migratory fish and colorful tropical fish.
Floating about 23km off the coast of Sukumo Bay in the west of Otsuki Town "Ugurjima" Located in the south of Uraijima Also waters such as okinoshima, there is a reputation for depth of transparency is high school of fish Diving spot is.
Kyushu Diving spot

Kyushu is surrounded by sea on all sides, and there are Diving spots along the mainland and on the surrounding islands. There are many in the northwest and southwest.
Diving the islands is very popular, and the northernmost part of Fukuoka is Tsushima warm current. From Ikishima and the Genkai Sea area to the Goto Islands in the west and Amami Oshima in Kagoshima the south There are various environments, and corals, terrain, and abundant creatures from big to macro attract many divers.
Kagoshima
Among the Diving spots in Kyushu, Kagoshima has a unique environment and topography such as Sakurajima, an active volcano. Not only can you enjoy the terrain, but it also has many attractions, such as the tropical blue sea and tropical fish.

At the southern end of Kyushu "Bozu" Is a standard Diving spot of Kagoshima. It is said that the transparency is high Kyushu, and there are many rare creatures, so it is recommended for camera divers and divers who like macro creatures is.




Other, you can enjoy unique creatures and terrain such as Sakurajima, the symbol of Kagoshima, Amami Oshima where various creatures from macro to big creatures live and you can enjoy Whale watching in the winter, and you can enjoy the sea with a tropical mood in Yakushima and sea turtles You can also meet. Yakushima is the point where you can see the fighter planes that crashed during the war "Zero game" Is also famous is.

Many divers are attracted by coral, terrain, and abundant creatures from large to macro.
Goto Islands
About 100 km west of Nagasaki City, there are 130 islands of various sizes. " Goto Islands " .. A lot of natural nature such as beaches, sea cliffs and volcanic landscapes are preserved. To benefit from the Kuroshio, you can meet a wide variety of creatures from corals, soft corals, southern fish to large ones.
It's for intermediate and more, but the most famous point is "Koma Sone" .. The Kuroshio current hits directly, so the transparency is high and the fish shadows are dark. From late May to early June, a large flock of rockfish gather to lay eggs.You can see
This is a point where you can meet big fish such as sharks, spotted rays, and green turtles. The "wreck", in which a carrier that is more 105 meters is sunk, is also popular with divers of intermediate level and more.
There are also many spots for beginners such as Yorojima, Sazae Island and Maeno Island. There is.
Okinawa Diving spot

​

Okinawa southernmost tip of Japan and consists of about 160 islands of all sizes. Needless to say, it is a popular spot for Diving, and the islands are roughly divided into the main island of Okinawa and the neighboring islands, Kumejima, Miyakojima Islands, Kerama Islands, Yaeyama Islands, each with many Diving spots scattered. doing.
The transparent blue sea, coral reefs, dynamic terrain, and sea creatures such as manta rays and sea turtles attract many divers.
Main island of Okinawa
​

There are many Diving spots on the main island of Okinawa which is the gateway to Okinawa, about two and a half hours by air from Tokyo.
Onna-son area "Blue Cave" , Beach spots along the breakwater Chatan area Located in the southernmost part of Okinawa, you can enjoy Diving all Year round Itoman area , Diving spots are scattered around the peninsula and remote islands Motobu area You can dive in.
Kerama Islands
Kerama Islands are located about 40km west of Naha City, Tokashiki Island, Zamami Island, Aka Island, Kerama Island 4 inhabited islands, uninhabited islands, and islands consisting of about 20 large and small islands. The highly transparent sea and coral reef called "Kerama Blue" is attractive. 2014 Year is to have been designated as a national park.
Diving The spot is Tokashiki Island, Zamami Island, Aka Island Is the center. The boat is mainly Diving, and in addition to beautiful coral reefs, dense fish shadows, highly transparent sea, there are many points where you can enjoy dynamic terrain from the point where the water depth is shallow and beginners can enjoy, and the point of For advanced level people. Rich in variety. There are no entertainment facilities or large resort hotels on any of the islands, so it is recommended for those who want to enjoy nature and Activity.
Ishigaki Island

Ishigaki island which is the gateway to the Yaeyama Islands, has many Diving spots scattered throughout the island.
Untouched nature remains North , "Manta Scramble" Known for Diving points such as Chubu , Close to the city South And can be divided into three. Also, Taketomi and Kuroshima You can also dive.
Miyakojima
To the southeast of Miyakojima, The coast from Heian Nazaki to the south There are Diving points scattered along. The feature is that you can see the dynamic terrain, a school of tropical fish and a school of migratory fish.
"Panari dried sea inner leaf" Is one of the leading coral colony points. On the south side of the island, off the Nanata coast "Nanamata Arch" There are also terrain spots such as.
Koushinetsu / Tohoku Diving spot

Speaking of Diving spots, Okinawa, Izu, and remote islands in the south are major, but there are also Diving spots in the Koushinetsu and Tohoku area.
Hokuriku sea Since warm and cold currents mix together, it is attractive to enjoy a unique waterscape where fish and creatures unique to the Japan Sea and southern fish and creatures appear. is. You can dive on Notojima in Ishikawa, Echizen in Fukui, and Sado in Niigata.
There is a harsh image of diving in the Tohoku sea, but you can enjoy Diving because the water temperature rises more 20 degrees from summer to autumn. The seascape of sea squirts and seaweed is entertaining divers. Tsugawa and Onagawa in Miyagi and Shonai in Yamagata are known.
Niigata
Kashiwazaki, located on the coastline in the central part of Niigata Prefecture, is the birthplace of beaches in Japan. Above all, it has been selected as one of the "100 best beaches" "Banjin beach" Is a popular beach for families as it has large sandy beaches and rocky areas in the shallows. On a clear day you can see Sado Island. It is a Diving spot that even beginners can enjoy, as it is possible to enter in a few tens of seconds after getting off the seawall. The maximum water depth is about 10m. From the sandy area to the reef area, you can enjoy various landscapes and creatures according to the four seasons. In particular, from spring to early summer, seaweeds are overgrown, the transparency is high, the number and variety of fishes increase, and you can observe many fry and root fish.
Also, Diving area from Niigata Sado island .. Diving points are scattered on the northern, southern and west sides of the island. Diving is recommended in August, when the water temperature and transparency are high. Kobudai can fit "Akaiwa" The point is famous. Night Diving is also available, Spawning squid from January to March You can see
Miyagi
Offshore Sanriku, Miyagi Prefecture is one of the world's largest fishing grounds and is known as one of the three largest fishing grounds in the world. Many fish come from north to south in the sea rich in minerals influenced by Oyashio and Kuroshio. The characteristic of the Sanriku coast is that you can see fish from cold areas to tropical fish grown on the coral reefs in the south.
Diving Known as the spot, the rias coast has a wide variety of natural environments and a wide variety of creatures. Shizugawa area Also, there are points that are characteristic of rare macro fish and seaweeds. Onagawa area Such. These spots are one of Tohoku area transportation hubs. Sendai is also attractive because you can go on a day trip is.
We introduced Japan Diving spots that attract divers. There are many other than Okinawa and Izu. It is also recommended to try Diving while traveling.