Enjoy natural panorama with canyoning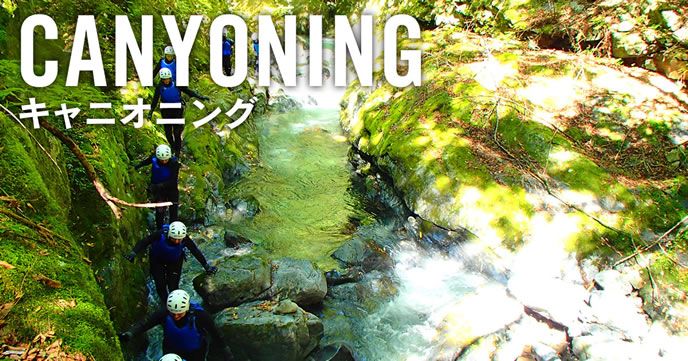 I want to fully enjoy nature, but I do not mind swimming.
Canyoning is a canyon game where you can go down the valley with the flow of the river, jump into the waterfall, or slide a natural water slider.

If a person who can not swim goes down a river, it is still fun to jump or is it ok if you can not really swim? Some people feel uneasy, do not they? but it's okay! Wear a wet suit so that you can enjoy nature nice and wear a buoyant life jacket. And protect your head with a helmet, so it is safe. Even if it jumps into the water, it floats immediately and the feeling of floating up is also fun.

Canyoning is not afraid because there is guidance in advance such as how to respond when it falls and how safe flow is done.
I want to pay attention only to this Safely Enjoys Canyoning
Even if it is raining, if it is judged that there is no danger, it will be carried out even if the amount of water is increasing to some extent.

To feel the force of water is also a real pleasure, so if it is not a bad weather such as a typhoon it will be carried out. Also, since it repeats a lot of walking, climbing and sliding, people who are injured or who have a medical condition should consult their doctor and decide to participate. And you can not participate in the condition of lack of sleep and alcohol in the body. On the previous day, sleep adequately and refraining from drinking leads to the canyoning that you can enjoy with safety.

Even if you feel sick in the valley, you can not respond immediately, or it takes time to transport to the hospital. Because it is when you are in good health, you can trust nature, so impossible is impossible.
Learn the appeal with a secure experience plan even for beginners
People who feel uneasy because they have never experienced so far, even those who are concerned about their physical strength due to insufficient exercise or the like, even with beginners who can enjoy playing with the flow of water in the valley fully enjoyable experience plan there is.

The distance traveled is relatively short, the valley can be played in a place where the inclination and the flow of water are gentle, and the experienced guide supports the enjoying method carefully. Even in the course with experienced people, there is also a canyoning that can be retired if you get tired on the way, so even beginners can join in peace.

Since you have various plans, such as being able to stay outdoors after experiencing canyoning, choose the plan you want to enjoy!