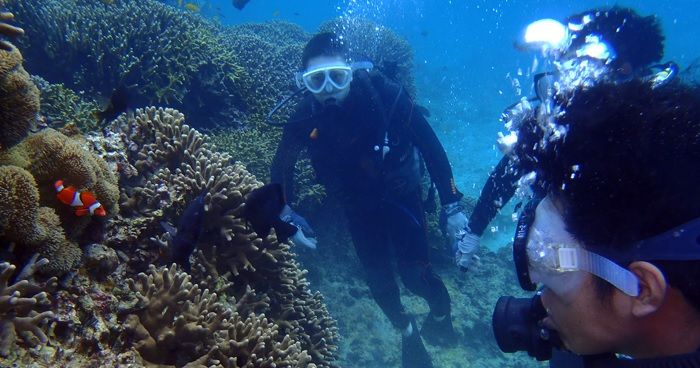 What is a fan dive? Get a license and enjoy the ocean freely!
Fan dive is a privilege permitted for license holder. For diving, there are a purpose to dive for a course and a purpose to dive for play.

Fan dive means this latter thing. That means that you do not need to accompany the instructor and you can freely move around in the water with mutual companions.

Basically it is impossible to swim alone in the water, so we will act with a buddy called a buddy, but still it is exciting just to think that we can share the same scenery as a friendly fellow You do.
Have you damaged half of your life without knowing scuba diving?
As I was watching the scuba diving lesson DVD, there was a word that "If you do not know scuba diving you lose half of life." I thought at that time that it would be slightly exaggerated, but I actually remember having experienced diving for the first time, thinking "I see."

Of course it is a person who likes swimming, but I think that impression that breathing can be done in the water is not damaged once it is tasted. It may be difficult to go to a place you like and suddenly going to a favorite place, but diving can be experienced even without a license, so it's fun to dare to try.
No license required! First of all, at the trial diving, the real thrill of the sea
Normally, when you do diving without an instructor license is mandatory, but if you are an experiential diving led by instructor, you can dive without license.

Of course, you need to take the minimum course in preparation for the emergency case, but you can rent all suits, fins, regulators etc, so the hurdle of the challenge is low except for it.

By the way, if you want to acquire a license you need to pass the practical experience and the written test, but if you study by text or DVD you can get it without hesitation. The type of license is various, but if you aim for acquisition, it is recommended to license PADI which is a world standard license.