Canyoning at the Tamagawa River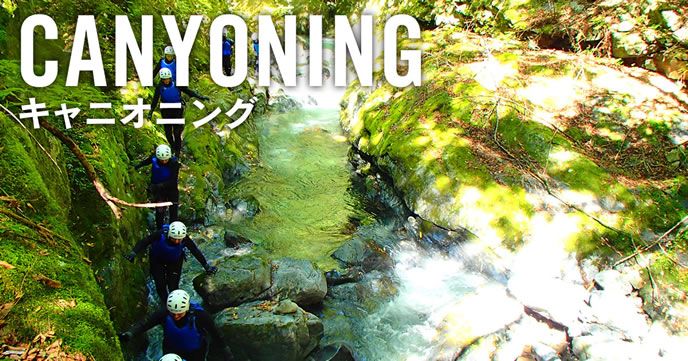 On the attraction of canyoning which can be done in the Tamagawa river
Canyoning originated in Europe where the valley valley transforms into a waterslide. In the Tamagawa river, you can enjoy it by taking a natural minus ion while receiving splashing water across the body. The course which can enjoy canyoning in half a day is also substantial, so it is attractive that beginners can easily challenge even beginners. There are some errors in time depending on the weather and the amount of water of the day. If you have plenty of time, a one-day tour is also attractive. You can do it from the morning and have plenty of time even after having lunch. Also, after plenty of plays, there are courses heading for hot springs, and you can heal the body.
Canyoning of the spherical giant river with excellent access by car
If you do a canyoning at the Tamagawa river, you can experience it in a good location with car access. If you run the car for 10 to 15 minutes from the Hitoyoshi interchange, you can enjoy canyoning in the great nature! It is also approximately 15 minutes by car from Hitoyoshi Station. If you come by using a high-speed bus, there is also a service to pick you up by car. Also, there are services that will pick you up when you wear using JR, you can enjoy it easily. Because there are signs of landmarks, it is reputed to be easy to understand even when coming for the first time. Equipment for enjoying canyoning is also substantial, so it seems to be enjoyable with confidence!
After sweating by moving the body, slowly at the hot springs
After having fully enjoyed the canyoning, you can also relax and go to the onsen. There are many hot water stops in Hitoyoshi city. The characteristic of hot water is simple fountain, it is effective for neuralgia, rheumatism, low back pain. It is also a popular spa as a hot spring of beautiful skin. When staying in a hotel such as an inn, there are many inns with hot springs, so it is recommended. There is also place of sourced with source, you can enjoy at a reasonable price. It looks good to go around some hot springs. Because there are places where family baths are offered, it is recommended that you rent out with your family to relax.