Canyoning at Okutama ~ Attraction of Okutama Canyoning with experience plan even for novices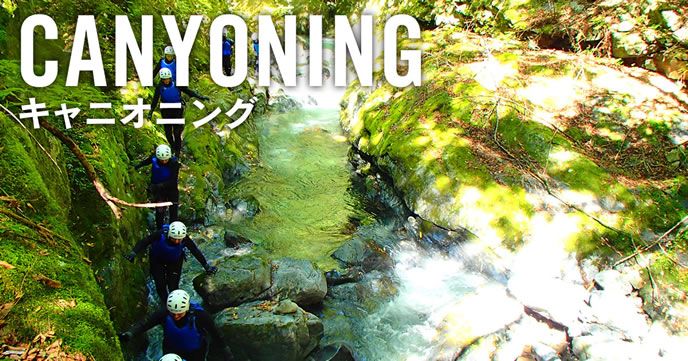 About canyoning which can be enjoyed in Tokyo Okutama
Canyoning is a sport going down the river from the upstream, and you can dive into a waterfall, descend a waterfall with a rope, or slide like a water slider. There are shower climbing in similar sports, but this is said to be a sport which is mainly to climb the river. Basically, if you have a river you can enjoy it anywhere, but it is still more charming and thrilling in places with many nature. Even in Tokyo, the capital of Japan, nature is magnificent and beautiful in Okutama, and it can be enjoyed by the landscape and flow created by nature, together with wonderful landscapes, and enjoy the canyoning.
On the charm of Okutama Canyoning located in the center of the city
Place is also important for enjoying canyoning. When transportation is convenient and the area is rich in nature, it will be restricted as it is. However, in the case of Okutama is Tokyo, it is convenient for transportation from the city center and it is possible to go in a short time, yet it is still Tokyo, but magnificent nature is left, to really enjoy the canyoning It is the best area! The charm of Okutama Canyoning is packed, as you can see beautiful water that is surprisingly transparent, and the Yamame swimming in such water. It is also possible to enjoy other activities, not just canyoning, and we also have a synonym for the sanctuary of the outdoors.
Okutama Canyoning with experience plan for peace of mind even beginners
It is a canyoning where you can enjoy exhilaration and nature at the same time, but for beginners there are many things you have to think about when starting various things, such as physical fitness, accident, necessary tools. The best way to do that is to use an experience plan that even beginners can relax. A tour that allows you to enjoy river play with a training veteran guide is safe and secure for the first person. Also, because there are many patterns included in the tour price, necessary tools and insurance etc, there is no need to prepare anything special. Since changeable rooms, vanity tables, toilets, etc. are also installed in the facility, you can enjoy nature without worrying about hygiene etc., as well.