Introducing the charm and plan of the "Rokuro Experience" that even beginners of pottery can enjoy! There are also plans for couples and children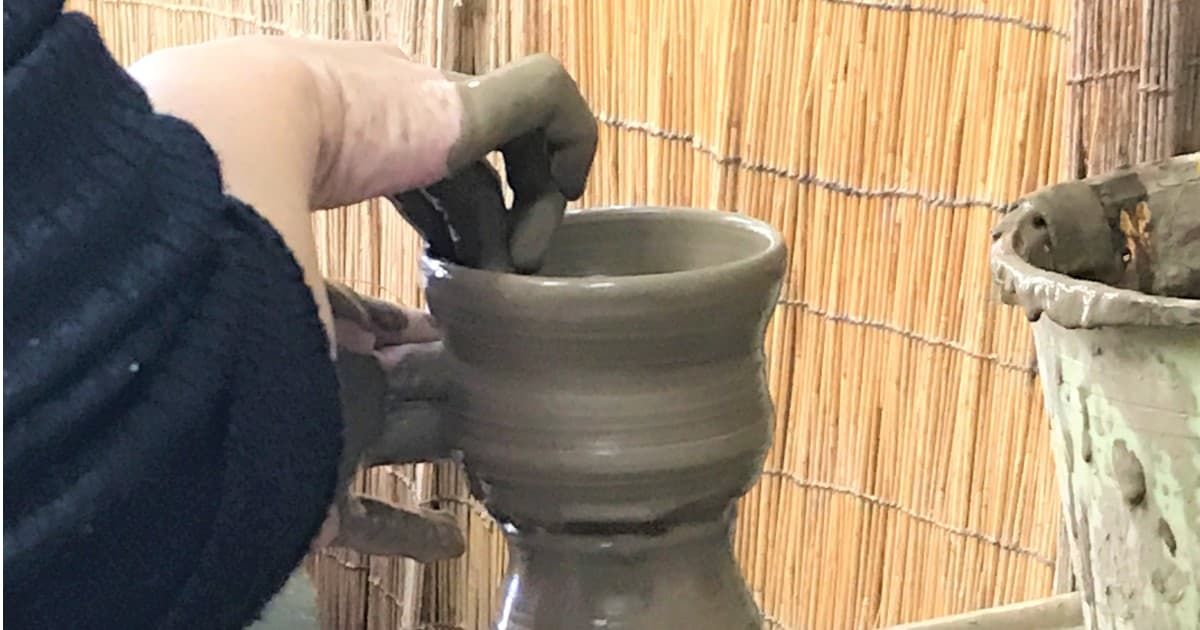 The potter's wheel experience, where you can easily make pottery, is perfect for those who want to start pottery. We will send you the information you need to know before the lesson, such as basic knowledge of potter's wheel, attention of clothes, variation of experience plan.
What is the attraction of "Rokuro Experience"?

The lump of clay on the potter's wheel becomes a beautiful container as you see it... Pottery I think that there are many people who have seen one scene, movie or drama. The advantage of using a potter's wheel is Using the centrifugal force of rotation, you can easily make a well-shaped container. thing. It takes some time for beginners to get used to it, but the impression and accomplishment when you can make a container as you want is just one.
All over Japan Pottery class Then, in order to let many people know the charm of pottery, Beginner's welcome "Rokuro experience" plan Is open a lot. Even if you make a mistake in the molding process, the teacher will help you. You may want to master the world of pottery if you know the joy of creating one "original" container in the world.
Ceramic techniques are roughly divided into "hand-rolling" and "electric wheel".

Making clay for clay into the shape of the work "Molding" Say big "Handmade" When "Electric wheel" There is a technique.
Handbill without using an electric wheel Method of molding while stretching the soil with your fingertips so, Hand kneading It is sometimes said that. Often Hand wheel, You don't pile up strings made of soil or make holes in the lump of soil, I will make the shape of the container freely..
On the other hand, the electric wheel With a wheel with a motor, you can rotate the base just by stepping on the pedal at your feet can do. Unlike hand-cranked wheel Both hands are free Therefore, taking advantage of the potter's wheel performance You can enjoy making more authentic vessels Is also an advantage.
Features of "electric wheel" and "hand wheel"

In the first place, what is a potter's wheel? Rotatable yen-shaped table That. It has a motor, and the stand rotates just by stepping on the pedal at your feet. "Electric wheel" And a manual type without a motor "Rotating hand wheel" There are two types.
Generally speaking, when you say "experience in potter's wheel", more people imagine the pottery using electric potter's wheel. Since the rotation speed of the electric wheel is fast, it may take some time to get used to it. But If you improve, you can make a container that is beautiful, thin, light and easy to use. can do.
On the other hand, Easier to handle than electric wheel is. You cannot rotate it as fast as an electric wheel, but you can work slowly and calmly. A wealth of experience plans for beginners and children.. For those who want to practice pottery while chatting with children and friends, "Hand-kneading experience" using hand-cranked wheel is perfect is.
What kind of electric wheel can you make?

If you use an electric wheel, Relatively easy for beginners, Such as mugs and bowls Practical tableware Can be made. For example, you can make a container like this.
A cup of tea

The teacup used to drink tea is A shape that is simple and easy to challenge One of. If you make a slight dent in the part that your thumb touches, your hands will not slip and the attachment will increase.
Mug

Coffee to drink with a handmade mug is exceptional! So that it fits your fingers Pay attention to the design of the handle Please give me. A slightly larger size is also convenient for drinking warm soup.
Cup

Freshly cooked rice that you eat with your own bowl is the best! You can also make a bowl that makes the rice more delicious. Or Any size So you can make a small bowl of diet separately from the usual one.
Flat bowl

A flat bowl that looks like a flat bowl crushed flat is a bowl that can be enjoyed for various purposes, such as making a matcha bowl or serving side dishes. Characteristic that steam and flavor are easy to spread There is a rich meal time.
platter

The platter that makes full use of originality If you're used to the basics, you'll want to challenge yourself.. Draw your favorite pattern with a brush "Painting" The process of is also a showcase of the arm.
Vase
A large and tall vase Work I want to make when I get used to electric wheel is. Use a stamp to make the surface uneven "Inka" A technique called, or make a hole in the surface "Hole" It is also recommended to devise a design using the technique called.
Gui only

If you are a sake lover, you can make handmade guipure only. Gui only is one size larger than Choco and has a deep bottom. You can pour more sake.. The shape that fits perfectly in your hand will make the evening drink more delicious.
Tokuri

What is sake bottle A container for pouring sake Then, when you pour alcohol, you will hear a pleasant sound. If you can make a distinctive shape with a narrow neck and wide shoulders, the potency of pottery is considerable. Pay attention to the balance of the spout and create a sake bottle that you can drink alcohol comfortably.
Beer tumbler
A beer tumbler is something that beer lovers should definitely try. The fine bumps on the surface of the pottery Makes beer foam creamier.. A slightly larger size is recommended so that you can pour a generous amount and drink up. It would be nice if the handle could be firm and sturdy and fit into the palm of your hand to make it easy to hold.
What is the recommended outfit for your "Rokuro experience"?

The appeal of pottery is that you can get to know the soil as if you were a child, and be able to devote yourself to the creation. Maybe I'm surprisingly focused, It's not uncommon to wear dirt or glaze on clothes..
Especially in the case of an electric potter's wheel, muddy water is scattered around because it is formed by adding water to the rotating soil. In the hands-on classroom, we often lend you an apron, but the cuffs and feet tend to get dirty without being noticed. It is safe to take lessons with clothes and shoes that you can care for at home, even if they are dirty is.
Also, It is important to wear clothes that fit your body and are easy to move... Long sleeves, Design that makes it easy to roll your arms To. When using an electric wheel, a Female will spread her legs and sandwich her wheel Pants style rather than a skirt Is suitable.
Considering pedaling a wheel, Sneakers without heels are recommended.. You should avoid whitish shoes and leather shoes that are contaminated.
What do you need to carry out the "Rokuro Experience"?

The potter's wheel experience is basically Most of the things you can feel free to join is.
If you are told to bring your apron, An apron with a type that does not cause the shoulder straps to slip off or a cooking type is recommended.. If the shoulder straps fall during the work of the potter's wheel, it will be difficult to fix, and you will not be able to concentrate because you are worried.
For those with long hair and those who don't like falling bangs, It is convenient to have hair elastics and hair clips is.
Preparation before "Rotary Experience"
Since the hands of pottery are soiled with mud, dirt often enters between the nails. if you can Cut your nails short and remove any accessories at hand. Let's take a lesson. Please be careful not to forget your clock and accessories when you return.
Wash your hands after work, It is safe to have a towel.. To store towels and dirty clothes after use, It is convenient to have a plastic bag is.
Introducing the plan of "Rokuro Experience"

Activity Japan, there are various Potter's wheel experience We are introducing the plan. Introducing some of them let's do it.
Feel free to experience potter's wheel at a fashionable spot

Aoyama, Shibuya, Omotesando For fashionable spots such as Lots of stylish pottery workshops for young people..
1 minute walk from Aoyama-itchome Station You can make tea bowls, teacups, beer cups, mugs, etc. in this workshop that is easy to access. You can also engrave a nice message on the container made by turning the potter's wheel.
It's easy even for beginners! Hand wheel

Use a hand wheel "Handmade experience" Is Attractive even for beginners in pottery..
With this plan, Mino ware soil You can use to make a full-scale container. Groups, girls-only gatherings, couples and families with children are welcome.
"Rokuro experience" to enjoy with parents and children

Baked in a ceramic artist mood Hand-making can enjoy "electric potter's wheel". It may seem difficult at first glance, but you can rest assured that the experience plan will be supported by the teacher.
"Handmade" from 3 years old, "Electric wheel" from 4 years old There is also a plan that you can use and you can make 2 to 4 works in 1 hour experience. If you participate as a parent and child, the tuition fee may be Sale!
Making memories at a spot full of Kyoto atmosphere

Kyoto atmosphere overflows Electric potter's wheel experience at sightseeing spot Higashiyama Want to try
The experience time is around 20 minutes, this plan that you can easily and easily create works, Perfect for Activity while traveling.. The work will be mailed to you in two weeks, so you don't have to worry about luggage.
"Ceramics date" at the elegant townhouse workshop

If you visit Kyoto as a couple, Challenge pottery in a tasteful townhouse workshop It is also good to do.
This is Couples limited You can enjoy making works using an electric wheel. It's a workshop run by a potter, and you can make wonderful memories and souvenirs.
Drink coffee with your own mug in the morning and decorate the table with original tableware at night-every more homemade vessels will enrich your daily life. Please experience the deep world of pottery with the experience of potter's wheel.