OK with children! Let's make only one work in the world with painting experience! Introducing how to choose design tips and hands-on lessons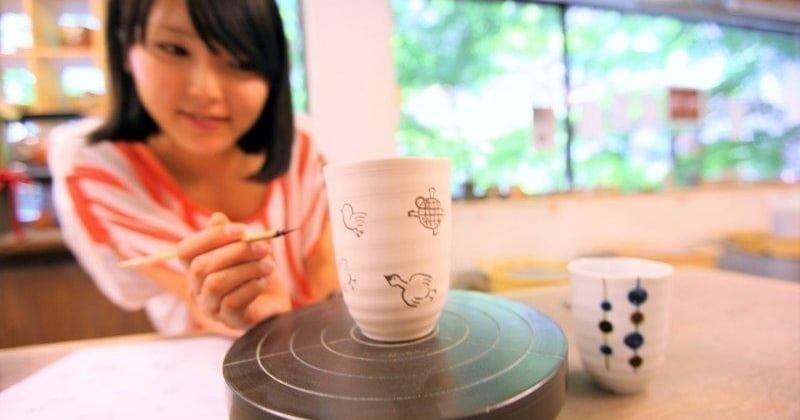 Mugs and plates that are indispensable for everyday meals. If I could make these myself, it would be more fun at the table.
However, there are many who think that it may be a little difficult to suddenly try "electric wheel" and "handcraft".
In that case, we recommend starting with a painting experience.

We will introduce what kind of things you can make and popular painting experience plans at once!
What is "pottery" in the first place?

Pottery Means that clay is molded into tableware, vases, etc. and baked at high temperature. "Yakimono" Refers to the technology of making.
Also, for baked goods "Pottery" When "porcelain" There are two types, and they differ in the manufacturing method and the properties when they are completed.
The difference between pottery and porcelain lies in the raw materials!
Pottery "Ceramics" Clay is called the main raw material, while porcelain is "Ceramic stone" The main raw material is rock.
Also, the pottery 800-1250 degree It is common to bake it in 1200-1400 degrees And it burns at a higher temperature than pottery.
What are the main characteristics of pottery?
Because it uses soil as its raw material, you can feel the soft texture and warmth.
Also, because it has high water absorption The flavor changes as you use it, and the taste increases. There is also a feature.
In Japan, Setoyaki-Karatsu, Mino, Tokoname, Shigaraki, Hagi is famous, such as baked, grilled Kasama.
What are the main characteristics of porcelain?
Since porcelain tableware is light and durable, it is widely used in a wide range of dining tables, both in Japan, Western countries and China.
It also has excellent heat resistance, so unlike ceramics Microwave can be used It is also a feature.
Arita ware, Kutani ware, Tobe ware, Hasami ware, etc. are famous in Japan.
What does pottery experience do?

Pottery experience Then, because of its ease of making There is a tendency for more classrooms to handle pottery than porcelain..
The flow of production is to knead clay to make a shape "Molding" After doing, draw and color the vessel "Painting" Let's get started.
成形の技法には「電動ろくろ」と「手びねり」があり、これらは作り手の技術力や作りたいものの種類によって選ばれます。
電動ろくろはその回転力によって滑らかな曲線が表現できるところが魅力ですが、一方で手びねりは、回転形しか成形できない電動ろくろに対し、器に限らずどんな形でも自由に成形できるところが魅力です。

Pottery experience Then A plan where you can experience both molding and painting There are many.
However, it takes a few hours between molding and painting. "Dry" Let "Grilled" Of course, one day does not end. You will be in the classroom for at least two days to complete the work.
On the other hand, Painting experience only If the plan is Pre-baked dough is prepared So you can experience it easily in a short time.
If you would like to feel free to touch pottery, or if you would like to challenge yourself with your children, we recommend that you first participate in the painting experience plan.
Painting experience is so fun!

In the painting experience, since the already molded container is used, Even children and beginners can finish beautiful works as if they were professionals is.
Time required is about 90 minutes Compared to the molding experience, it is considerably shorter and can be completed in one experience, so it is perfect for people who can not take time or those who want to experience pottery at a travel destination.
Also, just because it is a painting experience I have to draw illustrations firmly! You don't have to stretch your shoulders.
In most classrooms, there are a wide variety of color variations of paints used for painting, so for example, You can create fashionable works by simply drawing simple shapes such as dots, lines, and polka dots...
Furthermore, since a brush is used for painting, it is possible to write names and messages in addition to patterns and illustrations.
Let's make full use of our imagination and design original works that are unique in the world!
Is there anything I need to prepare before the painting experience?

All the tools and materials necessary for the painting experience are prepared in the classroom, so on the On the day Participation is OK by hand is.
But, Paints may stain clothes and shoes Therefore, we recommend that you wear clothes and shoes that will not bother you even if it gets dirty.
Depending on the classroom Some places even rent out aprons So, if you want to Rental it, please check it once.
I want to know the tips when painting!

It can be a little difficult to get used to at the beginning, because painting ceramic art has different difficulties than drawing on paper.
Therefore, Tips for painting I summarized it.
First, let's draft with a ballpoint pen!
The plates and mugs have curved surfaces, so if you suddenly start drawing with a new brush, I couldn't get the balance right, and the finish was different from what I had expected... It could be something like that.
In that case, First, draw a draft on the container Would be
If it is a ballpoint pen, after painting is completed "Kyaki" It completely disappears with, so it is okay to draw as much as you want.
Let's draw a little thicker than the image!
When clay is heated, the water inside it evaporates. for that reason, The size of the container when completed is slightly smaller than the painting stage..
If that happens, naturally the drawn line will also be thin, so We will continue to work while always imagining the completed form Let's do it.
Be careful of color coating!
The paint used in the painting experience is made of metal and stone, so it does not grow as well as general watercolor paint. If you paint over and over again, Only that part may be thick...
Please note that if the thickness is not uniform, unevenness may occur when drying and may cause cracking in severe cases.
Also "Kyaki" If you do, the color of the paint will also change, so in advance Check the image of the color after baking Let's do it.
Things to keep in mind during the painting experience!

A few hours after painting "Dry" Let "Kyaki" Will be completed.
In these steps, It takes a few weeks to about a month and a half As it is often the case, I cannot bring home the painted works on the On the day.
For delivery of the completed work, you can go to the classroom directly or have it delivered to you, but in that case Separate delivery fee will be charged You may.
If you're making it as a gift, or if you have a specific date you want to use it, make sure you check the date when your work arrives.
Tell me how to choose a painting experience plan!

Even if I say it as a painting experience, there are various plans depending on the classroom, so I am confused about choosing.
In that case, "Who and where do you want to experience?" "What kind of work do you want to make?" You should think about it first.
Please refer to the less to find the classroom that best suits your image!
Let's decide the classroom from the work I want to make!
The vessels prepared for the painting experience vary depending on the classroom.
I think that most of the classrooms handle plates and mugs, but if you want a little unusual work such as octopus, ashtray, brazier, please choose from the classroom that has handling.
Also," I'm worried about that and that, and I can't really focus on what I want... In that case, choose a classroom with as many kinds of vessels as possible and choose the one you want to inspire on the On the day! That's one hand.
It is also recommended to participate at travel destinations!
Since you can make memorable works in a short time, many people would like to experience painting at travel destinations.
Since the classrooms where you can experience painting are scattered all over Japan, It is also good to choose from the destination area is not it.
In addition, if the production area is famous for pottery, you may be able to see how the craftsmen are actually making it and the many beautiful pottery pieces exhibited in the gallery in the classroom.
If you want to join in with your friends!

"I want to make cute works that are easier to use than regular ceramics! If you think, "I recommend a classroom like a salon that you can enjoy light.
Since you can feel free to experience it even in the city center, the number of people who enjoy painting at girls' associations and dates has recently increased. You may be able to take fashionable photos with a great atmosphere.
Some classes are welcome with children!
There are many classrooms where you can experience painting with your children.
Depending on the classroom, there is a plan to use a dedicated pen instead of paint, so it seems difficult to use a brush Even small children can enjoy with peace of mind Would be
It seems to be a wonderful memory for the children to draw on the plate while their parents are experiencing pottery.
Challenge authentic traditional crafts!
If you want to have a full-scale painting experience, Painting traditional crafts such as Shigaraki ware, Seto ware, Karatsu ware It is also recommended to try.
The more you master the painting, the deeper it gets.
It is also good to immerse yourself in the charm of painting while touching real crafts.
You can enjoy making pottery and using pottery!

This image is a strong pottery as traditional crafts of Japan, near Year that have increased pottery class of different styles, pottery fans young and old alike will increase, we call a quiet boom.
For pottery and painting experience, Fun to make Not only to taste the Enjoy using It is also attractive to be able to do it. There is no doubt that only one plate or mug of your own in the world will enhance your feelings about food and meals every day.
If you are interested, please take this opportunity to try out the painting experience!