Thorough explanation of how to choose a ceramic art class! Introducing the market price of designs and lesson costs that can be made with the experience plan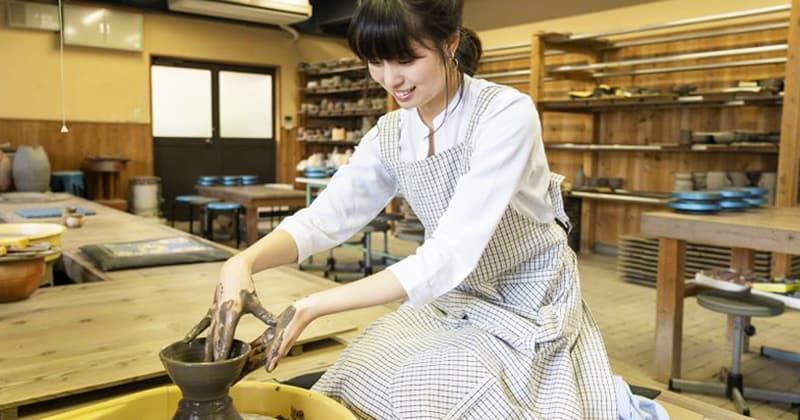 Activity Japan editorial department
A ceramic art class that is very popular as an art lesson .. One container in the world created by kneading clay with your fingertips will enrich your daily life.
Here, for those who want to start ceramic art from now on, What you can learn in the ceramic art class, tips for choosing a class, and the market price of experience plan costs We will deliver the bean knowledge you want to know.
What is a pottery class like?

Ceramic art Is Art to mold soil (clay) for potter's wheel using a hand or a potter's wheel and bake it in a kiln to complete it is. The time to immerse yourself in the work while leaving the busy daily life and touching the cold clay is perfect for refreshing. The finished container can be used in daily life and will make your daily meals and tea time exceptional.
There are various techniques that can be learned, such as "hand-bending" where you can enjoy making things freely by demonstrating originality, and "electric potter's wheel" where you can make a well-shaped potter's wheel as if you were a ceramic artist. If you can find a pottery class that suits you, it will surely be a long-lasting hobby.
When I noticed the containers lined up in the cupboard, they were all my own works ... How fun do you think? Let's enjoy the joy of completing something that only you can create in the ceramic art class.
How to choose a pottery class?

First of all, it is recommended to challenge the experience plan
A ceramic art class that is very popular as a hobby. There are unique ceramic art classes all over the country, and daily experience plans are held where you can try out works using hand-kneading and electric potter's wheel. First, let's consider what you want to make. Depending on the plan, you can make various things such as containers, objects, miscellaneous goods, items for events such as weddings, interiors, etc. Since there are variations other than the above, it is recommended that you first try the experience plan that interests you.
By the way, don't worry if you are new to handmade products. The experience plan for the ceramic art class is designed for beginners. Under easy-to-understand guidance, he will carefully follow up on repairs when he fails in the potter's wheel, so it will surely be a work beyond imagination.
Choose a place according to your purpose
If you are satisfied with the experience plan, you can expect further improvement by continuing to attend the classroom. Decide the pace of attendance according to your wishes, such as twice a month for a change of pace and once a week for those who want to concentrate and improve.
When choosing a ceramics class, you may be wondering where to go. For those who want to improve by going through a lot, the area around the living area is convenient. If you are near your home, you can go home without hesitation even if your clothes get a little dirty with soil. It is also an advantage that you can frequently appear in the classroom by putting your hands in according to the degree of dryness of the work and checking the baking.
again, Fashionable spots such as Omotesando and Aoyama for, A stylish ceramic art class that many young people attend There are many, and it is perfect for raising aesthetic awareness. In many cases, pottery shops and pottery workshops open pottery classes. Therefore, it is highly recommended for those who like containers.
Other than that, it may be difficult to attend, but there are also classrooms where you can experience ceramics at sightseeing spots, which is perfect for making memories of your trip.
Please compare the classroom scenery and images of the finished work here and there on the search page of Activity Japan. You will surely find a classroom that suits your sensibility.

By the way, there are many people who can concentrate surprisingly on their own in the ceramic art class, probably because they concentrate on the feel of clay and the feeling of their fingertips. Perhaps because of that, I noticed that my clothes were dirty with soil! ――That also means. There are places where you can lend an apron etc. in the experience plan, but We recommend that you wear clothes that you don't mind getting dirty, such as the sleeves and feet of your clothes.
What you can do in the ceramic art class
If you are interested in a ceramic art class, let's go to the experience plan first. For example, you can make a work with this technique.
Electric potter's wheel

Technique to use electric potter's wheel with motor is. You can rotate the table by stepping on the pedal at your feet, and you can use the centrifugal force to create a well-shaped container. Since the rotation speed is fast, it takes some practice to master it, Don't worry, the teacher will support you if you have an experience plan.
Electric potter's wheel can make thin, light and well-shaped potter's wheel. The teacups used when drinking tea and the princess teacups that make the rice feel particularly delicious should be very useful as tableware for home use. When you can make a good shape by using the power of the potter's wheel, Great sense of accomplishment and exhilaration Can be tasted. It is the real pleasure of ceramic art.
Hand kneading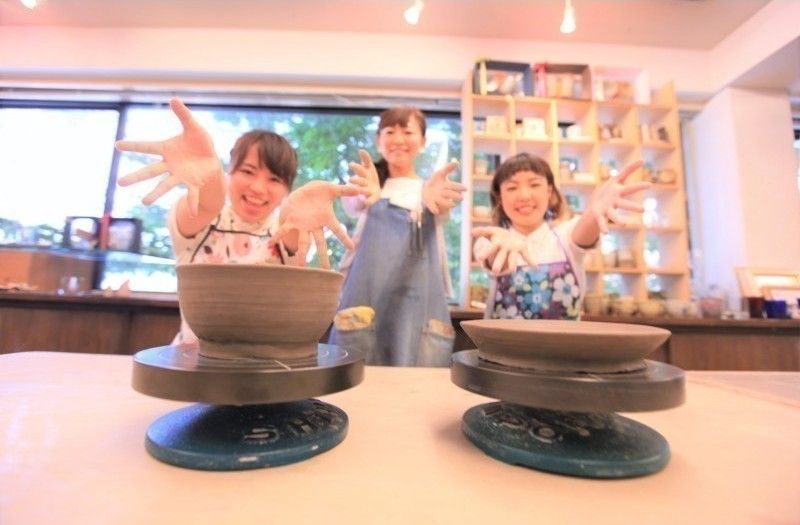 Hands A technique for molding while stretching the soil with your fingertips without using an electric potter's wheel is. In many cases, a hand-cranked potter's wheel is used to freely create the shape of a container by stacking strings made of soil or making holes in a block of soil.
Hand-kneading is a historical technique that has been practiced in Japan since the Jomon period. It seems easier than the electric potter's wheel, Actually, it's very profound. The "Raku tea bowl" that Sen no Rikyu, who once made the tea ceremony, ordered a potter to make is also a warm hand-made bowl. Let's make a work full of originality while enjoying the feel of the soil.
Painting

Molding is not the only fun of ceramic art. You can apply glaze of your favorite color while imagining the baking, apply a linear pattern on the surface of the clay with tension or canna, or add an uneven pattern to the clay with a stamp. .. Among the various decoration techniques, the fun Painting is what many people are crazy about is.
What is painting (drafting)? Decoration to be done after unglazed and before glaze That thing. Some may say that they are not good at drawing, but Even a very simple design is nice enough to paint the pottery .. It is not necessary to draw on the entire container, and you can get a taste just by casually arranging flowers, dragonflies, fruits, etc. in one corner.
For painting, "Tetsue" using vermilion paint called Bengara and "Sometsuke" using indigo paint called Gosu, etc. there is. In addition to using a brush when drawing, you can also use a sponge or use ceramic pastel to create a faint texture. When participating in an experience plan with limited production time, Prepare a model of the design you want to draw Is also good.
What kind of work can you make? Introducing a part of the experience plan
The works you can make and the contents you can experience will change depending on each experience plan, so please check it out at Activity Japan. For example, there is such a plan.
A stylish plate with a hand-cranked potter's wheel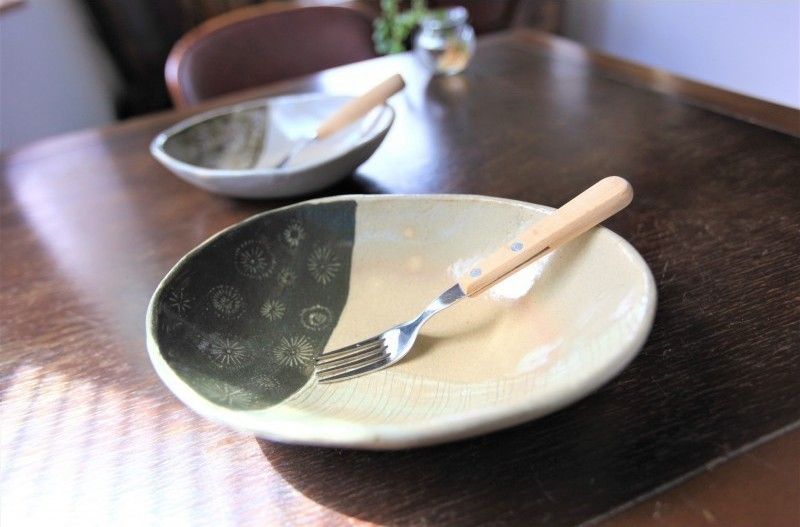 You can make such a stylish work even with a manual potter's wheel. It is a nice design that is as good as for sale.
Full-scale electric potter's wheel that the actress also experienced

The popular ceramic art class has many TV interviews and media publications. Let's challenge to make a work with a full-scale electric potter's wheel in a classroom learned by many celebrities.
Bake on the shichirin that day

A fun plan where you can bake a hand-made work on the spot using a shichirin. There are various designs that can be made, such as small plates, chopstick rests, ingots, and decorations.
Memories with parent-child experience

If you want to make a simple string, you can experience it from a 4-year-old child. Foster creativity while enjoying making dolls and containers in the mood of playing with clay.
Experience painting on a cup or a plate

A ceramic painting course that draws pictures and letters on unglazed dough. I will paint one work with a 90-minute plan.
Original design of cat chopstick rest

There is also a painting-only experience plan, in which case a unglazed container is prepared in advance. This is a plan to paint on a cat's chopstick rest. Why don't you make it the same pattern as the cute "my child"?
Experience grilling at sightseeing spots that are typical of Kyoto

Kyoto is also famous for producing Kyo ware. There are many elegant ceramic art classes near popular tourist spots such as Kiyomizu Temple.
Foreigner welcome experience plan

In places such as Kyoto and Osaka where many tourists from overseas visit, pottery classes are very popular as a leisure activity for experiencing Japanese culture. There is also a classroom that teaches ceramics in English. It is safe to check in advance if there is a teacher who can speak English.
Make your own original honey

The production of objects that allow you to freely create your favorite shapes is also popular. Let's make interior accessories that decorate your room, such as original honey and shisa.
Produce objects that color events and weddings

Making decorations to decorate the event, such as children's day helmets and wedding welcome objects, will be a great memorial. If you are a father or mother's handmade helmet or chick, your child will surely be happy!
An original clock that will be the point of your room

An experience plan for making a "clock" that makes the face of a clock with earthenware. Let's make only one wonderful watch in the world.
Let's make a glittering mud dumpling

There is also a unique ceramic art class where you can make "mud dumplings" that have become a hot topic on YouTube. It is a jewel born from mud.
What is the market price for the time and cost of the experience plan?

The experience plan for the ceramic art class is There are various types, from those that can be tackled in 20 to 30 minutes during sightseeing to those that can be tackled slowly in 1 to 2 hours. is.
The price is around 2000 yen to 8000 yen There are many things, and the price will change depending on the experience time and the type of work to be made. Making bean dishes and chopstick rests costs 2000 yen in 45 minutes if it's a short time. It seems that there are many plans for objects that cost around 4000 yen in 90 minutes, and full-scale container making costs around 6000 to 10000 yen in 2 hours.
Basically, in the case of the experience plan, you do not need to bring anything, you can make it just by hanging the apron etc. provided in the classroom with your usual clothes.
There is a guideline for the production time, but in the case of object production, there are people who extend the time and stick to it. When using the experience plan at a travel destination, it may be better to allow some time.
How do you improve your pottery class?

People often say, "Get used to it rather than learn it." The first step to improving ceramics is getting used to handling clay, potter's wheel, and glaze. .. The more you go to the classroom, the better your skills will be, and you will be able to freely make what you say.
For that purpose, I would like to meet a ceramic art class that is in a location that is easy for me to go to and has a teacher who is compatible with it. First of all, it is a good idea to visit various ceramic art classes with an experience plan is.
Each pottery class has its own personality, and there are differences in the soil used, glaze, and techniques that are good at it. If you find a ceramics class that suits your taste, it will be more fun to practice and you will be able to create a container with a design that you truly want to use every day.
If you want to improve efficiently Make a note of what you noticed after the lesson Is recommended. Ask the teacher about the soil and glaze used, the shape of the container, the design of the painting, the mistakes made in handling the potter's wheel, and the set temperature of the kiln during firing. Knowledge is accumulated along with the technique, and when you notice it, the teacher may be surprisingly skillful.
Where can I experience ceramic art? Popular plan ranking

A ceramic art class that is very popular as a culture school. There are classrooms all over the country, so please search in your area. Aoyama, Shibuya, Harajuku, etc. City center The fashionable ceramic art class held in is very popular with young people. Finding a pottery class in your favorite city can be a great holiday change.
Ceramic art classes are gaining popularity as a travel activity. Kansai Then in Kyoto, Osaka, Kanto Tochigi Areas such as. For example, the Zuikou kiln near Kiyomizu-dera Temple in Kyoto has a history of 300 years. In Tochigi, there is a Gatsuma kiln on the Nasu plateau, where you can try the traditional Mashiko ware. Besides Bizen , Seto, Tokoname Areas where grilled foods such as Fukuoka , Gifu , Saga , Fukui , Shiga , Kanagawa You can find many unique ceramic art classes at such places.