For the first experience of pottery, we recommend "Tebi Neri"! Introducing the difference with electric wheel and what you can make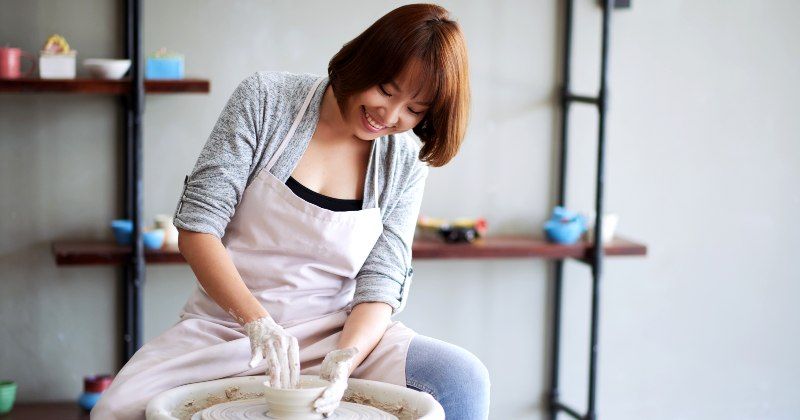 Wouldn't it be nice if you could make your own plates and vases everyday?
Among the pottery "Hand-rolling" is a technique that even beginners can easily tackle. It is attractive that you can easily create a deep-tasting container that is different from an electric wheel.
here Differences between electric potter's wheel and types of hand-rolling and what can be made Introducing the basic knowledge of hand shaping in an easy-to-understand manner.
What kind of technique is hand kneading?

Forming clay for clay into the shape of a work is called "forming". There are roughly two techniques: "hand-made" and "electric potter's wheel".
Handbill is a method of molding while stretching the soil with your fingertips without using an electric wheel Therefore, it is sometimes called "Tezune". In many cases, we use a hand wheel and do not pile strings made of soil or make holes in the lump of soil, so we can freely make the shape of the vessel.
The difference between hand-rolling and electric wheel

Pottery That being said, there may be more people who think of electric potter's wheel than hand-rolling.
To begin with the runner (potter's wheel), a rotatable yen be shaped platform. The hand-cranked wheel used for hand-bending rotates the table manually, so it is difficult to keep turning it continuously, and the rotation speed is slow.
However Electric wheel with motor Then, you can rotate the stand just by stepping on the pedal at your feet, Centrifugal force You can use it to make a well-shaped container. However, since the rotation speed is fast, if you get a little impatient or if you lose your mind, the shape will instantly collapse and you will have to try again. If you get used to it, you can make beautiful pottery that looks like a sale, It takes some practice to improve.
On the other hand, the hand wrench does not need to get used to handling an electric wheel, Even beginners can feel free to challenge. You can also adjust the rotation of the potter's wheel by hand, so you won't get lost in speed. Utilizing the centrifugal force yen to the electric potter's wheel that does not make only the form of the vessel, there is no limit to the Tebineri if form, is also an attractive place to make to remain facing even the care of any work.
What kind of person is recommended for hand kneading?

Those who challenge ceramics for the first time, or their fingers are clumsy If you are worried about how well you can do it, please feel free to touch the world of pottery.
You don't need to "practice" to get used to an electric wheel, so you can concentrate on the fun of making things. It's a nice place to work. Even if the shape is a little distorted, that is also one of the tastes! It's strange because it seems to be a charm point.

Also, if you use an electric potter's wheel, you will still need to make a container that is suitable for the electric potter's wheel, but the handrail does not have such restrictions. Those who want to freely create what they like Also, for those who are confident in their originality, hand-shaking is a very suitable technique.
There is also a difference in the soil used for electric potter's wheel and hand-rolling. Since the soil for electric potter's wheel has a large amount of water, it requires a drying process after molding, and it will take some time before proceeding to the next decoration. On the other hand The hand tie does not need to be dried after molding and can be painted immediately. is. If you want to experience everything from molding to painting while traveling, we recommend that you choose a hand-rolled course.
Handcrafting Tips and How to Enjoy

There may be an image that pottery requires skilled skills. But when I actually challenge myself, You can make a usable container more easily than you can imagine You will be surprised.
The plates, bowls, and mugs will be kneaded with clay, rolled up, and opened with a simple movement to make it look like it is. It is the only form in the world that only you can produce.
First of all, please experience the cool and comfortable clay in the pottery experience or pottery class. The first trick is to get along with the soil. Even if you do not try to make it well, if you relax and enjoy it as if you are familiar with the soil and play with it, it will surely be a good ware.

And if possible Somehow imagine the design of the tableware and vase that you want to make And, the production becomes smoother. It is also recommended to search for Favorite at museums and utsuwa shops that display pottery.
Basic hand-rolling technique

There are some basic techniques for making baked goods by hand. Let me introduce some typical ones.
Ball making (Tama making)

A technique in which the soil is rolled into balls and shaped with your fingertips is.
First of all, roll the soil like a catch ball with both hands to make a beautiful ball.
Place it on the hand-cranked wheel and make it adhere to it. Rotate the wheel to get the desired shape, and make a hole in the center.
Push the thumb into the hole and push it apart to make use of the texture of the soil and shape the overall shape.
String making (string making)

A technique of stacking soil that has been stretched into a string to make a shape is.
Sometimes called stacking, rolling up, and making more.
First, stretch the clay while crushing the earthen ball with your palm and roll it on a board when it has stretched to some extent to make a string.
Next, make a part that will be the base of the container on the hand-cranked wheel, and stack the strings on it to form the shape.
String making is the oldest pottery molding technique and has been practiced in Japan since the Jomon period.
Design that can be made by string making
Small bowls, flat bowls, vases, single vase, large vases, turtles, etc. You can also make dolls.
Tatara making (board making)

Technique to form by laminating plate-shaped clay (tatara)
is.
First, hit the soil to form a square.
Next, put a plate called Tatara plate on both sides of the soil, and use it as a guide to squeeze the soil with a wire or the like and crush it with a bar stick to make a plate of the same thickness.
Bend it and stick it together to create the desired shape. It is also possible to put a pattern on the board with plaster or unglazed mold (Inhana).
Design that can be made by making Tatara
Small plates, square plates such as saury plates, mugs, chopstick rests, vases (vase), etc.
Since many chopstick rests can be made at once, they are also popular as handmade wedding gifts.
Hollow

A technique in which the entire shape of the container is first formed, and then the inside is cut out (cut out) using a planer etc. is.
First, make the shape of the entire vessel. When the surface is reasonably dry, hollow out the inside of the soil to create a space.
If the work is large, divide it using threads, then cut it out and join it at the end.
Design that can be made by hollowing out
Suitable for making boxes such as incense and accessory cases. When making a lampshade, we will design it by molding it, drying it a little, and then hollowing out or cutting where you want the light to pass.
Tools used for hand shaping

The best tool for hand-shaking is your own hand, but you need a convenient tool to get the shape you want. Some props such as spatula are sold as a set for beginners.
Hand wheel
Used for a wide range of applications such as forming hand glazed, glaze, and painting. There is also a potter's wheel made of stainless steel that does not rust. The diameter is generally around 30 cm.
Wire (Shippiki/Cut thread)
It is used when making Tatara and separating the finished work from the potter's wheel.
Tatara plate
A plate used to make a cod that slices soil with a wire. A set of two plates is set, and the thickness of clay is adjusted according to the thickness.
Canna
It is used for hollowing out the soil during the hollowing technique, attaching a hill (a support base to be set on the bottom of the tray or container), and fine-tuning the thickness. One of the most frequently used tools.
Scraping spatula
It is used when shaving the side and the inside of the plateau of the container, and for finishing the shaving. There are flat scrapers that are used to scrape out the soil and round scrapers that are used when you want to sharpen while rounding.
needle
It is used to draw a thin line as a decoration or to put a hand in a small part.
Wood iron
Smooths the surface and inside of the container.
Comb
A comb pattern is added to the work as a decoration.
Cut bow
Used when you want to cut and trim the edges of the container cleanly. Fix the hand holding the bow and cut it using the centrifugal force of the potter's wheel.
Tanned leather
It is used to scrub the surface to make it fine and smooth the mouth after cutting the edges of the container that touches the lips.
Where can I experience hand-kneading?

The history of pottery in Japan is old, Jomon pottery in the early Jomon period was first It is said to be. After that, Japan's unique pottery culture flourished from the Momoyama era when the tea ceremony spread, and creative pottery was created in various places.
In modern times An area where pottery has flourished historically The pottery experience is gaining popularity as a destination Activity. In addition, Aoyama, Shibuya, Harajuku, Ceramics class held in the city center Also flourishing. For example, you can experience hand-kneading in a place like this.
Eastern Kyoto Roppongi/Aoyama

Many Female their 20s and 30s attend Fashionable and friendly pottery experience class Roppongi and Aoyama where there are many. We offer a menu full of originality with a novel arrangement of traditional pottery, such as paired wedding wares, making dishes for presents, and plans to experience pottery with pets.
Kyoto Fu Gion/Higashiyama/ Kitashirakawa Area

Famous as Kyoyaki A long-established store of Shimizu ware Such, Experience pottery at a historical pottery Is popular. Many of the participants are new to ceramics, so even beginners can take lessons without hesitation. After experiencing pottery making at the workshop, it is also fun to find Favorite at the shop. You can enjoy Kyoto and pottery experience at once.
Osaka Prefecture Umeda/Tennoji

In Umeda area, the center of Osaka, and Tennoji area, which has the tallest building in Japan, "Abeno Harukas", which opened in 2014 Year, A pottery class popular with foreign tourists there is. You can also try a little more advanced works such as candle shades.
Tochigi Prefecture Bato/Motegi/Mashiko/Moka

Tochigi Mashiko Town, located in the southeastern part of the prefecture, The famous production area of Mashikoyaki Known as Therefore, Bato/Motegi/Mashiko/Moka area has many pottery classes and hands-on facilities. Enjoy a pottery experience along with a drive trip to Nasu Kogen and Nikko.
Shiga Prefecture Koka/Shigaraki

Made mainly in Shigaraki, Koka City, Shiga Prefecture Shigaraki ware Is one of the six ancient kilns in Japan. It features a warm fire color (scarlet) with a unique earthy taste, and a beadro glaze and charred taste with natural glaze. It also attracted attention as a drama stage. There is also a complex facility where you can experience pottery culture all day long, and you can fully enjoy making pottery with the soil of Shigaraki that you admire.
Unlike electric potter's wheel, you can shape the handrail at your own pace, so it is also an advantage that you can talk with your friends and family.
If you experience it while traveling, it will be the best souvenir! Feel free to enjoy hand-bending, while inflating your imagination as to "what should I put in this container?"