Nationwide bungee jump summary Height ranking highest in Japan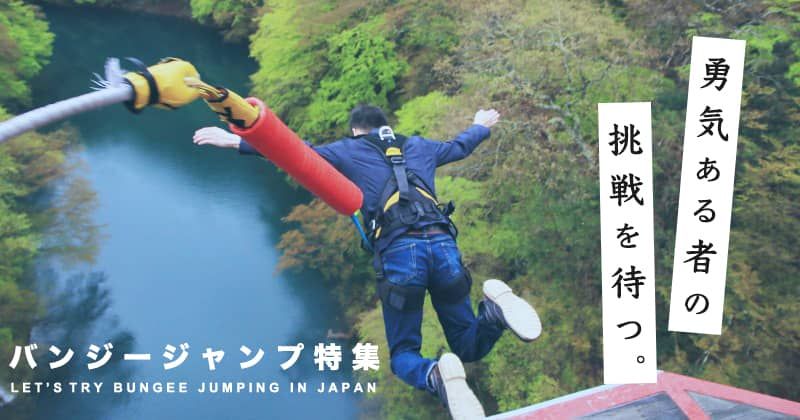 Activity Japan editorial department
The popular outdoor leisure "Screaming activity that many people want to experience once in a lifetime" Bungee jumping ". Even in the popularity ranking of activities and plans of Activity Japan, we continue to keep the top position over all seasons of spring, summer, autumn and winter. Overcome fear from the jumping platform installed on the hill and get after diving " Exhilaration "When" Sense of accomplishment Is a medal that can only be obtained by those who have the courage, and is the one and only one that can never be obtained in daily life. Super emotional experience ". On this page, " Height difference ranking in Japan Will be announced, so don't miss it. As expected The highest bungee jump in Japan What? !! Challenge the bungee jump with a wish in the new era of Reiwa! Wait for the challenge of the courageous! !!
Bungee jumping experience reference data
Estimated experience fee
Per adult 10,000 Yen (tax included) ~
Participation age limit
13 years old~
Time required
1 to 2 hours
Weight limit
40kg-100kg
Tour period
Year-round (may vary by region)
What is included in the price
Experience fee, necessary equipment, insurance fee, etc.
Clothes and belongings to prepare
Easy-to-move clothes, shoes such as sneakers
Popular areas / areas
  Ibaraki / Gunma / Gifu / Shizuoka / Nara / Kumamoto
Needs search
  Same-day reservation OK / Reservation the day before is OK / Cheapest first / Recommended order Open in 2020! Japan's tallest bungee jumping site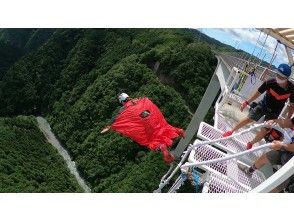 Minokamo / Gujo
36,000

circle

25,000

Yen ~

(tax included)

Discount campaign in progress!
4.8
(79 reviews and experiences)
★ "Japan's tallest" bridge bungee jump! !! ★ Shintabisoko Bridge is one of the largest bridges in Japan with a total length of 462 meters and a height of 462 meters that spans mountains in the Tabiashi River Valley. A thrilling big jump toward the Tabiashi River that flows far below in the magnificent nature! !! * Points and coupons cannot be used for this plan. * Bungee jump repeater discount (certificate)
* Data based on activity Japan publication plan information
Bungee jumping basic knowledge

First of all" What is a bungee jump? Let's briefly review the basic knowledge of this outdoor activity event itself. By knowing the history / origin and the origins of becoming a popular outdoor activity, you can get even more " Bungee jumping I hope you will enjoy it.
What is a bungee jump?

A screaming attraction outdoor activity that jumps off while wearing a lifeline from a jumping platform installed in a high place such as a skyscraper or a suspension bridge Bungee jumping ". Many people may have seen talents and entertainers take on the challenge of "punishment games" in the planning of variety shows on TV and video distribution sites and Internet media. Due to the simple nature of "jumping from a high place", the image of "scary" precedes "Bungee jumping" gives you a "special experience because you're scared" That is the biggest attraction. That Extraordinary experience to enjoy overwhelming thrill Is an event that has won the support of a wide range of people regardless of age or gender, and is a very popular event in Activity Japan, where many reservations are made.
Origin and history of bungee jumping

Its origin dates back about 1000 years, and it is said to be the rite of passage "Nagoru" that was held as a celebration of "coming-of-age ritual" and "ceremony of praying for a good harvest" in the New Hebrides Islands of the Republic of Vanuatu located in the east of Australia. I will. After that, members of the Dangerous Sports Club of Oxford University, England, who were strongly influenced by the culture of "Nagoru", The modern bungee jump began in 1979 when he jumped from the Clifton Suspension Bridge (about 73 meters high) over Bristol. It has been with. In the 1980s, Mr. AJ Hackett from New Zealand succeeded in developing a lifeline using rubber ultra-stretch material with the aim of ensuring a safer bungee jump. Mr. AJ Hackett He himself succeeded in jumping by wrapping the rubber lifeline around his ankle with a harness until now. Established the basic style of "bungee jumping" that is enjoyed all over the world I will continue to do it. He founded "AJ Hackett Bungy" in his native New Zealand in 1988 and started the Kawarau Gorge Suspension Bridge bungee jumping site as an extreme sport for the general public. We will also develop bungee jumping business around the world, including the Macau Tower (233 meters), which is the tallest commercial facility bungee jumping in the world.
Bungee jump height ranking in Japan
Below, it is operated by "Bungy Japan" Introducing bungee jumping sites all over Japan in a ranking format in descending order of height difference We will inform you about the detailed reservation information. A lineup that can be enjoyed from those who have never experienced bungee jumping to those who want to further improve their records, from a maximum altitude of 215 meters to a minimum altitude of 30 meters all over the country. After consulting with your own courage and challenging spirit, let's challenge the bungee jumping site that suits each level.
"please note" All outdoor activities carry the risk of accidents and injuries. Please be sure to enjoy the experience through the shop guided by a licensed instructor and paying close attention to safety.
1st place Gifu / Gifu Bungy (215 meters)
The charm and points of Gifu Bungy
Pre-opened from July 11, 2020 as a permanent bridge bungee jumping site "Gifu Bungy (height 215m)" which is the highest record in Japan .. Yaotsu-cho, Kamo-gun, Gifu Prefecture is a 462m-long rigid-frame bridge that spans National Highway No. 418 Maruyama Bypass. It is a thrilling location with seasonal natural scenery spreading around the mountainous area where it flows.
Gifu Bungy experience video & report released
The Gifu Bungy experience report by Activity Japan staff has been released. Starting from the precautions when accessing from the Tokyo area by car, from the reception desk to the lecture on how to install equipment and how to fly, and the impression that you actually changed to the tallest bungee jump in Japan, you will be challenged by Gifu bungee from now on. This is a must-see for anyone. Please take a look before making a reservation.
Review / word-of-mouth experience
2nd place Ibaraki / Ryujin Bungy (100 meters)
The charm and points of Ibaraki / Ryujin Bungy
Held in the field of Ryujin Big Suspension Bridge in Ibaraki Prefecture, it was known as Japan's number one bungee jump before the Gifu Bungee Open. Ryujin Bungy (100 meters) ". A location where you can experience the nature of the four seasons The view from the jump stand is a masterpiece !! It is also attractive to be able to share the excitement with the jumpers because it is pulled up to the original position after jumping by the method using an electric winch.
Review / word-of-mouth experience
3rd place Kumamoto / Itsuki Bungy (66 meters)
Charms and points of Kumamoto / Itsuki Bungy
Permanently installed in Itsuki Village, Kuma District, Kumamoto Prefecture, "Kumamoto Itsuki Bungee (66 meters)" is the only bridge bungee jump in the Kyushu region that is a local landmark facility visited by many challengers both inside and outside the prefecture. The exhilaration of jumping from a jumping platform surrounded by nature toward a beautiful river is attractive.
Review / word-of-mouth experience
4th place Gunma / Sarugakyo Bungy (62 meters)
The charm and points of Gunma / Sarugakyo Bungy
The "Sarugakyo Bungy (62 meters)" installed at the Sarugakyo Aqueduct in Minakami Town, Tone District, Gunma Prefecture, which opened in the summer of 2013, is located in the surrounding area such as Sarugakyo Onsen. A popular bridge bungee site that many people enjoy as an experience-based leisure that combines sightseeing is. Similar to "Ryujin Bungy", the winch method of jumping with a body harness allows you to jump in various postures because your legs are free.
Review / word-of-mouth experience
5th place Shizuoka / Fuji Bungy (54 meters)
The charm and points of Shizuoka and Fuji Bungy
The bungee facility "Fuji Bungy (54 meters)" installed at Sudokeikokubashi, Fuji City, which is famous as one of the most scenic spots in Shizuoka Prefecture, is Bungee jumping towards the scenic spot called "Otana no Taki" It is possible to have a unique experience designed by taking advantage of the nature of the area. It can be accessed from Ashitaka PA Smart Interchange and Fuji Interchange on the Tomei Expressway in about 25 minutes each.
Review / word-of-mouth experience
6th place Gunma Hachiba Bungy (45 meters)
The charm and points of Gunma / Yachiba Bungy
"Gunma Yamba Bungy (45 meters)" opened at Yamba Dam under construction. It is a bridge bungee site that became a hot topic in 2019 for a limited time at 106 meters, which is the highest in Japan at that time. following year, Its height is 50 meters, which makes it easy for beginners to challenge. The long-awaited reopening decision will be made for the season only (April-October)!
Review / word-of-mouth experience
7th place Gunma Minakami Bungy (42 meters)
The charm and points of Gunma / Minakami Bungy
The "Minakami Bungy (42 meters)" of the Suwakyo Bridge over Minakami Town, Tone District, Gunma Prefecture, started in 2007 and has been up to now. A popular bungee jumping facility where more than 40,000 jumpers have challenged .. Compared to "Sarugakyo Bungy" in the same Gunma prefecture, the height difference is small, so it may be ant to try from "Minakami Bungy (42 meters)" at first.
Review / word-of-mouth experience
8th place Nara, good luck bungee (30 meters)
The charm and points of Nara / Good luck bungee
"Kaiun Bungy (30 meters)", which opened in 2016 as a limited event for the 50th anniversary of the enforcement of the town system of "Sango Town" in Nara, has been open since its opening. Extremely popular as the only permanent bridge bungee in the Kansai region I am proud of. The relatively low difficulty level of 30m is also a factor in its popularity, and it is attractive that it is easy to challenge as an introduction to bungee jumping beginners.
Review / word-of-mouth experience
Precautions for bungee jumping experience
Regarding cancellation
In case of cancellation or change, please contact us immediately by phone. In case of cancellation due to customer's convenience, the following cancellation fee will be charged. ・ The day before: 50% of the experience fee ・ On the day: 100% of the experience fee
Regarding cancellation
・ We will carry out in normal rain. However, due to heavy rains, storms, increased river volume, maintenance of our company, etc., we may be forced to stop the service. ・ In case of cancellation, we will contact you by phone as soon as possible. In that case, no cancellation fee will be charged. Even if it is canceled after arriving at the site, we will not be able to compensate for travel expenses. Please note.
About clothes and belongings
・ Please avoid skirts. ・ Because it may feel particularly cold in early spring and early autumn, please bring one more jacket. Also, as you jump toward the river, your clothes may get wet a little after the jump, so it is recommended that you change your clothes. ・ We recommend athletic shoes. Avoid shoes that are difficult to walk on, such as high heels.
Precautions when participating in the course
・ If you have any of the following items when making a bungee jump, please be sure to inform the plan provider in advance. Heart disease / Epilepsy / Hypertension / Diabetes / Mental disorder / Prosthesis / Eye surgery such as cornea / Osteoporosis / Ablation / Asthma / Surgery experience / Visual and hearing impairment / Bone density Low, weak bones, fragile / hernia / * People with low bone density, weak bones, fragile bones, and osteoporosis cannot participate. * Those who are pregnant cannot participate. * Those who drank even a small amount on the day are not covered by insurance and cannot participate. * Please note that you may not be able to participate in the event at the discretion of the Jumpmaster.
other noteworthy things
<Those under 20 years old> Please note that those under the age of 20 must be accompanied by a legal representative such as their parents or have them sign a confirmation letter designated by us and bring it with them on the day of the event. (Since it is related to insurance coverage, it is limited to court agents.) * If you are a foreign national visiting Japan for overseas travel, please contact us.
Frequently Asked Questions about Bungee Jumping in Japan
Q

What is the origin of bungee jumping?

A Its origin dates back about 1000 years and is said to be the rite of passage "Nagor" performed in the New Hebrides Islands in the South Pacific Ocean. Then, in 1979, a young man from Oxford University in England was influenced by the ritual and jumped from the Clifton suspension bridge over Bristol, which is said to be the beginning of the modern bungee jump.
Q

What are the requirements for participating in bungee jumping?

A To challenge a bungee jump, you must meet participation requirements such as weight and age. It depends on the operating company, but in many cases the weight is around 40kg to 100kg and the age is 12 to 15 years old or older. Minors may need a parental consent form. Be sure to check the participation requirements when making a reservation, such as health status, clothes, and fees, including weight restrictions.
Q

Where can I experience the best bungee jumping in Japan?

A As of July 2020, the "Gifu Bungy" of about 215m has the highest height difference in Japan. You can take on the thrilling big jump from Shintabisoko Bridge on National Highway 418, Maruyama Bypass, Yaotsu-cho, Kamo-gun, Gifu Prefecture. It boasts the second highest height difference of about 100m in Japan, which is about twice the height difference of "Ryujin Bungy" in Ibaraki prefecture, which is challenged by more than 10,000 people every year.
Q

What is the popular bungee jumping in Japan?

A You can easily take on the challenge with a bungee jump that is permanently installed in an amusement park or theme park, but the real thrill of bungee is to enjoy the thrill in the magnificent scenery surrounded by nature! The most popular bungee spot these days is "Gifu Bungy", the new travel foot bridge of Japan's tallest bridge bungee with a height difference of 215m. Next is Ryujin Bungy, a superb view bungee from a height of 100m at the Ryujin Big Suspension Bridge in Ibaraki Prefecture. Gunma Prefecture's "Hachiba Bungy" and "Sarugakyo Bungee", Shizuoka Prefecture's "Fuji Bungee", and Nara Prefecture's "Kaiun Bungy" are also high-profile bungee jumps.
Find a recommended bungee jumping experience in Japan
What is the professional bungee jumping company "Bungy Japan"?

In Japan, you can experience it as an attraction in various amusement facilities such as "Minami Chita Green Valley" in Aichi Prefecture, "Mother Farm" in Chiba Prefecture, and "Yomiuri Land" in Tokyo, and as a top-level adventure tourism company in Japan. Numerous "Bungy Japan", which produces and operates a bridge bungee site, is famous is. Below is that " Bungy Japan I will explain the outline of the bungee jumping that you can enjoy in Japan based on the information.

" Bungy Japan Has the best bridge bungee jumping technology and equipment as Japan's top-level adventure tourism company Professional bungee jumping company is. Since establishing Japan's first Asahi Village Bungee in Yamagata Prefecture in 1995, we have started bridge bungee jumping facilities all over Japan. In addition, we have succeeded in numerous bungee jumping events held at shopping centers, etc. Pioneer of "bungee jumping" in Japan Known as a target. We have a large number of staff who have gained experience at bungee sites around the world and have received training in high-level safety measures and first aid measures, and have a high reputation for safety and reliability. Accident-free and safe "bungee jumping experience tour" I continue to do so. Below are some of the questions and answers that many people ask when booking a bungee jump.
Are there age or weight restrictions?
Bungee jumping operated by "Bungy Japan" is uniform for all sites Participation is possible for people over 15 years old and 40-105 kg is. If you are under the age of 20, you must be accompanied by a legal representative such as your parents or sign a confirmation letter and bring it with you.
How much is the experience fee?
Operated by "Bungy Japan" Bungee jumping fees are generally set based on the "height of the jumping platform" It has been. Enjoy bungee with equipment that meets strict safety standards and a guide by experienced staff.
What to wear and what to prepare?
Avoid shoes and skirts with high heels Wear comfortable clothes and shoes such as sneakers Please join us. Also, since there are many facilities in high places, the temperature often gets cold in early spring and early autumn, so please bring warm clothes.
What is the highest height in Japan?
The tallest bungee jump in Japan Yaotsu-cho, Kamo-gun, Gifu Prefecture, operated by "Bungy Japan", is a new trip to the Maruyama Bypass on National Highway No. 418. "Gifu Bungy (height 215m)" is. (As of July 2020)
Find a bungee jump that you can experience from the area
Area where you can experience bungee jumping
Experiences related to bungee jumping

Activity Japan is an affiliated company of the travel agency HIS, and is Japan's largest activity-specialized reservation site where you can easily find and make reservations for activities and experiences in Japan. We have our own contracts with more than 5,000 affiliated partners all over Japan, and we handle 400 events, more than 15,000 plans of outdoor activities, manufacturing, day trips, leisure, online experience tours, etc. In addition, HIS's 170 bases in 118 cities in 61 countries / 163 stores in Japan (as of September 2021) and more than 200 media media of Activity Japan's own network are popular, cheap and recommended activity information in Japan and overseas. Currently, in addition to Japanese, we are accepting online reservations from all over the world and reservations from travel agencies in English, Chinese (simplified and traditional), Korean, and Thai. In addition, you can make reservations at a discounted price by using the discount experience plan limited to Activity Japan and discount coupons, and you can get points back after the activity experience. Book cheap outdoor sports, day trips, leisure, activity experiences, and online experience tours at HIS Group Activity Japan.
---
---
---
---
---
---