Sightseeing in Yamanashi by car! 1 night 2 days model course and recommended spot introduction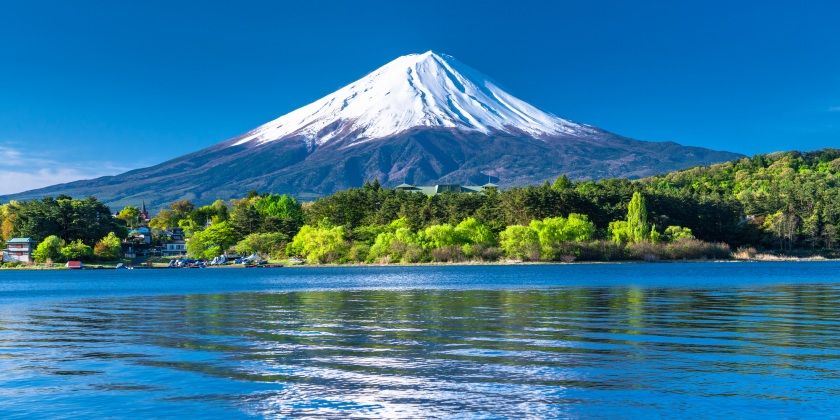 Activity Japan Editorial Department
Yamanashi is easily accessible from central Tokyo, if you come by car sightseeing spots You can easily go around. This time Otsuki in a relatively central location Including, Spots that can be visited while traveling by car are picked up by area. Yamanashi in each area of Recommended activities with 1 night 2 days model course I will also introduce you.
Yamanashi sightseeing model course map
Yamanashi Model Course Day 1 Morning-Noon: Stroll and experience sightseeing spots around Otsuki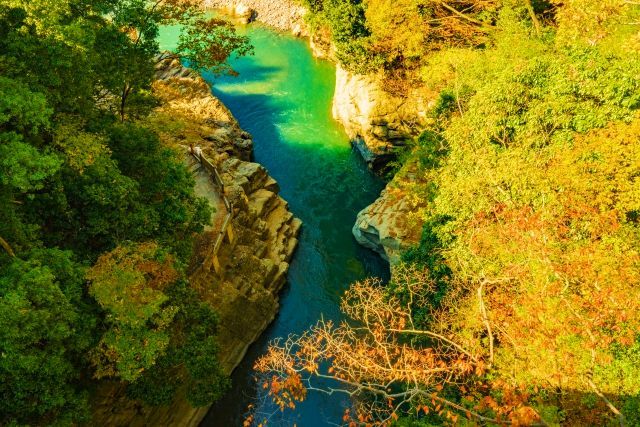 Otsuki is located about 1 hour by car from Tokyo However, rich nature blessed with
after arrival Sightseeing spots unique to land surrounded by nature or, activity Why don't you enjoy it?
Type of activity to experience Because there is a possibility of getting wet or sweating depending on the Prepare a lot of clothes Recommend To do.
after that Otsuki It takes about 25 minutes by car from Lake Kawaguchi, a popular sightseeing spot let's go to
Activities around Otsuki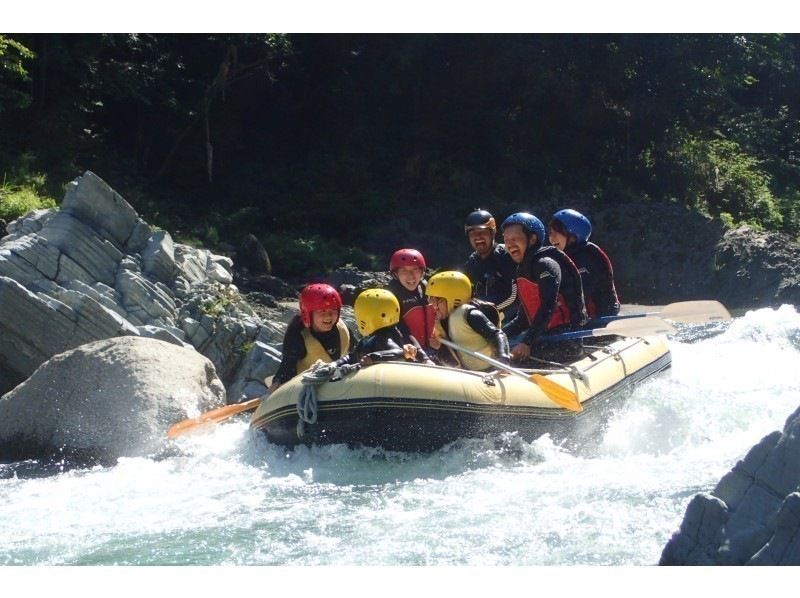 located in the mountains Otsuki I used the flow of the river flowing through the valley Rafting Or climb the river on your own feet shower climbing etc. can be experienced.
For those who like making things, you don't need to bring anything and you can make a reservation on the day. glass blowing experience How about
Kai no Saruhashi Bridge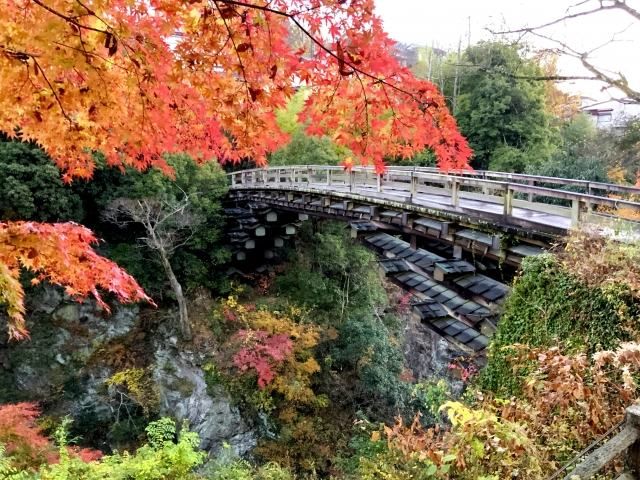 Built over the valley of the Katsura River, A wooden bridge counted among Japan's three strangest bridges is.
Because of the location where pillars could not be erected, they were installed on both banks instead. Unique design supported by four-layer "springboard" adopted.
in the Edo period Used as a bridge over the Koshu Highway It has a long history, and the current one was replaced in 1984 (Showa 59).
Appearance reminiscent of a Japanese house As well as hydrangea and autumn leaves Scenery that changes with the seasons It is also recommended to take a look at is.
Fukaki Dam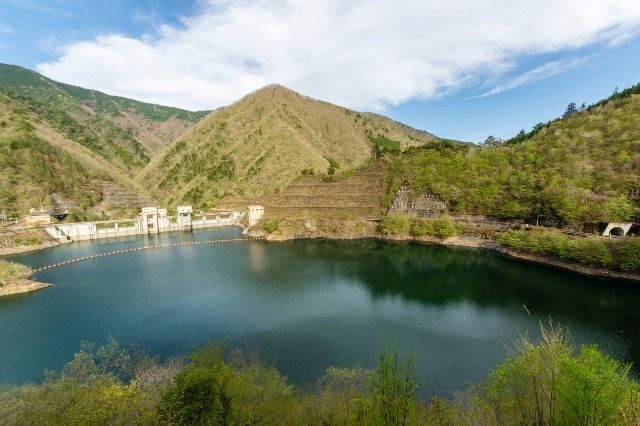 North of Otsuki, 635m above sea level built in the Surrounded by mountains, you can experience the rich natural scenery dam.
Three waterfalls with different scales and designs , which is unique to dams Spectacular scenery can be enjoyed.
is a dam lake "Shioji no Mori Fukashiro Lake" The changes of the four seasons in the surrounding valley are reflected on the surface of the lake, creating a beautiful scenery. .
Yamanashi Prefectural Maglev Tour Center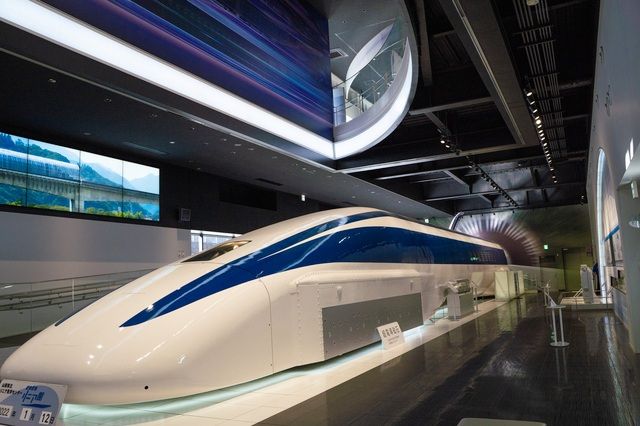 The facility is mainly a souvenir shop and you can find tourist information in the surrounding area. "Waku Waku Yamanashi Kan" and "Pounding Maglev Kan" where you can learn about the mechanism of the maglev One of the.
From the facility, you can observe the running test on the adjacent "Yamanashi Maglev Test Line".
In addition "Pounding Linear Museum" in the A real linear motor car is on display In addition, there are booths where you can actually experience the history and mechanisms.
A sightseeing spot unique to Yamanashi where tests are being conducted for practical use is.
If you want to see the driving test, You can check the schedule of the scheduled implementation date on the official website So please use this as a reference for your travel schedule.
Yamanashi Model Course Day 1 Day to Night: Lunch and experiences around Lake Kawaguchi! Stop at a day-trip hot spring in Isawa at night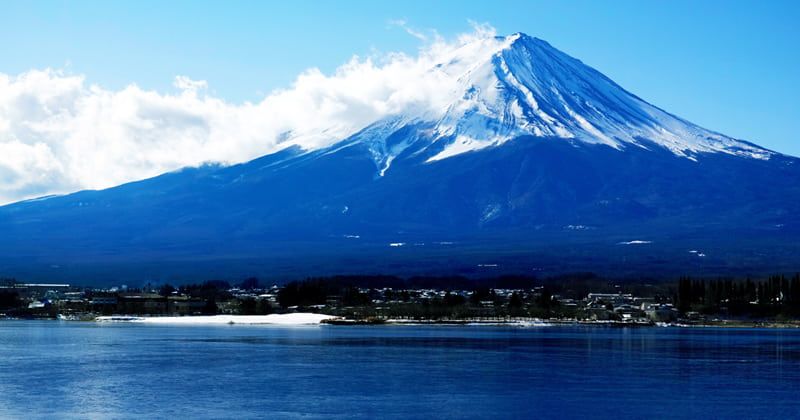 the stage of the trip About 25 minutes by car from the Otsuki area Lake Kawaguchi What.
Local gourmet food unique to travel destinations is a point that you definitely want to enjoy during your trip is.
Therefore, Introducing Yamanashi-specific dishes that can be enjoyed around Lake Kawaguchiko.
After filling your stomach, surrounding tourist attractions and Activities that take advantage of the local characteristics and topography Let's try
at night Lake Kawaguchi Head to Kofu, which is about an hour's drive from the area, Kofu Stay at a nearby inn.
Along the way Soothe the tiredness of the first day at a day-trip hot spring may be good .
Lunch with a local cuisine experience that you make yourself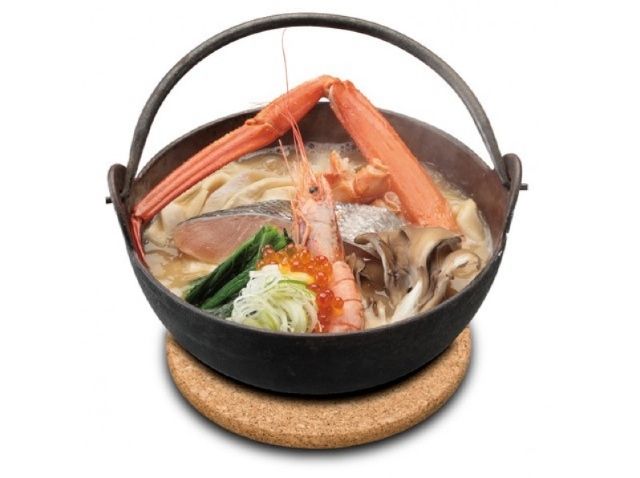 at lunchtime, Hands-on experience of local cuisine How about giving it a try?
Lake Kawaguchi Around It is a group of springs Handmade soba experience at Oshino Hakkai and is known as a Yamanashi specialty "Hoto" handmade experience is possible.
Kawaguchiko Music and Forest Museum (former Kawaguchiko Music Forest Museum)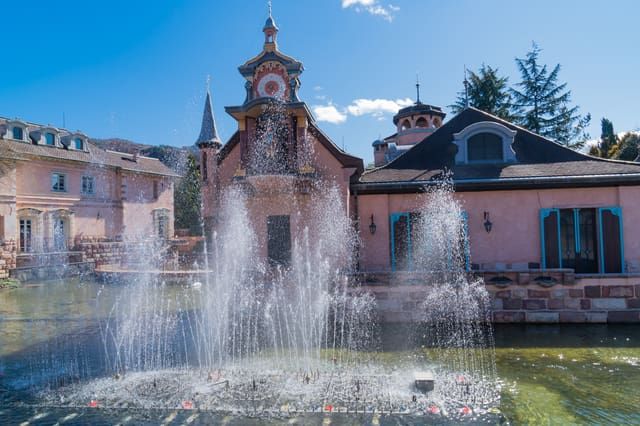 Located near Lake Kawaguchi overlooking Mt. Fuji, A museum that mainly exhibits musical instruments is.
World wide precious music box or, automatic playing instrument There are many such as Live performance of the collection can experience .
outside is european style garden and Enjoy seasonal flowers with beautiful Mt. Fuji in the background The space is expanding.
in beautiful scenery, Choose and wear your favorite dress from over 100 types "Princess Experience" also available.
"Princess experience" is not only for children, Adult plans are also available. . more in the journey Extraordinary experience Perfect for enjoying.
Select your favorite song from about 100 other songs, and customize the parts and design to create an original song. Experience making a music box There is also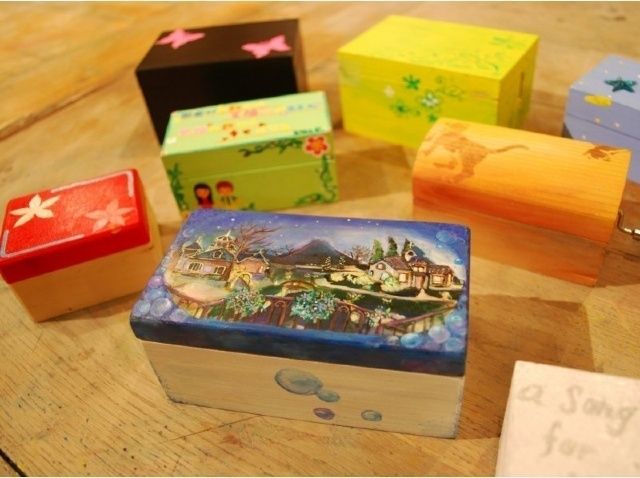 It might be a good idea to make a memento of your trip that contains one of your favorite songs.
Kawaguchiko Mt.Fuji Panoramic Ropeway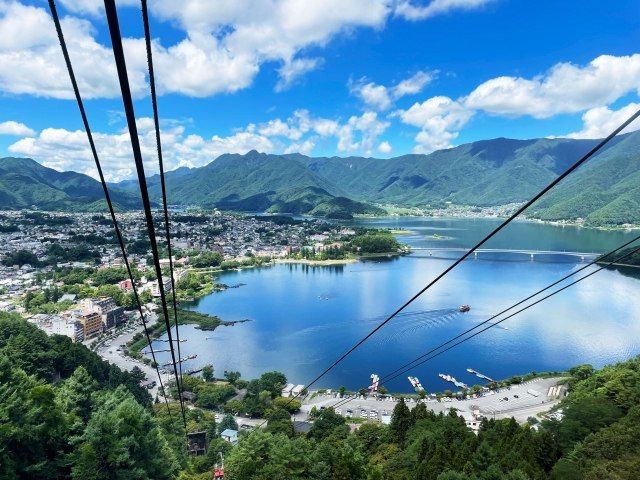 A ropeway that goes up from the shores of Lake Kawaguchiko to high ground and various sightseeing spots were installed. Facility.
Mount Fuji You can see the panorama and the foot of the mountain Observatory Or on a cliff at an altitude of 1,110m "Superb view tower" You can enjoy the view of Mt.Fuji from here.
on a hill Attraction "Kachi Kachi Scenic Swing" where you row a swing toward Mt. Fuji is installed.
It is different from looking from the observatory, Superb view experience is possible.
In autumn, you can see the surrounding mountains dyed in autumn colors from the ropeway. So, if you are looking for a more seasonal location, adjust your visit timing.
Introducing activities to fully enjoy Mt. Fuji and nature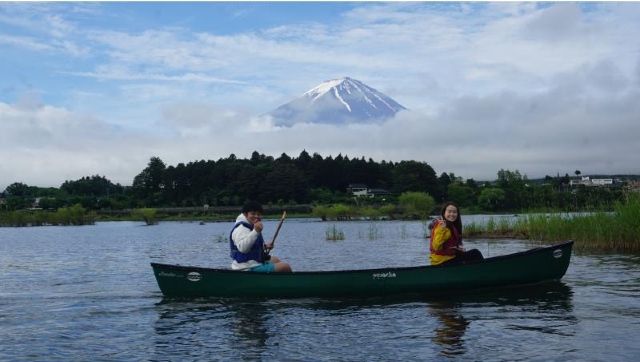 at Lake Kawaguchi Great location at the foot of Mt.Fuji in of, Canadian canoe with excellent stability leisurely touring I can do it.
In the surrounding mountains, buggy or Mountain bike (MTB) The extraordinary experience of running off-road with Can. In addition to being able to participate alone, groups of 10 or more people and family units You can enjoy it though.
A one-day hot spring with free-flowing hot springs where you can stop by in Isawa
from ancient times Yamanashi At Isawa Onsen, known as the hot spring resort of A day trip to a 100% free-flowing hot spring You can take a bath at
a large amount of discharge, The amount of hot water that overflows vigorously You can spend a luxurious hot spring time.
Yamanashi Model Itinerary Day 2 Morning-Noon: Stroll around sightseeing spots around Kofu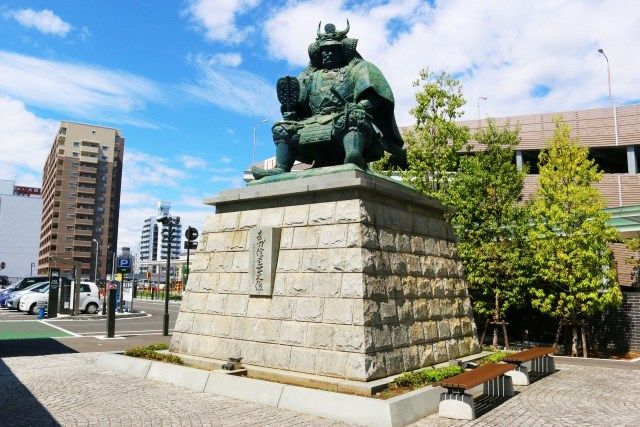 In the morning of the second day of the trip, Walking around Kofu where we stayed let's go out to
Kofu, which is also the prefectural capital of Yamanashi teeth, Other than general tourist spots Historic monuments or museum such as Experience local culture where you can and abundance .
Sightseeing spots that meet the wishes of each travel member How about looking for these before your trip?
Koshu Yumekoji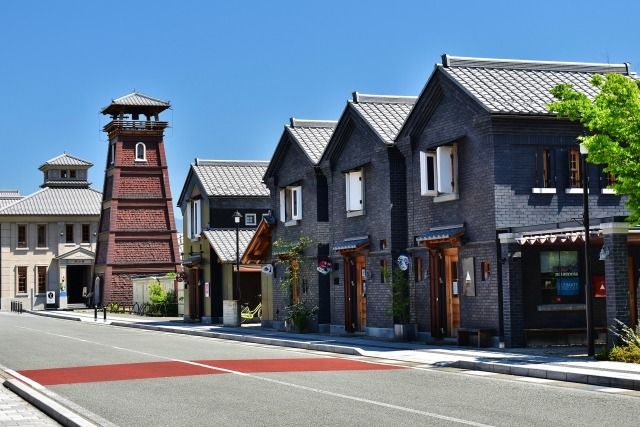 A reproduction of the Kofu castle town from the Meiji to the early Showa period It is a sightseeing spot that can be enjoyed on foot.
Building using old materials and townscapes with cobblestones underfoot and waterways flowing on the sides, The scenery full of retro atmosphere is just one of the highlights .
Yamanashi-like Accessory shop and wine cellar , A restaurant with a variety of genres, from sweets to ramen are lined up.
Maizuru Castle Park (Kofu Castle Ruins)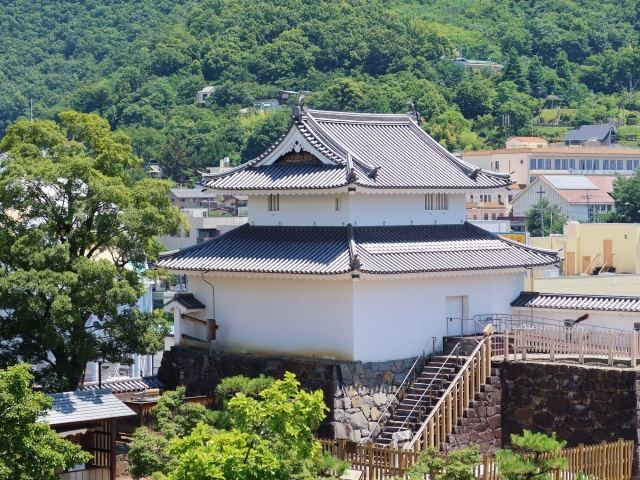 It was built by Toyotomi Hideyoshi after the Takeda clan fell in the 16th century. Ruins of Kofu Castle .
Even if you say traces, You can also visit historical sites and recreated places because of for history buffs I want you to visit It is a tourist attraction.
If you climb the castle tower, you can see the scenery of the entire Kofu basin, as well as Mt. Fuji and the Southern Alps.
Because cherry blossoms are planted on the premises , if you visit from mid-March to early April, the best time to see more gorgeous scenery You can enjoy
Happiness Hill Ariance
Located on a small hill in Kofu city In addition to the "Ivory Sculpture Museum" and the observatory, there are also putter golf courses and restaurants. A wide variety of facilities are available It is a tourist attraction.
At the "Ivory Sculpture Museum", export is currently restricted, making it very valuable Sculpture using ivory or, mammoth tusk and so on.
In addition to the rarity of ivory itself, A work that is said to exist only two in the world "26 layer hollow jewel" One of the highlights is that it is on display.
Also Museum admission fee Observation deck fee included Therefore, you can also enjoy the night view of the Kofu Basin, which was certified as a night view heritage of Japan in 2018.
Kai Zenkoji Temple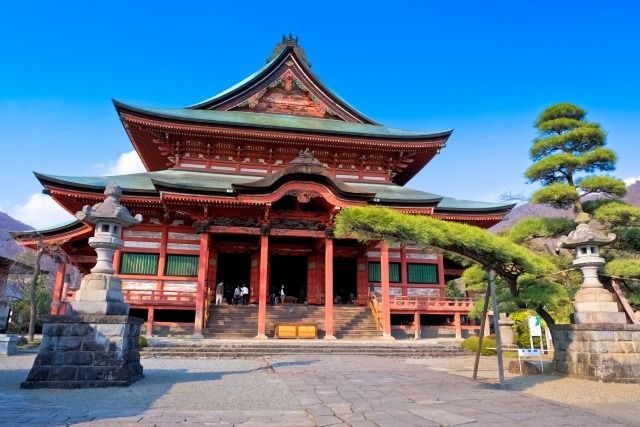 Said to have been founded by Takeda Shingen It is a temple with a history of over 400 years.
national important cultural property It is also famous for containing many historically valuable items, including
partly You can appreciate it at the Treasure Museum, which is open to the public all year round. is.
Goshuin stamps and original stamp books are also available. So, if you collect goshuin, please check it out.
Shosenkyo Forest Museum of Shadow Art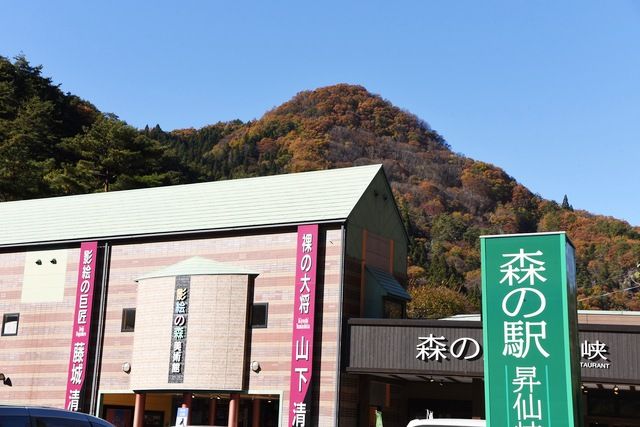 Shosenkyo, known as a place of scenic beauty built in the The world's first shadow art museum . design and supervision is a master of shadow puppetry Seiji Fujishiro Mr is in charge.
Due to the characteristics of shadow pictures, prevent excess light from entering For The exhibition room in installed in the basement It has been.
Enjoy works by masters of shadow puppetry that emerge in pitch darkness A unique tourist attraction.
In addition to the permanent exhibition, special exhibitions are also held.
In the special exhibition, you can appreciate paintings other than shadow pictures. So be sure to check the museum's website to see who's work is on display when you visit.
Art experience using traditional techniques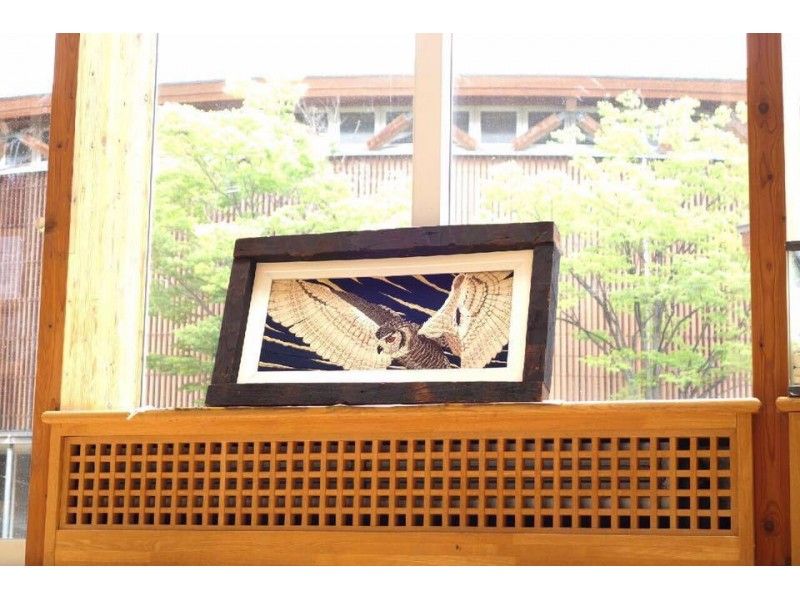 Painting expressions invented in recent years is Silk painting experience Can.
"Kinsaiga" is a creative technique that uses old silk cloth instead of paint. It creates a texture that is different from normal drawing.
The old cloth will be prepared at the experience, so you can use it during sightseeing. Visit empty-handed and experience art production I can do it.
Yamanashi Model Itinerary Day 2: Enjoy sightseeing, fruit and wine in the Fuefuki/Katsunuma/Enzan area!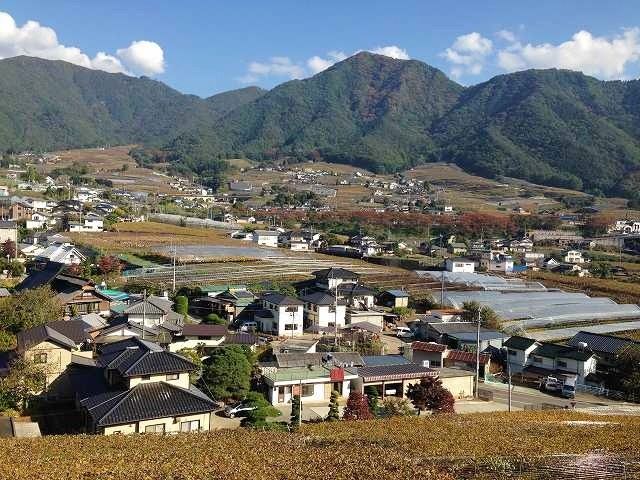 After sightseeing in Kofu, Eastern area of Kofu Basin let's go to
From Kofu to Fuefuki by car about 20 minutes . From Fuefuki to Katsunuma teeth about 18 minutes , To salt mountain teeth Arrive in about 20 minutes To do .
Kofu Fuefuki, which is adjacent to the salt mountain In the area (now Koshu City), Experiences where you can enjoy various "food" other than just looking and enjoying and.
There are also all-you-can-eat tours. so keep hungry it's good maybe.
A pottery experience where the finished product will be delivered at a later date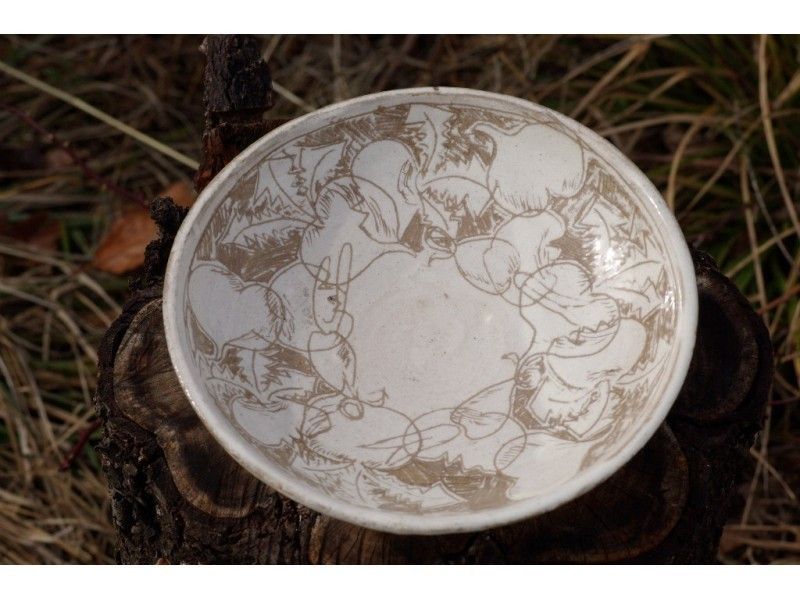 Using plenty of 900g of clay Pottery experience . You can make multiple works as much as the prepared clay, not one work per person .
Because the work will be sent to your home at a later date, while traveling delicate finished product no need to carry This is another great point.
Fujida Falls Okubo Healing Forest Park
The spring splits into 8 streams and flows down Fujinuta Waterfall .
The water temperature is always cold at 12° throughout the year , also known as the hot area.
If you visit around spring, You can see beautiful skunk cabbage flowers .
in the park A corporation related to a businessman from Fuefuki received support from scholarship student by us, Over 80 sculptures on display It has been.
You can touch art while walking in a park full of nature , is a tourist spot worth exploring.
Grape Hill & Underground Wine Cave
Especially in the fruit kingdom Yamanashi Katsunuma, known for its grape production . hills in the vineyard It is a tourist attraction located in
wine and barbecue In addition to enjoying Day-use hot springs, accommodation facilities, and restaurants are also available .
Day stay service with hot spring There is also in the middle of the trip take a break who want Perfect for
Inside the facility wine server installed , Including rare brands plural wine tasting can.
Furthermore, there is a wine cave with 180 kinds of wine in the basement. there is Purchase a tasting container by doing, Tasting of all types possible is.
attractive, but Drivers should be careful not to drink .
Even if you can't taste it, Wine for yourself to drink after returning home should be fun to choose.
tunnel wine cave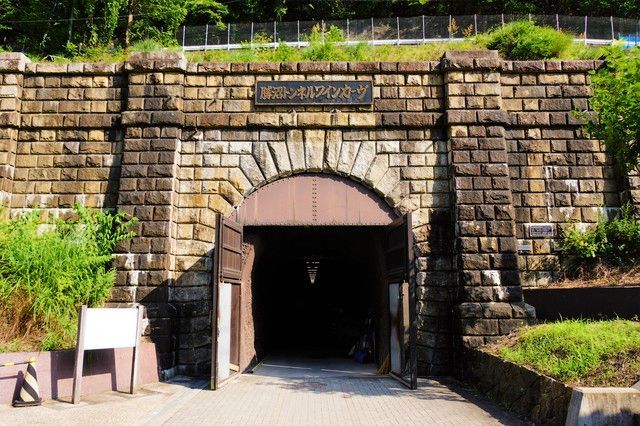 Transferred free of charge from JR East to Yamanashi and former Katsunuma Town Tunnel opened in the Meiji era is a tourist spot that has been turned into a cellar for aging wine.
Although it is a storehouse for wine owners, From the administration building where the manager resides Visit the vicinity of the entrance for free I can do it.
The temperature inside is 6-14°C all year round And the cool state is always kept. A historic building built over a century ago In addition to being If you travel to Yamanashi in the summer, by all means coolness want to visit It's a spot.
Fruit picking that can be enjoyed leisurely with a reservation system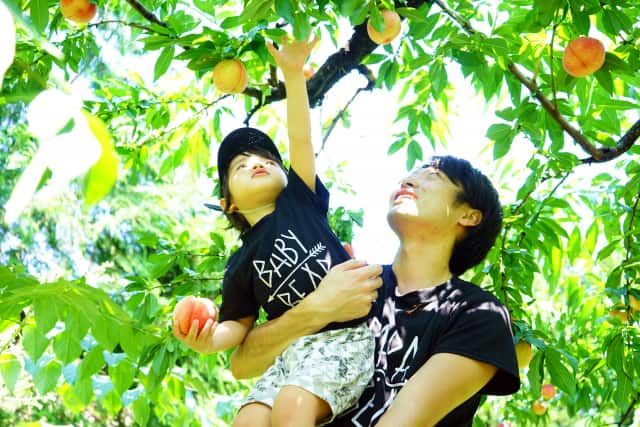 Unlimited time all-you-can-eat tour is literally You can eat as much fruit as you like It will be the best experience.
There are plenty of seasonal fruits such as peaches, grapes, strawberries, and cherries.
In addition to all-you-can-eat, A generous place where you can get fruit as a souvenir is also a recommended point.
Yamanashi Model Course Day 2 Evening to night: Night view and open-air bath on hill in Yamanashi City
The fun Yamanashi trip is finally coming to an end .
Near Enzan, about 13 minutes by car "Fuefukigawa Fruit Park" Towards the Kofu Basin that I visited on this trip Let's take a look at the end .
before i go back 4 minutes from Fuefukigawa Fruit Park It is in, How about enjoying the night view at the scenic open-air hot spring? .
Fuefukigawa Fruit Park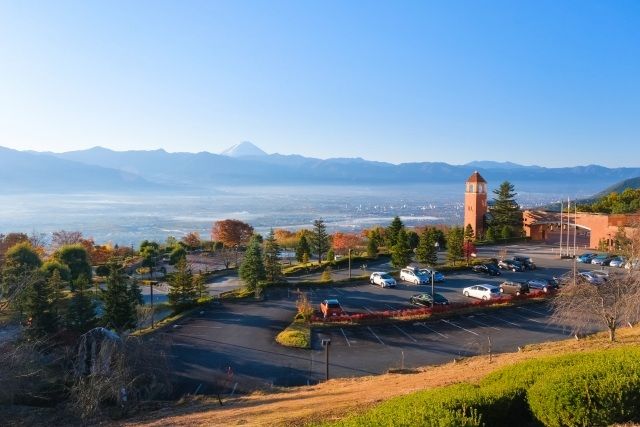 fruit picking experience or sweets with fruits Cafe where you can enjoy In addition to Equipped with outdoor facilities such as athletics and dog run It's a theme park.
A flower garden, a water garden, and a "wine fountain" in the shape of a wine glass Because there are tourist spots such as You can have a lot of fun just by walking and looking around. .
There is also a shop that sells special products, Special products of Yamanashi or Craft I will try to purchase such as souvenirs for this trip It might be good.
Also in the park Various events held It has been. There are events that you can attend for free on the day. so Jump in if you have time Let's do it.
Ditching hot spring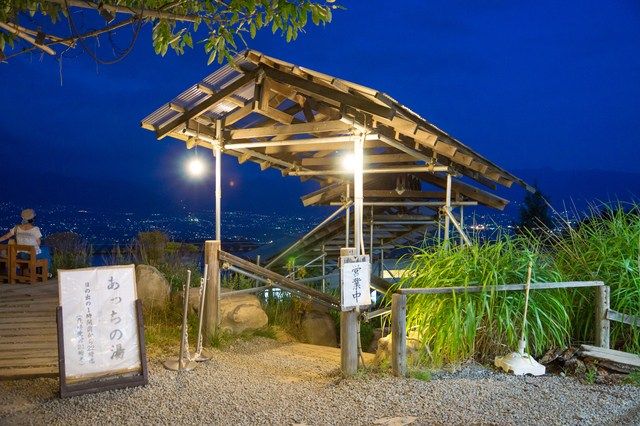 Enjoy the perfect location while soaking in the hot springs Popular tourist attraction.
Facility built in the mountains However, Contrary to its name, a well-maintained hot spring facility is.
hot springs "Acchi no Yu (Shinyu)" When "Kocchi no Yu (Motoyu)" is divided by Differences in scenery and scale there is.
"Kocchi no Yu" A calm atmosphere with Mt. Fuji in front So, "acchi no yu" is The Kofu Basin is easy to see, and the washing area and bathtub are about twice as large. there is.
Bathing fee is separate for, Be careful if you want to enter both will do .
business is late Until 22:00 (Last reception is 21:30) Since it is Freshen up on the way home from a trip Recommended for
Yamanashi 1 night 2 days sightseeing spot map
Easy to visit Yamanashi sightseeing spots even if you stay overnight by car
This time we will be traveling by car Yamanashi sightseeing model course for 2 days and 1 night When, Introducing recommended sightseeing spots Did.
Yamanashi is blessed with nature: mountains, rivers, and lakes. By Tourist attractions and activity is also full of choices .
Yamanashi can easily be visited from the metropolitan area So please refer to this special issue. A casual activity trip Try planning.
*Information such as plans, fees, and introduced facilities is current as of August 2022.
Editorial department recommended feature articles