What is the difference between a canoe and a Kayak? Thorough introduction of each attraction and popular tour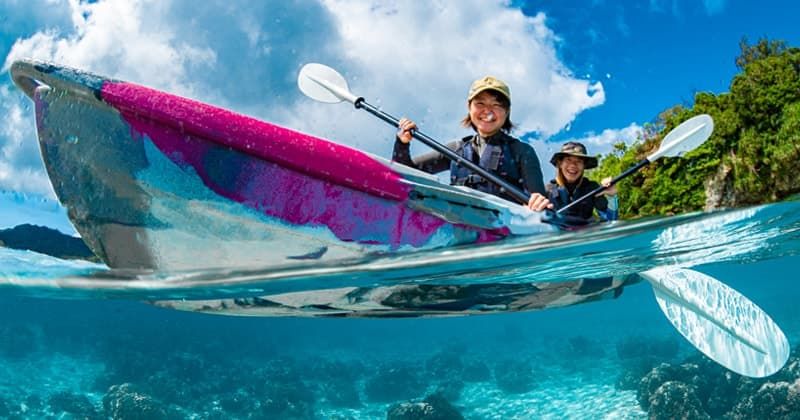 When I first tried to try "canoeing" or "Kayak", the first thing I was interested in was the difference between the two. Both refer to water Activity that you row on a small boat, In fact, canoeing and Kayak are completely different in roots and rowing!
Therefore, this time, I would like to introduce the differences between the canoe and the Kayak, which you may not know, and the charm of each.
Actually, "canoe" and "Kayak" with completely different roots and rowing method

"Canoe" is a general term for small boats that use paddles to draw water and move forward.
And the canoe is roughly divided into two types, "Canadian canoe" and "Kayak". In short, Kayak is a type of canoe What is it?

Then, what is the difference between "Canadian Canoe" and "Kayak"?
The decisive factor in classifying these two is the paddle. That is, The name changes depending on the type of paddle used, such as "canoe" or "Kayak". Is
Tell me about the Canadian canoe!

What is commonly called a canoe in Japan refers to a Canadian canoe. I summarized the features of Canadian canoe.
1. Use "single blade paddle" for paddle
A "single blade paddle" is a paddle that has only one blade (watering pad).

There is a method called "chaining stroke" in which the right side and the left side of the hull are alternately rowed to proceed. However, if you row on the right side, the bow will naturally turn to the left, so you have to change the paddle quickly and row on the other side. If you are a beginner or you are not confident in your physical strength, it will be easier for two or more people to board the boat and share the left and right.

In addition, there is a stroke method called "J stroke", "ladder stroke", "Canadian stroke" that allows you to go straight by rowing only one side of the hull. These require technique, but some tour companies can give a lecture by an experienced guide before boarding.
2. The hull is an open "open deck" type
Canadian canoes are said to have been originally used by Native Americans in North America to move and carry luggage. At that time, it was made from animal bones and skins, but its shape hasn't changed much in the past.

It is designed so that multiple people can board the ship or carry a lot of luggage on it, so the feature is that it is an "open deck" with an open structure at the top of the hull. In addition, since the lower body is not fixed, it is easy to move, and the safety of the hull is more important than speed.
The Canadian canoe is perfect for relaxing!

The Canadian canoe also uses a "single blade paddle" where only one blade (watering) is used, making it unsuitable for exciting fields such as rapids or rough seas. It is recommended for those who want to relax and enjoy the scenery on a calm river or lake with few waves.

Since the hull is a spacious open deck, children and dogs can easily ride on it, making it a popular Activity for the whole family. There is plenty of space to carry your luggage, so you can hang your fishing line during the touring to catch the fish that live in the clear stream.
Near Year as "SUP" in the boiling topic difference between "Canadian canoe" is?
There is "SUP Activity similar to Canadian canoe, but what is the difference between Canadian canoe and SUP?

SUP is an abbreviation for "Stand Up Paddleboard". Activity where you stand on a board and row left and right alternately with a single paddle to advance on the surface of the water.
Depending on the tour company, there are tours where you can choose between Canadian canoe and SUP, so if you get used to Canadian canoe, you can try SUP!
Tell me about Kayak!

Kayak, which are a type of canoe, are divided into more types depending on the field used and the way they play. The features of the Kayak are summarized less.
1. Use "double blade paddle" for paddle
A "double blade paddle" is one in which blades (watering pads) are attached to both sides of the paddle.
Compared to a single blade paddle, you don't have to change the handle, so It is a feature that even beginners can control it relatively easily.

The method of rowing is generally called the "forward stroke", in which the left and right blades are evenly rowed to proceed. Instead of just using your hands and arms, you have to move the paddle in a balanced manner while twisting your body around the spine. If you are not confident in your physical fitness, we recommend starting with two people.
2. "Closed deck" type in which the deck is covered except for the seats
Kayak were originally said to have been used by Eskimos at sea for hunting. Therefore, even if you should turn over while on board, it is possible to get back up again with a technique called "Eskimo roll."

Unlike the Canadian canoe, the hull is "Closed deck" where the deck is covered except for the seats Is basically made. Even if you cover the waves from above, it has the advantage that water does not easily enter the ship and does not sink easily. Even in the case of two passengers, the boarding parts are independent.

Also, If you are using a double blade paddle, it will be classified as a "Kayak" even if the hull is made of open deck...
Introducing Kayak types and popular tours!

Kayak is There are different types depending on the field used and the type of play. Therefore, we will introduce the types of Kayak, how to enjoy them by purpose, and popular tours. If you would like to try Kayak, please check it out!
"Sea kayak" is recommended for those who want to enjoy the location!

"Sea kayak" refers to Kayak having fun in the ocean.
The feature is that the hull is made slender so that it is not easily affected by waves, wind, and tides. It is used not only for strolling on the sea, but also for moving from island to island.
Sea kayak is that you can see the underwater terrain, coral reefs, and schools of fish up close!
Sea kayak that allows you to look into the sea from a perspective close to the surface of the water, you can observe the sea with the naked eye during the daytime when the waves are calm. Also, if you take an evening tour, you can enjoy Kayak
In addition, some tour companies have plans to land on uninhabited islands or enter caves, so if you are interested, please search.
If you want to feel like exploring, "River Kayak" is recommended!

"River Kayak" is, enjoy the river Kayak says things.
The feature is that it is made sturdy so that it does not break even if the ship hits a rocky area. In addition, it has excellent maneuverability so that it can respond to heavy river flow.

Let yourself relax in the gentle stream of the river, try the rapids and enjoy the sense of accomplishment overcoming difficult places. The river Kayak is attractive because you can enjoy various ways depending on the flow of the river.

In addition, depending on the tour company, there is a powerful plan that allows you to pass through the rocks and go directly under the precipice. You can feel like a scene from an adventure movie!
If you want to learn how to control your paddle, we recommend "Fun Kayak"!

"Fan Kayak" is, enjoy the lake Kayak says things.
It features excellent stability and is relatively easy for beginners to go straight. It may also be used in the calm waters of the sea.

Unlike the sea and rivers, there is no flow of water in a lake, so you will be able to row by yourself. That is, One of the attractions of a fan Kayak is that you can truly enjoy the operation of the paddle without being disturbed by the water flow.
If you are a beginner or unfamiliar with the operation of paddles, you may want to start by trying a fan Kayak first.
Kayak & Try fishing "Kayak" which is a good fishing event!

As the name implies, "Kayak fishing Kayak for the purpose of fishing.
It features a holder for standing a fishing rod and a trunk space for storing items that make fishing comfortable.
The biggest attraction of Kayak fishing is that you can easily enjoy fishing at spots that large fishing boats cannot approach! If you are lucky, you may meet a big fish.
Some tour companies Rental services, so if you are interested, check in advance.
Maybe you can see fireflies in the summer⁉ "Night River Kayak" is also popular!

Depending on the Kayak tour company, you can enjoy the "Night River Kayak", where you can enjoy the river at night.
Night river Kayak The charm is that you can enjoy the natural location that you can only enjoy at night! The starry sky looking up from the water away from the lights of the buildings and the street lights is just a word to see.

If you are lucky, you may also encounter nocturnal creatures and, depending on the season, fireflies. Recommended for those who want a thrilling experience that is a little different from general Kayak.
It's like a jungle! "Mangrove Kayak" where you can fully enjoy the mysteries of nature!

You can enjoy "mangrove Kayak" in the area where mangroves are overgrown.
This mangrove Kayak is a very valuable tour that can only be experienced in Okinawa and Kagoshima prefectures in Japan. You can fully enjoy the magnificent scenery and the mystery of nature.

To begin with, mangrove is a generic term for plants that live in an area called the "intertidal zone," where seawater fills at high tide. Since it is left untouched, there are many plants and rare creatures that have never been seen in the forests where mangroves grow.

If you participate in the tour, you can rest assured that a veteran guide who knows the terrain will guide you. If you are lucky, you may meet rare plants and wild birds!
What is the difference between "Rafting" and "Kayak" in the same river descent?
Activity going down the river, there is "Rafting" in Kayak, but what is the difference between Kayak and Rafting
Kayak usually has 1 to 2 people on board, but Rafting has 6 to 8 people including an instructor on a large rubber boat. In addition, Rafting often refers to a tour that goes down a powerful torrent, and the point is that all members must cooperate with each other. Therefore, it is recommended when you want to have fun with a large group of Number of participants.
Summary of the difference between canoeing and Kayak
Canoe

Kayak

more is the difference between "canoe" and "Kayak".

Both canoeing and Kayak are water Activity that can be enjoyed almost Whole year. Both tour companies offer tours that are easy for beginners to try, so make sure you understand how to enjoy each and take the opportunity to try canoeing or Kayak!