What is the difference between a canoe and a Kayak? Thorough introduction of each attraction and popular tour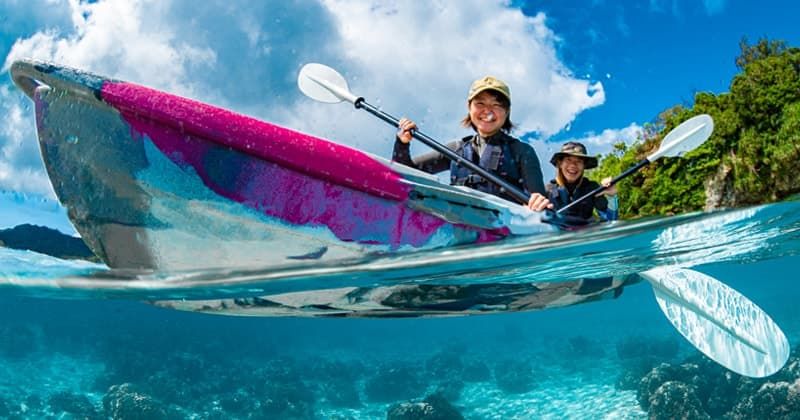 When I first tried to try "canoeing" or "Kayak", the first thing I was interested in was the difference between the two. Both refer to water Activity that you row on a small boat, In fact, canoeing and Kayak are completely different in roots and rowing!
Therefore, this time, I would like to introduce the differences between the canoe and the Kayak, which you may not know, and the charm of each.
Actually, "canoe" and "Kayak" with completely different roots and rowing method

"Canoe" is a general term for small boats that use paddles to draw water and move forward.
And the canoe is roughly divided into two types, "Canadian canoe" and "Kayak". In short, Kayak is a type of canoe What is it?

Then, what is the difference between "Canadian Canoe" and "Kayak"?
The decisive factor in classifying these two is the paddle. That is, The name changes depending on the type of paddle used, such as "canoe" or "Kayak". Is
Tell me about the Canadian canoe!

What is commonly called a canoe in Japan refers to a Canadian canoe. I summarized the features of Canadian canoe.
1. Use "single blade paddle" for paddle
A "single blade paddle" is a paddle that has only one blade (watering pad).

There is a method called "chaining stroke" in which the right side and the left side of the hull are alternately rowed to proceed. However, if you row on the right side, the bow will naturally turn to the left, so you have to change the paddle quickly and row on the other side. If you are a beginner or you are not confident in your physical strength, it will be easier for two or more people to board the boat and share the left and right.

In addition, there is a stroke method called "J stroke", "ladder stroke", "Canadian stroke" that allows you to go straight by rowing only one side of the hull. These require technique, but some tour companies can give a lecture by an experienced guide before boarding.
2. The hull is an open "open deck" type
Canadian canoes are said to have been originally used by North American Indians to move and carry luggage. It was said that it was made from animal bones and skins at that time, but its shape has not changed much now and in the past.

It is designed so that multiple people can board the ship or carry a lot of luggage, "Open deck" with an open upper structure The feature is that it is made. Also, since the lower half of the body is not fixed, it is easy to move, and safety of the hull is emphasized rather than speed.
The Canadian canoe is perfect for relaxing!

The Canadian canoe also uses a "single blade paddle" where only one blade (watering) is used, making it unsuitable for exciting fields such as rapids or rough seas. It is recommended for those who want to relax and enjoy the scenery on a calm river or lake with few waves.

Since the hull is a spacious open deck, children and dogs can easily ride on it, making it a popular Activity for the whole family. There is plenty of space to carry your luggage, so you can hang your fishing line during the touring to catch the fish that live in the clear stream.
Near Year as "SUP" in the boiling topic difference between "Canadian canoe" is?
There is "SUP" in water Activity similar to Canadian canoe, but what is the difference between Canadian canoe and SUP?

SUP is an abbreviation for "Stand Up Paddleboard". As its name suggests, it is an Activity of standing on the board and rowing left and right alternately with one paddle to advance to the surface of the water.
Depending on the tour company, there are tours where you can choose either Canadian canoe or SUP, so if you are used to Canadian canoe you can try SUP!

Miyakojima (Irabujima, Shimojijima, Kurimajima, Ikemajima)
8,900

円

7,900

yen~

(tax included)

Special Deals
【地域共通クーポン対象プラン!】 このプランは地域共通クーポンがご利用可能です! ※クーポン利用は現地決済のみとなります。事前決済は利用不可ですのでお気を付けください。 ↓詳しくは弊社HPにて↓ https://miyako-pipi.com/local_coupon この機会に格安でアクティビティに参加しましょう! 【半日ツアー!絶景ビーチでSUP /カヌー】 宮古島を代表する絶景の海をSUP/カヌーでクルージングするプランです。 広々としたフィールドで自由度が高く、美しい海を眺めながら存分にSUP/カヌーを体験することができます。 【PiPiアピールポイント】 ・写真データ無料プレゼント!ツアー中はガイドが皆様の写真をお撮りします! ・ガイドがしっかりサポート!PiPiのガイドは全員が水難救助員の資格を保有しています。ゆっくり丁寧にレクチャーいたしますので小さなお子様から泳ぎの苦手な方までご参加大歓迎です! ・圧倒的な口コミ数!実際、ツアーにご参加いただいた皆様からの評価がPiPiツアーの満足度の高さを物語っています。 【ツアー当日のスケジュール例】 ①9:30/13:30 現地フィールドでガイドと合流。 ↓ ②9:40/13:40 準備をしてアクティビティ開始! ↓ ③10:00/14:00 絶景ビーチでのSUP・カヌー体験! ↓ ④11:30/15:30 アクティビティ終了。現地フィールドで解散。 ※当日の天候・潮位によりスケジュールは変動します。
Tell me about Kayak!

Kayak, which are a type of canoe, are divided into more types depending on the field used and the way they play. The features of the Kayak are summarized less.
1. Use "double blade paddle" for paddle
A "double blade paddle" is one in which blades (watering pads) are attached to both sides of the paddle.
Compared to a single blade paddle, you don't have to change the handle, so It is a feature that even beginners can control it relatively easily.

The method of rowing is generally called the "forward stroke", in which the left and right blades are evenly rowed to proceed. Instead of just using your hands and arms, you have to move the paddle in a balanced manner while twisting your body around the spine. If you are not confident in your physical fitness, we recommend starting with two people.
2. "Closed deck" type in which the deck is covered except for the seats
Kayak were originally said to have been used by Eskimos at sea for hunting. Therefore, even if you should turn over while on board, it is possible to get back up again with a technique called "Eskimo roll."

Unlike the Canadian canoe, the hull is "Closed deck" where the deck is covered except for the seats Is basically made. Even if you cover the waves from above, it has the advantage that water does not easily enter the ship and does not sink easily. Even in the case of two passengers, the boarding parts are independent.

Also, If you are using a double blade paddle, it will be classified as a "Kayak" even if the hull is made of open deck...
Introducing Kayak types and popular tours!

Kayak is There are different types depending on the field used and the type of play. Therefore, we will introduce the types of Kayak, how to enjoy them by purpose, and popular tours. If you would like to try Kayak, please check it out!
"Sea kayak" is recommended for those who want to enjoy the location!

" Sea kayak" means Kayak enjoyed at the sea.
The feature is that the hull is made elongated so that it is not easily affected by waves, wind, or tide. It is used not only for exploring the sea, but also when moving from island to island.

Sea kayak 's charm is Underwater terrain, coral reefs, and schools of fish can be seen up close!
At Sea kayak, where you can peek into the sea with a line of sight close to the surface of the water, you can observe the sea with the naked eye during the daytime when the waves are calm. Also, if you take an evening tour, you can enjoy Kayak romantically while watching the sunset over the ocean.

Furthermore, depending on the tour company, there are also plans that allow you to land on an uninhabited island or enter a cave, so if you are interested, please do search.

Atami / Hatsushima
Kayak It is the original form to pile up food and water, and to go to unknown places. The guide will guide you to your favorite place. In the rest area Kayak The guide will make lunch using the ingredients loaded in the You can taste a lot of exploration feeling. Kayak The distance over time will match your pace, so there is no need to worry about physical strength. Depending on the conditions of the day, we can dive in the cave. It is fun after joining!
If you want to feel like exploring, "River Kayak" is recommended!

"River Kayak" is, enjoy the river Kayak says things.
The feature is that it is made sturdy so that it does not break even if the ship hits a rocky area. In addition, it has excellent maneuverability so that it can respond to heavy river flow.

Let yourself relax in the gentle stream of the river, try the rapids and enjoy the sense of accomplishment overcoming difficult places. The river Kayak is attractive because you can enjoy various ways depending on the flow of the river.

In addition, depending on the tour company, there is a powerful plan that allows you to pass through the rocks and go directly under the precipice. You can feel like a scene from an adventure movie!

Minakami
You can enjoy a kayak that most flow was slowly without. First one and to be a kayak, is the experience area recommended for family. Of course, for those who want full-fledged spear the River kayak will be recommended area. To those who fear we will provide the stability outstanding two-seater rubber dinghy type kayak in the kayak.
If you want to learn how to control your paddle, we recommend "Fun Kayak"!

"Fan Kayak" is, enjoy the lake Kayak says things.
It features excellent stability and is relatively easy for beginners to go straight. It may also be used in the calm waters of the sea.

Unlike the sea and rivers, there is no flow of water in a lake, so you will be able to row by yourself. That is, One of the attractions of a fan Kayak is that you can truly enjoy the operation of the paddle without being disturbed by the water flow.
If you are a beginner or unfamiliar with the operation of paddles, you may want to start by trying a fan Kayak first.

Otsu
Come on! To Lake Biwa! Let's all join forces and explore the South Lake (south of Lake Biwa)! This course is a day-long course. Something that doesn't fit in the lake, in the sea ... it's salty! Please enjoy the feeling that it is not sticky even if you play at Lake Biwa all day! Time is carefully not hurry because there is plenty of Kayak that Vehicle exhilaration that advance the water using, south while enjoying a sense of accomplishment that everyone in joining forces Kosai does not have any water adventure spots of the coast? ! Please be assured that a guide will accompany you. (* The destination is the farthest, Manogawa, in front of which is Lake Biwa Ohashi and Ukimido. Please note that it will change depending on the weather and conditions of the day.)
Kayak & Try fishing "Kayak" which is a good fishing event!

"Kayak fishing" is, as its name suggests, a Kayak intended for fishing.
It is equipped with a holder for standing a fishing rod and a trunk space for storing items that make fishing comfortable.

The biggest attraction of Kayak fishing is A place where you can easily enjoy fishing at spots that large fishing boats cannot reach! If you are lucky, you may come across a big fish.
Depending on the tour company, there is a fishing rod Rental service, so if you are interested, please check in advance.

Ishigaki island
Why don't you enjoy leisurely fishing in the mangrove river? You can bring your own tackle, Rental is also available. It is a plan without a guide. Enjoy it at your own pace. Only for those who have experienced lure fishing. Kayak Operation will be taught in advance. It's okay for the first time. We will give you a map showing the topography of the river and fishing points. Rental is basically 2 hours, extended every 1 hour (can be extended locally), Rental (around 7 o'clock to sunset) is not possible depending on the tide. Rental The available time is limited due to the ebb and flow of the tide. After applying on request, we will adjust the time. Rental cannot be done if the staff is absent due to the convenience of the shop. The days when Rental can be done per day are limited. Please contact us at the time of application or check the link below (Tide Graph). * As a guide, Rental is possible at Tour Time with a tide level of 100 cm more. http://www.fishing-labo.net/modules/ti

カヤックコウノトリ(KAYAK kono-tori)
Southern Osaka(Sakai/Kishiwada/Kansai Airport)
Would you like to enjoy fishing with a Kayak? Please experience the scenery from the water and the splendor of Kayak you are not familiar with with veteran staff in a familiar place. We do not Rental fishing equipment, so please be prepared.
Maybe you can see fireflies in the summer⁉ "Night River Kayak" is also popular!

Depending on the Kayak tour company, you can enjoy the "Night River Kayak", where you can enjoy the river at night.
Night river Kayak The charm is that you can enjoy the natural location that you can only enjoy at night! The starry sky looking up from the water away from the lights of the buildings and the street lights is just a word to see.

If you are lucky, you may also encounter nocturnal creatures and, depending on the season, fireflies. Recommended for those who want a thrilling experience that is a little different from general Kayak.

Zanpamisaki/Yomitan/Chatan
[Countermeasures for Umi Ashibi 15] Umi Ashibi and Umi Usagi, operated by our company and Nanyo Shachu Co., Ltd., give the highest consideration to the safety and security of our customers and all of our business partners, and we have thoroughly implemented them in all content. We are taking measures to prevent new coronavirus infection. In addition, our mother, M's All Co., Ltd., is a specialized business of cleaning and sterilization, and we make full use of its know-how to take the best measures so that everyone can feel at ease. We apologize for any inconvenience, but we appreciate your understanding and cooperation. There is also a Sale for customers who are not eligible for group allocation! On the day reservations are OK! You can see fireflies by the Higashi River, which is seasonal only from April to Nov.. Would you like to experience something that you can not taste in the city? Enjoy the night river Kayak the river on a quiet night. * You may not be able to see fireflies depending on the weather and the season. Please note
It's like a jungle! "Mangrove Kayak" where you can fully enjoy the mysteries of nature!

You can enjoy "mangrove Kayak" in the area where mangroves are overgrown.
This mangrove Kayak is a very valuable tour that can only be experienced in Okinawa and Kagoshima prefectures in Japan. You can fully enjoy the magnificent scenery and the mystery of nature.

To begin with, mangrove is a generic term for plants that live in an area called the "intertidal zone," where seawater fills at high tide. Since it is left untouched, there are many plants and rare creatures that have never been seen in the forests where mangroves grow.

If you participate in the tour, you can rest assured that a veteran guide who knows the terrain will guide you. If you are lucky, you may meet rare plants and wild birds!

沖縄マリンクック(OKINAWA Marine-Cook)
Kourijima/Yanbaru/Kunigami
6,000

円

4,000

yen~

(tax included)

Special Deals
【GoTo利用可】地元でもあまり知られていない、ポイントで癒しのマングローブカヤック体験!(希望者は双眼鏡無料レンタル)マングローブ周辺に生息する生き物など会える事も・・。 ※ GoTo地域共通クーポン使えます。予約時ご確認下さい。

Amami Oshima Islands/Okinoerabujima
"Amami Islands National Park Special Protected Area" Mangrove virgin forest. The waters of the mangroves are affected by the river water and the ebb and flow of the ocean. The tour goes from the upstream of the river to the estuary. And it will be a course returning from the estuary to the upstream. Activity & Relaxation! Enjoy the healing of the five senses, called sound healing = bodily sensation, along with the introduction of living things. It is quite close and you can often meet wild birds ♪
What is the difference between "Rafting" and "Kayak" in the same river descent?
There is "Rafting" in addition to Kayak when it comes to Activity going down the river, but what is the difference between Kayak and Rafting?

Usually, one or two people ride a Kayak, Rafting is carried out by 6 to 8 people including an instructor on a large rubber boat. In addition, Rafting often refers to a tour that goes down a torrent of power, and the point is that all the members must cooperate and proceed. Therefore, a large Number of participants is recommended if you want to enjoy noisily in groups of.
Summary of the difference between canoeing and Kayak
Canoe

・The origin of Canadian canoe is Indian
・The paddle uses a single blade
・Main structure is open deck
・Suitable for calm rivers and lakes
Kayak

・A type of canoe
・The origin of Kayak is Eskimo
・Double paddle used
・Main structure is closed deck
・Various types depending on the intended use
more is the difference between "canoe" and "Kayak".

Both canoeing and Kayak are water Activity that can be enjoyed almost Whole year. Both tour companies offer tours that are easy for beginners to try, so make sure you understand how to enjoy each and take the opportunity to try canoeing or Kayak!