Complete coverage of Rafting clothes and belongings for men and women in spring, summer, autumn, winter (with check sheet)

Down the rapids while raising a large spray of water Rafting is near Year River rising popularity Activity is. It is possible to feel free to challenge even a novice, now Year what I want to try! I think many people are wondering.
However, even if you want to try it, there are many things you do not understand, such as "Do you need a swimsuit or wetsuit?" "What kind of shoes do you want?" Therefore, this time, I will introduce everything you need to enjoy Rafting, such as clothes and clothing, from spring to winter. Let's use it as a reference and enjoy Rafting to the fullest!
What is Rafting?

Rafting down the rapids is thrilling
Take a large inflatable boat and steer down the rapids while maneuvering with a paddle. Rafting ". It's perfect for group leisure, as everyone works together to advance the boat.
Rafting, you can choose the course that suits your level from beginners who go down a gentle flow to For advanced level people who go down a thrilling torrent. Since you will always wear a life jacket or helmet during the experience, it is a feature that not only beginners but also children and those who are not good at swimming can easily participate.

Jump from the rocks and play in the water during Rafting!​
Also, depending on the tour Along the way, you can get off the boat, swim, jump from the rocky area, try to land on an uninhabited island, and enjoy the plus alpha play. Also. It's definitely a popular Activity in the hot summer.
​
When is the best time for Rafting?
​​
How to enjoy Rafting depends on the season. Than If you want to enjoy the thrill, we recommend spring when the melted water flows in and the river rises. If you want to enjoy the magnificent location, the time of autumn leaves It is also good to aim for
Among them In the high season, after all, around GW and Obon Will Depending on the tour, there is also a half-day course that you can easily join, and more people will come to Rafting after camping and sightseeing. Also at this time, A bargain bargain and a good-value plan with a Hot spring Ticket nearby are also popular is.
​​
Check your Rafting outfit and your belongings!
​

People who experience Rafting for the first time should often say, "What kind of clothes should I wear?" "I don't know what to bring ...". So, I've summarized the things you should know and clothes to enjoy Rafting less.
Tell me what you need and what clothes you need for Rafting!
​ ​​
First of all, the less three items are necessary to experience Rafting. Depending on the tour company, There is also a service that you can Rental free or for free, so please check in advance if you want to reduce your luggage or enjoy it at a reasonable price. I recommend that.
Choose a simple swimsuit!
​
First The first thing I want to prepare is a swimsuit is. Rafting is an Activity that is premised on being soaked in the water and splashing into the river. As cotton underwear is hard to dry and the body gets cold, Be sure to wear a swimsuit Let's do it.
​​
We may also wear wetsuits over swimsuits to prevent cold and injuries. We recommend that Female do not have frills or ribbons attached to them, and Male wear knee-length surf pants to prevent the swimsuit from being awkward.
T-shirts and shorts are also Required summer!
​
We often don't wear wetsuits during the hot summer months, Both men and women have T-shirts and shorts Let's do it.
​​
Especially Female is a bikini swimsuit, so there is a concern that it may come off when going down the rapids, It is not possible to get out to Rafting in just a swimsuit. If you don't wear a wetsuit, be sure to wear a T-shirt and shorts over your swimsuit.
The material of the T-shirt is Good quick-drying materials such as polyester and nylon Let's choose.
In addition, many people are worried that "when wearing a wetsuit, the lines of the body and buttocks are clearly visible ...". In such a case, it is recommended to wear a T-shirt and shorts on top of the wet suit.
Male do not need to bring additional shorts if they wear shorts.
Shoes that are good for getting wet are the best!
​
Rafting, you may walk on slippery places such as rocks or riverbeds, so it is important to choose shoes to avoid injury. Assuming it gets wet, Be sure to bring another pair of shoes other than the one you wear.​
​​

Type is unisex Sports sandals, sneakers, marine shoes, etc. that can firmly fix the heel are recommended is. Avoid flip-flops, crocs, and shoes with open insteps, as they are easy to take off. Also, depending on the tour company, Rental services may be available, so if you wish, please check in advance.
Some of them can be Rental!
For things that are difficult to prepare yourself, such as wetsuits and helmets, use the tour company's Rental service. Rental fee is often included in the tour price, but please be sure to check it in advance to make sure.
We can wear wet suits at Rental in cold weather, so don't worry!

Wet suits that you should wear most of the season except during the hot summer months. Wet suits get wet when soaked in water, but keeping the water in the suit warms the body. .. In other words, it is assumed that the inside of the wet suit gets wet, Be sure to wear a swimsuit on the inner let's do it.
You can substitute underwear or training pants with quick-drying materials, but we do not recommend it because it may cause your body to cool when wet compared to swimwear.
Be sure to wear a helmet!
Rafting like any Activity, carries some risk. Experienced veteran guides will accompany you during the tour, but as there are times when you can go down the rocky area due to the torrent, Always wear a helmet please.
Rental it is important to choose a size that fits your head exactly and tighten the chin strap securely so that it will not slip on the way.
A life jacket that is safe even if it falls in the river!

A helmet and life jacket to enjoy Rafting

Occasionally, for example, when going down a river on a torrent You may be thrown from the boat into the river. Therefore, it is Required wear a life jacket. By wearing a life jacket, even those who are not good at swimming can balance well in the water. To avoid accidents, it is important to choose one that matches your physical constitution when Rental.
This is a useful help item that makes a difference!
Rafting Once you have the basic items and clothes to wear, here are some useful items that will help you in the next time.
Towel to wipe body after shower
Rafting, wipe yourself or take a shower in the Changing room. Therefore, it is convenient to have a large towel for wiping the whole body and a small towel for wiping things that have become wet.
Characterized by high water absorption and excellent quick drying "Swim towel" is also popular is.
Rash guard to protect the skin
 If you do not wear a wet suit, Wearing a rash guard over your swimsuit will protect your skin from abrasions from twigs and pebbles. That On the other hand, it is also fashionable for Female to wear with shorts.
On the other hand, if you have a weak skin and wear a natural rubber wetsuit, you may get an irritation. If you are worried, wear a rash guard under your wetsuit to prevent rashes.
Bag for wet items
Rafting It is convenient to have a bag to bring back wet swimwear, clothes, shoes, etc. is. An oversized plastic bag can store all wet items in one, making it easy to carry. If you use a plastic bag instead, it's a good idea to bring some with you so that you can subdivide it.
sunscreen cream
Most of the Rafting venues are in the mountains, so the sun is stronger than in the flatlands, UV rays tend to be strong. Furthermore, during the tour, you do not often go into the shade, so be sure to take measures against sunburn. Let's do it. Since it cannot be repainted on the boat, We recommend the waterproof type that is hard to remove even with sweat and water is.
You can hide your arms and legs by wearing a wetsuit or rash guard, but you will inevitably expose your face, neck, back of your hands, and ankles. If you are interested, please bring sunscreen.
Insect repellent spray
Rafting is an Activity that takes place in nature, so be careful of being bitten by insects. In particular There are many gnats on the riverside from spring to summer, so be sure to take measures against insects. This also cannot be repainted on the boat, so we recommend the waterproof type that is hard to remove even with sweat or water.
Glasses band
If you usually wear glasses, bring an eyeglass band. Any violent movement We recommend a sports type that firmly fixes it is.
There are also people who wear sunglasses when the sun is strong, so please use the spectacle band in that case as well. Some tour companies can Rental it, so if you don't have it, you can check it out.
The contact person also has swimming goggles
If you are using contact lenses, it is safer to have goggles. underwater is not a large lens used to look into, Small goggles for swimming are recommended is.
However, if you are using disposable contact lenses that you can lose, you do not need to wear goggles. This can also be Rental by tour companies, so please check once you need it.
Moisturizing care / makeup tools
I will take a shower after Rafting so Moisturizing care goods such as lotion and emulsion, makeup tools, etc. Also don't forget.
Hair elastics to organize hair
People with long hair Hair must be tied in advance so that it does not get entangled in the life jacket. Rafting Since I wear a helmet inside, choose a simple one with no hair accessories or volume.
Which sanitary products are recommended for Activity that involve water?
It is possible to participate in Rafting even during menstruation is. However, with a normal napkin, when it enters the river, it contains water and becomes heavier, so it feels uncomfortable and uncomfortable. Therefore, put it in the vagina to collect menstrual blood Tampons and menstrual cups It is recommended to use.
If you want to take powerful pictures, the waterproof camera is a must!
When you reach the rest spot with a gentle flow, you have the chance to enjoy shooting as much as you want. Digital camera with waterproof function Then you can shoot without worrying about getting a little wet, so it's easy to use.
If you bring a camera or smartphone with a low waterproof function, Waterproof case We recommend using In addition, some tour companies offer services that take pictures of what you are experiencing or give you photo data as a gift!
Introducing an example of clothing coordination by spring, summer, autumn, and winter!

Well then, comfortably Introducing recommended coordination examples to enjoy Rafting To do. There are separate seasons for spring, summer, autumn, and winter, so please make sure to refer to it according to the season.
How is Rafting the spring season?
In the spring, the snow melts from the mountains flow into the river, making it cold. Therefore, wearing a wetsuit is a Required for spring Rafting. For both men and women, swimwear, wet suits, and shoes that can get wet are the basic outfits.
On the other hand, when you wear a wetsuit that fits snugly on your body, the lines of your body and hips will be clearly visible. If you're particularly worried about Female, you can try a T-shirt and shorts over the wetsuit.
How is Rafting the summer?
During the hot summer months, T-shirts and shorts will be worn instead of wetsuits. Therefore, for both men and women, swimwear, T-shirts, shorts, and shoes that can get wet are the basic outfits.
Male wears a short-sized swimsuit, he doesn't need to bring more shorts.
If you are concerned about UV rays or T-shirt burning, wear a long-sleeved rash guard instead of a T-shirt to protect your skin from UV rays.
How is Rafting the fall season?
In the fall, when the heat is still on, there are many days when it's still hot to wear a wetsuit, but it's a bit cold with just a T-shirt. In that case, instead of a wet suit Wear a wet jacket (wet jumper) You can
At that time, Female upper body is basically a wet jacket, lower body is short pants, and Male is a wet jacket on the upper body and lower body is a swimsuit (short-pan size).
Some tour companies do not offer wet jacket Rental services, so please check in advance if you wish.
How is Rafting in winter?
In winter, the water temperature will drop, so wear a dry suit and challenge Rafting under full defense. A dry suit is a protective suit with the best heat insulation effect, as used by Diving in cold regions. The boots are integrated, so you won't get wet when you get in the water, but you will need gloves for your hands.
If you are a tour company that holds Rafting in winter, you should have a good service of Rental clothing and items for winter, so please check it out.
What does a child's Rafting look like?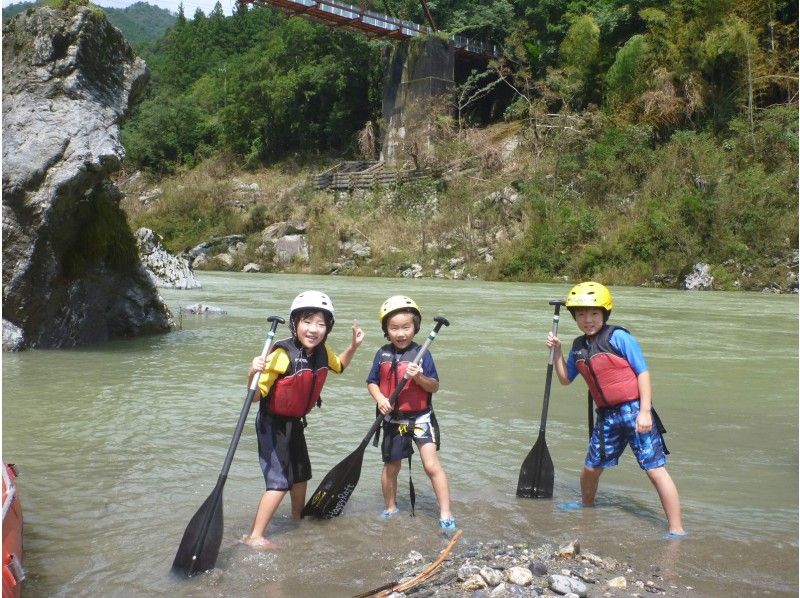 Children can participate in Rafting. 1 elementary school and average Year is a tour where you can enjoy from the students there are many, but the area is by and tour that can participate from preschool children. If you use Rental services such as wet suits, life jackets, helmets, Make sure that you have the right size for your child in advance Let's do it.
Rafting looks basically the same for kids and adult. However, children have thinner skin and are more delicate than adult. In order to protect your skin from scratches and other injuries and sunburn, we recommend wearing a swimsuit with long sleeves and tights to minimize exposure.
Required inventory checklist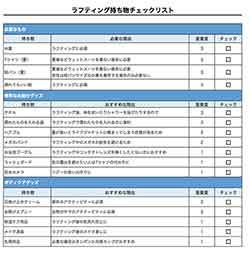 I made a checklist of what to bring when participating in the Rafting experience. Please download and check before going out.