Please tell us your style and clothes when you enjoy canoeing and Kayak! Introducing mangrove Kayak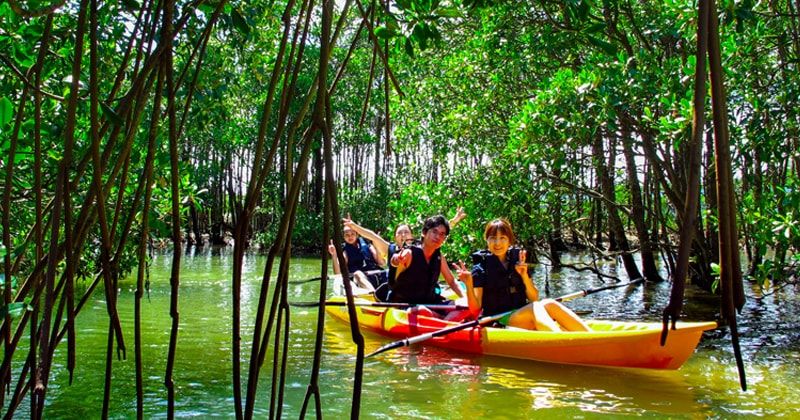 "Canoe" and "Kayak" to cruise on the water while rowing a paddle. It is a water Activity that is relatively easy for beginners and Female to take a challenge because anyone can easily proceed if they get the hang of it.
However, even if you want to try canoeing or Kayak for the first time, there are many things that you do not understand, such as "What kind of clothes should you go in?" or "What should I do in the case of a mangrove tour?"
Therefore, this time, I will Explanations the basic clothes for experiencing so that you can enjoy canoeing and Kayak comfortably. Let's use it as a reference and enjoy canoeing and Kayak to the fullest!
What are "canoe" and "Kayak" in the first place?

"Kayak" is a type of "canoe"
"Canoe" and "Kayak" which are said to be the standard water Activity. First, let me Explanations the difference between the two.
In the first place, a canoe is A generic term for small boats that use paddles to draw water and move forward. That. The canoes can be further divided into two categories, "Canadian canoe" and "Kayak". That is, Kayak also a type of canoe...
Canadian canoe and Kayak are classified according to the type of paddle blade (web) used. Therefore, both An Activity to go on the water while rowing a paddle on a special small boat Is still the same.
Can even inexperienced people and beginners enjoy it?
Anyone can easily enjoy canoeing and Kayak as long as they have the knack of paddle operation.
If you buy all the tools you can start right away, If you are a beginner, it is recommended to try the tour first is. All necessary tools can be Rental, and an experienced guide will give a lecture on how to use the paddle before boarding.
Also, You can challenge various fields such as the sea, rivers and lakes So you will find a way to play that suits your taste.
Canoe and Kayak can be Almost one Year you can experience.. You might want to add Canoe to one of your new hobbies!

逗子・葉山
Enjoy Kayak at sea! Paddle sports like Kayak are whole body exercises that use the core (trunk) and legs. Its momentum is said to be comparable to swimming. Once you row on the sea, the refreshing effect is also excellent. Both heart and body are refreshing! ! Recommended for such people! ① I am interested in Sea kayak! I want to be good! I want to be a hobby! ② I feel the limits of self-taught, ③ I want to teach professionals the essence of Kayak!み た い I would like to try marine sports for the first time etc. At ACA (American Canoe Association) certified instructor School, it is safe for those who are new to marine sports and those who are worried about the sea You can experience Sea kayak happily.

Outdoor Sports Club ZAC(ザック)
スカイツリー・両国
New urban outdoor to enjoy in Tokyo 23 wards! Canoe tour where you can experience full-fledged canoe in the city center easily. Practice steering in a spacious river at the start! As soon as you get used to it, it's time to start off to a spot where you can see Tokyo Sky Tree! The sky tree which can be seen from anywhere is an excellent scenery which can hardly be seen from the top of the river. In the spring, you can enjoy the cherry-blossom canoeing while watching cherry blossoms, autumn leaves canoe in autumn every season.

Shima/Agatsuma/Kawarayu
【GoTo地域共通クーポン券対象になりました!】 GoTo地域共通クーポン券(紙クーポンのみ)のご使用が可能になりました! 当日のツアー受付にて応対いたしますので、お気軽にお申し付けください。 ※情勢に応じて対応が急遽変わることがございますので、ご理解のほどよろしくお願いいたします。 【ワンドロップのコロナ対策とお客様へのお願い】 https://wp.me/p9YmqI-1MI 【関東屈指の透明度「四万湖」】 群馬県中之条町にある四万湖で自然を満喫!美しい湖に浮かんでまったりカヌーイングはいかがですか? ワンドロップは最新アクテビティ「パックラフト」を使ってカヌーイングします! とにかく軽くて、初心者でも安全・簡単にコントロールできるので安心! ※未就学児の参加もOK! 〜四万湖ツアーの流れ〜 1、集合・中之条ダム駐車場 着替え、お手洗いを済ませてお越しください♪ ※出張ツアーとなりますので、ハイエースで受付致します。 2、ブリーフィング 自己紹介、当日のフィールドコンディション、体調などの簡単な打ち合わせをします。 3、安全説明 パックラフトの漕ぎ方、危険行為、コース説明などをレクチャーします。 4、ツアースタート 湖をゆったり漕いで、自然解説や四万の歴史等お話ししながらお楽しみいただきます^^ 休憩を挟みながら1,5〜2時間ほど水上散歩します♪ 5、アフタートーク・解散 ケガのなどの有無を確認しつつ、ツアー中の写真を見ていただいたり他のツアーのご紹介をして解散いたします^^ 【AJ特典】 口コミ投稿でツアー写真プレゼント♪
What kind of tour is the popular "Mangrove Tour"?

On a canoe and a tour of Kayak The mangrove tour is said to be the most popular is. Perhaps many of them say, "I took a mangrove tour and experienced canoeing and Kayak for the first time."
In the first place, what is mangrove? A general term for plants that live in the "intertidal zone" where seawater fills at high tide. Refers to
The overwhelming scale of nature remains untouched, so in the forest where mangroves grow You can even meet plants and rare creatures you have never seen!
Mangrove tours in Japan Very valuable tour only available in Okinawa and Kagoshima is.
A veteran guide who knows all about the terrain will guide you not only to the standard course but also to spots that are known only locally, so if you are interested please check it out!

青の洞窟・恩納村
7,800

円

4,800

yen~

(tax included)

Special Deals
「地域共通クーポン利用可能プラン」 ★幅広い世代が皆で一緒に楽しめるツアー♪ ★素敵な思い出写真が無料+当日お渡し♪ ★プライベート感たっぷりのビーチへ上陸♪ みんなで一緒だから楽しい。冒険の旅に漕ぎ出そう。 沖縄のカヤックは、季節や年齢を問わず楽しめるのが人気の理由。 マングローブ林の中をゆっくりと進み、周りの景観を楽しむ。 カヤックの経験がない人でも安心してご参加頂けます。 ~億首川マングローブの森を水上ツーリング~ 億首川には熱帯・亜熱帯地域の汽水域で生息する マングローブの木が4種類群生しているフィールド。 沖縄本島で4種類全てを観察出来るのはココだけ! ~魅力尽きない、大自然のフィールド~ マングローブの木でできたトンネルや 起伏に富んだコースが楽しめるのが魅力です。 野鳥の多いバードウォッチングの名所としても有名。 様々な干潟に生息する生き物達にも出会えます♪ 太平洋に面した河口域のフィールドから、 そのまま大海原へ漕ぎ出し、川と海を欲張りに満喫。 酸素浴をしながら、豊かな沖縄の自然を感じて下さい♪

Tanegashima
It is a 3 hour tour to explore the mangrove forest in sea kayak. After preparing for gymnastics such as stretching, how to use the tools of sea kayaking, how to ride and how to row, practice at a calm place such as beach and harbor, leave to the sea after getting accustomed. Sea kayaking is a safe ride to be said to be a bicycle at sea. Since the instructor is always near you, you can enjoy your elderly people from your child. ※ This service is a "complete charter style", but regarding high season (busy season such as GW and summer vacation) it is not that limit. In order to encourage many customers to enjoy Tanegashima, we may enjoy activities together with other customers only when we understand and cooperate with each other.
Please teach the clothes when you experience canoeing and Kayak!

The most important thing to choose when you are experiencing canoeing or Kayak is whether or not you can easily dry when wet.
Unless the boat rolls over, it doesn't get soaked all over, but it gets wet to some extent when getting on and off the boat or splashing water while paddling. Therefore, Points to keep in mind when choosing clothes I tried to summarize.
1. We recommend using clothes that are easy to dry with synthetic fibers!
Make sure to choose fast drying chemical fibers (nylon, polyester, etc.)..
In particular, outdoor brand products are recommended because they are comfortable to wear and have excellent functionality.
On the other hand, it is better to avoid cotton materials. We do not recommend T-shirts, sweatshirts, jeans, etc., as they do not dry easily when they get wet, and may cause your body to cool down even in the summer.
In the summer, there are also tours that you can experience in swimwear
Some tour companies may allow you to wear swimwear only during the summer.
However, since canoeing and Kayak are Activity that take place in nature such as the sea and rivers, there is nothing to block the sun during the experience.
If you want to participate in a swimsuit, Let's take proper measures against sunburn, such as by combining it with a rash guard or a rush torenka...
2. Choose shoes that can get wet!
When you paddling, your feet will get splashed with water, so make sure your shoes are wet..
If it's summer, marine shoes and sports sandals that can fix your heels are the best. Rain boots are recommended for cold weather in autumn and winter.
Shoes with no heels or shoes with open insteps can fall off when you get on or off a ship or if the ship rolls over.
Also, shoes with too thick soles or shoes with heels are not recommended because they are difficult to sit in the cockpit due to the structure of the ship.
3. Rashguards are a great help against sunburn!
During the canoeing and Kayak experience, you rarely go into the shade, so it's a good idea to keep your skin exposed regardless of the season.
Therefore, It is a good idea to have a rash guard with a high UV cut rate...
Originally, the rash guard was designed to go into water, so it is fast-drying and breathable. It will dry quickly even if it gets wet, and it's easy to wash even if it gets dirty, so it's sure to be a big success in various outdoor scenes including water Activity!
Four. Windbreakers and rainwear for cold weather!
On windy days or cold winter days, windbreakers and rainwear are a handy option..
During the experience, your buttocks and feet may get wet, so it is safer to choose a long length that hides your buttocks or a separate top and bottom type.
This is an essential item for UV protection!

Next, we will introduce the UV protection items that are essential for a comfortable experience of canoeing and Kayak.
UV protection is mainly used to prevent sunburn, but it also has a role to reduce "tiredness" caused by exposure to UV light... To protect your skin and body, be sure to take proper UV measures beforehand.
1. UV protection hat
Wear a hat as much as possible to prevent heat stroke, sunburn and injury.
that time, A hat type with a wide brim is recommended rather than a cap or sun visor...
It is best to use a hat with a string so that it will not be blown off even if the wind blows, but if you do not have a string, you can substitute a clip-type hat closure that can hold the collar and hat.
2. Sunglasses & spectacle bands
We recommend wearing sunglasses to protect your eyes from the sun.
In water Activity, you have to be careful not only from the sunlight falling from above, but also from the reflection from the water surface.. You can't enjoy it enough if you say "the sunlight is reflected and you can't see the surface of the water...", so it's a good idea to have sunglasses in consideration of UV protection and safety.
It is also safer to have an eyeglass band so that you do not drop your sunglasses in the water during the experience.
3. sunscreen cream
You can protect your face and arms from UV rays by wearing a wide-brimmed hat and long-sleeved rash guard.
However, the neck, back of the hand, and ankles are inevitably exposed, so if you are interested, bring sunscreen.
It cannot be repainted on the ship, so it is difficult to remove it even with sweat or water Waterproof type recommended is.
Four. Neck guard for sports
Wear a neck guard to protect your neck from UV rays.
In particular, sports and outdoor brand products have excellent moisture absorption and desorption properties and quick drying properties, so they are recommended because they are not sticky even if you sweat.
These can be replaced with sports towels or towels, but if you use them in the summer, It is more comfortable if there is a cool touch function is. It will feel cool when you touch it, and you can expect the effect of preventing an increase in body temperature and heat stroke.
Here are some points to keep in mind for each season!

Canoe and Kayak is, almost a if you choose a location Year you can experience in. Therefore, Coordination example for each season I tried to summarize.
Basics of summer clothes
Perhaps this season is where most people enjoy canoeing and Kayak.
Wearing swimsuits or quick-drying clothes on the top and bottom, and wearing a rash guard etc. as a basic measure against sunburn from above..
On top of that, wear hats, sunglasses, neck guards, etc., and take proper measures against ultraviolet rays and heat stroke.
Spring/autumn clothing basics
In spring and autumn, the temperature varies greatly depending on the day, and it is also a difficult time to wear.
Therefore, it is effective to wear layered clothing that makes it easy to control body temperature. Make sure that you wear warm and comfortable clothes by stacking several thin layers...
Specifically, based on the summer clothes introduced above, according to the temperature Windbreaker and rainwear It would be nice to wear something like that.
Winter clothing basics
Some tour companies offer tours that you can experience even in cold weather.
If you enjoy canoeing and Kayak in winter, Let's take sufficient measures against the cold by wearing a windbreaker and rainwear on a warm inner or thin fleece..
Also, assuming that your feet and buttocks get wet, The outer type is recommended to be a separate top and bottom is. Wearing leggings under your pants is a good way to get wet as the wind makes you feel cool.
Please teach the clothes when you take a mangrove tour!

Mangrove tours only available in Okinawa and Kagoshima Will change the points you should keep in mind about your clothes. Based on the example of coordination for each season Explanations above, Recommended clothes for mangrove tours I will introduce.
Spring/summer/autumn clothing basics
The area where mangrove forests spread is humid and warm all Year round.. for that reason, Even in spring or autumn, if it is daytime, you can wear the same clothes as in summer.. Due to the strong sunlight, the amount of ultraviolet rays is large, so avoid exposing your skin as much as possible and take careful measures against ultraviolet rays.
On the other hand Morning and evening when the season changes May get very cold. If you want to take a spring or autumn Night tour or a morning tour, Prepare windbreakers, rainwear, etc. It would be nice to do it.
Winter clothing basics
In the mangrove forests, temperatures rarely drop below 10 degrees Celsius even in winter. However, since the wind from the sea will intensify, the sensible temperature will change even at the same temperature.
It is not necessary to take measures to protect against the cold, but just as in the morning and evening in spring and autumn, It is safe to wear windbreakers, rainwear, etc. is.

石垣島
8,900

円

7,900

yen~

(tax included)

Special Deals
【地域共通クーポン対象プラン!】 このプランは地域共通クーポンがご利用可能です! ※クーポン利用は現地決済のみとなります。事前決済は利用不可ですのでお気を付けください。 ↓詳しくは弊社HPにて↓ https://ishigaki-pipi.com/local_coupon この機会に格安でアクティビティに参加しましょう! 【ナイトSUP/カヌー】 夜のマングローブをカヌー(SUPも選択できます)でクルージングするプランです。 穏やかなフィールドなので、夜でも安心してクルージングしていただけます。 【PiPiのアピールポイント】 ・写真データ無料プレゼント!ツアー中はガイドが皆様の写真をお撮りします! ・石垣島南部エリア無料送迎!(西:ANAインターコンチネンタルから東:フサキリゾートまで) ・ガイドがしっかりサポート!PiPiのガイドは全員が水難救助員の資格を保有しています。ゆっくり丁寧にレクチャーいたしますので小さなお子様から泳ぎの苦手な方までご参加大歓迎です! ・圧倒的な口コミ数!実際、ツアーにご参加いただいた皆様からの評価がPiPiツアーの満足度の高さを物語っています。 【ツアー当日のスケジュール例】 ①20:00 石垣港離島ターミナル/ご宿泊先お迎え(ご希望のお客様のみ) ↓ ②20:20 フィールドに到着 ↓ ③20:30 アクティビティ開始! ↓ ④21:00 夜のマングローブ林でSUP・カヌー体験!星空観察も! ↓ ⑤21:45 アクティビティ終了! ↓ ⑥22:00 石垣港離島ターミナル/ご宿泊先へお送りいたします。 ※当日の天候・潮位によりスケジュールは変動します。

石垣島
8,900

円

7,900

yen~

(tax included)

Special Deals
【地域共通クーポン対象プラン!】 このプランは地域共通クーポンがご利用可能です! ※クーポン利用は現地決済のみとなります。事前決済は利用不可ですのでお気を付けください。 ↓詳しくは弊社HPにて↓ https://ishigaki-pipi.com/local_coupon この機会に格安でアクティビティに参加しましょう! 【サンライズSUP/カヌー】 早朝のマングローブをSUPでクルージングするプランです。旅行最終日ギリギリまで遊びたい方や、帰りのフライトまでの空き時間を持て余している方にオススメです! 【PiPiのアピールポイント】 ・写真データ無料プレゼント!ツアー中はガイドが皆様の写真をお撮りします! ・石垣島南部エリア無料送迎!(西:ANAインターコンチネンタルから東:フサキリゾートまで) ・ガイドがしっかりサポート!PiPiのガイドは全員が水難救助員の資格を保有しています。ゆっくり丁寧にレクチャーいたしますので小さなお子様から泳ぎの苦手な方までご参加大歓迎です! ・圧倒的な口コミ数!実際、ツアーにご参加いただいた皆様からの評価がPiPiツアーの満足度の高さを物語っています。 【ツアー当日のスケジュール例】 ①4:45(夏季)/5:45(冬季) 石垣港離島ターミナル/ご宿泊先お迎え(ご希望のお客様のみ) ↓ ②5:00(夏季)/6:00(冬季) フィールドに到着 ↓ ③5:15(夏季)/6:15(冬季) アクティビティ開始! ↓ ④6:30(夏季)/7:30(冬季) サンライズタイム! ↓ ⑤7:15(夏季)/8:15(冬季) アクティビティ終了! ↓ ⑥7:30(夏季)/8:30(冬季) 石垣港離島ターミナル/ご宿泊先へお送りいたします。 ※当日の天候・潮位によりスケジュールは変動します。
Summary of clothes when enjoying canoeing and Kayak

Choose a chemical fiber material that is easy to dry even if it gets wet and retains heat
Depending on the tour company, swimwear and rash guard are OK in summer
Shoes can be wet & can fix heels
When it's chilly, use rainwear or a windbreaker to prevent the cold.
more is a summary of clothes for enjoying canoeing and Kayak.
Both canoeing and Kayak are water Activity that you can experience almost Whole year long if you choose the location.
First of all, let's hold down the appearance to be comfortable and take this opportunity to try canoeing or Kayak!
アクティビティジャパンとは、HISの100%子会社であり、日本全国 約4,000社の提携パートナーが取り扱っている、350種目、15,000プラン以上のアウトドアスポーツ、日帰り旅行、レジャー、アクティビティ体験をWEB上に掲載しております。HISの世界70か国 海外162都市265拠点/国内252店舗や200社以上のメディア媒体にも、国内、海外に人気で格安、おすすめアクティビティ情報を発信しており、現在、日本語の他に英語、中国語(簡体字、繁体字)、韓国語、タイ語にて全世界より予約受付を行っております。
また、アクティビティジャパン限定の割引体験プランや、割引クーポンを利用してお得により安く予約ができて、アクティビティ体験後は、ポイントバックもあります!格安なアウトドアスポーツ、日帰り旅行、レジャー、アクティビティ体験は是非HISグループのアクティビティジャパンでご予約ください!
---
---
---
---
---