Cold measures and necessary equipment for winter camping! Choosing a successful location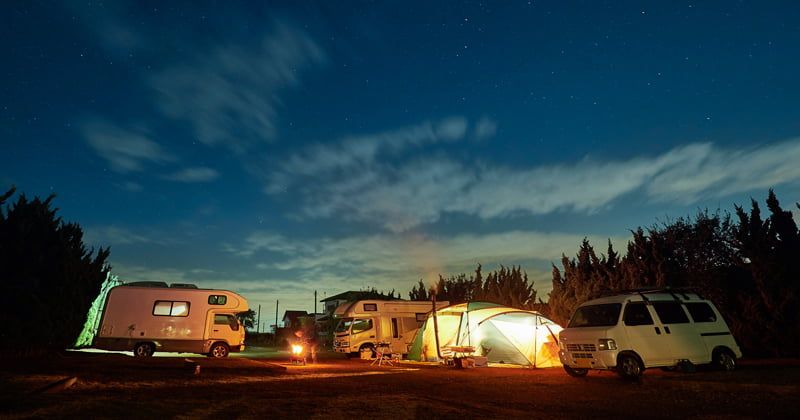 Activity Japan editorial department
In winter camp Many people may think that it is the off-season. But actually winter camp There are many attractions that you cannot experience at a summer camp.

So this time How to choose a campsite for successful winter camping, including the charm and enjoyment of winter camping Introducing. another, Introduce cold weather measures and minimum necessary items for beginners To do. Let's take measures against the cold and enjoy leisure even in winter!
What is the appeal of winter camping?

camp Many people think of "summer" when they say that. But, Winter camps have many attractions and ways to enjoy them that are as good as summer It is! So you can only taste it in the winter season, The real thrill of winter camp I tried to summarize below.
Attraction of winter camp ①: Full of great discounts and cheap plans!
Many people enjoy camping in the summer, so it can be difficult to get a reservation at a popular campsite. Compared to that, winter is the off-season, so even campsites that are usually crowded are relatively empty in most cases. Also, depending on the campsite Great discounts and cheap plans unique to winter Even if compared to summer You can enjoy camping at a reasonable price ..
The bustling atmosphere is nice, but winter camping is recommended if you want to enjoy nature quietly. How about spending an elegant time surrounded by a comfortable silence?
Charm of winter camping ②: Stars look the most beautiful in a year!
In winter when the air is cold and clear The perfect season for astronomical observations is. In particular, winter campsites with no tall buildings or lights around them are perfect conditions for looking up at the starry sky.
Winter camps, where the sun sets early, tend to worry about how to spend a long night, but when you see the starry sky in front of you, you will forget that time has passed. " Winter Triangle It is also a good idea to search for various winter constellations using this as a guide.
Attractiveness of winter camping ③: 1Challenging activities that can be enjoyed only in winter

Snowboarding and skiing are the standard games for enjoying winter, but " Snowshoes (Western snowshoes) "Wearing" and strolling in the snowy mountains Snowshoe trekking Or "sliding down on the snow on an inflated rubber board" Air board "Punch a hole in the frozen lake surface and enjoy fishing" Smelt hole fishing You can enjoy it at the campsite Winter sotoasobi There are also many.
By all means with the winter camp activity Let's enjoy playing in the snow to the fullest!
Charm of winter camping ④: Keep your mind and body warm with a bonfire!
Speaking of winter camps, you can't miss " Bonfire "it might be. In addition to illuminating the area as a symbol of the campsite Instead of heating Or Enjoy cooking And, it will liven up the winter camp mood at once.
It is also one of the real pleasures of a bonfire that it takes time to ignite. The crackling sound and the scent of firewood are also a charm that can only be experienced in nature. Just looking at it will heal your body and soul, but if you surround the bonfire together, it will become a communication tool that will make conversations bloom.
Charm of winter camping ⑤: Enjoy winter camping meals using a Dutch oven!
At the winter camp, you can enjoy a variety of dishes using the bonfire. Set the grill on the bonfire barbecue Of course Cooking using "Dutch oven" Is also recommended.
The biggest attraction of the Dutch oven is that you will want to eat it on colder days. "Stewed dishes" can be easily done By the way. The iron plate recipe is Roast beef, spare ribs, beef stew, oden Such. It's a stewed dish that takes time, but once you add the ingredients, you can just leave it alone, so you can easily enjoy authentic outdoor cooking. Besides stewed dishes Also supports grilled and steamed dishes There is no doubt that the repertoire of camping food will expand dramatically. At night, wine was simmered with fruits and spices. Hot wine It is also good to spend an adult time while drinking.
Charm of winter camping ⑥: Even people who are not good at insects can enjoy camping in winter!
Even if you are interested in camping, for those who dislike insects, it takes courage to sleep in the great outdoors. Especially in summer camps, even if you take sufficient measures such as insect repellent spray, insects will be attracted to the light of lanterns and light bulbs at night.
However, Most of the insects that were seen from spring to autumn are hibernating in winter. Therefore, it disappears completely. Even those who have been reluctant to go outdoors because they are not good at insects can enjoy the outdoors to their heart's content at winter camps!
Safe even for beginners! How to choose a successful winter campsite

Choosing a winter campsite compared to other seasons There are many points to note I have. So, for beginners, we have summarized the tips for choosing a winter campsite below.
How to choose a winter campsite ①: Choose a warm area even in winter
The first thing to check is Choose a campsite that is warm even in winter is.
Every time the altitude rises 100m, the temperature drops by about 0.6 degrees. So if you want to keep the night temperature as low as possible, Choose a campsite with as low an altitude as possible ..
At night, it is expected to be colder and colder than expected. If you are going to winter camp for the first time, just in case it gets cold Hot springs and cottages where you can evacuate nearby It would be nice to see if there is any.
How to choose a winter campsite ②: Choose a campsite that can use AC power
Since the use of combustion equipment is basically strictly prohibited inside the tent, electric blankets, electric stoves, hot carpets, etc. It is very useful to have an electric type heater To do.
One option is to choose a rechargeable heater or bring in a portable battery, but it's hard if the battery runs out on the way. If you want to make sure you use the heater until morning Whether it is a campsite with an AC power site Is also one of the important conditions.
How to choose a winter campsite ③: Kitchen with hot water

In the kitchen Points to check if hot water can be used is. Washing your hands, brushing your teeth, and washing dishes in the harsh cold of winter with cold water must be pretty tough. Oil stains after barbecue are also better removed by washing with hot water.
If you can't use hot water in the kitchen, you can boil it in a camping kettle, but A kitchen with hot water will greatly improve your comfort Probably.
How to choose a winter campsite ④: Early check-in time
Winter camps get colder at once when the sun goes down, and the sensible temperature drops sharply compared to the city. The area will soon get dark, so if you want to set up a tent or finish cooking and eating during the sunny hours, A campsite where you can check in early is recommended is.
Also, the sunrise is late in winter, so Better if check-out is set late is.
How to choose a winter campsite ⑤: Good access
Next, the points to choose a winter campsite Good access from the interchange to the campsite is.
In winter, there is a risk of snow and icy roads, so you need to be careful even on roads that you didn't care about from spring to autumn. If you have a 2WD car that is not for the outdoors, it is safer to avoid campsites that run on steep mountain roads.
How to choose ⑥: There is a great off-season discount
In winter when the season is off Basic charge will be cheaper Of course, depending on the campsite Advantageous cheap plan May be issued.
As it is a winter camp where you want to spend money on winter goods, let's use these campaigns wisely and enjoy camping at a great price!
Winter camp cold measures: minimum necessary equipment and belongings

The most important thing for a winter camp is, after all, " Cold measures "is. Therefore, we will introduce the minimum necessary equipment and belongings. Please use this as a reference for your preparations.
Minimum equipment required for winter camping ①: A tent that can withstand the cold

The tent used in the winter camp is For winter only, where durable materials are used to prevent the wind Let's choose.
How to choose a tent for winter depends on your ideal camping style, such as whether you want to secure a large living space or whether you can save space just for sleeping. If you spend most of your time in a tent, the living room and bedroom are integrated. 2-room type tent Is recommended. If you fully close it, you can rest assured that it will shut out not only cold air but also rain and snow.
On the other hand, "" which features a triangular Tongari roof. One pole tent Because the living space is compact and complete, there is less loss such as air leaks when moving between rooms.
Also, in recent years A tent equipped with a chimney port for a wood stove Is also popular. Since it is made on the assumption that a wood stove will be put in the tent, it is characterized by using a fabric that is resistant to fire and heat and having excellent breathability. * When using a wood stove in a tent, there is a risk of carbon monoxide poisoning when using combustion equipment. Be sure to choose a dedicated tent that can use a wood stove ..
Minimum equipment required for winter camping ②: Sleeping bag (shruff) that allows you to sleep comfortably until morning
The winter sleeping bag wraps around your head. Mommy (mummy) type Will be the mainstream. Since it has a higher sealing rate than the rectangular "envelope type" sleeping bag, the mommy type is also used for mountain climbing.
The most important point to keep in mind when choosing a sleeping bag is " Comfortable operating temperature "When" Limit operating temperature "is.
The comfortable operating temperature is "the temperature at which you can sleep comfortably up to this temperature", and the limit operating temperature is "the temperature at which you can feel cold when using at this temperature, but you can sleep comfortably depending on your ingenuity". It refers to. Especially when choosing a sleeping bag Be careful of the limit operating temperature Please buy it.
Enjoy winter camping! cold protection goods list

The key to the success of winter camps is measures against the cold! To stay warm and comfortable until morning in winter, you need more than just a tent and a sleeping bag. Therefore, I have summarized the cold weather goods that I want to prepare at the winter camp and the items that are useful to have. Let's fully equip and enjoy winter camp comfortably!
Cot & insulation mat
It is a "cot" that can be used as a bench or as a luggage storage, but in the fall and winter when you are worried about the cold bottom, Bed substitute It will be a big success as well. However, be aware that the cot and sleeping bag alone may cool your body due to the cold air from the ground. As a countermeasure, It is recommended to put a "highly heat insulating mat" between the cot and the sleeping bag. is. This will shut out the cold air and you will be able to sleep comfortably until morning.
Wood-burning stove
The "wood stove", which is highly convenient outdoors, is now available. A classic winter camp It is often seen in winter campsites. If the top plate is a flat type Instead of a stove It can also be used as a cook, so you can use the heat to cook, or place an outdoor kettle to boil water. Also, unlike a bonfire, a wood stove will not get dirty with soot or the smell of smoke. * Basically, it is not recommended to use it in a tent, so it is not recommended. Used when warming outdoors let's do it.
Cairo
A hand warmer that is easy to use and easy to carry is also a convenient item. An oil-type "heat generated by benzine (liquid fuel)" Hakukin Cairo "And" which also functions as a mobile battery and LED light Rechargeable body warmer , Etc., as many times as you like Cairo that can be used repeatedly is popular is. Especially Hakukin Cairo can be used continuously for 24 hours Temperature sustainability And 13 times as much as disposable body warmers Calorific value Therefore, many mountaineers also love it.
Electric stove or electric blanket
"Electric stove", "electric blanket", etc. Electric type heater By incorporating, the comfort level of winter camps will be significantly different. Especially electric blankets can be laid on a heat insulating mat. Measures against cold bottom An excellent product that is quite effective. You can use it as it is in a campsite equipped with AC power supply, but if you bring a mobile battery or portable power supply, you can use it in a campsite without an AC power supply site. Also, depending on the type Rechargeable type There is also one.
winter camping outfit
Campgrounds are often high above sea level, so minimum temperatures often fall below freezing. The temperature is much lower than in the city, so when you go camping in winter, Wear the outer after layering multiple inners with high heat retention Let's use a lot of heavy clothes as a guide. again, Gloves, thick socks, knit hat Etc. are also essential items. Choose an outdoor brand that specializes in wind resistance and heat retention.
Winter camp Recommended campsite for beginners

Then, I chose from all over the country for my winter camp debut. Winter camp Recommended campsite for beginners I will introduce. By all means, let's try the winter camp this year!
Lake Aoki Campsite/Nagano
alias" Mirror of the Northern Alps The "Lake Aoki Campground" is located on the west bank of Lake Aoki, which boasts one of the most transparent lakes in Nagano.
In winter, the snowfall can exceed 2m, so in the area around Lake Aoki Experience tour where you can enjoy various snow activities Of course, you can enjoy fishing by making holes in the frozen lake surface. Smelt fishing on ice "Tour etc. are held.
Also, in the facility Air-conditioned bungalow Is also complete. Until you get used to the winter camp Enjoy cooking and bonfires at the campsite until sunset and spend the night relaxing in warm bungalows The plan is also good.
Auto camp usage fee: 800 yen ~ Tent camp usage fee: 800 yen ~ Day camp usage fee: 450 yen ~ Access: 20780-1 Taira, Omachi City, Nagano Prefecture
Activities that can be experienced around the Nagano Aokiko Campsite
ASOVIVA Campsite/Nagano

The "ASOVIVA Campground" at the foot of the Central Alps is a campsite that boasts the size of 10 basketball courts. Limited to 1 group per day Can be reserved at Very rare private campsite is.
It is also good to surround the bonfire and liven up the conversation! You can enjoy the music to your heart's content while drinking delicious alcohol! No matter how large the number of people is, no matter how much noise So, let's enjoy each way of enjoying freely.
Charter 1 field: 33,000 yen Access: 9300 Yokoyama, Ina City, Nagano Prefecture
Activities that can be experienced around the Nagano ASOVIVA campsite
HOTAKANE BASE campsite/Gunma

In Katashina Village, Gunma Prefecture, where a closed elementary school is a camp base "HOT AKANE BASE" .. Cars can enter the spacious schoolyard as a division site. In addition to using and visiting the old school building, there are plenty of hot water kitchens, Western-style restrooms, and rental equipment. Winter camp beginners are also safe is. (Additional charge)
Because it is operated by the outdoor tour company "One Drop" Departure and arrival at the campsite You can enjoy snowshoeing, backcountry, and snowboarding classes at. If it is a charter tour, it can be arranged so that children under 4 years old can also participate (additional charge), so Perfect for families who want to enjoy snow activities together with winter camp It is a campsite.
Auto camp usage fee: 5,000 yen per night ~ Charter plan: 150,000 yen per night ~ (up to 30 people) Access: 307 Surubuchi, Katashina-mura, Tone-gun, Gunma Prefecture Takesonne Elementary School
Activities that can be experienced around the Gunma HOTAKANE BASE campsite
Arino Jitsuen Auto Campsite/Chiba
Good access, about 90 minutes from the city center "Arinomien Auto Camping Ground" is located in the area, surrounded by lush forests and farms. The campsite is separated by space by many trees, so Secure private space It has been.
It's a winter camp that tends to carry a lot of luggage, but there are bonfires, Dutch ovens, table sets, etc. Full rental service I'm also happy about what I'm doing. By advance reservation Supports early check-in and late check-out doing.
Auto camp usage fee: 3,300 yen ~ Auto camp facility management fee: Adults 1,200 yen / Children 600 yen Day camp usage fee: 2,200 yen ~ Day camp facility management fee: 600 yen for adults / 300 yen for children Access: 224 Itanaka Shinden, Sammu City, Chiba Prefecture
Other campsite plans in Chiba
Yabukozaki Campsite/Niigata

"Yabukozaki Campsite" is derived from "Yabukozaki" which means to separate yabs. As the name suggests, the entire area has a flat site with a good view and a forest road. A campsite where you can enjoy nature as it is is.
Especially in the winter season, while enjoying a day camp, Snowshoes (Western snowshoes) Aiming for the top of the snowy mountains Snowshoe trekking The experience tour is popular. If the weather is nice during the experience, you can also see the three mountains of Echigo. If you are interested, please check it out.
Access: 829 Yomogihira, Tokamachi City, Niigata Prefecture
Activities that can be experienced around Niigata Yabukozaki Campsite
Asagiri Jamboree Auto Campsite/Shizuoka
The Asagiri Jamboree Auto Campground at the foot of Mt. Fuji is right in front of you. Mt. Fuji soaring , In the distance Boasting a great location overlooking Suruga Bay and the Izu Peninsula It is a campsite.
In the facility Shop Of course, winter camp essentials such as firewood, charcoal, gas, and ignition agents, Drinks and alcohol We have a wide selection of products.
Since the altitude is 900m, it gets quite cold at night, but Campsite with power supply There is also an electric type heater, so you can spend it comfortably. at night A sky full of stars over Mt. Fuji You can also enjoy it.
Auto camp usage fee: 1,000 yen ~ Access: 1162-3 Inokashira, Fujinomiya City, Shizuoka Prefecture
Activities that can be experienced around Shizuoka Asagiri Jamboree Auto Campsite
ACN Nanki Kushimoto Resort Oshima/Wakayama
Even in the campsite Leading starry sky observation spot "ACN Nanki Kushimoto Resort Oshima" is popular as. The splendor is Starry sky photographers gather from all over the country You can enjoy the natural planetarium.
In the facility Hot shower room In addition to the Fully equipped with an open-air bath It has been. I often go through the bath during camping, so it's a nice point to have a warm hot spring at the campsite!
Auto camp usage fee: Adults 1,800 yen ~ / Children 1,000 yen ~ Access: 1035-6 Kashino, Kushimoto-cho, Higashimuro-gun, Wakayama Prefecture
Wakayama/ACN Nanki Kushimoto Resort Activities you can experience around Oshima