What are the benefits and ways to enjoy glamping in winter? Introducing popular glamping facilities that are safe for families with children!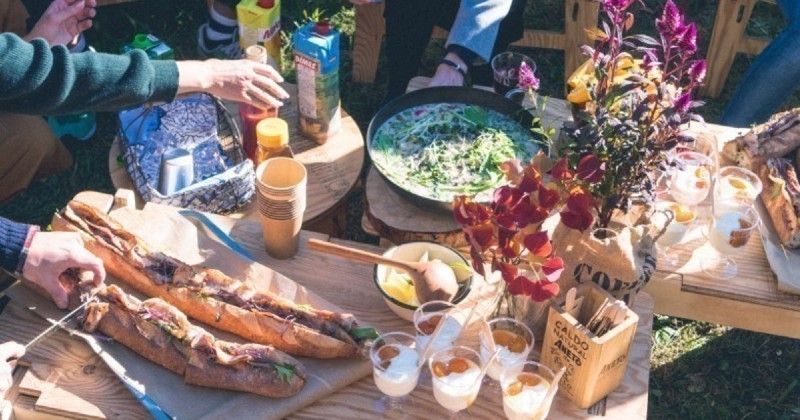 Activity Japan editorial department
I often hear these days Glamping .. It's a leisure activity where you can enjoy a luxurious camp in a well-equipped place, but do you know that unlike camping, glamping can be comfortable even in winter? Introducing the benefits of winter glamping and recommended glamping facilities To do.
What is the secret Glamping the popularity of winter glamping?

It's easy to feel that winter camps have high hurdles in terms of cold weather and equipment, but New camp shape With glamping, you don't have to worry about it. First of all, from the features of glamping and how to enjoy it Why it's comfortable even in winter I will explain about.
Both day trips and overnight stays. Glamping facility where you can participate empty-handed
The good thing about glamping is its comfort. .. Most of the tents and accommodation cabins are already installed, and the tents are equipped with barbecue stoves, water services, toilets, and amenities. Depending on the facility There are also places where you can prepare ingredients for dinner and breakfast I have.
There is nothing to prepare from scratch, even families with small children You can feel free to visit and experience the outdoors It is.

In addition to staying in tents, cabins and cottages, glamping Day trip plan to visit during the day and enjoy outdoor gourmet food and activities And so on. Tent type Is a sleeping bag or cot, Cabin or cottage type Beds are provided at. other than this Camper It seems that the trailer type that stays at is also called glamping.
Please compare and consider your favorite plans such as day trips and accommodations, considering how you spend your time and comfort.
Fully equipped with heating in winter! Safe for beginners and families with small children

Also, glamping Enjoy regardless of the season Is also a point. When you think of winter camps, you might think of a scene where you set up a tent in nature and drink hot coffee by the firewood while looking at the starry sky, but this is actually for advanced users.
Winter camp Then, usually a two-room type that can be sealed, a winter tent and stove, a winter shruff (sleeping bag), etc. Big equipment Besides, in some cases Knowledge of snow mountain climbing Because it is necessary.
on the other hand, Glamping Then in addition to these equipment Firewood and heating equipment are already available at the campsite It has been. Because the place is also at the campsite safety .. All you need to prepare is winter clothes, Safe for beginners and families You can participate.
Clothing for cold weather As for the outerwear, it is essential to have a down jacket that is highly resistant to the cold, a functional innerwear for winter, layered thick sweaters, thick socks, and leggings for cold weather. Also, it is safe to wear two knit hats and socks, or to have a hook for the soles. It is also recommended to have an inner down.
Origin and history of glamping

There is also a theory that the word glamping was born in England. Numerous glamping facilities have been created in rural areas on the outskirts of London, and people enjoy interacting with nature and ranch animals, idyllic atmosphere, and camping food and play.
However, The history of glamping itself is not very new At the beginning of the 20th century, Western aristocrats were doing something close to glamping. They visited Asia and Africa for hunting and exploration, Enjoy your stay by setting up a tent with luxurious facilities locally I was doing it.
"I want to enjoy camping in a place close to nature, preferably with equipment ..." may be a common wish of all humankind.
As of November 2021, it may be difficult to go abroad for glamping due to the global situation, Many excellent glamping facilities in Japan .. Facilities equipped with heating facilities that allow you to spend comfortably even in winter, facilities where you can enjoy warm gourmet food and hot springs unique to winter, etc. Various features is.
Recommended points for winter Glamping

Those who say, "I understand that the facilities are in place, but camping is still summer, isn't it?" These benefits for winter glamping There is.
You can meet the scenery unique to winter
In the summer, the trees in the deep green forest shed their leaves in the winter, Quiet and romantic atmosphere in the forest Is drifting. In snowy areas One side of the silver world You can also meet. It 's different from summer, Emotional scenery Is the charm of winter glamping.
There are few insects unlike summer
Speaking of natural enemies of summer camps, mosquitoes, gnats, bees, centipedes, etc. insect Etc. Many people will go camping with all the preparations such as insect repellent and mosquito nets.
The insects that bothered people in the summer, Almost dormant in winter .. Mosquitoes stop sucking blood and centipedes hibernate. For this reason, In winter glamping, you don't have to worry about insect attacks.
Good news for children whose insect bites tend to get worse. Take a walk in the woods, take part in activities, You can enjoy nature to your heart's content Yeah. Some insects are active in winter, so please check the information on the campsites you visit.
Only clothes! There are few things to prepare
Winter camps usually require the preparation of winter equipment such as heating equipment and sleeping bags. But, Glamping already has these facilities at the campsite It has been. You don't have to carry all your luggage and tools, and you can visit it empty-handed at a great price. You can do it.
Be sure to bring your own winter clothes such as coats, gloves, and knit hats.
How to enjoy winter Glamping

Only in winter There is also a way to enjoy glamping.
Warm up with a bonfire or wood stove

One of them Bonfire or Wood-burning stove .. A wood-burning stove is a heater that uses wood as fuel, and is about the size of a small TV.
Both the bonfire and the wood stove are close to the side The best part of winter is to relax and warm up. .. You can also use it for cooking, such as boiling water in a pot to make a drink, or baking stewed dishes or pizza.
Especially on bonfires and wood stoves Roasted marshmallow Making is a guarantee that both adults and children will be absorbed in it!
Many winter "warm dishes"

Summer camp is barbecue, but in winter I want to make it with a barbecue stove, a wood stove, and a bonfire. Warm food there are a lot of.

Stew, clam chowder, pot-au-feu, etc. Soup type From Chinese cabbage and pork millefeuille pot, kimchi pot, etc. Hot pot Until. In addition to making your body warm, cooking is easy just by boiling it on the fire. For advanced users, Dutch oven (A metal pot with a lid on which a charcoal fire can be placed) Roast chicken or roast beef Why don't you try making it?
Chocolate fondue, grilled oranges, and grilled apples are recommended for dessert. Roasted fruit Just bake on the stove or stove, Chocolate fondue Just add the cut fruit to the chocolate melted by the candle. You can enjoy it with your family! For advanced users, Steamed pudding on a wood stove It looks good to make.

Hot drink Cannot be removed. Warm the wine with oranges and cinnamon Hot wine , Ginger syrup and honey divided with hot water Hot ginger syrup, cocoa, chai Let's take a break by making it with a stove, a stove, or a bonfire.
Unlike camping, in glamping You can prepare cooking ingredients Also that. There is also a plan where a business trip chef will teach you how to cook. For those who are new to cooking outdoors, Plan with a business trip chef Please try to find.
Hot springs and open-air baths

It is a glamping facility with abundant facilities around water such as showers and toilets, but some of them There is a hot spring and an open-air bath There are also places where it is done. After enjoying the winter forest and delicious camping gourmet, Warm up from the core in the hot spring and sleep slowly Because it's a luxurious way of spending.
While looking at the snowy landscape and the starry sky outside Soak in the open-air bath leisurely Is also good.
Winter is the best season for astronomical observation! Enjoy the stars

The best season for astronomical observation is winter when the air is dry. Due to the low water vapor in the atmosphere The sky becomes more transparent and the stars are easier to see than in summer Because.
Furthermore, in the fall and winter, bright first magnitude stars such as the Winter Triangle (Procyon, Betelgeuse, Sirius) and meteor showers (shooting stars), etc. Many highlights of the starry sky ..
In the campsite An observatory Where you are Rental of astronomical telescope Also where you are doing. There is also an outdoor shop where you can rent an astronomical telescope.
Visit in winter and take a leisurely look at the shining starry sky with your family, couples and friends. That alone is likely to be an irreplaceable memory.
Winter activities only

Summer camp Then Eco tours and nature guided tours Those who want to participate in Sotoasobi to enjoy nature.
At each campsite / glamping ground trekking , Canoe , Rafting In addition, go down the canyon while trekking and diving to the basin. Canyoning There are plenty of activities in mountain streams and dams. Activities in cool water will refresh your body and soul.
on the other hand, In winter, you can participate in activities that can be said to be a winter tradition !!
"Spend time in the snow dome / kamakura" Kamakura experience Or, "Punch a hole in a frozen lake and catch a smelt." Smelt fishing ", In the snowy mountains Skiing and snowboarding , Sled , Dog sledding Such. A variety of activities that you can enjoy instead of your childhood doing.
Depending on the campsite and nearby snowy mountains, you can glide on the slopes with a rubber board Air board , There are places where you can prepare for a curling experience. Don't miss romantic events such as candle nights that light candles on snowy mountains.
In both cases, you can often rent tools and warm clothing necessary for activities, so Feel free to join I can do it. In winter glamping, I'm worried Plan with activity Please make a reservation.
Glamping facility that is comfortable in winter

Here are some recommended glamping sites for winter. Kanto, Kansai, etc. A place that is easily accessible from the city center There is also a facility where you can glamp.
Glamping ground in Kanto and Koshinetsu

First of all, from the glamping facilities and services in the Kanto area.
・ With night sauna! Scandinavian glamping "Nolla naguri" surrounded by forests and rivers
The glamping facility "Nora Naguri" in Hanno City, Saitama is accepting plans for one night and two days. It is a popular facility where you can enjoy fashionable Scandinavian-style glamping while feeling the nature. Guests can also enjoy the original Scandinavian BBQ and night sauna. It can accommodate up to 4 people in one tent, so it is recommended for families and couples. It's easy to access from the city center, and it fills up quickly on holidays, so make a reservation early!             
・ Photogenic glamping! "El Monte RV Japan"
"El Monte RV Japan" offers a convenient service that allows you to rent both glamping equipment and camper vans.
A coordinator will accompany you to drive a camper van, set up a tent at the glamping ground, and teach you how to barbecue, so even beginners of camper vans can participate happily. The coordinator who attends has experience in corporate promotion and glamping styling in magazines. Photogenic glamping will come true. * Preparing for reception as of November 2021             
・ With a business trip chef! Glamping mood on a day trip "Ina Valley Entrance"
In Nagano / Ina City, you can experience the day trip glamping at the "Ina Valley Entrance" BBQ plan.
With a business trip chef, no preparation or tidying up is required. You can visit empty-handed and enjoy a delicious barbecue. The menu also includes ingredients unique to Nagano such as Shinshu premium beef and Gohei mochi. After the barbecue, you can take a break in a beautiful glamping-style tent or take a walk in the wilderness.             
Kansai glamping ground

In Kansai, there are many glamping grounds that are popular in Japan.
・ One-day glamping BBQ in the great outdoors! "MARINE-Q"
"MARINE-Q" has a glamping style barbecue in Wakayama and Inami.
You can spend an elegant time relaxing on the wooden deck with ocean view while eating meat. Alcohol and spiny lobster can be added as an option. Recommended when you want to experience glamping on a day trip.             
・ Popular glamping spot "GLAMP ELEMENT"
Shiga / Maibara's "GLAMP ELEMENT" offers a fulfilling glamping experience in a stylish cabin.
Supper / breakfast, room minibar, cafe lounge, night bar, activities, and hot spa are all inclusive, so you can enjoy mountain play without worrying about additional charges. You can move to the cabin for accommodation with a canoe dedicated to each room. You can feel a little adventurous.             
Smelt fishing too! Hokkaido glamping ground
In Hokkaido and Sapporo, there is a facility where you can fish for smelt, which is a winter tradition, in a glamping style tent. that is "Chomoramma Co., Ltd." Ice Fishing x Glamping plan offered by. With handmade snacks, you can even enjoy smelt fishing while relaxing in the tent!
In Shiretoko, there is a camping trailer / camper accommodation plan with a snowshoeing tour experience. It is fully equipped with air conditioning and cold-resistant sleeping bag, so you can spend it comfortably even in winter, and since it is installed in the RV park, you can use facilities such as toilets, natural hot spring footbaths, and Wi-Fi.
Pets allowed and hot springs available! Tohoku glamping ground
Iwate Prefecture has a full-fledged glamping experience "Appi Kogen" .. In addition to a fashionable tent and a full-scale barbecue prepared by the chef, a bathing ticket for the Abi Onsen "Shirakaba no Yu" is also included. There is also a dog run space where you can stay with your dog. It's a nice plan for dog lovers. (* Implemented from June to October)
Kyushu glamping ground
Experience-based glamping facility just opened in July 2021 in the Goto Islands, Nagasaki Prefecture "Blue.base.takasaki" .. It is a luxurious space that can be reserved for one building and is a 30-second walk to the white sandy beach. As an option, you can enjoy delicious local meat and fish while looking at the sea.
Winter of Glamping Enjoy!

Starry sky, hot springs, bonfire, delicious camping gourmet, etc. Winter glamping is fun only at this time of year there is. Visit in winter and enjoy the great outdoors!
* Information such as plans, prices, timetables, and phone numbers is as of November 2021.