Hawaii and Oahu
Activity experience
optional tour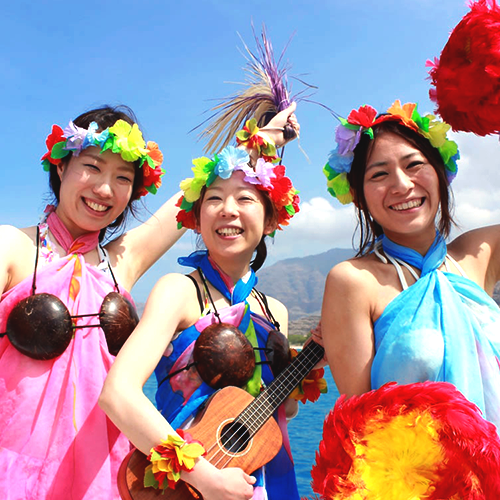 Popular overseas travel Hawaii, Oahu, Honolulu area popular · Recommended Activity Experience Plan introduced!
Overwhelming blue sea and white shining beach, abundant nature with many power spots represented by Diamond Head and Kukaniroko Bath Stone, shopping and exquisite gourmet while enjoying the breeze of the pleasant coastline etc. … The Honolulu area of Oahu, Hawaii, which has been a popular destination for overseas travel for Japanese people, is the center of Hawaii tourism with many popular hotels, shops and restaurants. And, Year average of the highest temperature between to enjoy all of the outdoor field in the sea, rivers, mountains, sky, such as "paradise of tropical" This of about 28 ℃ in the body "Activity in a number of experiences" that Has absolutely is the primary concern of Hawaii tourism that can not ☆ Activity Japan in Japan of outdoor indoor leisure and Japan Culture Experience leisure not only travel company "HIS (H.i.s.)" Recommended, popular handled Activity experience - optional tour reservation plan also your I will introduce it. Find your favorite Activity plan and deepen your memories of your trip to Hawaii!
Recommended plans around Oahu / Honolulu
シュノーケリングや体験ダイビング、バナナボートにジェットスキーなどの定番マリンスポーツや、四輪バギーや乗馬、貴重なスカイダイビング体験に挑戦したり、アトランティスサブマリンズ(潜水艦)で海中散歩etc...ハワイ旅行情報誌やテレビ・CMなどでも紹介されている有名レジャーは数多ありますが、そこは"アクティビティ天国ハワイ"♪ファミリーがお子様と一緒に気軽に参加できるレジャーはもちろん大自然と向き合う本格的なツアーまで、実はまだまだご紹介したいアクティビティが沢山あります◎ご旅行の日程が決定したら当ページでHIS厳選おすすめ体験プランをチェックしましょう♪
The price will change depending on the exchange rate situation. The postal Fri detailsLearn moreto some FAQs
★ Mixed transportation plan ★

【Roundtrip transfer】 Honolulu International Airport ⇔ Hotel (Waikiki)

From airport to hotel in Waikiki area, transfer from airport hotel to airport to and from airport.

At the time of application, please enter flight information in the reservation information field. It is limited to the visitor of the hotel where going out, return are the same. Please apply for a one-way plan if the hotel is different on the way out or on the way back.

☆☆adultKi product ☆ ☆

Captain Blues heavenly sea (sandbar) tour departs morning

The beautiful ocean where a lot of CM locations have been held is an unforgettable memory!

A familiar sand bar even for TV commercials. The sea of heaven is a stretch of white sandy beach and emerald green. The only place on the Hawaiian Islands that forms the barrier reef

Router insteadWi-FiThe strongest smartphone which can do tethering!

Smart Wai Phone (Smart Wi-Phone)

If this is the first time in Hawaii, it is safe! AmericaJapanCall freeRentalIt is the appearance of smartphone "smart phone".

Wi-FiAs a WiFi tethering connection (up to five) can be done instead of a router, it is very convenient! As return can return at Honolulu Airport other than Realea Lounge of Waikiki, it is easy! In the smartphone has already registered the speed dial that can be hung in an emergency.OtherA useful app is also installed during your stay.

I am deeply moved by the 360 degree dolphins! The healing class of the chest Kyun deluxe edition to the cry of dolphin called "Ku"!

Prestigious dolphin university

Cruise to find dolphins on the west coast with lots of beautiful nature. With the dolphins in the clear watersSnorkelingI enjoy

A boat is a large, stable ship called the Future Issue. The heart is healed simply by looking at dolphins swimming gracefully in the deep blue sea. Not only dolphins, but also chances to meet sea turtles! Experience the ultimate healing in the wilderness. further,KayakRide, stand up paddle, hula experience etcActivityYou can also experience and have lots of fun.

You can use your own smartphone or tablet !! WiFi routerRental

【Vision Mobile】 WiFi RouterRental

You can use your smartphone, PC or iPad in Hawaii anytime, anywhere!

WiFi router communicationareaIf there is no cable available, you can use the internet. There is no need to worry about roaming fees and high charges because of the flat rate system. Just because you're traveling abroad, search online on the spot. We want to collect shop location and information efficiently. Add a WiFi router for a convenient, comfortable and enjoyable journey! FiveSunSpecial from betweenSaleAlso underway!

Explore the sea without swimming! LatWedGet on the shipWedTo the world about 30m deep

[Atlantis SubtitlesWedShip]

LatWedThe ship Atlantis dives off the coast of WaikikiWedStart. The "Pyramid" sunk by the University of Hawaii for coral reef research,SunPass through the artificial coral reef designed with the book, the sunken tuna fishing vessel St. Pedro.

Colorful tropical fish flock around these areas, and you can see the life of the sea creatures from a comfortable air-conditioned ship. Every hour from 9 o'clock to 15 o'clockWed), So please choose your preferred time. You can enjoy a leisurely underwater exploration tour.

half-day A good tour around Oahu!

Fluffy Oahu half-day Sightseeing

HIS Honolulu branch staff who knows all about Hawaii will guide you. Pass through the high-end residential area of Kahala to the scenic eastern island of Oahu, which is often used as a location for American TV shows and movies.

HIS Honolulu branch staff who knows all about Hawaii will guide you. Pass through the high-end residential area of Kahala to the scenic eastern island of Oahu, which is often used as a location for American TV shows and movies.

Unlimited choice of 7 types of marine sports! Let's enjoy the clear waters of the back Oahu!

【Wakuwaku Marine Sports ☆ Secret Sandbar】 Premium · Sea Walker Package

Wear a special underwater helmet that wraps your head and shoulders, underwater It is a sea walker to dive into. The sea is connected with a hose and oxygen is supplied at any time, so no oxygen mask is required. You can breathe as easily as usual.

Makeup, glasses, contact lenses etc. are fine as they are. Even if I can swim, I can take a walk on the sea flooradultMindActivityis. (WedWe will dive with the instructor for about 20 minutes on the sea floor about 5m deep) We will also take you to the popular sand bar that appears in the middle of the sea.

Experience type tour to touch dolphin directly!

【Sea life park Hawaii】 Children are safe! Dolphin encounter that can play in the shallows

adultAt the Sea Life ParkWedStanding in a pool about 43 inches deep (approx. 109 cm), the dolphin and the big approach! Not only can you watch the jumping dolphins closely, you can train while playing with dolphins, and you can enjoy kissing and dancing.

The applicant can go to a deeper position. It is an inspiring tour where you can have a good time with dolphins.

Summer only!adultSunrise flight of mind. The early morning sand bar is truly heaven. You can return to Waikiki in the morning, so plenty of afternoon time

【Captain Blues】 Heavenly Sea Tour (Sunrise)

The sand bar in the early morning, which took in the beautiful sunrise, is just the sea of heaven. The sand bar, known by the name "AHU O LAKA", is said to be the hula holy land and healing spot where Raka, also known as the Hula goddess, dedicated the hula to the fire goddess Pele.

In the clear sea breeze of the morning, it is a feeling that just looking at the waves will heal the mind and purify the whole body.

I am deeply moved by the 360 degree dolphins! The healing class of the heart Kyun ☆ to the cry of the dolphin "Ku"!

Private dolphin middle school

Cruise to find dolphins on the west coast with lots of beautiful nature. With the dolphins in the clear watersSnorkelingI enjoy

A boat is a large, stable ship called a catamaran. The heart is healed simply by looking at dolphins swimming gracefully in the deep blue sea. Not only dolphins, but also chances to meet sea turtles! Experience the ultimate healing in the wilderness. There are also plenty of light snacks that you can enjoy on board.

Have a romantic night in Hawaii!

Tantalus night view tour

The night view called "Gold Illumination" from the Tantalus hills at night is known as the most beautiful in Hawaii.

Along the way, you can enjoy romantic views at the two best spots, including the illuminations of Waikiki and the panoramic sunset and night views that extend 180 degrees from the observation deck. The illumination that the towers of countless lights such as hotels and condos are swaying in the clear night sky is so beautiful that you forget the time.

Leaving Waikiki! Let's go to the popular suburb town, Kailua !!

Kailua Shuttle (Kailua Town)

adultA fashionable suburb town, Kailua. There are a large number of shops and restaurants listed in Hawaii specials for guidebooks and magazines.

Please enjoy shopping and walking freely.

Very popular with HIS staff! The spectacular show by 100 people is a masterpiece!

Polynesia · Culture Center <Night Show>

Hawaii's seven villages dotted with the large-scale site that reproduces the lifestyle of the islands of Polynesia in earnestTheme parks. Enjoy buffet style dinners and shows.

A total of 100 people in a large venue that can accommodate 2,700 people more The dancers of the hawaii show one after another in Hawaii! This force is worth a look! As it departs in the evening, you can spend the time of lunch effectively.

Trolley Operation area & Number of Stops No.1! Movement while staying in Hawaii with "Rearea Trolley" more convenient!

Rearea Trolley LeaLea Trolley

Easy to get on and off! Departing from the Royal Hawaiian Center in the center of Waikiki, it operates with 12 fulfilling routes ◎

Nine lines and three expressways are convenient and the anxiety of traveling means during stay is also eliminated! The number of stops is the largest 68 locations! It is convenient to use Wi-Fi in the car! You can also go to the location that will be featured on television and media, including major tourist destinations!

Hawaii can get up early and enjoy! A Sun begins with the refreshing morning air of the diamond head and the sun burning red!

Diamond Head Sun tour out of

adult "Diamond Head of the gas- Sun original climbing certificate and commemorative photo with service start to tour out of"!

ハワイは昼間の景色もキレイですが"朝しか見られない絶景"がそこにはあります。暗いうちに出発し約30分のハイキング。頂上からはワイキキエリアを一望でき、海と大地のパノラマビューをご覧いただける大人気ツアーです◎

There is no doubt about the instant! SNS but also the topic I want to absolutely go to "Sandbar"!

Phantom beach "Sandbar" & Marine Sports

Enjoy Marine Sports at Kaneohe Bay which emerald green shines!

コオラウ山脈の麓に位置する穏やかで美しいカネオヘ湾で絶景「サンドバー(SandBar)」とマリンスポーツを楽しもう!運が良ければ"幸運の守り神ホヌ(ウミガメ)"にも会えるかも!?ハワイの美しい海を贅沢に堪能しよう♪

Breadth Tokyo 450 pieces of the dome! Enjoy Activity in vast nature known as power spot!

【Kualoa Ranch (Kualoa ranch)】 1 Sun package

"Kualoa ranch" also became the location of the film "Jurassic Park" and the popular TV series "LOST" is the most powerful spot of Oahu ♪

Experience Activity such as all-terrain vehicle (ATV) and horse riding as well as experiences unique to Hawaii such as flora and fauna Near scenic views of nature close up, refreshes your body and mind without mistake!

Sunset cruising , night view, luxury dinner, show all at once!

【Star of Honolulu】 Sunset dinner cruise <3 Star>

A 1,500-seat large vessel "Star of Honolulu" equipped with a stabilizer that provides stable ride to customers.

The traditional Hawaiian show where dancers sing and dance in front of you is ☆ powerful ☆ It is also possible to board with casual clothes Please feel free to join us ◎

Hawaii Popular sightseeing spots are good ♪ A bus tour around Oahu around the Mixed Bath!

Oahu island round tour sightseeing

A fulfilling tour covering highlights of Oahu. Even for the first time in Hawaii, it is perfect for those who have visited, but have not been touring sightseeing.

Overwhelm the MUST spot on Oahu in one day. Diamond head which can be called symbol of Hawaii, Tokai From the shore to the North Shore, and even the must-see Pearl Harbor, from the TV commercial to this familiar "Nan tree". Now you are also an Oahu!

An entertainment show that enjoys traditional Hawaiian feast "Luau" under the starry sky of Waikiki!

【Hilton Starlight Luau】

Enjoy the powerful Polynesian show including fire knife dance!

Dynamic Luau show to be held at the rooftop garden in the Hilton Hawaiian Village. Hawaii State This is an original polynesian show by entertainment company with the longest and longest history

Concept from farmers to dining tables. Enjoy luxurious buffet with local fresh ingredients!

【Kai · Market】

Hawaiian unique buffet dinner in the open air store ♪

The place is a beachfront on the 1st floor of the Sheraton Waikiki Hotel. "Kai Market" is an open-air buffet restaurant feels comfortable Hawaiian wind.

Meet the beautiful coral reefs and tropical fish adult ambulatory type plan at Hanauma Bay of care!

Hanauma Bay Snorkeling Tour

Enjoy the snorkel or plan to relax at the beach leisurely!

The Hanauma Bay, where you can meet beautiful coral reefs and tropical fish, is equipped with facilities and is safe and convenient because it also sells snacks and drinks.

BBQ dinner only for LeaLea at an oceanfront location where you can see the "Hawaiian" landscape!

LeaLea BBQ at Sheraton Waikiki

Unforgettable barbecue under the stars!

In addition to the BBQ which the chef will bake, you can also enjoy Poke rice bowl & locomoco station and chocolate fondue that you can make yourself.

Enjoy the best steaks to wander the gastronomics around the world! The taste of the store that makes it difficult to make reservations!

【Wolfgang Steakhouse】

Wolfgang Steak House, whose name is now known all over the world

28 Sun slowly and carefully dry age beef aging is not a commitment between, spread sweetness and flavor of the gravy in the mouth full, it melts more of softness. Porterhouse steak with a signboard menu using only Angus Beef certified by the USDA is a delicious taste that is addictive with plenty of volume.

Both beginners and repeaters in Hawaii can never leave! Also a nice gourmet tour!

North Shore Paradise

The sacred place of the surfer "North Shore" is full of highlights, including turtle beach and sunset beach!

It is a tour around the island including HIS original sightseeing points, such as free time to choose and a stopover to a reputation gourmet spot ◎

家族みんなで楽しめる巨大な水のテーマパーク「Wet'n' Wild Hawaii」!

【Wet and Wild / Hawaii】 (with transfer)

The only water theme park is also a local in Hawaii adult of the gas-spot!

Taking advantage of tropical nature in Hawaii, there are more 25 attractions that can be enjoyed from small children to adult the site of Tokyo Dome 3 times. Let's enjoy tropical land for a Sun with a variety of water theme parks!

The best Hawaiian experience with the power and impressive performance that rock and Hawaiian blend!

【Rock A Fla】

You can see a powerful and impressive show that combines hula, polynesian, fire knife dance and rock and roll with Hawaiian music background

新作のワイキキ最大キャストのハワイアンショーは、1920年から現在までの"ハワイアンジャーニー"。レジェンドアーティスト、フラ、ファイヤーナイフダンサーと本格的ミュージシャンによるミュージックとダンスの感動のパフォーマンスを750席プレミアシアターで思い切りお楽しみください。

Healing effect of double with Aloha Spirit and Dolphins! Activity also content of content!

Dolphin & You

The West Coast of Oahu where many wild dolphins and sea turtles are seen. Why do not you experience the excitement encounter with the hordes of dolphins at this place that is not in the ordinary sightseeing course?

Following encounters with dolphins you can experience snorkeling, Sea kayaking , SUP. Splash into the ocean with the only water slider in Hawaii! ! In addition, it is a hula dance lesson by a crew who is also a hula dancer, a tour where you can experience plentiful Hawaiian culture with Taro Burger using Taro.
Other overseas Activity from here
Click here if you are looking for more Activity and experiences in Hawaii / Honolulu
See more at HIS
Sun experience in this Activity Find
Search by Activity · experience