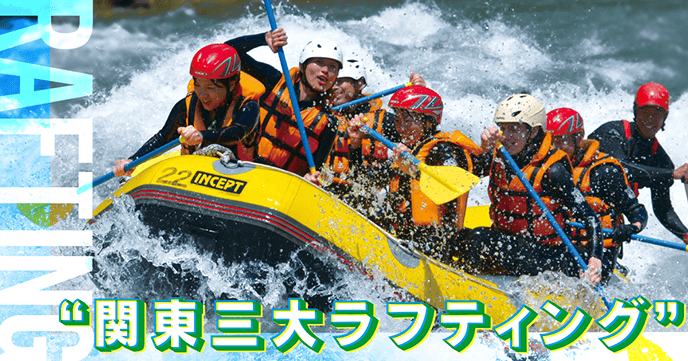 If it is a torrent rafting experience
Snow melting Water rich in rainy season
Recommended from May to June!
Rafting is a river activity that makes a river descend by a small boat called raft. Especially the popularity of rafting down the torrent is high and the natural water roller coaster experienced in the nature is refreshing feeling and the effect on stress divergence is enormous. We will introduce the "Kanto three major rafting" recommendation plan of Gunma Prefecture Minakami Tone River, Saitama Prefecture Arakawa Nagamaki, Tokyo Metropolitan Tama River, especially for leisure activities of the holiday season such as Golden Week rich in water.
┃Gunma Minakami Rafting

Japan's Three Major Rampage River "Tone River"
Minami Kamiyachi Tone River, Tone-gun, Gumma Prefecture, famous for Mizuki Onsen and Mizuki Plateau, is a rafting spot representing Kanto counted as one of Japan's three great rampage rivers. It is also a popular river activity area where canyoning and other activities are popular, and many shops are organizing tours, plans combined with BBQ and hot springs are gaining popularity.
┃Saitama Nagami Rafting

"Arakawa" with a steady amount of water charm
Tourist attractions such as Sanemine Shrine and Nagatoro Iwami are popular Saitama Prefecture Chichibu-gun Nagami-cho is a popular area for Arakawa rafting courses where you can enjoy with a steady amount of water. There are also many shop facilities that are hosting rafting and you can enjoy a wide range including plans that you can enjoy easily from a half-day course. There are plans that can be booked with discounted campaign rates, which is recommended for spring and summer leisure.
┃Tokyo Okutama Rafting

"Tamagawa river" excellent access from central Tokyo
It is a popular spot of rafting, which is said to be the most accessible from the city center, Okutama Town, Nishitama-gun, Tokyo, famous for Okutama Lake and Nishihara Limestone Cave. There are various courses that can be enjoyed widely from beginners to experienced people, so children can also enjoy it so it is also popular for leisure such as school trips. Other areas such as canyoning and SUP (stand up paddle board) are popular areas.