Does windsurfing cost money? Recommended for beginners School shop information with board rental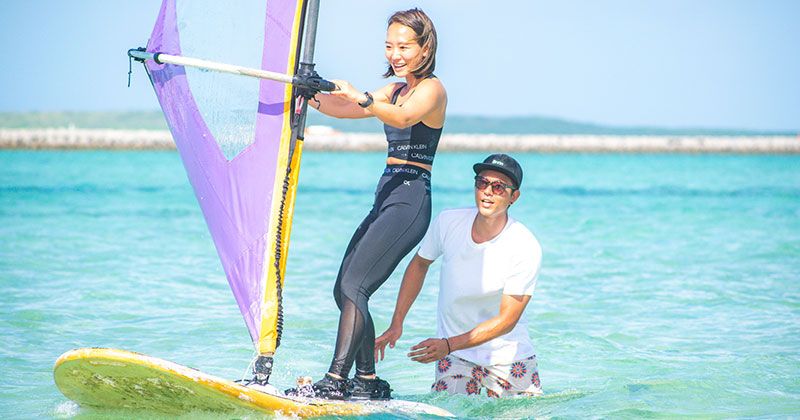 Activity Japan editorial department
On this page, the popular marine sports outdoor activity " Wind Surfing Is a major feature. What is windsurfing? Starting with the basic knowledge, how to get started, costs, explanations of boards and tools, popular spots in Japan, etc. Introducing useful information for beginners in an easy-to-understand manner To do. In addition, Kanagawa (Zushi, Hayama, Shonan, etc.) in Kanto, Chiba (Tokyo Bay), Lake Biwa in Kansai, etc. Recommended for beginners with popular points School shop information with board rental Let's check.
What is windsurfing?
Windsurfing is a surfboard with sails Water sports that run on the surface of the water (sea surface) ..
People who are familiar with windsurfing are called windsurfers. Lovers of all ages around the world There is.
The biggest attraction of windsurfing is Propulsion of only natural wind power without using any artificial power There is an exhilarating feeling of running on the surface of the water (sea surface).
Also, "going on the surface of the water (sea surface) like a yacht" Sailing And "using waves like surfing" surfing It is also attractive that there are various ways to enjoy it.
History of windsurfing
The origin of windsurfing is 1967 California, USA It goes back to.
Surfer Foil Schwaitour and yachtman Jim Drake Developed by two Americans It all started.
" Is it possible to load the sail of a yacht on a surfing board and run on the surface of the water (sea surface)? The starting point is an innovative idea that no one could think of at the time.
It is a steering function in the development stage. Invented "Universal Joint" and "Wishbone Boom" Windsurfing is born, which is now popular with many surfers.
Windsurfing landing in Japan
Windsurfing landed in Japan 1972 (Showa 47), five years after its birth That.
Shortly after landing Windsurfing boom At that time, it is said that the seas all over Japan were flooded with windsurfers.
The demand is not limited to adults, mainly adult men, but also kids surfers and senior surfers. Acquired popularity among a wide range of age groups regardless of age or gender ..
Even after that, there are various ways to enjoy it depending on the individual level skill and physical strength, or the surf style you aim for. Lifelong sports We will increase the number of enthusiasts.
Tools needed for windsurfing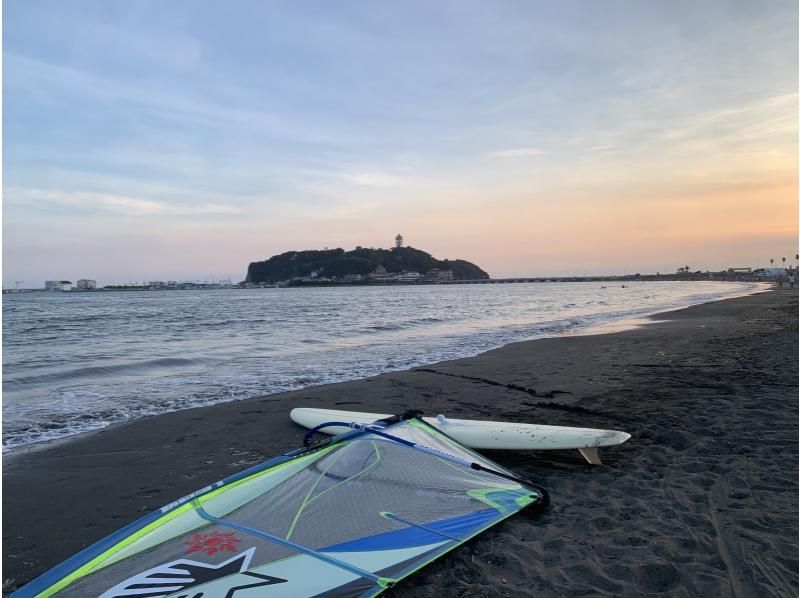 The basic tools required for windsurfing can be broadly divided into " Rig (sail) "When" surfboard , And wearing a wet suit, etc. Surfwear There are three types.
Here, it is composed of small parts Each name and surfwear of the windsurfing body I will summarize the representative ones of.
Specialized knowledge is required to select windsurfing goods, so Purchase while consulting with experts such as shop staff and instructors I recommend you to do it.
Also, at surf shops and internet shops, Complete set for beginners Is also on sale, so check it out.
rig
A rig consists of a sail, mast, boom, joint, base, uphole line, and harness line. Wind receiving part It is.
The rig part is also sold as a set, so beginners are sold in a setting for beginners It is also recommended to purchase a rig set Is the method.
board
The windsurfing board is " Short board "When" Longboard with dagger There are two types, each with different characteristics.
For beginners, it can be used as a longboard with a dagger that is highly stable and prevents cross flow, or as an all-rounder. Larger board is recommended is.
Surfwear
In hot seasons such as summer, Swimsuits, rash guards, surf pants, etc. Wear a life jacket for your safety on top of surfing-like clothing.
Based on them, depending on the temperature Wet suit (dry suit), marine gloves, marine shoes, leggings, etc. It would be good to add.
Windsurfing costs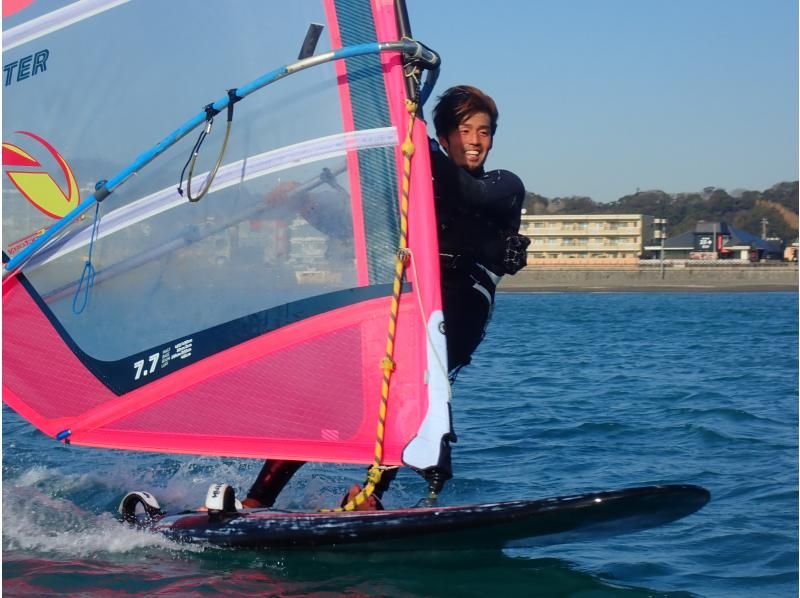 The cost of purchasing goods such as boards and sails, and the cost of transporting the tools, etc. Windsurfing costs money I think there are many people who have the image.
Certainly, there are more types of tools and parts than general surfing, and considering the cost of maintenance etc., It's not cheap at all maybe.
To put it the other way around, that's it Attractiveness that makes you think "I want to try it!" Even if it costs money It also means that there is a marine sport.
The cost of windsurfing can be broadly divided into " Money for tools "When" Money to move "Two.
Below, I will briefly explain the breakdown.
Cost of tools
The first thing to mention as the money for windsurfing Cost to buy all the tools is.
Basically, you need a surfboard and a sail part called a rig, Approximately 300,000 yen when purchased as a new product It is said that it will take some time.
In addition to it, Surfwear etc. necessary to enter the sea It can be expected that it will be a considerable expense when combined.
All of that It is also possible to arrange it second hand However, although it depends on the purchase method, even if it is a second-hand purchase, you should consider about half the cost.
Cost of travel
Another thing to keep in mind is the cost of windsurfing. Travel expenses to the point is.
Windsurfing, which has many tools to carry, is difficult to move by train. It is common to use a private car is.
Of course, it's easier than traveling by train, but at least Gasoline fee, highway fee, parking fee You have to think about the cost.
Also, if you are intermediate or above, you can reach the point where the wind and sea conditions are good. There are also cases of expeditions In that case, the transportation cost will increase further.
In addition, including meals and drinks, Consider the money you spend around the surf point as an expense is needed.
Next is the initial cost of windsurfing. Explanation of tools I will continue to do it.
How to get started with windsurfing
Even if you are interested in windsurfing, " I don't know how to get started I think there are many people who are worried.
Windsurfing as a major premise There is no set rule on how to get started ..
However, without knowing the basics and tips of standing on the board, how to choose and handle tools, how to enjoy and manners of the sea, etc. It's not realistic to start on your own ..
The best way to get started with windsurfing is Take a one-day experience course at the windsurfing experience school Is to do.
In addition to taking basic lessons from the instructor, you can also rent a set of equipment, so it is easy even if you do not have tools Touch the charm of windsurfing can do.
From here, based on the plan data that accepts Internet advance reservations at Activity Japan, Introducing useful information for your first reservation I will continue to do it.
What is a windsurfing experience school?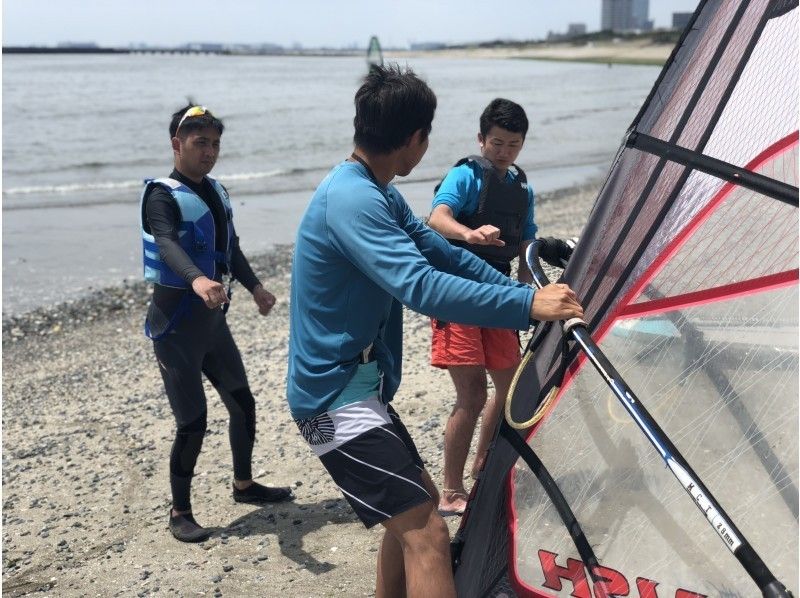 At marine spots all over the country Windsurfing experience school for inexperienced people and beginners Is being held.
Taking those schools and learning the basics The best way to start windsurfing It can be said.
Below, the price (price), target age, things that can be rented, necessary belongings, etc. Reference data for windsurfing experience school reservations Is summarized.
Experience fee guide
Currently at Activity Japan From 2,000 yen (tax included) per person at the lowest price Introducing the windsurfing experience school where you can make a reservation.
The standard amount of experience fee nationwide is per lesson per person. The market price is about 4,000 yen (tax included) to 6,500 yen (tax included). is.
The experience fee includes a set of windsurfing boards and wet suits. In addition to equipment rental fee, lesson fee and consumption tax are included The case is common.
Participation target age
Currently at Activity Japan Participation is possible from a 5-year-old child Introducing a windsurfing experience school.
At older ages, depending on the lesson content and the difficulty of the points Age restrictions for elementary school students and above (6 years old and over) and junior high school students and above (12 years old and above) Is provided.
also, The upper limit of age is generally around 70 to 80 years old However, there is also a plan that allows even 100-year-olds to participate.
What can be rented
At the windsurfing experience school A set of windsurfing boards and a life jacket rental fee are included in the experience fee In most cases.
In addition, wear it when the temperature or water temperature is low. Rental of wet suits and marine shoes There are many shops that do.
Also, in the shop Facilities such as changing rooms and shower rooms can be used In many cases, shampoo, conditioner, and body soap can be used free of charge.
Popular spots and points for windsurfing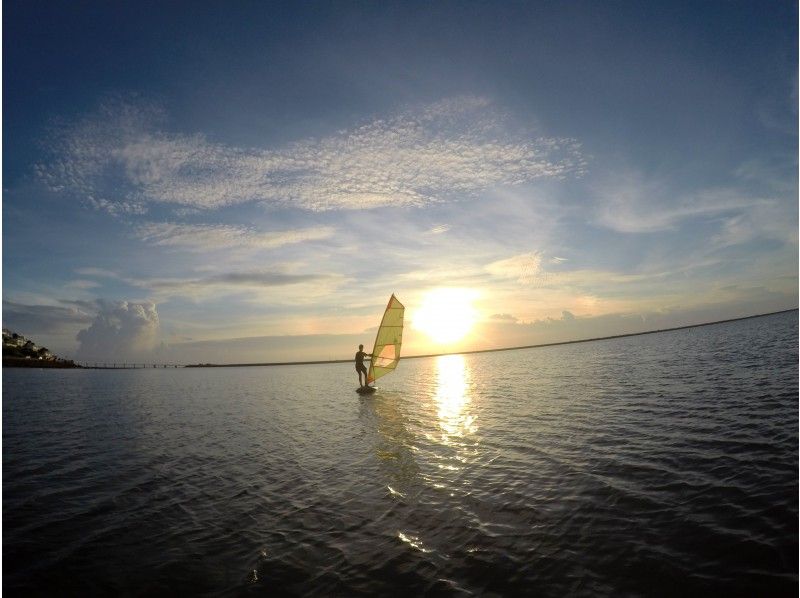 Some beginners say " Where can I do windsurfing? I think there are many people who have the question.
There is a strong image of "marine sports to enjoy in the sea", but in reality, lakes and rivers, etc. Can be enjoyed in all water fields It's an activity.
Below, based on the number of reservations for Activity Japan, " Popular spots and points ranking for windsurfing I will introduce.
First of all, near your home or around your destination Search for an experience plan from popular spots and points Let's try.
Based on Activity Japan reservation data
Zushi, Hayama and Shonan are sacred places for windsurfing!
Kanagawa prefecture Shonan area such as Zushi, Hayama, Kamakura, Enoshima, etc. Is a spot that is also called the sacred place for windsurfing in the Kanto region.
There are many surf shops in the area, from beginners to advanced players. Windsurfing experience school tailored to various levels It has been.
also, The most accessible windsurfing spot from central Tokyo (within 23 wards) Therefore, it is also a recommended spot for beginner surfers living in Tokyo.
Kanagawa windsurfing popular plan
Review / word-of-mouth experience
Lake Biwa is the best windsurfing spot in Kansai!
A lake that belongs to Shiga prefecture and boasts the largest area in Japan Lake Biwa (Lake Biwa) Is the best windsurfing spot in the Kansai region.
Easy access from Kyoto, Kosai area (Takashima city, Otsu city) and Konan area (Kusatsu, Moriyama, Omihachiman) Many windsurfing experience schools are held around.
Not only general windsurfing, but also floating on the sea by wings Enjoy the latest marine sports "Wing Foil" This is also a characteristic of Lake Biwa.
Shiga windsurfing popular plan
Review / word-of-mouth experience
Okinawa is also recommended for windsurfing debut!
Japan's world-class marine activity paradise "Okinawa" is a recommended spot for windsurfing debut It is one of.
As a leisure activity during your stay in Okinawa Warm tropical climate and emerald green sea The biggest merit is that you can enjoy windsurfing at.
At Activity Japan Including the main island of Okinawa, Ishigaki Island, Kohama Island, etc. We are accepting reservations for windsurfing experience schools in the remote island area of.
Okinawa windsurfing popular plan
Review / word-of-mouth experience
National windsurfing experience school reservation popularity ranking
Below, "Activity Japan" based on the latest reservation data National windsurfing experience school reservation popularity ranking I will introduce.
Please use it for comparison and examination of plan selection by referring to the experience location (points), experience fee (price), reviews from users, and reputation based on word-of-mouth experiences.
Editorial department recommended feature article