Super popular! Recommended experience guide for SUP beginners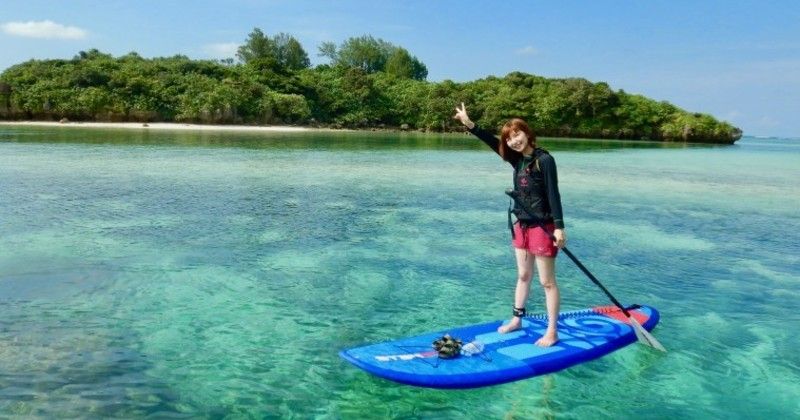 SUP is a new water Activity that is gaining popularity. You can enjoy a leisurely walk on the water, try SUP yoga, SUP surfing, and SUP fishing. For those who want to start SUP, we will introduce basic knowledge, supboards, how to choose paddles, recommended experience spots, etc.
What is SUP (Supp / Stand Up Paddle Board)?

SUP(Sapp) Is Stand Up Paddle Board Abbreviation made from the initials of (Stand Up Paddle Board) is. As you say, you can stand on the board, paddle a row while riding a wave, or board a board for fishing or yoga. Fans are now spreading all over the world, and even in Japan, experience-based tours are held at various waterfronts. Among Female with high aesthetic sense, SUP The fitness effect of (SUP) is the focus of attention. It is said that trying to maintain balance on a swaying board trains your core, resulting in a full-body workout including your abdominal muscles. The movement of pushing the water through the paddle is effective for shaping up the upper arm and back.
Even beginners can enjoy SUP!

Now SUP One of the reasons why the number of lovers of (SUP) is increasing is that you can do it without having confidence in muscle strength and motor "Beginner-friendly" Activity So. The dedicated board is larger than the surfboard, has higher buoyancy, and is more stable. for that reason, Even beginners often stand on the board after a short practice Is. Also, surfing is not possible without big waves, SUP (SUP) uses paddles, so you can Cruising lakes and rivers . You don't have to stand on the board, just sit on the board like a canoe and paddle to feel refreshed! Tandem with children and pet dogs ( 2 It is also good to take a passenger. Outdoor leisure with a wide entrance that anyone can easily enjoy SUP (Sapp).
SUP is a rapidly growing water sport

Stand on the board and paddle SUP The origin of (SUP) is 2000 Year more It came from Tahiti before and was spread all over the world by Hawaiians. Present SUP The style that led to (SUP) was created 1960 Year Hawaiian beach boys. It is said that he started standing on the board trying to capture the images of tourists surfing. After that, I didn't hide behind the popularity of surfing and become a major player, 2000 Year From around the time, popularity has revived in Hawaii. And world-class surfers who have pioneered the next generation of surf style, such as Rayard Hamilton SUP By paying attention to (Sapp), Year is getting more waves. SUP (SUP) Competitions such as surfing and racing have become popular, and large-scale competitions are being held all over the world.
Excellent compatibility with various Activity

When you say SUP, you may have seen the scene of "SUP yoga" where you pose elegantly on the board in magazines. SUP The board used for (SUP) allows you to move freely while standing or sitting on the board because of its stability, and it goes well with various Activity. Yoga, pilates, fishing, water Cruising Such, SUP By combining with (SUP), new ways of enjoying the waterfront are born one after another.
Sea, river, lake
......

The appeal is that you can do it anywhere

It started from the ocean in Hawaii SUP (Sapp), The feature is that it can be done on any river or lake as long as it is near the water .. Performed at Lake Biwa and Lake Yamanaka Lake sap Or cruise a clear stream River sap Is also popular. Of course, you can easily get to Shonan, Zushi, Kamakura and the sea of Okinawa from the city center. SUP (Sapp) hotspot. You can take a walk through a quiet cove that cannot be reached by boat, divide into the mangrove forest, and feel a little exploring.
Types of SUP

Perhaps the biggest attraction of SUP is "diversity". Take the board floated on the water and paddle your paddle to proceed. By adding various ideas to it, the way to enjoy is endless! For example, such Activity are popular.
Cruising

Manipulate the board floating on the water and row freely. Become one with nature and enjoy the spectacular photogenic scenery Cruising and touring Is a superb experience unique to SUP. When you stand on the board and look up, the view of the scenery changes. Even if you don't stand, you can sit and row like a Kayak, so it's okay. Let's enjoy a casual water walk.
SUP Yoga

Among the Female who are sensitive to beauty and trends, it is getting hot attention SUP yoga that combines SUP and yoga . By practicing yoga on an unstable board, you can strengthen your core more than at home or in the studio, and you can expect high fitness effects. Sapp yoga, which is performed under the sky with the waves of the sea and the flow of rivers, has a relaxing effect. As an outdoor leisure that you can easily enjoy at your travel destination, many one-day experience plans are also held. Every Year Sappuyoga of which will be held in Lake Biwa Events is also popular.
SUP Pilates

Yoga is not the only exercise you can do on the SUP board. Sapp Pilates to stimulate inner muscles Is a popular program alongside yoga. It is also effective for shape-up and dieting and boasts a high level of recognition overseas. With Sapp Pilates in an extraordinary space above the water, you can refresh your mind and body.
SUP fishing

The compatibility of SUP and fishing is outstanding. . Even if you can't enter the area with a fishing boat, you can get a good feel by riding a board with a small turn. You can fish where you can't reach it from the land, so you can hit big things. For those who want to try but don't have the tools, the SUP fishing experience tour is recommended.
Lake SUP (Lake Sup)

Lake SUP (lake sup), which is performed on a calm lake with little flow, is recommended for beginners. . Hokkaido Lake Shikaribetsu and you can enjoy seems magnificent nature, with views of Mount Fuji Cruising Lake Motosu can, such as Lake Biwa you can visit the torii of Shirahige Jinja floating in the lake, Japan can be enjoyed in the scenic spot of the country.
River SUP

River SUP that rides on the flow of the river and manipulates the board . Enjoying the murmuring of the river, the voices of birds, and the greenery of the trees in front of you is a different attraction from the sea and lakes. When it gets hot, you can swim in the middle or lie on the board. It is also ideal for making summer memories.
Night SUP

Night SUP is gradually gaining popularity. The LED light is mounted on the board, to explore the sea of fantastic evening Activity is. Watching the stars and the moon in the middle of the sea and playing with the small fish gathering in the light is also fun. If the tour starts from the sunset time, you can enjoy both dusk and night view at once.
Pedal SUP (pedal sup)

The "pedaling sup" or pedal sup SUP type of paddling instead of paddle is. By stepping on the pedal on the board with both legs, the fins under the water move and move forward. A new type of Activity that makes you feel like you are walking or running on the sea. It is also popular as an exercise for Female
SUP surfing

Use paddle SUP Surfing Easier to ride the waves than normal surfing It is said that. The big difference from surfing is paddling before riding the waves. Surfing requires you to lie face down on the board and use both hands to squeeze through the waves to swim. However SUP (Supp) Surfing can be done by standing on the board and paddling. As a result, you can reach the wave you are aiming for without losing your physical strength and maintaining good visibility.
If you are interested in surfing but don't have confidence, SUP (Sapp) It might be good to try from surfing ..
Challenge your first SUP! How to choose a board or paddle

Now Year also I think what SUP (Sapp) ... you want to try to debut, such as the name and choice of tools, should also often do not know for a beginner. First of all, I will introduce how to choose the sappboard and paddle, which are Required gears.
How do you choose a SUP board?

When choosing your first sup board, what you want to pay attention to Material and type . The material is large 2 type It is divided into
Hard board
A hard board is a board made of a hard material such as reinforced plastic. It is suitable for competitions such as SUP surfing and racing because it has less deflection and speed is easier to obtain. However, it is easy to get injured when hitting the body and is not suitable for beginners. It is also disadvantageous that it is easily damaged by impact. It's longer more 3.5 meters and can't be folded, making it a little difficult to carry and store at home.
Inflatable board
The inflatable board is made of rubber material, and it is inflated with air using an electric pump like an inflatable boat. . It is cheaper than a hard board and easy to carry. Weight is 10 kg There are some, but you can put it in the attached bag and carry it by car or public agency. Since there is little concern about injury to your body, Inflatable boards are recommended for beginners is.
However, since it is made of rubber, it may puncture at sea, so it is vulnerable to heat and may burst if left on the beach in summer. Politeness is required for handling.
There are four main types. Which is suitable for beginners?

There are four main types (shapes) of supboards. Let's look at each feature
All round
There are various ways to enjoy SUP( Sap). I want to enjoy Cruising exercise and surfing! If you are a beginner, do not hesitate All round type Let's choose. The size should be wide and thick. It has a high sense of stability and is suitable for beginners.
Race model
The race model with a sharp tip is a board for people who participate in speed competition such as SUP (SUP) race and SUP (SUP) marathon. It is difficult to handle and is a type For advanced level people.
Wave
As its name suggests, Wave is characterized by a shape specialized for "surfing". Similar to surfing, there are short boards and long boards. Short boards have little buoyancy and are difficult to handle, but they are easy to handle and allow sharp turns. The long board has great buoyancy, is stable and you can enjoy Cruising.
Cruising
I often go outdoors to lakes and rivers and want to enjoy leisurely Cruising. This type is recommended for such people. It has a wider width than the race model and is superior in terms of stability and strength. Recommended for fishing.
How do you choose a paddle?

Paddles for rowing are also essential for SUP. There are several materials for paddles, but the lightest and most suitable for racing is the rod part called the shaft. carbon Made of. Most high-end models are made of carbon and are expensive.
Shaft Made of aluminum The ones have excellent durability and are inexpensive, but the heavy ones are the drawbacks. The shaft is located between the two in terms of weight and price. Made of fiberglass It's a paddle. Not only the material of the shaft, but also the size and material of the part called the blade called water, and the hardness and thickness of the shaft affect the feeling when rowing. When purchasing, please consult a professional with a well-stocked specialty store.
Another important checkpoint is whether the paddle length suits you. The best balance is when your elbow bends slightly when you reach out and hold the grip is. However, the exact length may change depending on the application and the type of board. There is also the option of an adjustable paddle with adjustable length.
What other tools do you need?

For safety, we must never forget A flow stop that connects the board and body called a leash cord is. Without the leash cord, the board could leave the body underwater, resulting in accidents such as drowning or the board being hit by a person. A coil type that is hard to get entangled is recommended. As it deteriorates during use, the joint may become loose and the cord may have cuts, so it is recommended to replace it after about 1 Year.
"In addition to the leash code, Life jacket It is safe to have it. It is also useful to have hats and sunglasses that block ultraviolet rays, and marine shoes that protect your feet in rocky places.
What are the preparations (clothes, belongings, etc.) before going to SUP?

To enjoy SUP without any worries, Preparations such as clothes and belongings Is important. Some items can be Rental and some are better to bring, so check them in advance.
What is the appropriate clothing for SUP?

Bikini in the summer, T Some people wear very light clothing such as shirts and shorts. SUP (Sapp). However, because it is exposed to direct sunlight, in order to prevent sunburn and exhaustion of physical strength, Wet suit and rash guard It is recommended to wear. I often fall into the water before I get used to it, and my body may get cold even in the summer. The board or paddle may hit your body and injure you, so it's a good idea to keep your skin exposed. is.
Such as yoga and Pilates SUP When it comes to (Sapp), you want to be smart. When the water surface is gentle and there is no wind like a lake, Rashguard, lash leggings, shorts Why don't you coordinate? When it's cold or windy, wear a wetsuit with high heat retention. In addition to full suits that cover the entire body from the wrist, there are various variations such as long sleeve springs that integrate long sleeves and shorts and long john that combines sleeveless and long pants. Find Favorite design. In terms of increasing visibility from ships and Jet ski, Those with a prominent color Is recommended.
What can be Rental
School or if you take a trial tour, SUP Boards, paddles, leash cords, wet suits, life jackets, helmets, etc. can often be Rental It seems. It depends on the company whether it is paid or free, so please check in advance if you want to enjoy it at a reasonable price.
Belongings

Bring swimwear, rash guard, hat, sunglasses, etc. let's do it. If you don't want to drop your glasses or sunglasses, fasten them with sports eyeglass bands. People who use contact lenses may want to have swimming goggles (if you have disposable contact lenses, bring a spare).
Considering wearing a rash guard, a wet suit, and a life jacket from the top, the design of a swimsuit should be simple with little decoration. It may pass through rocky areas that are difficult to walk, so your feet are more amphibious than beach sandals. Marine shoes recommend. A rush sandal type like Crocs is not suitable because it will come off immediately in the underwater.
Items that are convenient to have

I definitely want to bring Large and small towels, waterproof strong sunscreen, drinks, clothes, plastic bag with zipper Such. A plastic bag is useful when you don't want to get it wet or if you put away wet clothes.

Mini-sized moisturizing items and lip balms will help prevent skin dryness and dryness. If you want to capture beautiful scenery, bring a waterproof camera or a smartphone in a waterproof case. In case of injury, Copy of insurance card It is safe to have it.
How do you get on the board? What are the basics of rowing?

If you can finally get out on the water, let's row while sitting still. Practice getting up when you get used to it. Open your hands with your shoulders wide and rest on the board, and when you are in a knee-standing position, slowly stand up one leg at a time and raise your body. It is successful if you can stand evenly across the center line of the board.
As for the basics of paddle work, it is recommended to practice on land before going out on the water. When viewed from the side, the correct way to hold is that the paddle is in front of you and your arms and paddle shaft (bars) are in a clean triangle. If you get used to rowing straight, practice the basic techniques of "advancing, turning, and stopping". Remember the technology to turn around and change directions. If me up here, beautiful scenery and underwater while watching the fish swim, you should be able to go around freely rowing on the water.
Recommended spots for SUP

Sap with a wide variety of ways to play. A leisurely walk on the water? Active fishing? It may be good to clean up with yoga or Pilates.... If you imagine a concrete way of enjoying in such a way, it may be easier to find a plan that suits you.
Near Year is Japan because here and there in the experience tour is being held, is also a good idea to try to find a plan that can be on the road. The SUP, which allows you to relax in a beautiful location, will be a great memory of your trip. Here we will show you the most popular SUP spots in "Activity Japan".
Okinawa

The blue sea of Okinawa that spreads forever is the SUP's utopia. Okinawa One of the leading Snorkeling spots on the main island, the "Blue Cave" Onna Village Enjoy Cruising in the scenic Kabira Bay and mangrove forests Ishigaki island , The beach with outstanding transparency where you can swim with sea turtles Miyakojima , Cruising is popular, aiming for "Kula Waterfall" called lucky waterfall on SUP Iriomote Island Etc. There are many attractive spots scattered around.
Biwa lake

Speaking of SUP on Lake Biwa, it suddenly appears in the lake. Shirahige Shrine (Shirahige Shrine/Shirahige Shrine) Otorii . If you take a picture at a superb scenic spot on Instagram, it will be an unforgettable memory. The surrounding lake water is highly transparent, and the contrast with the red torii is wonderful. Lake SUP is also recommended for beginners because the waves are quiet and you can practice calmly.
Lake Yamanaka

Majestic Mount Fuji You can SUP while watching Lake Yamanaka . It's a lake, so you don't have to worry about it flowing offshore like the sea, and unlike the river, the flow is gentle, so you can relax and enjoy Cruising. Let's listen to the chirping of birds and enjoy the rich nature away from everyday life.
Shonan /Zushi

Zushi coast that can be reached in 1 hour without connecting from Tokyo Is a popular spot for SUP Cruising and SUP yoga. The shallow sea has relatively calm waves, and you can even see Mt. Fuji on a clear day, making it perfect for your first SUP experience. There are many stylish shops that are nice for Female and you can enjoy SUP (sap) while relaxing.
Kanagawa /Chigasaki

SUP fishing If you want to challenge Sea of Chigasaki Is that right? Popular targets such as black sea bream, shirogisu, flounder, sea bass, magochi are all available. If you participate in the experience tour, even beginners can enjoy the real pleasure of sup fishing with careful instruction according to the experience and level of fishing and SUP (SUP).
Chiba

Inage Beach, Minamikatsuura, Makuhari, Minamiboso Chiba Prefecture has many places where you can experience SUP. Many people will be surprised at the beauty of the sea in Minamiboso, the crystal clear coastline of Minamikatsuura, and the beautiful Isumi River. There are various ways to enjoy such as sunset Cruising sea and tours for experienced people to visit a secret spot called "Uchibo's Maldives" by the staff. It is understandable that there are many repeaters.
Experience tour is recommended for the first SUP (SUP)

For the first time to try SUP, Please take part in an experience tour sponsored by School and shops . SUP is an Activity that even people with little experience in marine sports can enjoy, but it can be dangerous if you can not handle tools. It is safe to let us know the rules and characteristics of the slopes in the area, as well as how to use the boards and paddles. And of course, be careful with your physical condition. Don't overdo it when you get out on the water, and don't forget to prepare! Fun and safe, please row out into the world of SUP (sap) that spreads forever.