I want to experience Sapp Yoga! Recommended plans and preparation information for the first SUP Yoga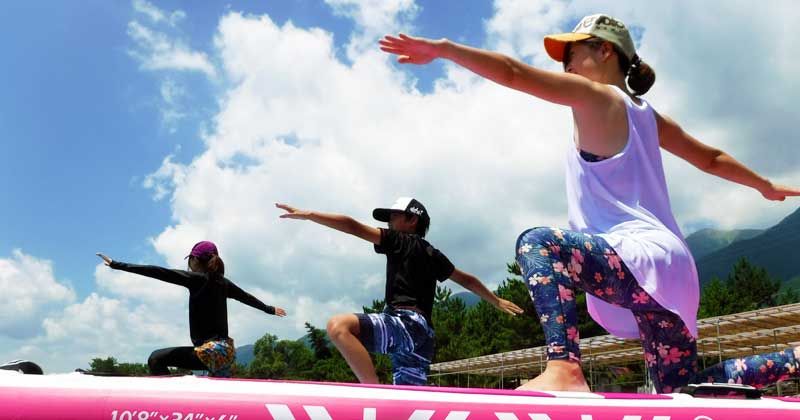 "SUP YOGA", which is a combination of SUP (Supp/Stand Up Paddle Board) and yoga, is an exercise that has caught on with its popularity among Female who have been sensitive to "beauty" and "trends" in recent Year System Activity!
Having fun as a sport and leisure and a fitness effect that makes your body and mind beautiful, nowadays it is extremely popular from a wide range of people regardless of age or sex.

Here, we will introduce the basic knowledge to those who are interested in such hot Sap yoga.
What is SUP YOGA?

What is SUP YOGA? A new type of exercise Activity that combines "yoga" and marine sports "SUP = Stand Up Paddle Board" .. By doing the yoga mainly on the water such as the sea and the lake, and riding an unstable sapboard, The core is stronger than on the ground, and you can expect a high fitness effect Is attracting attention.
Sapp yoga, which you can experience while being embraced by nature under the sky, has a feeling of openness compared to general yoga performed indoors in gyms and studios. It is attractive to be able to relax and refresh .. It is also characterized by a strong outdoor leisure element that you can enjoy while traveling or going out. Japan Many people enjoy the one-day experience plan held at marine spots around the world.
Sappyoga (SUP Yoga) that can clean your body and mind

The biggest advantage of Sapp Yoga is that it is performed on a board that sways in the water. Being able to train your core and inner muscles .. It is necessary to have strength even with SUP only to balance it according to the movement of the wind and waves, but by combining it with yoga Further enhances the training effect ..
Stimulation spreads to places that are difficult to train in daily life, such as the gluteus maximus of the hips, the adductors of the inner thighs, and the hamstring on the back of the thighs. A beautiful body with a firm body! You can also train your concentration, and once you have decided on the pose, you can experience the euphoric feeling of becoming one with nature.
How to start SUP Yoga

To start Sapp Yoga, Special tools such as sup board and paddle are required is. Activity Japan 1 day experience introduced on School plan fee is Mainly includes instructor training fees and Rental fees for boards and paddles .. If you have prepared for general bathing such as swimwear and rash guard, It is possible to participate as it is is.
Course for beginners Then, from the basics of how to ride a board, how to paddle, to yoga poses, A lecture on the basics of Sapp Yoga Will do it. Seeing is believing if you are interested! Let's search the experience plan that is held near your home or at a marine spot of your travel destination, and let's first touch the charm of Sapp Yoga!
What kind of clothing is suitable for SUP Yoga?

The point of clothing suitable for Sappyoga is Being able to move easily even when wet with water, and being able to prevent sunburn is.
Basic is a little decoration Layered yoga wear tops, T-shirts/tank tops, shorts and yoga wear leggings on top of a simple swimsuit. Style to do. If you don't want to get a sunburn, it is recommended to use a rash guard or a hoodie with UV protection.
On the other hand, we do not recommend yoga clothes with drapes, which become heavy when wet, or swimwear with many decorations that make it difficult to move. Given that you may fall off the supboard, Choose the one that fits your body Will In addition, depending on the experience plan Wet suit Rental Some can be done. Even in this case, please bring a swimsuit and sunscreen jacket.
What to bring for SUP Yoga

Sapp yoga performed on the sup board is If you get a lot of sunburn even for a one-hour program there is. Such as waterproof sunscreen, hats, rash guards and hoodies It is safe to have UV protection items .. Large and small beach towels, drinks, change of clothes Let's prepare such as.
How to qualify for SUP Yoga?

I am absorbed in the fun of Sapp yoga at the experience School, "I want to be an instructor!" There may be people who think that. For example Qualify as a Sapp yoga instructor in the following groups and courses can do.
1. Japan Sapp Yoga Association
2014 Year was established in Japan's first sup yoga association , We are engaged in the safe dissemination and enlightenment activities of Sappyoga and the training of instructors. Guidance at School and Events at the pool is possible Pool Sup Yoga Instructor , Teaching in pools and outdoors (sea, lakes and rivers) is possible Nature Sapp Yoga Instructor You can take qualifications such as.
2. Certified by the Outdoor Fitness Association
Tamao Iwasaki, a Japanese pioneer of sapp yoga Instructor training course sponsored by. Not only Sapp yoga, but Sapp exercise Original "SUP FIT" instruction method Can learn
3. Yoga Aloha Academy SUP Yoga Teacher qualification course
"Yoga Aloha Academy" is Certified by the yoga association "Yoga Alliance" with world-renowned name Yoga School. The studio is in the heart of Waikiki, Luxury training in the ocean of Hawaii Can participate in
Enjoy the ultimate relaxation with SUP Yoga

While enjoying the shining sunlight, the pleasant flow of water and the sound of waves, Sappyoga that can absorb plenty of nature's energy .. The floating feeling that melts in water and the liberating feeling that the whole body is soft and loose are exceptional!
Please try it out once a week or on a holiday.
Sappyoga's popular experience plan Japan
Based on Activity Japan reservation data Popular experience plan I will introduce.
It is one of the best marine leisure spots and is also called a sacred place for surfers. " Shonan " And the best tropical resort in Japan " Okinawa " And so on, Many reservations for Sappyoga experience School plan of popular spot in Japan I am receiving For details of each course, please check the plan page.
Popular in Okinawa! Excellent SUP yoga plan on SNS
If you decide to pose on the emerald green water that looks great on Instagram, I want you to shoot beautifully! We carefully selected the recommended shops with a photography service that will fulfill such wishes.
On weekends in Shonan! Sapp yoga plan that you can go from Tokyo quickly
Excellent access with only 1 hour from the city center! Here are some recommended shops where you can enjoy "extraordinary" and "the best holidays" in the calm sea, which is safe for beginners.
Sapp yoga at Lake Biwa? ! Every Year the popular Events information
Finally, until mid-Oct. 2020 It is carried out in the Lake Biwa adult regular lesson of the gas "BIWAKO × SUP × YOGA" Introduce ♪
Otsu City, Shiga Prefecture Yumihama Sunshine Beach Park area This Events with the field Easy × empty-handed Is a keyword. On this site "SUP YOGA" , "SUP Cruise" Including, "Starry Night Yoga" by the pool We are accepting reservations for participation in various experience plans! Now Year is Luxury gift for those who book Will also be prepared. There is a limit to the reservation frame Recommended early arrangements To do.