プランID:10675 Brought by:​ ​​ ​Gakurokumarin
[Yamanashi Yamanakako] even for beginners OK! SUP experience school (90 minutes)
(3件の体験談)
Plan ID:

10675
Yamanashi / Yamanakako, Oshino
Stand Up Paddle Board (SUP)





Starting time

Participating age

6 years old ~

Time required

1-2 hours

ScheduleEarly April - mid-November
Assemble point Look in GoogleMap
I was hoping for the lowest price in the Kanto suburbs and I was hoping that SUP would be able to learn in Yamanakako, but just like a person who previously wrote a review, there was only a few lectures on land alone for a few minutes . "Is that what I was applying for board rental? I am a participant but can not receive advice on the lake? Well, do you leave alone?" While asking yourself, there is no leash code, and it goes to the lake alone by himself The situation. Previously, thanks to participating in a friendly polite school in Tochigi Prefecture, I was learning how to re-boat when falling down, the direction of the wind, the flow of waves, so I never dropped, somehow back I was able to come, but if it was all the first day, I may have been at a loss.
 低料金とロケーションが気に入っていたのですが、今後は多少高くてもクチコミ情報をもっと参考に安心して参加出来るところへ申し込もうと思います。
 あと、駐車場有りなので、便利ではありますが、駐車料金300円を徴収するのでしたら、HPのアクセス欄に目立つよう、明記しておいて欲しいです。人によっては開始前にそんなことでトラブルにもなりかねませんから。
 予約を入れて2ヶ月間、山中湖のアクティビティショップにも顔なじみが出来るかもと、とても楽しみにしていただけに残念でなりません。
 どなたか関東近郊の湖で一見さんにも懇切丁寧な指導をしてくれるようなところがあれば、紹介して下さい。
Description​ ​
SUP, which is showing signs of the epidemic. Let's go out to the lake walk standing on top of the high buoyant surfboard When you receive a polite lesson!
SUP experience in an environment overlooking the Mount Fuji!
Standing on a dedicated board with a larger than surfboards sense of stability, we will go rowing a paddle. Mount Fuji views, please come and enjoy the time that flows under mild lake!
Guests can also enjoy beginners!
Since I carefully guidance from riding and posture of the board, please do not worry! So you can participate from the elementary school, you can enjoy with your family.
Inclusive rental fee!
The basic equipment needed for SUP experience, are available to rent at all free. On top of the swimsuit wear, please come with a towel and sandals!
Information
Minimum number of people
1 person
Number of people who can book
1 to 10 people
Schedule
Early April - mid-November
Assemble time
7:00より日没まで90分間の体験となります。
※ I will fill in the time zone of your choice to third choice.
Assemble point
Yamanashi Prefecture Minamitsuru-gun Yamanakako-mura plains 1915
Reservation deadline
The day before, until 5 PM
Regarding advance preparation
| | |
| --- | --- |
| About clothings and must-bring items | Swimsuit (Please come on top of the wear), towel, sandals |
| About rental items | SUP equipment set, life jackets will lend you for free. |
Facility information
Changing room
toilet
shower
Hot spring
Locker
Hairdryer
Parking Lot
convenience store
Supermarket
Access and map
Location
Yamanashi Prefecture Minamitsuru-gun Yamanakako-mura plains 1915
How to reach by car
From Chuo Expressway Otsuki JCT, via the Kawaguchiko IC to east Fuji Five Lakes road Yamanakako IC.
Turn right at the intersection in front plain toward the plain direction. Turn right out to the lake.
How to reach by train
After Otsuki Station and get off at Chuo Line from Shinjuku Station, to Fujiyoshida Station Fuji Kyuko line. Yamanaka after alighting from the bus terminal, 5 minutes by taxi.
People who come by other means
Shinjuku Station, Yamanaka after getting off from Tokyo Station, a 5-minute taxi ride.
---
Price
Basic charge
| | |
| --- | --- |
| Adult / per person 3,500yen | 16 years old - |
| Child / per person 3,500yen | 6-year-old to 15-year-old (or more elementary school students) |
※Prices including all taxes.
※The above is the basic charge.
※Prices may vary depending on the schedule, so please see the price list displayed after selecting the schedule.
| | |
| --- | --- |
| Included in price | Experience fee, SUP equipment rental fee, consumption tax |
| Those not included in the price | ウェットスーツを着用される場合 別途1,000円(任意) 施設使用料 別途500円(必須) |
---
About payment / cancellation
About payment
Cash payment on site
Payment method
The payment method specified by the operator.
About cancellation fee
If there is a cancellation or change of reservation, please immediately contact us by telephone.
For cancellation rates in customer convenience, we have determined as follows.

On the day: 100% of the fee
Cancellation by operators.
Although not a stop in some of the rain, in the case of bad weather the typhoon, etc. will be departs not.
If you are concerned about the weather, please contact the day before the evening.
Everyone's experiences
Even beginners OK? SUP Experience School
I was hoping for the lowest price in the Kanto suburbs and I was hoping that SUP would be able to learn in Yamanakako, but just like a person who previously wrote a review, there was only a few lectures on land alone for a few minutes . "Is that what I was applying for board rental? I am a participant but can not receive advice on the lake? Well, do you leave alone?" While asking yourself, there is no leash code, and it goes to the lake alone by himself The situation. Previously, thanks to participating in a friendly polite school in Tochigi Prefecture, I was learning how to re-boat when falling down, the direction of the wind, the flow of waves, so I never dropped, somehow back I was able to come, but if it was all the first day, I may have been at a loss.
 低料金とロケーションが気に入っていたのですが、今後は多少高くてもクチコミ情報をもっと参考に安心して参加出来るところへ申し込もうと思います。
 あと、駐車場有りなので、便利ではありますが、駐車料金300円を徴収するのでしたら、HPのアクセス欄に目立つよう、明記しておいて欲しいです。人によっては開始前にそんなことでトラブルにもなりかねませんから。
 予約を入れて2ヶ月間、山中湖のアクティビティショップにも顔なじみが出来るかもと、とても楽しみにしていただけに残念でなりません。
 どなたか関東近郊の湖で一見さんにも懇切丁寧な指導をしてくれるようなところがあれば、紹介して下さい。
Participation date: September, 2017
Stand Up Paddle Board (SUP)
Experience 90 minutes, first 5 minutes explanation of how to use
The initial explanation is short enough to be surprised.
Only how to carry the board, the position to stand, and the basic way of rowing.

I will not tell you how to cope when I fell from the board, but when I lost my board or paddle I can not afford leashes,
If you are experiencing SUP for the first time, you may find it difficult to understand how to change direction and fall back to the board.
After the first explanation is over, after playing freely, I thought that it is safer to listen beforehand because it's style.

There was no other purpose and I only dropped in the direction I liked.
The weather was nice and comfortable, but I wanted you to tell me sight of the area around the lake.
Perhaps I should have heard it in advance, but unfortunately there is no repeat.
Joined date: August 2017
Stand Up Paddle Board (SUP)
Couple
family
And friends
alone
SUP at the lake was the first time, but I was able to spend it relaxed very much!
Sometimes a wave of a small ship comes, but even a beginner enjoyed it!
The weather on the day we went was cloudy but I thought it would be more pleasant if it was sunny!
Joined date: July 2017
Stand Up Paddle Board (SUP)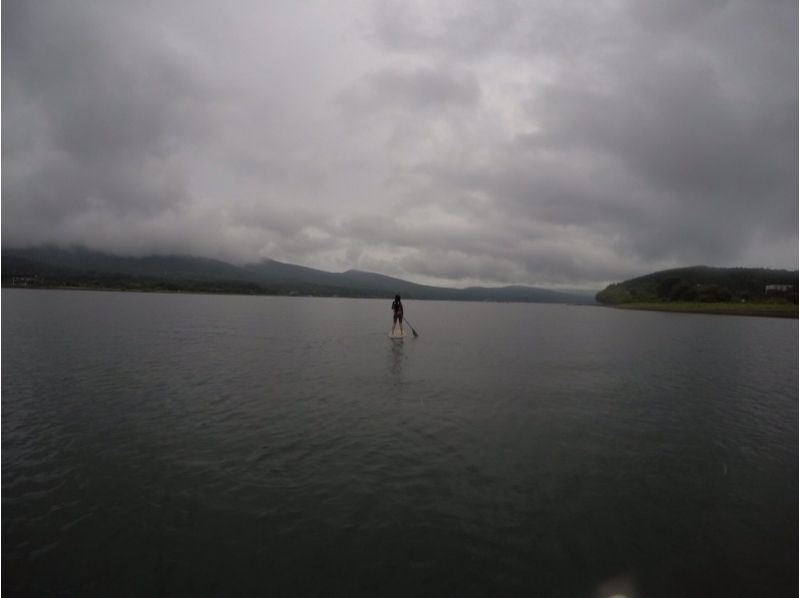 And friends
Stress relief
(3件の体験談)
Included in price
Experience fee, SUP equipment rental fee, consumption tax
When you book this plan 32 pt I will save it!
| | |
| --- | --- |
| | Starting time |
| | Participating age6 years old ~ |
| | Time required 1-2 hours |
| | ScheduleEarly April - mid-November |
| | Assemble point Look in GoogleMap |