Must-see for beginners! Explanation of equipment for mountain stream fishing (tools, clothes, baits, etc.)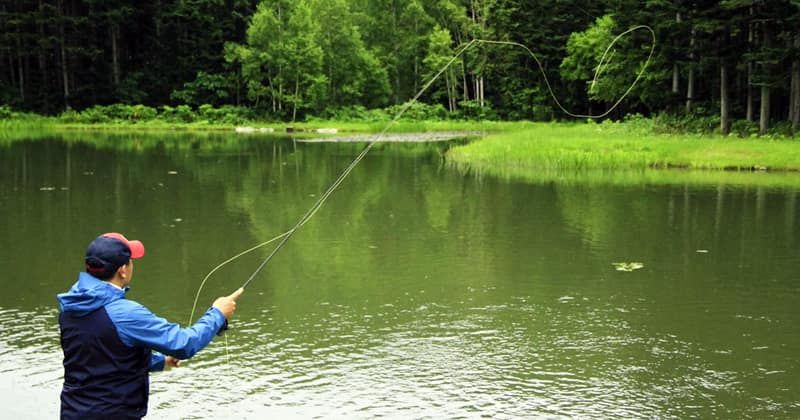 Not only can you catch mountain stream fish such as yamame trout, char and rainbow trout, you can also enjoy the beautiful surroundings Mountain stream fishing..
For beginners, we will introduce the basics of mountain stream fishing such as necessary tools, gimmicks, clothes, and fishing season.
If you have difficulty getting the tools from scratch, we also recommend taking a guided tour for beginners.
What is mountain stream fishing? Its charm

Mountain stream fishing Is Fishing upstream of rivers, in area called mountain streams Refers to.
In mountain stream fishing, Char Or Yamame Not only the pleasure of fishing mountain stream fish, but also the greenery of lush trees, the murmuring of rivers, and the chirping of wild birds. The merit of being able to fully enjoy beautiful nature there is.
This time for beginners, Introducing the types of fish that can be caught, the time when mountain stream fishing is possible, and the necessary equipment To do.
Although it is a mountain stream fishing with a strong image of advanced fishing, if you equip it with equipment, you can safely enjoy fishing.
Near Year in, the equipment and outfit Rental can Mountain stream fishing guided tour Is being held in various places. If you would like to try mountain stream fishing once in a while, Participation in guided tours is also recommended is.
What kind of fish can you catch?

Speaking of the best part of mountain stream fishing, Fish that live only in the clear mountain stream is.
A mountain stream fish that looks beautiful and is delicious to eat Is an attraction that attracts anglers. Here are some of the fish you can catch.
Yamame

alias· With the queen of the mountain stream Yamame is also called. It is about 20 cm long and fits in the palm of a human hand. The surface of the body is silver, with a slight redness I am worried. there, Oval yen are aligned gray spots form Is the feature.
Bait fishing Besides, Lure fishing, Using a pseudo bait called fly Fly fishing You can fish at Habitat, Hokkaido, in Honshu Kanagawa Prefecture, Yamaguchi Prefecture, north, Kyushu in Oita Prefecture, Miyazaki except for the Prefecture area.
The yamame trout I caught is In addition to grilled salt, fried and pickled It is eaten as.
Char (Ezo char / Yamato char / Gogi / Nikko char)
Char, like yamame trout, is a fish about 20 cm long. White spots scattered on the gray body Is characteristic, Ezo char, Yamatoiwa, Gogi, Four subspecies of Nikkouiwana It is said that there is.
Ezo Iwana inhabits from Hokkaido to Chiba, Yamato Iwana from Kanagawa to the Kii Peninsula, Gogi from Shimane to Okayama and Hiroshima, and Nikkouiwana from Tohoku to Yamanashi to Tottori.
Chars are usually Inhabits the mountain stream upstream of yamame Therefore, when aiming for chars in mountain stream fishing, it is necessary to aim further upstream than the habitat of yamame trout.
Bait, lure, fly, tenkara I will catch it.
The char I caught is Grilled with salt, deep-fried In addition to eating at sashimi There is also a case. However, since river fish may have parasites, It is better to eat sashimi prepared at a specialty store instead of cooking it yourself. Would be
Amago
Amago is in the Seto Inland Sea, Shikoku, Oita Prefecture, Miyazaki Prefecture, etc. Mountain stream fish mainly in western Japan is. 30-50 cm The body of silver, gray oval yen lined with spots of shape, smaller spots of orange and red Are scattered.
Bait fishing, lure fishing, fly fishing, tenkara fishing And catch, Grilled salt, boiled sweet dew, sashimi It is eaten in.
Rainbow trout

Rainbow trout Salmonid native to North America.. In Japan, it was released for food in the Meiji era, and now Japan Mountain streams You can check it at. It is also popular as a farmed fish.
The length is about 40 cm. Silver body with black spots and crimson lines Is a feature.
Bait fishing, fly, lure, tenkara And so on, Salt grilled and fried, Meuniere, smoked and sashimi It will be cooked and eaten.
Sakura trout (fishing prohibited in Hokkaido)

Cherry salmon Yamame born in the river went down to the sea and returned to the river Refers to. Body length is as large as 30-60 cm, The body is silver. No big gray spots on yamame..
Cherry salmon fishing From Akita to Tottori. is. To protect cherry salmon, Hokkaido river bans cherry salmon fishing entirely Please note that it has been.
Mainly in fishing Lure Is used, Grilled salt, Meuniere, Fry Will be eaten at. For parasite control Frozen and then sashimi There are also cases.
Consider catch & release
Near Year in, Population of mountain stream fish such as yamame, char and amago decreases Because I am doing Actively catch and release Some anglers do it. Especially Mostly for lure fishing It seems.
If you catch too much, consider catching and releasing.
When is mountain stream fishing possible?

When fishing in rivers, depending on the type of fish, There is a good fishing period and a hunting period You may.
Crucian carp, kamatsuka, carp In most cases the Kawagyo number of individuals with many living in the downstream of the river, such as, rather than the provisions of the catch which may be period, 1 Year you can in fishing (in the case of some of the rivers, or the period which also fished in crucian carp and carp Is provided).
But, Mountain stream fish such as char and trout In case of fishing to protect its ecology The ban period has been set..
The ban period also varies depending on the region and river. Japan ban period is roughly as less It looks like.
For details on the ban period of rivers for mountain stream fishing, see "Japan Federation of Surface Fisheries Cooperatives Please visit the website. In mountain stream fishing, To protect the precious resources of the mountain stream, it is good manner to keep the ban period open. is.
If you want to catch char or trout outside of the ban period, Management fishing ground Enjoy fishing at
The management fishing spot is A fish is released by making an enclosure with stones on a pond or river of the population. So, you can fishing in 1 Year. Because it is often safer and easier to access than mountain streams, Female and children can also enjoy..
How to go mountain stream fishing? (Bait, lure, fly, tenkara fishing, etc.)

In mountain stream fishing, Bait fishing Or Lure fishing, Using a pseudo bait called fly Fly fishing, Tenkara fishing Method is used. this house, Bait fishing is recommended for beginners is.
Bait fishing
Inhabit the river Larvae (riverworms) such as mayfly, stiletto, and lizard Or salmon roe It is a method of using bait.
Because it uses food, the fish bites well and does not require special techniques. Char and yamame You can catch most mountain stream fish..
Lure fishing
It is a method using a lure. The lure was roughly divided and imitated a small fish. Minnow, Streamlined spoon, With a blade on the tip 3 types of spinner, Char, yamame trout, rainbow trout, etc. Most stream fish and cherry salmon You can fish
Unlike bait fishing Recommended for intermediate-advanced users as it requires tips is.
Fly fishing
River fish eat by the method of fishing originated in Europe and America Insect-like hair needle (fly) Is used.
Because the fly is very light, Fly fishing rod, reel and thread are required. is. Most mountain stream fish You can fish
Tenkara fishing
Tenkara fishing uses the same needles as fly fishing, It is different because it does not use reels.. The tricks are a needle, a rod, and a thread. The rod is for Tenkara only Is used.
It is a method that has been used in Japan for a long time, and it is said that the needle is simpler and better than the fly. Compatible with most mountain stream fish I can do it.
What equipment do you need for your first mountain stream fishing? (Waders, belts, gimmicks, etc.)

Mountain stream fishing sometimes enters the river and waits for fish. In addition to devices such as rods and baits, prevent body temperature from being taken away in underwater Waterproof clothing (wader) Or even on mossy river stones Non-slip shoes (wading shoes) For keeping luggage around your waist belt Equipment such as is important. less, A brief introduction to the essential equipment To do.
Wader
Waterproof wear that covers everything from the chest to the feet is.
Boots at the feet That is Stocking type There is one. Stocking type is separately Wading shoes I wear it in combination with river shoes called.
Waders and wading shoes with integrated boots The shoe sole is made of felt, etc. It has become.
Belts/wading belts
Required underwater To prevent the equipment from being washed away, And as much as possible To keep both hands open Also, we recommend using a wading belt. It is useful because you can hook rods, nets, drink bottles, etc.
The body is only a belt, A type that adds a pouch, a plastic bottle holder, etc. by yourself Or all of them Integrated wading belt Are sold. Prices range from 1,500 to 10,000 yen.
Devices (rods and baits)
Such as bait fishing and lure fishing Required equipment varies depending on the fishing method.. In bait fishing, A rod, reel, fishing line, weight, float, needle, bait around 6-8m Prepare.
A set of devices other than bait is `` Mountain stream fishing introductory set Is sold at fishing tackle stores. The price is around 20,000 yen. If you would like to choose each rod or reel by yourself, please consult the staff at the fishing tackle shop.
At a fishing tackle store near the mountain stream, Mountain stream fishing guided tour for beginners There are also places that are holding. Sometimes you can rent out the necessary equipment, so Worried about preparing equipment from scratch", Take a guided tour Would be
Don't forget to buy a recreational fishing ticket

When fishing mountain stream fish such as yamame trout and char in the mountain stream fishing, You are obliged to purchase a "playing fishing ticket" issued by a local fishery cooperative. (Some rivers do not require recreational fishing tickets).
A free fishing ticket is valid for 1 day. Day fishing ticket Is valid for a specified period of time Year tickets There are two types, which can be purchased in advance at a fishing tackle shop or a convenience store near the river.
In the recreation fishing ticket, The fish that can be caught is set there is.
For example, there are recreational fishing tickets that allow you to catch two types of trout and char, and recreational tickets that allow you to catch only cherry salmon. Especially, Cherry salmon Because of its rarity A recreational fishing ticket and a ban period are separate from other mountain stream fish It has become.
Therefore, if you want to fish three types of trout, char, and salmon trout, please purchase a total of two, one for both trout and char, and one for trout.
Day fishing tickets are 500 to 3,000 yen before and after, Year ticket is 2,000 to 15,000 yen and more, depends on the fish that region Ya fish. In the case of cherry salmon, the Year ticket can be about 30,000 yen.
For those who are new to mountain stream fishing from now on, all the guides, equipment, recreational fishing tickets to the mountain stream are included. Mountain stream fishing guided tour Let's participate in
While the guide considers the safety of participants, It will teach you about fishing in the mountain stream.. In the next section, Guided tour introduction To do.
Recommended plan for beginners

Mountain stream fishing guided tour from Hokkaido to Kyushu Held all over Japan It has been. In many cases, you can Rental set of equipment necessary for mountain stream fishing such as tackles and waders, It is attractive to be able to participate empty-handed..
Since the guide will avoid dangerous points and guide you to a safe fishing spot, Female and children can participate with peace of mind.. The price starts from 3,000 yen in half-day.
In the guided tour, Mainly bait fishing is. The fish you can catch is Yamame Or Char, Rainbow trout Such. How to fish and what to do when you can't Guide carefully lecture Even beginners can enjoy fishing without hesitation. There is also a place that grills the fish you catch on the spot.
Besides what you actually do in the mountain stream, Management fishing ground You can also Rental fishing equipment at and have a fishing experience.
No guide Although there are many cases, since fish are released to the management fishing ground, Merit of relatively easy fishing there is.
The fish released are Rainbow trout Or Yamame Such. Miyagi Prefecture A managed fishing ground that releases cherry salmon There is also (Sakura trout is catch & release in principle). The price starts from 2,000 yen.
If you want to try mountain stream fishing yourself Fully equipped, For those who say, "From the experience first," a guided tour Then, please enjoy fishing. The feeling of elation when the fish is caught and the time spent in the beautiful nature should surely be a good experience.