What are the recommended outfits for boat fishing, sea fishing, and mountain stream fishing? By fishing type ・ Wear and belongings guide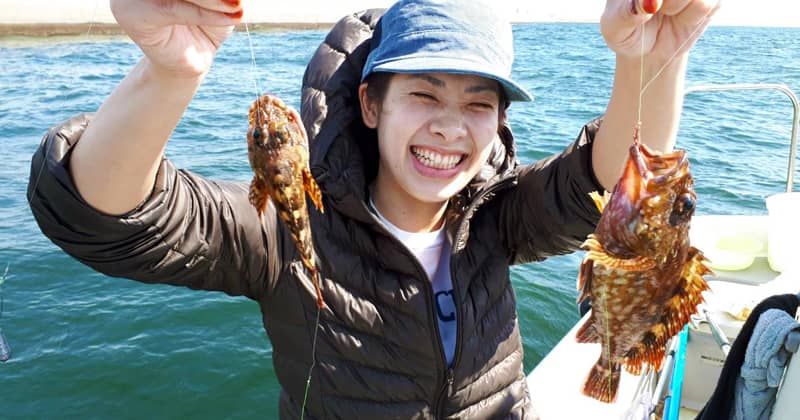 Activity Japan editorial department
For beginners who want to enjoy fishing from now on Boat fishing, sea fishing , Mountain stream fishing , Smelt fishing We will introduce clothes suitable for each situation and season.
Different types of fishing (sea fishing, boat fishing, mountain stream fishing, etc.)

When it comes to fishing, some people may have the image of having an expensive fishing paddle and enjoying it as a hobby for older men. However, recently, affordable fishing equipment has also appeared. Beginners and women can easily get started .. Not only the beautiful view of the sea and mountain streams, but also the time it takes to catch the fish and the feeling of exhilaration when the fish are caught are fun activities that you will want to try again once you start fishing.
There are various types of fishing in a word. Sea fishing in the sea To Coastal fishing on the coast, breakwater fishing on the breakwater, boat fishing off the coast And so on. Fishing in rivers and lakes Is Mountain stream fishing, dam lake fishing, lake water fishing Such. others, Perform on a frozen lake surface in winter Smelt fishing And so on.
Clothes suitable for each fishing and tools to prepare And so on. Get ready and enjoy safe and comfortable fishing!
What clothes and belongings are suitable for each fishing?

In the previous section, I mentioned that there are various situations in fishing. There are clothes and belongings suitable for each, What you want to have in common regardless of which fishing you are fishing There is also. Sunglasses and hats, wet wipes and drinks, garbage bags, towels, coolers, etc. is.
sunglasses
Sunglasses have the meaning of preventing reflections from the surface of the sea or lake, but they are also important to prevent accidents where the hook is accidentally caught in the eyes. Prepare large sunglasses that can protect your eyes firmly Let's do it. Deflection glass stuff Reflects on the surface of the water Recommended because it can cut dazzling sunlight is.
hat
A hat is essential to protect against the cold in winter as it blocks the sun in summer. A cap and a wide-brimmed hat are available in the summer, and a knit hat is available in the winter. Let's keep it. Caps and hats with brims can be blown away by the wind. Strings and hat clips Please be sure to put on.
Wet wipes and drinks
Wet wipes Clean your hands that are easily soiled Will do it. In sea fishing, there are no shades of trees, and there are scenes where you fish while the sun is shining. You may be dehydrated without noticing it, so be sure to prepare enough water from a pet bottle. Don't forget to rehydrate frequently Let's do it.
Trash bags
To bring back trash such as lunch boxes It is convenient to have several vinyl trash bags ready ..
towel
Towels should be used when your feet or hands get wet with seawater or river water. When wiping sweat and grabbing a fish I use it for. Prepare 3 or 4 face-wash size items It's a good idea to do it. At fishing tackle stores, make it easy to hang on a belt, etc. Fishing towel with metal fittings in the center Is also on sale.
Cooler box
A cooler box should be prepared to keep the fish you catch fresh. There are various sizes, Let's buy according to the type of fish you catch .. Usually on embankments and rivers When catching small fish, it is better to have a small size of less than 20L, when catching medium-sized fish such as red sea bream and flatfish by sea fishing, it is better to have a medium size of 20 to 39L, and when aiming for large fish by boat fishing, a large size of 40L or more is good. It has been with. For beginners and leisure travelers who want to enjoy fishing in the future Convenient to have one medium-sized cooler box is.
others
First aid kits such as adhesive plasters and antiseptic solutions With it, you can rest assured in case of emergency. The weather is volatile Raincoats are available in early summer and early autumn It's a good idea to do it.
What is the recommended outfit for sea fishing (breakwater fishing, beach fishing)?

The temperature on the beach is lower than that on the inland. Even if the weather forecast says it's comfortable and cheerful around 20 degrees Celsius Prepare a haori let's go. Sold on T-shirts and long sleeves at fishing tackle stores, sporting goods stores, outdoor equipment stores, etc. Windbreaker I will put on.
Trousers High-performance material that dries easily even when wet, and is recommended because it is easy to move and has a stretch function. .. Workwear / outdoor wear brand that is also supported by anglers "Workman" climbing pants Was originally developed for mountain climbing, but some people buy it for fishing because of its comfort. It is also sold for women, and the silhouette is smart, so if you want to be fashionable, why not check it out? Prepare sneakers that are easy to move at your feet let's do it.
summer

Light clothing such as shorts and short sleeves is OK in summer, Accidents such as a fishhook flying and getting injured or slipping are also possible. .. Do not expose your skin as much as possible It's a good idea to wear rush guards on your upper body and spats up to your ankles under your shorts. Probably.
Please bring sneakers and sandals that are easy to move at your feet. Sandals We recommend sports sandals that cover your toes and have good drainage. .. You can buy it at sporting goods stores and fishing tackle stores. other than this, Sunscreen and insect repellent Don't forget.
autumn

In autumn, even if the temperature is comfortable during the day, it can get cold suddenly. As in spring, prepare a haori let's do it.
Around October Nylon windbreaker in early autumn , Around November It is safe to bring waterproof winter clothes at the end of autumn is. Waterproof and winter clothing is sold at fishing tackle stores, sporting goods stores, outdoor stores, ski wear stores, and so on.
winter

In winter sea fishing, where the sea breeze often stays still at the beach, the sensible temperature drops more than you can imagine. A quick-drying and heat-retaining inner or undershirt is essential for the upper body .. Because it causes sweat to get cold It is safer to avoid cotton materials is.
After wearing the inner Fleece long sleeves and vest for middle layer And as a jacket, Wear a waterproof down jacket will do so. The bottom is Waterproof and cold trousers under, It's a good idea to wear spats that dry and moisturize like the inner. Probably.
If it gets wet, it will cause it to get cold from your feet, so in winter sea fishing Wearing winter boots is recommended is. Cover the sneak Long type Or up to the calf Middle cut , Up to the ankle High cut (short) There are types such as. High-cut boots are sufficient for beach fishing without the waves. Thick socks in the boots I will wear it.
To protect against the cold Knit hat, neck warmer, winter fishing gloves, and body warmers are also available It's a good idea to do it.
Recommended clothes for boat fishing. Life jacket is a must!

Boat fishing is basically the same as sea fishing clothes, According to the regulations of the Ministry of Land, Infrastructure, Transport and Tourism, it is obligatory to wear a life jacket on the ship. It is attached. Most fishing boats rent out for free, but lightweight and well-designed ones are sold at fishing tackle stores.

According to the Ministry of Land, Infrastructure, Transport and Tourism's life jacket regulations, Those with a buoyancy of 7.5 kg or more, those with a color that is easy to find such as orange, those with a whistle attached with a string , Etc., and these "Sakura mark" for those that have cleared the safety standards Is printed. by myself When purchasing, those with the cherry blossom mark Please choose.
In boat fishing, where the boat can get waves Boots are recommended instead of sneakers is. Deck boots Boots for boats called are sold at fishing tackle stores for around 3,000 to 6,000 yen, so it seems good to buy them. In the summer, sandals with good drainage are OK is. In winter, it's safe to have a hat or ear muff that hides your ears. .. It seems good to prepare multiple body warmers.
In addition, such as wallets and mobile phones Waterproof bag to store your belongings And those who are prone to seasickness Preparations such as anti-sickness Let's do it.
Recommended clothes for river fishing and mountain stream fishing

In river fishing and mountain stream fishing, where you may go into the river and wait for fish to catch Wader, a bodice with integrated trousers and boots With, you can enjoy fishing without getting wet. If you just want to fish on the riverbank or in shallow water without going underwater, don't use a wader. Only shoes that are not slippery and easy to move are fine is.
About the type of wader
Cover your chest with a wader Chest high type , Waist length West high type , Covers up to the thighs 3 types of hip type there is. The hip type is used in shallow rivers with deep water. Of these, the West High Wader is said to be the easiest to prevent the ingress of water. Beginners should prepare this one Probably. The price is around 10,000 to 20,000 yen, and it is sold at fishing tackle shops, outdoor shops, and "Workman". You may be able to rent a wader at a fishing tackle store near the mountain stream. The rental fee is about 2,000 to 5,000 yen.
The material of the wader is "comfortable and highly heat-retaining like a wet suit." Neoprene "or" Chloroprene , A breathable breathable material that is waterproof but drains moisture such as sweat. Gore-tex "or" Breath shade , A durable nylon that is not breathable PVC "And so on. Neoprene and chloroprene are winter fishing To Gore-Tex and Breath Shade are recommended in the summer is. PVC is cheap and easy to get, but it can feel a little hot in the summer because it doesn't have the ability to drain sweat. However, you don't have to worry about it because the sensible temperature is lower than in urban areas such as mountain streams.
About boots
The feet of the wader are usually boot-shaped, and separately No need to have boots for mountain streams .. But, Stocking type In the type that completely covers the toes like stockings, Need to prepare boots for mountain stream is. Generally, stockings are easier to walk on.
Boots integrated with waders, or boots for mountain streams, have large soles Felt sole Or Radial sole It is divided into crabs. On the felt sole Non-slip even in wet rocks and sphagnum moss There is a feature. For mountain stream fishing, it is recommended to use felt sole is. On the other hand, the radial sole is made of rubber and has a groove on the sole to make it non-slip. It is often used in fishing shoes. Although it is easy to walk on land, it is slippery in rocky areas and mountain streams, so It is better to refrain from mountain stream fishing Probably.
Besides felt and radial, I hit the felt with spikes Felt spike sole There is also. More grip than felt, Less slippery on rocks and underwater It has been with. Waders and shoes with felt sole boots are sufficient for first-time mountain stream fishing, but felt spikes may be considered for those who are particular about their equipment.
Spring - Summer

In the wader in spring and summer, Quick-drying shirts and stretch pants And so on. T-shirts are fine in midsummer, but to prevent sunburn, Arm covers available for both men and women please. It seems that some anglers use a rash guard and a T-shirt to prevent sunburn.
Women instead of pants Combination of leggings and shorts is also possible .. Instead of long pants in midsummer Half pants You may wear. Please adjust according to the temperature of the day.
Pants made of materials such as denim and cargo pants that tend to be stiff in the wader and also absorb water and become heavy are NG. Thin and stretchy, jogger pants etc. are recommended .. If you are worried about getting wet, under the wader Summer wading jacket You may wear it. It is made of a thin fabric that is waterproof and water repellent, and can be worn with a wader to prevent it from getting wet. other than this, Hats and insect repellent Let's prepare such as.
Fall - Winter
Mountain streams in the mountains can get cold suddenly. The upper body Wear a quick-drying inner, long-sleeved cut-and-sew, and compact down if it's cold. will do so. further, Winter wading jacket If you wear it, it will not only be waterproof but also warm. For bottoms Stretchy pants Is safe. In addition, depending on the temperature, Neck warmers, ear warmers, fishing gloves, body warmers, etc. are available To do.
Recommended clothes for lake fishing
Also in the case of lake fishing Mountain stream fishing and clothes are the same is. Wearing a wader Let's face it. If you don't go too deep in the water Felt sole fishing boots instead of waders But it's okay.
Recommended clothes for smelt fishing

Smelt fishing Season October to March Over. Smelt fishing has a strong image of hole fishing that is done by making holes in the ice on the frozen lake surface, but in reality Fishing is possible even on non-frozen lake surfaces .. Dome ship You can fish inside the boat, which is completely covered with glass up to the top of the boat. Hole fishing that is done by making a hole in the ice on the frozen lake surface After January, it can be held after the ice is thick enough Will be.
Clothes suitable for dome boats and hole fishing Let's check.
Dome ship

Normal, The dome ship is heated .. You don't have to wear heavy equipment like sea fishing, Easy-to-move and comfortable clothes on board Let's face it.
When fishing on a dome boat, you don't have to buy clothes from fishing tackle stores or outdoor stores. Functional clothing from a regular clothing store is sufficient is. In particular, Clothes that are easy to regulate body temperature, such as long-sleeved cut-and-sew and haori It looks good to leave it. The bottoms can be stretch pants or denim. Shoes Sneakers are OK .. It's a good idea to have a hat, as it can be exposed to sunlight. You don't need warm gloves.
However, fishing spots with dome boats are located in places such as Lake Sagami and Lake Yamanaka that are colder than in the city center. Don't feel cold on the way Cold protection measures for down jackets and hats Don't forget. It seems good to prepare a few body warmers.
Hole fishing
Unlike dome boats, hole fishing on ice is I want to take strict measures against the cold thing. Keep out the cold, wet, and wind Ski wear is eligible is.
Upper body Long-sleeved cut-and-sew on a moisture-absorbing and heat-retaining inner , And try to wear ski wear. Bottoms Tights, leggings, or stretch pants Wear the bottom of the ski suit from above.
If you don't have ski wear Sufficient layering on both top and bottom please do. Wear a sweatshirt or fleece on a long-sleeved cut-and-sew with a highly moisture-absorbing and heat-retaining inner. Outerwear such as down jackets that are easy to move I will put on. If you use a down jacket, it is better to have a highly waterproof one.
At your feet Thick socks and boots are recommended .. Boots should be long enough to hide under your knees and have a tight mouth. You can prevent chills from entering. At fishing tackle stores near the fishing spot, you may be able to rent it with a rod for fishing smelt. Outdoor specialty stores and fishing tackle stores sell winter shoes for around 2,000 to 5,000 yen.
others, Prepare knit hats, hats or ear muffs that hide up to your ears, neck warmers, gloves, body warmers, etc. To do.
Set up a tent on the ice and fish for smelt Tent fishing In the case of, the wind will not blow extremely, but since it is still done on ice, Basically, wear the same clothes as hole fishing, and take measures against the cold. Let's do it.
Finally, fishing gear such as rods and baits may be rented at stores near the sea or mountain streams, but it is safe to bring your own shoes and clothing. Especially shoes may not be available in the store on the day of the event. Equip yourself with the equipment you need and enjoy fishing.