What equipment is needed for beginners in river fishing? Introducing necessary tools, devices and baits in an easy-to-understand manner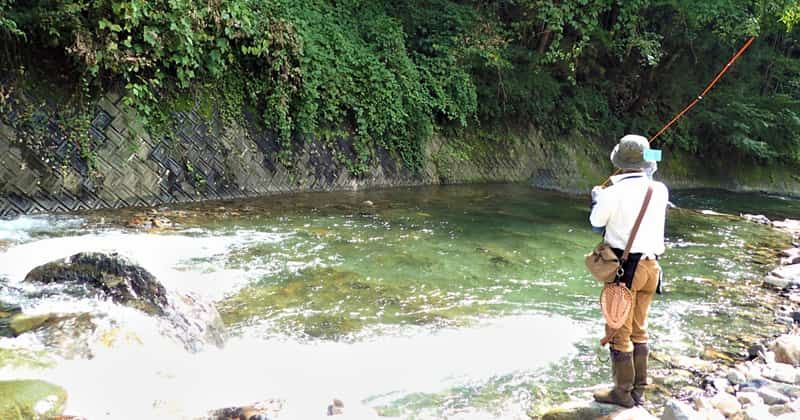 Even when it comes to river fishing, the fish that can be caught differs between the upstream and the downstream, and the required equipment also differs. We will introduce the contents that beginners want to know such as river fishing, fish that can be caught, necessary tools and devices, fish that can be caught and the optimal time, mainly in the middle to downstream.
What is river fishing? Its charm

River fishing Is a generic term for freshwater fishing from upstream to downstream of the river and near the mouth of the river. Of these, what is done upstream Mountain stream fishing Is called. The shape and water temperature of the river itself differ from upstream to middle and downstream, and the fish that inhabit it also differ.
Perform in a mountain stream in the mountains Mountain stream fishing Is Yamame Or Char Not only can you catch delicious fish from the salmonidae, but you can also enjoy the scenery of the trees and the beautiful river flow.
on the other hand, Middle to downstream It is home to a wide variety of fish and freshwater shrimp. In this area, Different types of fish In addition to fishing, compared to mountain streams Enjoy fishing with simple equipment Is the point. The feature is that even families with children and Female who are new to river fishing can easily try.
here, Introducing the timing of river fishing, types of fish that can be caught, necessary equipment, etc. To do.
What time is recommended for river fishing?
River fishing is roughly divided into Things to do in rivers When, Things to do at the managed fishing ground (area trout) There are two types.
Be careful of the ban period when fishing on rivers (other than managed fishing grounds)

Fishing in the river is done upstream of the river Mountain stream fishing Or downstream River fishing And so on.
on the other hand, Fishing at the managed fishing ground Is a part of a natural river separated by river stones Place where fish were released Or make a pond by the river Fishing done by pulling water from the river and releasing the fish Pointing to.
For fishing conducted in rivers other than the management fishing grounds, there are periods during which fishing can be performed and fish that can be caught for the safety of people and the protection of fish. Typically, The mountain stream is banned around March until the end of September You can fish for sweetfish and char.
In the mountain stream From Oct. until February, the fishing season is closed It is said that fishing is prohibited.
In the downstream, ayu and rainbow trout, except fish fishing ban period, such as trout are provided, 1 Year there is also a river that can in fishing.
The fishing ban date is Japan Federation of Surface Fisheries Cooperatives "In can be confirmed. The fishing period varies depending on the region and river Therefore, if you want to go mountain stream fishing, please check in advance.
Management fishing (1 Year possible in)

On the other hand, fishing at the management fishing spot, 1 Year almost a place to perform in is.
Some people enjoy mountain stream fishing during the March-September period when the fishing of yamame trout and chars is removed from the natural rivers, and enjoy fishing at the managed fishing grounds and fishing river fish other than yamame trout and chars downstream in the prohibited fishing period.
How to river fishing? (Bait fishing, snow fishing, lures, etc.)
In a word River fishing However, the range is wide, such as upstream, midstream, and downstream, and the ecology of fish varies from basin to basin. Therefore fishing It is necessary to do it according to the basin and fish there is.
There are two main methods for river fishing. Use food such as insects Bait fishing (bow fishing)", use a tool that mimics the food of a fish such as a lure. Lure fishing "is.
Above all Recommended for beginners And from upstream to downstream Fishing in most basins Is Bait fishing is.
Bait fishing and its baits recommended for beginners
Bait fishing is literally Fishing method using fish's favorite bait is. Of the bait fishing, the one that attaches a bow to the thread and makes it a mark Snow fishing "It's called.
Food fishing is performed in a wide range from upstream to downstream, A wide range of anglers can enjoy from beginners to advanced players Is the point. In the bait Live bait Or Bait to death, Kneading food, Powder feed You can buy it at a fishing tackle shop.
Among them, in the middle-stream to downstream river fishing Easy to fish Is said to be Live bait However, if you are not good at Food for death (mainly salmon roe) Should be utilized.
Live bait
Live baits include red worms, earthworms, willow worms, grape worms, sardines and pupae. Live river worm Refers to.
There are various kinds, but about 30 are sold for about 300 to 1000 yen.
Some people find the worms on the back of the stones in the river and use it directly as bait.
Bait to death
Death bait is salmon roe and silkworm pupa.
When fishing for char, yamame trout, rainbow trout salmon roe, Carp fishing Pupa Is often used.
Mixed bait (mixed food)
Kneaded bait is made by mixing ingredients such as sweet potatoes and flour with fish's favorite ingredients.
For bringing fish Sprinkled bait Or just attach it to the fishhook" Bait It is used as ".
Powdered bait
Powdered bait is made of silkworm pupa in powder form.
Mainly for intermediate-advanced river fishing people who make their own dough in order to increase the bite of the fish, Use the powdered bait in addition to the kneaded bait..
Lure fishing (for intermediate to For advanced level people)

Lure fishing is mainly How to fish with medium to large fish that feed on fish is.
Upstream, Yamame, Amago, Char Such as Trout The trout called "," black bus Or Bluegill, catfish You can fish, etc.
Unlike bait fishing, lure fishing cannot catch fish because of the smell of bait. Understand the ecology of fish and throw a lure at a point that seems to be fishy This method is recommended for those who want to enjoy such ideas.
What kind of fish can you catch?
Upstream (mountain stream, other than managed fishing grounds): fishes and time

In the upper stream of the river, in the mountain stream where you can enjoy natural scenery such as trees and rocks in the river Natural yamame trout, Char, Amago Such fish live.
These fish 1 in midstream Year we are living in, but can the fishing Only during March-September when mountain stream fishing is lifted is.
The fish I caught are mainly Grilled with salt Is eaten by. In some Region, fresh yamame trout is sometimes used for sashimi or sushi, but since there may be parasites, You should avoid raw eating Would be
Those who want to enjoy fishing outside the period, let go of yamame trout and char Management fishing ground Let's use
Please see the less articles about the fishes that can be caught by mountain stream fishing.
Middle to downstream
Unlike mountain streams in the mountains, in the middle to downstream, where people can access relatively easily, A rich variety of fish inhabit doing.
Motsugo Or Goby, Kamatsuka, Fluffy From the size of the larva that fits in the palm of Sweetfish, Kawamutu, Heravuna, Oikawa, Japanese dace Various medium-sized fish with a length of 15 to 30 cm. eel Also lives in this area. Besides fish, Tenaga shrimp fishing Is also popular.
River fishing from the middle stream to the downstream can be enjoyed with relatively simple equipment, Recommended for beginners.. But be aware that unlike mountain stream and sea fishing, you can't eat the fish you catch.
Freshwater fish that live in the middle to lower reaches feed on moss and insects on the river bottom. Higher risk of parasites than sea fish, I don't recommend raw colors.. In addition, since the mud smell does not come off even if heated, the fish caught Release or keep for ornamental use It will be.
Some small fish such as Japanese dace can be edible if boiled in Kanro. You can also fried prawns.
What kind of recreational fishing ticket do you need for fishing?

Things to remember when fishing in the river "Play fishing ticket" there is.
You can enjoy fishing even if you do not have special permission, except in places where "fishing is prohibited" in sea fishing. However, in river fishing Most of the time you have to buy a Ticket called "play fishing ticket" is. Some rivers do not require recreational fishing tickets.
Unlike the sea, the recreational fishing ticket is a system established for the purpose of protecting the local fishery because the number of river fish is limited, and the revenue is released by the people of the local fishery cooperative and Used for river maintenance.
A free fishing ticket is valid for 1 day. Day fishing ticket "Is valid for a fixed period such as the fishing ban period. Year tickets There are two types. You can purchase it at a fishing tackle shop or a convenience store near the river. The price depends on the river and the type of fish you fish. Day fishing tickets range from 100 to 2,000 yen, and Year tickets range from 2,000 to 15,000 yen. There are also regulations regarding fishing methods.
If you don't know if you need fishing rights in the river you are fishing in, Japan Federation of Surface Fisheries Cooperatives Please check the website of the municipalities/fisheries cooperatives that have rivers.
Also, it is safe because you can leave all plans prepared for beginners to river fishing to the guide.
What is required for the first river fishing (middle to downstream)?

Clothes
Midstream to downstream fishing is better than mountain stream fishing Relatively easy equipment You can enjoy it at.
If you wait for a hit from the riverbank or embankment without entering the river, If you wear easy-to-move clothes and take measures against sunburn such as hats and arm covers is. You don't need underwater clothing like the wader used in underwater mountain stream fishing.
Vests for fishing (fishing vests) and waterproof pouches (fishing bags) are also on sale, so if you are interested, you may want to bring them together.
If you don't go in the river, you can wear shoes such as sneakers that won't slip. If you walk in the underwater, Wading shoes suitable for walking in the river with soles of felt Please prepare.
River fishing is an Activity performed near the water. Be aware that it may be dangerous And make the necessary preparations.
tool

For midstream to downstream fishing, Rod and device, feed, Eggs and jade, Landing net A net for capturing the caught fish, called a fish Bucket and cooler box It is good to have.
There are tensions, weights, snowflakes, threads, etc. in the tackle, but these are "River fishing tackle set It is priced at 300 yen and up.
The pole Shorter than sea fishing So, in general 4-6m The one of about the length is used. If you do not know which rod to use, tell the kind of fish you want to fish at the fishing tackle shop and the location of the river (area such as middle to downstream) and consult with the staff and they will tell you the right one.
For the equipment required for mountain stream fishing, see the less articles.
We also recommend a plan where you can Rental tools for beginners

If you are fishing in the middle to lower reaches and you can not enter the river, Simpler equipment than mountain stream fishing But you can enjoy it. However, among others I want to try river fishing for only one day People who say I don't have time to prepare tools at a fishing tackle shop May be said.
Such people can Rental set of fishing equipment "Fishing experience" at the managed fishing spot Let's participate in the Activity of. You can Rental rods, buckets, taros, baits, and one-day fishing tickets, Experience river fishing simply by going to the field I can.
Rental in, but bait fishing is where you can borrow a tool set of (float fishing) is a large number, Note that some places you can rent a tool of lure fishing. The bait included in the fishing experience Rental set is In most cases salmon roe is. River bug etc. Even those who are not good at live bait can participate in fishing without resistance I can do it.
The fishing experience is held mainly in the upstream to middle reaches of the river, where the scaffolding is good. Yamame and char that have been released You can catch Also recommended for those who want to fish these fish outside the closed season.. There are also places for carp and goby fishing.
Clothes

Most of the time, you will be fishing in a controlled area for fishing, so dress as a fishing vest, wader, wading shoes, etc. No special equipment required.. However, Don't forget insect repellent and sunburn measures Let's do it.
But, among others, A plan close to "mountain stream fishing" that is carried out in the river There is also. In this case, you may be able to rent a wader locally, Wading shoes for your size Such, Things you should prepare yourself There is also.
Check with your Activity provider in advance about what you need.
There is also a plan where you can enjoy Activity other than fishing

At the fishing ground attached to the campground, Facilities for barbecue There is also You can cook and eat the fish you catch...
Even families and beginner groups can enjoy fishing and barbecue, so if you want to enjoy river fishing casually, Participate in camber fishing experience Then it looks good.
The fishing experience fee is about 3,000 to 5,000 yen. It is around 5,000 yen where you can use the barbecue facilities.

Nikko/Kirifuri Kogen/Oku-Nikko/Lake Chuzenji/Imaichi
Nara Irawa mountain stream fishing campsite, Tochigi It is a campsite in Nikko-shi, prefecture. In addition to staying in bungalows, you can enjoy fishing and river play in the clear stream with high transparency. You can enjoy a variety of meals in the mountain hut, so you can enjoy it by hand. In summer you can see the fireflies that you can not see in the city, and in the evening you can also enjoy the starry sky. You can experience camping in a rich environment! Let's enjoy fishing for three hours in the wilderness! We can catch char and yamame, trout, and eat with charcoal grill on the spot!

Furano/Biei/Tomamu
You will challenge fishing in a mountain stream near Furano. Enjoy a barbecue sticking to grilled trout and local vegetables on the riverbank after a slow time while listening to the river buzz. ~On the day Flow: ①Gathering: Furano City Alpine Visitor Center ②Reception: 10 minutes ③Movement: 20 minutes ④Fishing: 90 minutes ⑤Barbecue: 60 minutes ⑥Movement: 20 minutes ⑦End and dissolution

Chichibu Nagatoro
As long as it is within the time char, trout fishing unlimited! Please come together with your children! Guests can also enjoy a barbecue and Genghis Khan additional!
There are various plans in Hokkaido, such as a plan around 10,000 yen with Rafting, and a plan that includes a set of insect collection and fishing introductory for families.

Furano/Biei/Tomamu
[Regional common Use a coupon plan] Let's enjoy nature in Furano, Hokkaido! A set of family Rafting and an introduction to fishing that you can fully enjoy for a day. 10% discount from the Total fee! You can enjoy it at a great price. adult usually ¥ 9,720 → ¥ 8,748 (¥ 972 deals) Children usually ¥ 7,020 → ¥ 6,318 (¥ 702 deals) Participation is OK from 3 years old ♪ * Lunch time is about one and a half hours on the way will take. Please bring your own lunch or have it at a restaurant. (A convenience store is in front of the office)

Furano/Biei/Tomamu
Hokkaido Let's play wilderness in Furano! 1 Sun It is a set of collecting insects and fishing beginners that you can play plenty. Total fee 10% off! You can enjoy it at a great price. adult Normal ¥ 9,180 → ¥ 8,262 (¥ 918 deals) Children Normal ¥ 7,020 → ¥ 6,318 (¥ 702 deals) Participation from 3 years old OK ♪ ※ Take half an hour and a half lunch time You Please bring lunch or eat at the restaurant.

Kushiro, Akan, Lake Mashu, Nemuro, Kawayu, Kussharo
The only Kushiro River in Japan that has a primitive atmosphere. An experienced guide will guide you through the most beautiful source areas. Narrow places and fast-flowing places are safe. Tea time on the riverside is an unforgettable memory. ★ About the canoe ★ ・ Single canoe for up to 2 people ・ 3 people more Twin canoe ・ Up to 5 people can board. (Recommended for families. Together with your dog) ・ Up to 7 people can ride together if there are small people or children.・ From a small child Year Those who call and those who use wheelchairs can also board.
Surprisingly, you can catch fish easily and experience the fun of river fishing.
Fishing in a beautiful river is also perfect for refreshing. If you haven't tried it yet, find a plan you like and join us.
Activity Japan is a wholly owned subsidiary of HIS, and across Japan deals with about 4,000 affiliated partners. 350 sports, 15,000 plans more outdoor sports, day trips, leisure activities. , Activity The experience is posted on the WEB. HIS 70 countries in the world 162 cities 265 overseas locations/ Japan 252 stores and 200 companies more media media also Japan, popular and cheap overseas, recommended Activity We are disseminating information, and now we are doing Reservation reception from all over the world in English, Chinese (Simplified Chinese, Traditional Chinese), Korean and Thai in addition to Japanese.
In addition, Activity Japan limited Sale experience plan and Sale coupons can be used to save money at a reasonable price, and after the Activity experience, there is also a point back. ! Book cheap outdoor sports, day trips, leisure, and Activity experiences at HIS Group Activity Japan!
---
---
---
---
---