[Yamanaka smelt fishing] chartered a small dome ship with a small number of people! Children are OK ♪ enjoy leisurely time unlimited!
プランID:09608 提供:Fishing Plaza Maruichi Zhuang
10,500yen~​ ​(tax included)
大人3名貸切1艇あたりの料金
プランID :

09608
Yamanashi / Yamanakako, Oshino
Smelt fishing
Empty-handed OK
1 person participation Allowed
Charter Allowed
子供参加可
ファミリーで楽しむ派
スタート時間

Participating age

0 才~

Time required

5-6 hours

ScheduleSeptember to May
Assemble point Look in GoogleMap
I did fishing with a small dome ship at Yamanakako, I was able to fish in a pleasant way by explaining the manner of ship maneuverfully, explanation of the fishing point, etc. carefully to Maruisa san's staff, with fishery taken with over 40 fish I was able to spend the day very much, I myself went to the parking lot thinking that 8 thousand yen is cheap for two people, suddenly a small dome ship one day, one person 3500 It is described as circle, eh! While thinking, it became somewhat disgusting feeling,
Description​ ​
In a ship unlicensed small dome ship, smelt fishing anyone? Can be chartered at the small number of people, you can enjoy and relax in their own pace.
Small dome ship, also move freely easy because the engine with! You can be fishing in a favorite point.
Wind, rain and the warmth of the ship in the greenhouse effect Shinoge the snow ☆ you can enjoy a comfortable fishing.
Please enjoy your favorite time period of 7:00 am to 15.
※ will guide you to the point, but maneuvering engine thank you by the customer.
Maneuvering method will be explained at the time of lending. Results departure, such as toilets and lunch break is possible any number of times.
In addition, people are not confident in the operation will be towed for free.
Because of the charter, ♪ recommended to children and good friend group
Capacity of the small dome ship, 3 adults or 2 adults + is 2 children.
Participation and in the family, I'm happy point can participate willingly in a group, such as your friend.
※ However, since the ship's mass is two places, after the three first pole will be outside fishing open the window.
※ dome ship available is one boat per weekdays for one person, it will be available from the weekends and public holidays 2 persons.
Weekends and public holidays will not be available in one person. .
Scenery is the best! ! !
Smelt fishing while watching the Fuji is a luxury moments.
Since the lake are a lot of swans, it is also nice to fit in the photo swan and Mount Fuji together ☆
Equipment set is available for rent! Empty-handed in OK!
Lending rod, bait, tricks, such as a fish finder, so you can all rent what you need, you can enjoy for the first time but, feel free to empty-handed. Please contact us at the time of booking.
---
Attractions of the plan
Because the small boats, can be chartered in the family You can relax fishing while watching the Mount Fuji.
Smelt fishing can enjoy with children Since the charter safely in small children! Infant is on board free of charge.
With 2-horsepower outboard motor of easy operation! Ship unlicensed a maneuvering allowed. The ice season will be the tugboat.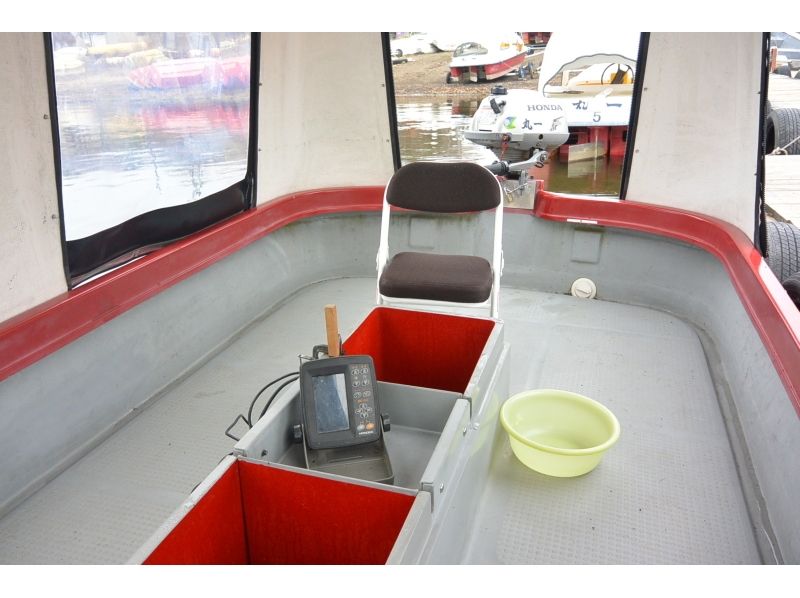 Spacious 2 adults Recommended for couples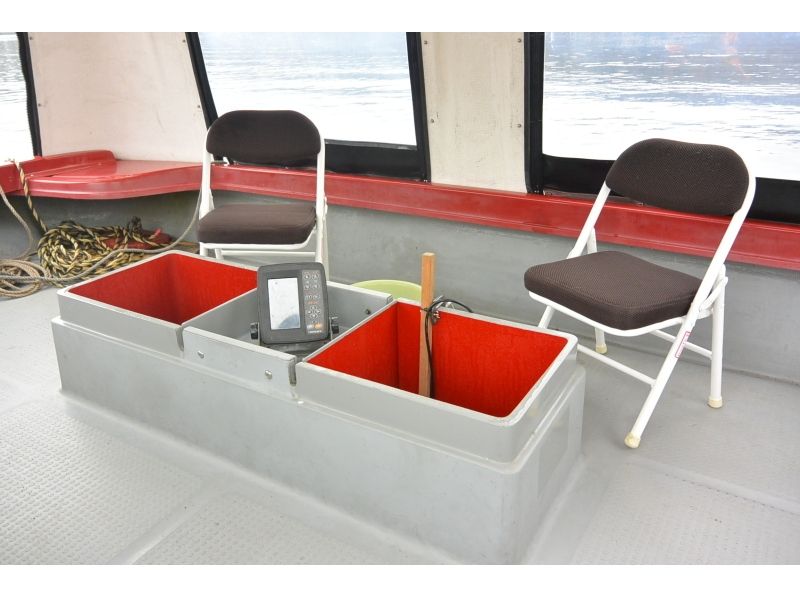 Leisurely with friends and family You can embark up to 3 adults or 2 adults 2 children.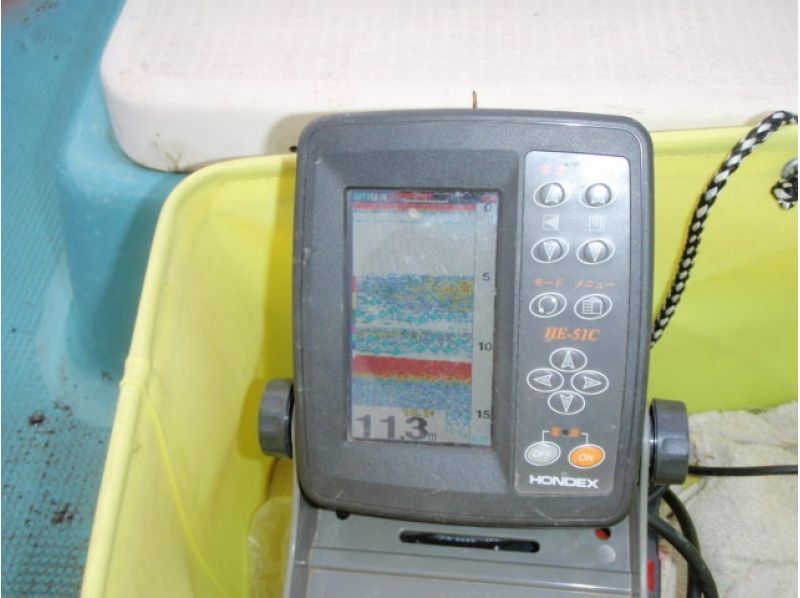 Fish finder (optional) Fishing UP color fish finder!
---
Information
Minimum number of people
1 人
Number of people who can book
1人〜5人
Schedule
September to May
Assemble time
ご希望の開始時間をお選びいただけます(7:00‐14:00)
Please fill in your choice of time to the third choice at the time of booking.
Start accepting than 6:30. 15:00 Saoage.

※ It will be defined by the 15 sometimes experience the end of Lake Yamanaka, start time, we have recommended your time as soon as possible of.
※ even when in our start, will be 15 and sometimes end.
Your time will be charged for your description about 30 minutes at the beginning ※.
Assemble point
Fishing Plaza Maruichi Zhuang accepted
Reservation deadline
The day before, until 5 PM
---
Regarding advance preparation
About clothings and must-bring items
Easy to move, please come in nice clothes, even when wet. In addition, since the measures against cold is a good person who was firm, If you have any questions, please feel free to contact us.
About rental items
Inboard chair, life jackets for adults and children will be available free of charge.
Lending rod, bait, tricks, fish finder will be another charge.
---
Facility information
Changing room
toilet
shower
Hot spring
Locker
Hairdryer
Parking Lot
コンビニ
スーパー
---
Access and map
所在地
Yamanashi Prefecture Minamitsuru-gun Yamanakako-mura plains 1921
How to reach by car
About 30 minutes from Kawaguchiko IC, about 10 minutes from Lake Yamanaka IC
How to reach by train
Fujikyu bus transfer about 30 minutes in Fujiyoshida Station, plain bus Tei get off walk about 5 minutes
Fujikyu bus transfer about 40 minutes in Gotemba Station, Yamanaka-Asahigaoka Gulli N bus 5 minutes, plain bus Tei get off walk about 5 minutes
---
Price list
Basic charge
| | |
| --- | --- |
| 3 Adults charter / boat 10,500yen | 13 years old - (more than junior high school students) |
| 1 Adult charter / boat 4,000yen | 13 years old - (more than junior high school students) ※ weekdays only accepted (on weekends and holidays will be refused the reservation.) |
| 2 adults charter / boat 8,000yen | 13 years old - (more than junior high school students) |
| 1 adult, 1 child chartered / boat 6,500yen | Adults: 13 years old - (more than junior high school students), children: 6-year-old to 12-year-old (elementary school), does not charge for less than 6 years of age. |
| 1 adult, 2 children charter / boat 9,000yen | Adults: 13 years old - (more than junior high school students), children: 6-year-old to 12-year-old (elementary school), does not charge for less than 6 years of age. |
| 1 Adult, 3 Children charter / boat 11,500yen | Adults: 13 years old - (more than junior high school students), children: 6-year-old to 12-year-old (elementary school), does not charge for less than 6 years of age. |
| 2 Adults, 1 Child charter / boat 10,500yen | Adults: 13 years old - (more than junior high school students), children: 6-year-old to 12-year-old (elementary school), does not charge for less than 6 years of age. |
| 2 adults, 2 children charter / boat 13,000yen | Adults: 13 years old - (more than junior high school students), children: 6-year-old to 12-year-old (elementary school), does not charge for less than 6 years of age. |
| 2 adults, 3 children charter / boat 15,500yen | Adults: 13 years old - (more than junior high school students), children: 6-year-old to 12-year-old (elementary school), does not charge for less than 6 years of age. |
| 3 adults, 1 child chartered / boat 13,000yen | Adults: 13 years old - (more than junior high school students), children: 6-year-old to 12-year-old (elementary school), does not charge for less than 6 years of age. |
オプション料金
| | |
| --- | --- |
| Rental rod / rod 1,000yen | Gimmick is attached at one free. |
| Fishfinder / pair 1,000yen | Fishing UP color fish finder! Let put around the difference! |
※Prices including all taxes.
※上記は基本料金になります。
※日程によって料金が異なる場合がございますので、日程を選択した後に表示される料金表をご覧ください。
---
---
お支払い・キャンセルに関して
| | |
| --- | --- |
| About payment | Please pay in cash on the day. |
| Payment method | The payment method specified by the operator. |
| About cancellation fee | Upon cancellation, the change is please let us know as soon as possible. |
| Cancellation by operators. | By the day of the weather, etc., there is also the case that the boat can not be Detei. Even if canceled after the arrival to the meeting place, so you can not respond to compensation, such as travel expenses, please understand. |
---
Other
Matters require attention
Yamanakako because high altitude, there is also a cool day in summer, winter is also the sub-zero temperatures. For changes in the air temperature is severe, check on the weather forecast, it is recommended that it is firmly protection against the cold.

1 set of the total weight limit will be 240kg.
Other notices
※ weekdays for one person, Saturday, Sunday and public holidays will be accepted from 2 persons
Please select on which were excluded at the time of charge selected from the number of people the calculation does not take the following fees elementary school ※.
※ For the following boarding elementary school, at the time of stormy weather there is a case to be refused boarding.
 また小さなお子様が釣竿の針などに触れお怪我をされない様、保護者様は充分ご注意ください。
 (小学生以下のお子様のご乗船は、お客様の自己責任にてお願いいたします)
みんなの体験談
I did fishing with a small dome ship at Yamanakako, I was able to fish in a pleasant way by explaining the manner of ship maneuverfully, explanation of the fishing point, etc. carefully to Maruisa san's staff, with fishery taken with over 40 fish I was able to spend the day very much, I myself went to the parking lot thinking that 8 thousand yen is cheap for two people, suddenly a small dome ship one day, one person 3500 It is described as circle, eh! While thinking, it became somewhat disgusting feeling,
参加日: 2017 年 04 月
Smelt fishing
初めてのワカサギ釣りで2人とも事業者さんに迷惑をかけないかと心配していましたが、とても親切な指導と対応ですごく思い出に残る1日を過ごすことが出来ました!
ボート船の操縦やエサの付け方まで最初から最後まで丁寧なご指導本当にありがとうございました。
結果は約60匹で思ったより釣れて大満足の結果でした(*´
参加日: 2017 年 03 月
Smelt fishing
カップル
ファミリー
友人と
ひとりで
ストレス解消
初挑戦
上級者
丸一荘の方は、とてもやさしく丁寧な対応で初心者の私たちが安心して、楽しめました。 ワカサギは、30匹釣りました。2人乗りドーム船はとても快適で、揺れも少なく、船内もゆっくりできました。 ボートのエレキモーターを使うのははじめてで、不安でしたが、快適です。 小学校3年の子供は、また、連れていってほしいと良い思い出ができた。
参加日: 2017 年 02 月
Smelt fishing
初めてのワカサギ釣り、結果あまり釣れませんでしたが楽しい時間を過ごすことができました。
なかなか家族の予定が合わないので、釣れるだろう日に行くのは難しいですが、是非リベンジに行きたいと考えております。
ワカサギは唐揚げにして食べました。
とっても美味しかったです!!
丸一荘の皆様優しく教えて頂きありがとうございました^ ^
参加日: 2017 年 02 月
Smelt fishing
ボートはやや古いですが、対応がとても丁寧でした。レンタルの竿はオーナーさん自らが手作りをしており、とても拘りを感じられました。
参加日: 2017 年 01 月
Smelt fishing
カップル
ファミリー
友人と
ひとりで
ストレス解消
雨天
初挑戦
上の子が夏に海釣りをして、釣りに興味を持ち、冬休みに釣りをしたいということで、今回 以前から気になっていたワカサギ釣りに参加しました。予約した時間より、大分早めに到着したにもかかわらず、気持ちよく 出迎えて下さった老夫婦。ワカサギ釣りは初めてと伝えると、丁寧に一から子供たちにも分かりやすく 実際シミュレーションして下さり 緊張も解け エサ付けもバッチリと上のお兄ちゃんは太鼓判を押され 喜んでいました。
準備万端にして、いざ 湖に。ボートの運転は初めてのママに丁寧に運転方法を説明してくださり、安心して ワカサギ釣りスポットまで運転して 向かうことが出来ました
スポットの手前で丸一荘のお兄さんが待ち構えてくださり、またまた丁寧に分かりやすい説明でアンカーのおろし方 上げ方など教えて下さり 心強かったです。
釣り始めてからもちょこちょこ ボートでお兄さんが様子を見にきて下さり 子供たちも安心して ワカサギ釣りを楽しんでいました。
あまり釣れない時期だと聞いてはいたのですが、ちょろちょろアタリがあり、最終的に朝から昼まで釣って 3人で20匹釣り上げることが出来ました。子供たちもまた行きたいととても楽しかったようで、また機会があれば、今度はパパも一緒に行きたいなと話しています。終わった後に ママがトイレに行っている間 子供たちを見てくださったお姉さんもとても親切で好感持てました。
参加日: 2017 年 01 月
Smelt fishing
皆さん親切で、私たちのようなまるっきりの初心者でも楽しめると思います。
次回は入れ食い状態の時に当たるといいんですが・・・自然相手なんで
参加日: 2016 年 12 月
Smelt fishing
10,500円~(税込)
大人3名貸切 1 艇 あたりの料金
Included in price
Boat use fee-for adults and for children life jacket
| | |
| --- | --- |
| | スタート時間 |
| | Participating age0 才~ |
| | Time required 5-6 hours |
| | ScheduleSeptember to May |
| | Assemble point Look in GoogleMap |