[Yamanashi Katsura, Otsuki, Fuji Five Lakes than 40 minutes] half-day torrent rafting tour (PM course) / single occupancy 7500 yen
Plan ID: 04175 Provided by:​ ​​ ​Fujiyama Adventure Club
[Yamanashi Katsura, Otsuki, Fuji Five Lakes than 40 minutes] half-day torrent rafting tour (PM course) / single occupancy 7500 yen
Plan ID:

04175
Yamanashi / Kawaguchi, West Lake, Fujiyoshida, Lake Shoji, Lake Motosu
Rafting
Transfer Yes
Operation available - rain or shine










Fujiyama Adventure Club Videos
Starting time

09:00

13:00

Participating age

Age 9 ~

Time required

2-3 hours

ScheduleEarly April-early November
Assemble point Look in GoogleMap
It was a while ago, it was fun rafting!
When I crossed the torrent, I shouted out with my friends and it was stress relief.
The last jump was not too high, I wanted to fly more.
Also, I would like to participate if I have the opportunity.
Attractions of the plan

Good access from the city center 東京都心より70分 河口湖IC、石和ICより東京方面に40分の好アクセスです。

Fun buddies! Naka good fellow and rafting!

In nature! Water hook soooo!

Safety training program ラフティングは危険もあります。 セーフティトークはシッカリ聞きましょう。

Tubing tour Tubing tour in FAC also are held
Information
Minimum number of people
2 people
Number of people who can book
2 to 30 people
Schedule
Early April-early November
Start time
<Am> 9:00
<Afternoon> 13:00

Please gather is always accepted 10 minutes before.
Assemble point
Fujiyama Adventure Club
Reservation deadline
The day before until 16:59
Advance preparation
Clothings and must-bring items
Swimsuit, bath towel, it may be wet shoes
※ beach sandals not, rental Yes

<There was the better thing>
Insurance card, swimming goggles, glasses band
About rental items
Rental camera
Rental shoes
Facility information
Changing room
toilet
shower
Hot spring
Locker
Hairdryer
Parking Lot
convenience store
&Supermarket
Access and map
Location
Yamanashi Prefecture Otsuki Tomihamamachimiyatani 425
How to reach by car
The nearest IC is near Mount Fuji next Otsuki IC, it will be on the route to the Isawa hot spring area.
After getting off the Otsuki IC, there is Katsura wellness Park a No. 20 national road to FAC base close to 10 minutes in the Tokyo area.
How to reach by train
Chuo Line pick-up Ali (reservations required)
FAC base is 5 minutes by car from Chuo Line Torisawa Station.
Courtesy car will pick you up, please contact the day before.
Others
Highway bus transfer pick (reservation required)
The new base will be along the central highway, the Samekebashi bus stop to Omake is very close (about 400 M)
We will pick you up, please contact us.
time schedule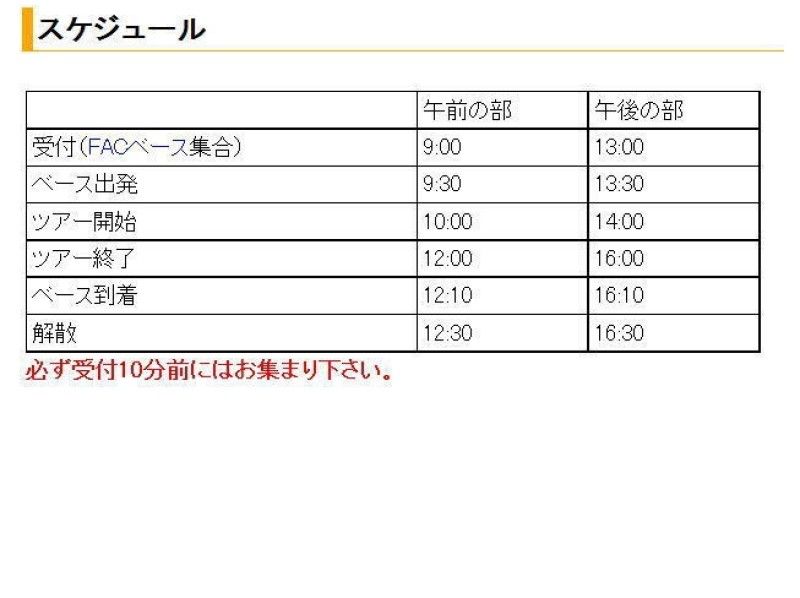 Price
Basic charge
Adult /person 7,500yen
Child / person 7,500yen
Insurance tax
※The price includes tax.
※The price is basic fee.
※Prices may vary depending on the schedule. Please check the price list displayed after selecting the date.
Included in price
Experience fee, guide fee, life jacket bill
Not included in the price
BBQ
Rental camera
Rental shoes
Fujiyama Adventure Club's handling plan list
About payment / cancellation
About payment
Account transfer Local cash payment
Payment method
The payment method specified by the operator.
About cancellation fee
Cancellation by the convenience of the participants, in the case of a schedule change will be charged a fee of following.
To Join Date 10 days ago: Free
9 days to 3 days before: 30%
2 days to 1 day before: 50%
Join Date day: full amount
In the case of schedule changes only free up to 7 days before
Cancellation by operators.
Flooding of the river, please understand that it also takes place if the reception time and dissolution time in the relationship of the course is changed.
It is rain or shine, but you may be forced to sudden change or canceled due to flooding and bad weather such as rivers,
We kindly ask for your understanding.
Others
Matters require attention
There is that the number of participants, I am allowed to change the course by the river situation.
Minimum departs personnel will be taken as a rafting tour two people.
Please check until the FAC when but we will to contact as much as possible in advance bad weather.
If you have been drinking, people with the disease in the heart, you can not participate in the direction of during pregnancy.

■ If you would like to BBQ option (1500 yen) Please let us know the number of people.
 ご希望人数: 人
Other notices
Because you always protect bidder's signature minors is required, we ask you to fill out in advance to the participation agreement.
---
Everyone's reviews
Guest userA midsummer rafting experience! It is!
It was a while ago, it was fun rafting!
When I crossed the torrent, I shouted out with my friends and it was stress relief.
The last jump was not too high, I wanted to fly more.
Also, I would like to participate if I have the opportunity.
Participation date: August 2014
Rafting
family
with friends
Stress relief
Rainy weather
First try
Guest userThat's too bad.
I had a lot of fun because I joined before. I departed early in the morning and somehow managed to meet the meeting time, but it did not start at all. It seems that he was waiting for someone who is late, after all it has passed since more than 20 minutes. Unlike last time, I was busy, I feel that the time to swim and play was short. I feel like I lost it. The time to finish was late, and the schedule after that was delayed. It seems that someone who got out early in the morning and gathered on time is watching idiots. I was not convinced that it could be advanced according to the person who was late. The guide I was in charge was gentle and it was a pity that the rafting itself was fun. I was looking forward to the blog because I took a picture so I did not update it. I was waiting for expectation because there was explanation about portrait right · · ·. I wonder if there is any more lip.
Joined date: January 2017
Rafting
7,500円~(税込)
Fee per adult
Included in price
Experience fee, guide fee, life jacket bill
When you book this plan 69 pt you will get.
| | |
| --- | --- |
| | Starting time 09:00 13:00 |
| | Participating ageAge 9 ~ |
| | Time required 2-3 hours |
| | ScheduleEarly April-early November |
| | Assemble point Look in GoogleMap |