[Hokkaido Tokachi River] rafting-half-day course (W rafting)
プランID:00253 提供:TOM Tokachi Outdoor Mates
4,860yen~​ ​(tax included)
大人1人あたりの料金
プランID :

00253
Hokkaido / Obihiro Tokachi
Rafting
Empty-handed OK
Transfer Yes
Rain departs Allowed
Starting time

09:00

14:00

Participating age

7 才~

Time required

2-3 hours

ScheduleApril 26 to October 31, 2008 (October-pm of part 13)
Assemble point Look in GoogleMap
Description​ ​
Down rowing toward the big rock-powerful wave
It is a challenge course.
If you would like a thrilling rafting
Here it is recommended.
★ 1 No. popular menu of TOM ★
We will down rowing toward the big rock and powerful waves.
Charm of TOM rafting can challenge twice in the Tokachi River rafting course of course distance of about 2.5 km!
In addition, since the rafting course is surrounded by a forest of old-fashioned natural, you can also enjoy the fully natural landscape seems to Hokkaido.
Thrilling rafting throughout the season!
Tokachi River because the river water is in abundance even in the dry season of mid-summer, you can enjoy the powerful rafting throughout the season.
It is good Me intense! It is popular with anyone who wants.
A lot of the options menu!
In TOM, it offers a lot of options menu in the rafting tour.
Customers, season, because the recommended guide the menu to match the amount of water, you can enjoy the Tokachi River!
Examples spring jump underwater observation from wild plants picking rock / boat toy bamboo-leaf boat race Kawanagare treasure hunt autumn nuts picking etc ···
---
Attractions of the plan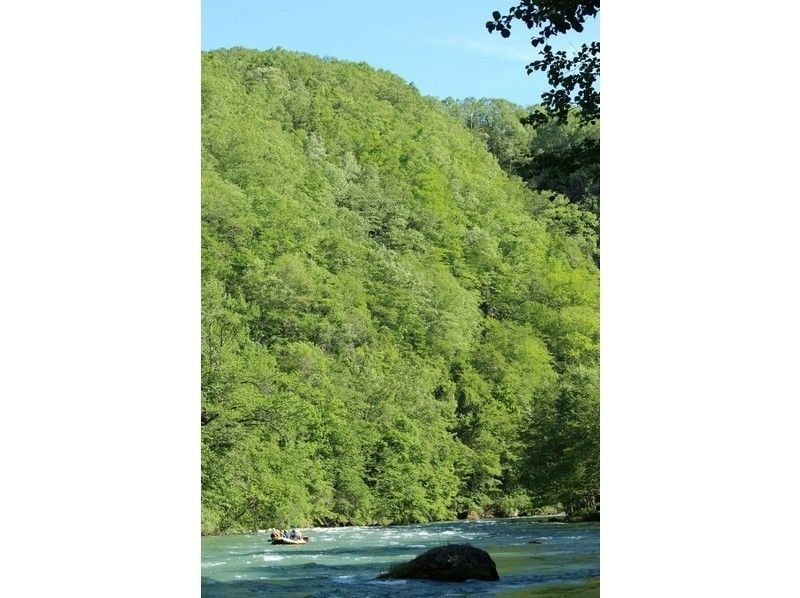 The fresh green of spring The timing of the buds of spring is very beautiful one side is covered with green leaves.
Autumn leaves View from the boat fall foliage is also beautiful. Tokachi River will be able to enjoy the full of natural scenery in every season.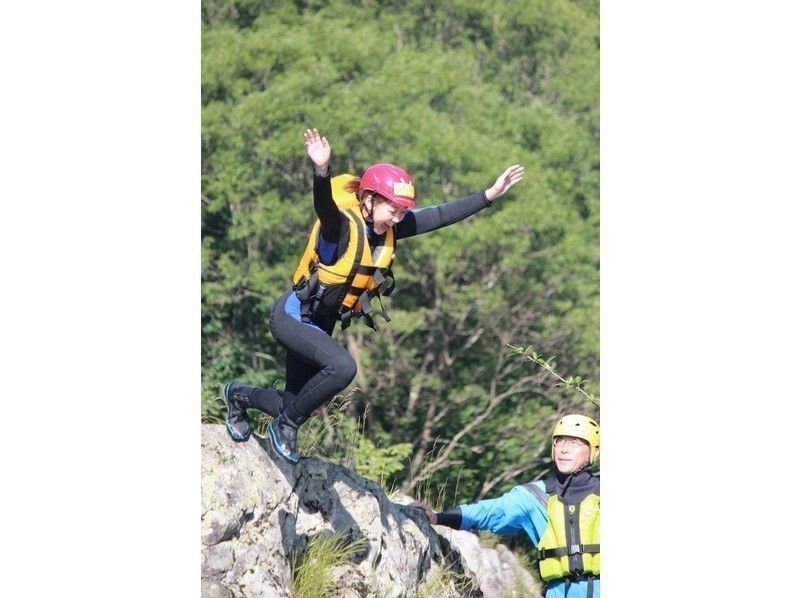 Jump in the river! Summer of diving tournament is very popular from the adults and children!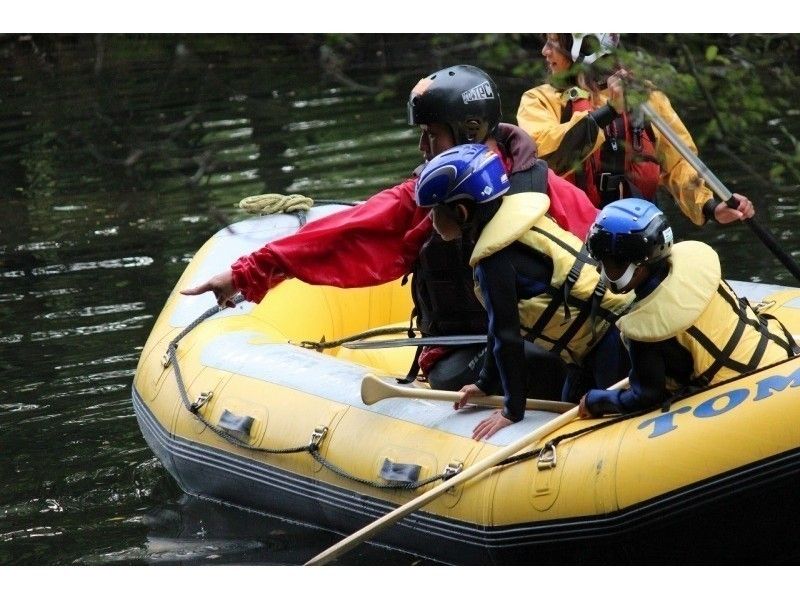 I fish! Full also fish in the Tokachi River! ... Might luck can be seen from the boat if you're
---
Information
Minimum number of people
1 人
Number of people who can book
1人〜
Schedule
April 26 to October 31, 2008 (October-pm of part 13)
Assemble time
Morning 8:00 50 minutes
Part 13 hour 50 minutes of the afternoon (October 12 o'clock 50 minutes ※ ※)
Assemble point
TOM Center House
Reservation deadline
The day before, until 5 PM
---
Regarding advance preparation
About clothings and must-bring items
Change of clothes set (including underwear)
Clothing to wear in the wear (those that are suitable to the day of the climate)
○ 7 ~ 8 May sunny day
Bathing suit or wet even good underwear
○ spring and autumn, the weather is a bad day even in the summer
Clothing, such as a thermal insulation and fleece or synthetic fiber made (no jeans)
Those who are use the glasses
Please prepare a rubber band or the like for spill prevention.
If you use contact lenses
We recommend that you prepare the goggles for swimming because of the spill prevention.
About rental items
2 types of hardware to adapt to the day of the temperature and water temperature - the offers.
 低気温時はドライスーツ
 高気温時はウェットスーツ
It is also possible that you choose the hardware to be worn by the physical condition and convenience such as the day of participation (dry suit or wet suit). Please report to the effect that you would like to staff.
Shoes also do not need to offer such as sandals because it will hire.
---
Facility information
Changing room
toilet
shower
Hot spring
Locker
Hairdryer
Parking Lot
コンビニ
スーパー
---
Access and map
所在地
Kamikawa-gun Shintoku-cho Kuttari baseline 240 address
How to reach by car
30 minutes in the eastern road Tokachishimizu car than the IC
Obihiro to 1 hour
How to reach by train
Shintoku-cho in offers complimentary pick-up from each of the accommodation and Shintoku Station. Please request when you apply.
その他の方法でお越しの方
Shintoku-cho in offers complimentary pick-up from each of the accommodation and Shintoku Station. Please request when you apply.
---
Price list
Basic charge
| | |
| --- | --- |
| Adult / person 4,860yen | 13-year-old - |
| Child / person 3,400yen | 7-year-old to 12 years old |
※Prices including all taxes.
※上記は基本料金になります。
※日程によって料金が異なる場合がございますので、日程を選択した後に表示される料金表をご覧ください。
---
---
お支払い・キャンセルに関して
About payment
When accepted in cash at the local, please pay.
Payment method
Pre-card payment, the ways assigned by operators
About cancellation fee
Given cancellation fee will occur in the case that has been canceled by the convenience of the customer.
Up to 2 days before, the day before 50%, on the day 100%
Cancellation by operators.
Cases, such as high winds, lightning, extreme flooding, you may want to stop the process of change and tours. please note that.
---
Other
| | |
| --- | --- |
| Matters require attention | Each tour of TOM guide is will accompany, but is fully aware that the risk of behavior in a natural environment, please join us on your own risk. |
| Other notices | Customers have you participate in each tour of TOM is usually injury insurance has been set of TOM (death, severe failure 5 million yen, admission 3,000 yen / 1 day, visit 2000 yen / 1 times) you will want to join in . |
みんなの体験談
雨模様でしたが、面白い体験でした。もう少しスリリングなコースがあれば、また参加したいと思います。
4,860円~(税込)
大人 1 人 あたりの料金
Included in price
The consumption tax is in the price, equipment rental fees, insurance premiums, drinks, are included.
| | |
| --- | --- |
| | Starting time 09:00 14:00 |
| | Participating age7 才~ |
| | Time required 2-3 hours |
| | ScheduleApril 26 to October 31, 2008 (October-pm of part 13) |
| | Assemble point Look in GoogleMap |