[Tochigi ・ Nasu] Dobo on the river in summer! shower Climbing Regular course 3 hours
Beginners welcome - First try
Empty-hands OK
Solo participant
Operate rain or shine
Children welcome
Possible number of bookings

Participating age

Age 6歳 ~
"On a hot day, go to the river Dobooon !!
Kanto Adventure in the source part of Nakagawa, the clearest stream!
Pure water, fresh greenery, birds and fish welcome you ♪
Enjoy the dive from Oiwa and the natural pool.
Welcome to the extraordinary space ♪ "
Beginners are welcome Elementary school students 1 Year Participation from students OK!

~~~ Plan flow ~~~
① Board room outback base 10 minutes
② Tour Explanations, changing clothes 10 minutes
③ 10 minutes by bus to Nakagawa headwaters
④ shower Climbing 90 minutes
⑤ Commemorative photo, break, etc. 30 minutes
⑥ Move to Outback Base 15 minutes
⑦ Change clothes, dissolve 15 minutes
Konomi Pack ♪ Almost hand ga GO ♪
It is a pack called Komi Pack.
Wetsuit, life jacket, shoes, helmet rental fee,
In addition, the insurance fee is also a comic comic.
Bring your swimsuit (underwear OK) under the wet suit, towel, water bottle only!

The clear stream "Nakagawa" in Kanto is the best!
The headwaters of the Nakagawa, the clear stream in the Kanto is clear and beautiful.
Beautiful fish, monkeys, frogs, snakes? ! Various creatures will welcome you ♪

With a safe guide!
We will guide you through tour training and safety training, so please join us with confidence!
Calendar info reloading failed
Immediate booking OK!
Reception closed
Not accepted
Request booking
※ For request booking you will receive acceptance notice from Activity Provider.
About fees
※The list price includes tax.
※The above price is a basic fee.
※Fees may vary depending on schedule, please check the fee displayed after selecting the date.
Plan attractions

Pukapuka in the natural pool ♪

Dive from Oiwa!

Fun guided ♪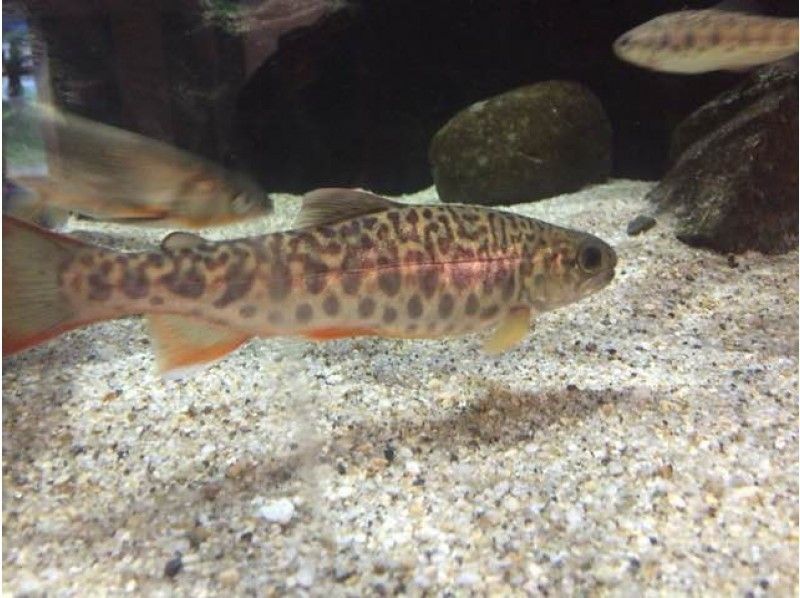 underwater Then, may I see a char and yamame! ?

Full body refreshing in unusual space!

Reliable with a private bus ♪

By bus
Detailed information of this plan
Required minimum number of participants

2

Person(s)
Possible number of bookings

1~

15

About duration
Of the 3 hours of travel time, the experience time is 2 hours.
Operating period
Late June-Late September
Assembly time
8:45
13:15

Booking deadline
Until 16:59 local time, one day prior
Matters require attention
・If you are late, you may not be able to participate.
· Preschool children can not participate.
All reviews
9

Results

二回目のキャニオニング
ダイブ回数が多くて楽しかったです
なにより水質が綺麗!
今度はアドベンチャーコースで滝の裏とか行ってみたい!

集合場所の記載と住所が少し分かりずらかったのでかなり迷いました

Participating date: August 2020

那珂川源流で誰もが川遊びを楽しめます。泳いだり飛び込んだり自然を満喫できますよ。沢シューズ、ウェットスーツやヘルメット等必要な装備は全て料金に含まれてます。スタッフの皆さんの暖かなサービスもお勧めする大きな理由です。次回はアドベンチャーコースにチャレンジします。

Participating date: August 2020

ガイドの方もウエットスーツの着替えも手伝っていただきありがとうございました。飛込みや、ライフジャケットに身を任せて浮いた時の感覚が気持ちが良かったです。時間的にも丁度良いくらいでした。また機会があれば参加したいと思いました。

Participating date: August 2020

娘は小学6年生。大きくなり一緒に遊べるのも最後かも…。と思い切ってシャワークライミングに挑戦!慣れないボディースーツにあたふたしましたが、着用後、「イルカのお姉さんみたい。」とご満悦。
川は美しく、水は氷水の様に冷たかったですが、みんな笑顔でキャーキャー騒ぎながら入水しました。
我が娘は虫嫌いの潔癖で石に触るのも恐る恐る。みんなについていけずずっと最後尾でしたが、activityの先生方に優しく助けられながら目的地に到着。岩から飛び込むこともできました。
帰りはヒョイヒョイ慣れた足で歩き、魚を泳いで探していました。
こんなに綺麗な川で遊ぶのは初めてで素晴らしい経験となりました!
また娘と参加出来たらいいなと思っています。




Participating date: August 2020
Guest user
It was the best!
Participated with three parents. I was able to slide on a slide made of nature while bathing in negative ions, and jumped from a diving platform made of stone. The dive was scary at first, but I got used to it. Take a picture, Hot spring Ticket Append. I thought it was a good idea to have all this set. I was very happy to have an experience that I can't usually do!
Participating date: July 2019
Access - Map
Assembly point
Board room outback base
(Former guesthouse Itamuro Keizanso)
If you arrive by car
Tohoku 20 minutes from Road Blackboard Room IC

※ Free parking fee
If you arrive by train
Tohoku bus from the main line kuroiso station 40 minutes
Taishomura Yukinoyu Bus Stop
5 minutes on foot
Q&A about this plan
No questions about this plan
Activity Provider of this plan
那須アウトバックツアーズ
handling plan list
Nasu/Itamuro
popular plans
---
Canyon rafting Search from area
Find other experiences in neighboring areas
---