【Summer】 Clear Kayak Tour 【Hokkaido · Chitose City Lake Shikotsu】
プランID:11179 提供:Nature Activity Center Ocean Days
7,000円~​ ​(tax included)
大人1人あたりの料金
プランID :

11179
Hokkaido / Ishikari-Sorachi-Chitose
kayak
Starting time

09:30

12:30

15:00

Participating age

4 才~

Time required

2-3 hours

Schedule[Summer season] From April to October
Assemble point Look in GoogleMap
Description​ ​
Shikotsuko Transparency preeminent lake of Hokkaido. Bottom has is visible clearly to the terrain and the large stones of the fish and the lake bottom in the clear kayak! While tasting a strange sense of whether an in if he above the water of the, let's go out to leisurely kayak cruising ♪
You can enjoy views of the water of the four seasons
Spring will come flows is new water starts thaw to Shikotsuko. Beyond the transparency of 30 meters in water, fish will come back to the shore closer. Summer and raised white flowers and water plants of Chitose Baikamo of natural monument, when the fish often is seen a herd of a thousand animals. Autumn begins spawning Kokanee, Kokanee who were steeped in marriage color is seen. Winter becomes the preeminent season transparency, sometimes it is characterized seen to under 30 meters.
There is also a variety of benefits!
Get photos from activities for free!
※ for the activity under special circumstances, you might not be able to take your photos
And how about Marunouzi Onsen, which is 100 years old? The outdoor bath with source sprinkling warms the cold body. Outside open-air spring is a priceless hot spring that changes in the tide of Lake Shikotsu. After the tour I will give you half-price bathing tickets for the day! Please feel free to contact us!
---
Attractions of the plan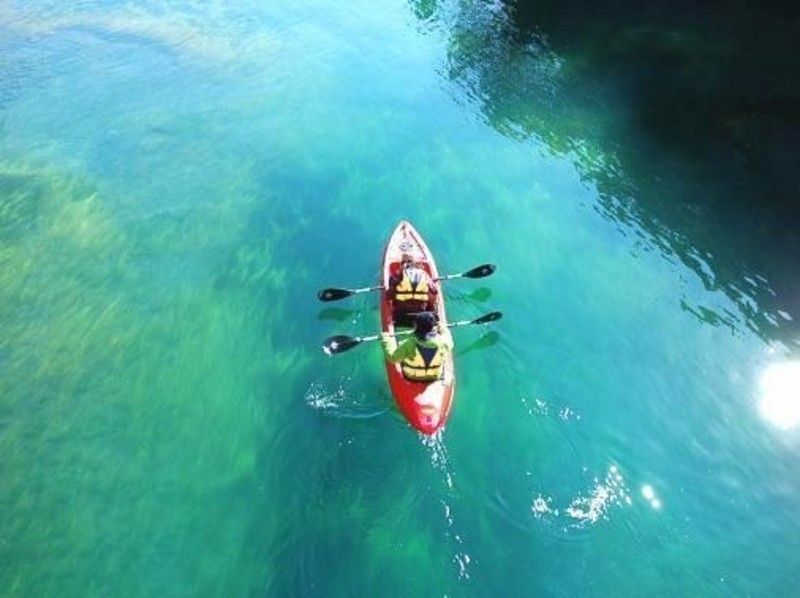 Let's get used to the kayak of operation while enjoying the mysterious scenery ♪ Start, Chitose River that starts from Lake Shikotsu. Mysterious will begin the tour from shining on the blue "Blue River" ♪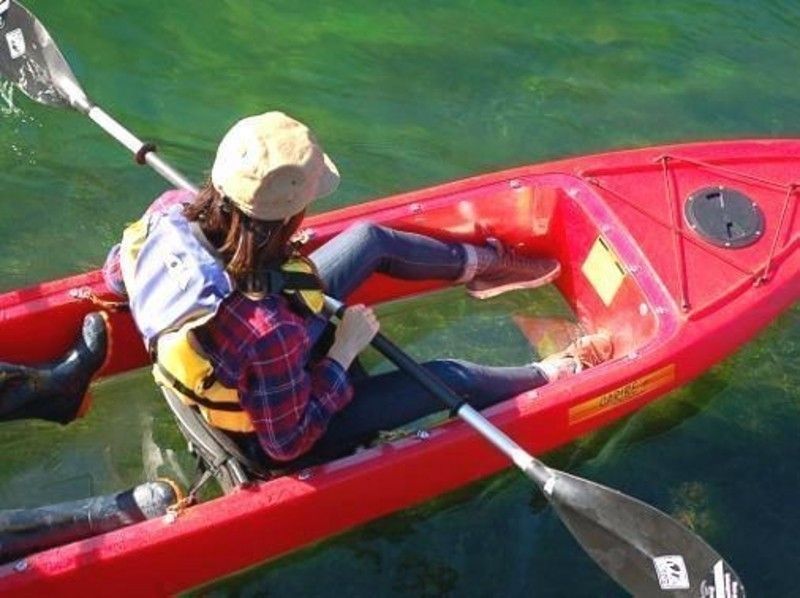 Water and the bottom of the lake you will see clearly! Clear bottom clear kayak is is visible clearly to the bottom of the lake ♪ yourself above the water of the one in a for or strange feeling!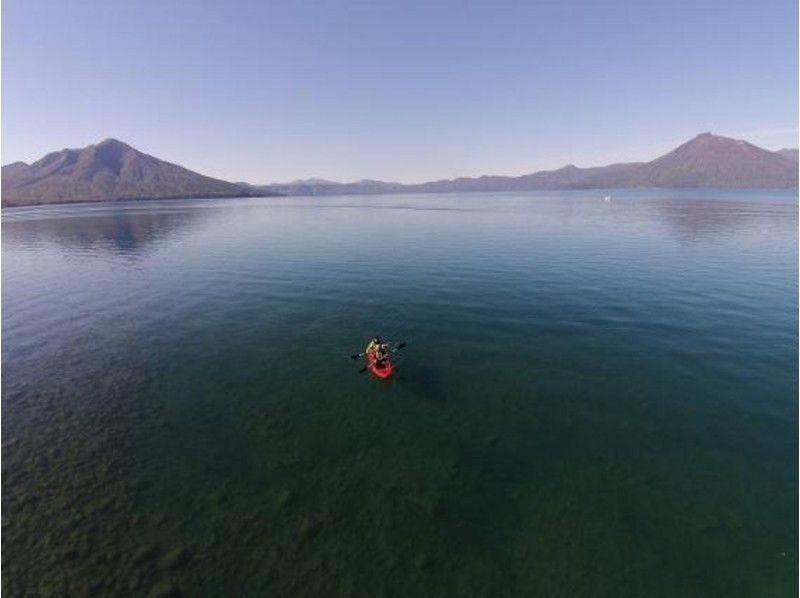 You can enjoy views of the inland waters of the four seasons! Scenery of Lake Shikotsu belonging to the Shikotsu Toya National Park delight a variety of facial expressions in the four seasons
---
Information
Minimum number of people
1 人
Number of people who can book
1人〜40人
Schedule
[Summer season] From April to October
Assemble time
① 9:30 (end at 11:30)
② 12:30 (end at 14:30)
③ 15 00 (00 pm Exit 17)
Outside the bus and time, please contact us

★ Time change from November 2017 ★
① 9:30 (end at 11:30)
② 12:30 (end at 14:30)
Assemble point
"Guesthouse Shikotsukamui"
In the case of your car, it will match the Navi "Kohan", will head to the mall parking lot of Shikotsuko banks. When viewed from the parking sign is visible in the "Guest House Shikotsukamui" to about midway of the shopping district.
In the case of the bus, and get off the bus stop in the "Kohan" There is a shopping street on the left. Then sign is visible to about midway of the sequence along the parking lot. It is about a 1-minute walk from the bus stop.
Reservation deadline
Before 2 days
---
Regarding advance preparation
About clothings and must-bring items
■ summer
Easy to dress movement, such as quick-drying of shirts and pants. Heel marked with shoes or sandals.
■ spring and autumn
Quick-drying long-sleeved shirt and leggings, or jersey up and down. Chilly timing fleece top and bottom and warm outerwear.
■ winter
Dry suit (with rental). Contents are fleece, or the top and bottom of the jersey, thick socks.
Over knit and ears ear is hidden, Snow gloves (gloves for ski snowboarding) change of clothes, towel.
■ spring, summer, autumn <Common>
Hat, change of clothes, towel.
About rental items
Kayaking experience, paraphernalia rental

▼ summer months!
There is free rental of crocs (Crocs)
▼ spring and fall only
Outerwear pants, there is free rental of gloves
---
Facility information
Changing room
toilet
shower
Hot spring
Locker
Hairdryer
Parking Lot
コンビニ
スーパー
---
Access and map
所在地
Chitose, Hokkaido Kohan Bangaichi
How to reach by car
About 70 minutes, from Sapporo in the car
About 30 minutes, and from New Chitose Airport by car
About 30 minutes, from Tomakomai in the car
How to reach by train
・札幌駅~新千歳空港45分
その他の方法でお越しの方
Public bus available
Time Please refer to the following for details.
Http://activityjapan.com/publish/partner/209
---
Price list
Basic charge
| | |
| --- | --- |
| Adult / person 7,000yen | ※ If more height 140cm is here |
| Child / person 3,500yen | 4 years old or more, until the following children / July to September Height 140cm |
※Prices including all taxes.
※上記は基本料金になります。
※日程によって料金が異なる場合がございますので、日程を選択した後に表示される料金表をご覧ください。
---
---
お支払い・キャンセルに関して
About payment
Cash payment on site or advance payment by credit
Payment method
Pre-card payment, the ways assigned by operators
About cancellation fee
If it is canceled by the customer convenience, you will be charged a fee experience as a cancellation fee.
- 1 day ago 50%
- The day of 100%
※ discontinued due to the Company's judgment weather, cancellation fees will not occur
※ For group use of more than 10 people, we will charge full charge as cancellation fee when reservation itself is canceled by customer convenience after reservation is confirmed. Please be careful.
Cancellation by operators.
It is fine in the case of snow, rain. If the effect of the wind can not be held in such case or snowstorm that wave is higher, please note that I will cancel your call as soon as possible.
---
Other
Matters require attention
And participation eligibility age is 4 years of age or older, who height is equal to or greater than 140cm.
• If your child is experiencing, please participate accompanied by an adult.
· 140cm following children are able to participate only in the period of May to September.
• Customer during pregnancy. Can not participate in the tour.
• If you would like the plan of the afternoon, there is the case that in the day can not be hot spring use. Please note.
Other notices
Hot springs half-price ticket, please put you voice to the staff so you pass it to the person who is bathing after the tour. (Please bring a bathing tool If you would like to bathe)
Dry suit who is the rent is, please let us know the size of the height, weight, feet. (Rental fee is included in the experience program fee fee)
みんなの体験談
中学生は一人で乗り、小学生は保護者と一緒の組み合わせで参加しました。
初めての体験でしたが、ガイドさんが気さくで楽しめるよう話しかけてくれたり、親切な対応で家族全員が素敵な思い出になるようにしてくれて良い時間を過ごさせてもらいました。本当にありがとうございました。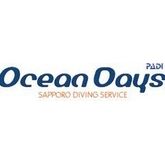 事業者からの返信コメント
クリアカヤックツアーにご参加頂きありがとうございました。
楽しんでいただけてよかったです。
お子様たちにも支笏湖とその周辺の美しい自然を体感していただけたでしょうか。
また、北海道へお越しの際はお待ちしております。

オーシャンデイズ.
カップル
ファミリー
友人と
初挑戦
ステップアップ
7,000円~​ ​(tax included)
大人 1 人 あたりの料金
Included in price
Guide fee, kayaking experience, paraphernalia rental, dry suit (winter), insurance premiums, consumption tax
| | |
| --- | --- |
| | Starting time 09:30 12:30 15:00 |
| | Participating age4 才~ |
| | Time required 2-3 hours |
| | Schedule[Summer season] From April to October |
| | Assemble point Look in GoogleMap |