Online tour experience: Observe the beautiful starry sky of Ishigaki Island, Okinawa at home!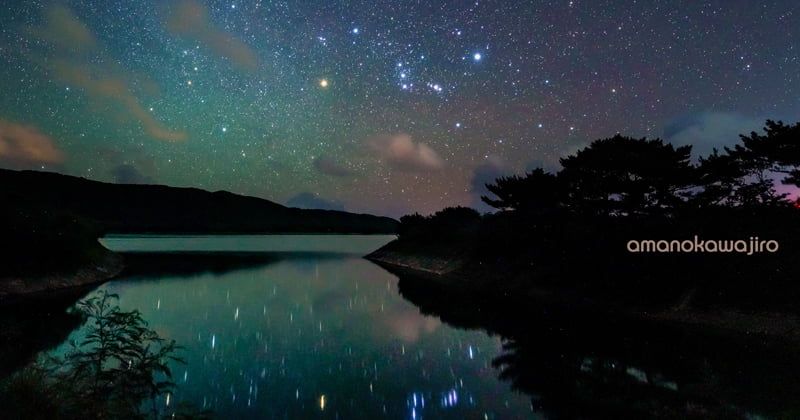 Activity Japan editorial department
I was so busy with work that 2021 ended before I knew it, and when I realized it, it was 2022. "Oh, when did you see the starry sky slowly?" That was when I was a kid. "During the summer vacation, I used a telescope that my friend in the neighborhood had. Starry sky observation I was doing it ... "and I felt nostalgic for a while. The days when I can't travel or go out. And work is busy. When I was thinking, "Heal my heart like this," at Activity Japan, " Okinawa / Ishigaki Island Photo Tour Discovered! I decided to participate immediately!
What is Milky Way Jiro & Photo Tour?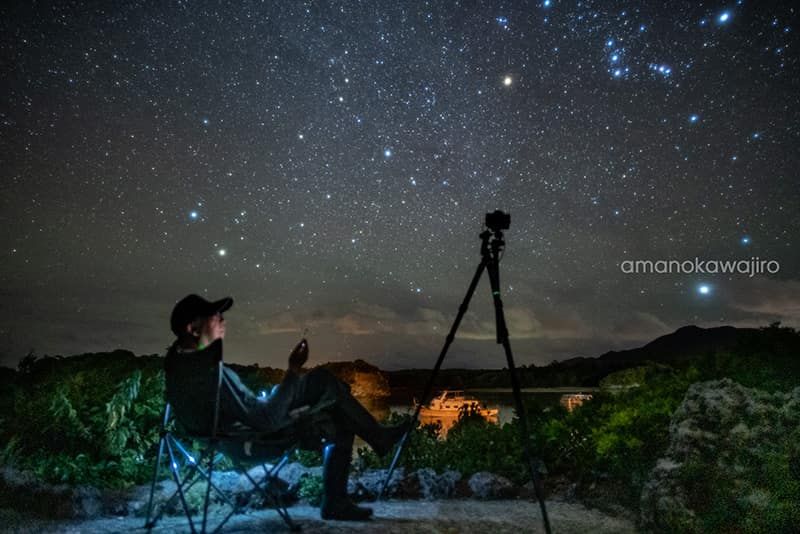 Online tour experience Offering " Milky Way Jiro & Photo Tour "teeth Okinawa / Ishigaki Island Shop in. Photographer Jiro Amanokawa Is the representative.
Currently in Activity Japan Online tour experience where you can observe the beautiful starry sky of Ishigaki Island at home Can be reserved. Taken by a professional photographer, Mr. Milky Way " Starry sky postcard 3 gifts Will be done.
"Starry Sky Postcard" comes only with online tour experience So it's a great deal!
Online tour experience starts!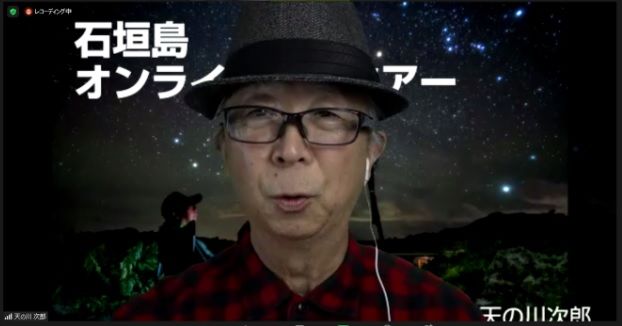 On the day of the online tour experience.
When I was waiting while thinking, "Isn't it the one who gets nervous no matter how many times I participate?" A fashionable gentleman in a hat and red check shirt, Mr. Milky Way, is here!
First self-introduction ..
Mr. Milky Way is from Osaka City, Osaka Prefecture. He said he was "interested in photography" because his relatives ran a camera store. From junior high school, the camera was a hobby, "I took snapshots and developed the film myself."
After that, Mr. Amakawa said, "I was involved in printing and web-related work in Osaka."
From the beginning of the online tour, the editorial department C is nailed to Mr. Milky Way's fluent narrative. I was really thinking, "... Maybe I was on educational TV?"
I was surprised that Mr. Milky Way was involved in printing and web-related work, but it may be connected because he likes photography.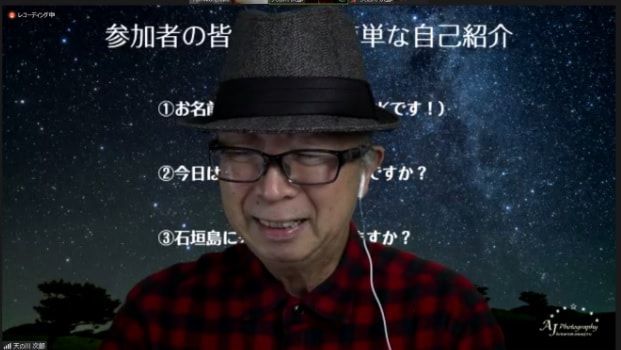 It was 2002. Mr. Milky Way said that he said, "Let's go on a trip with my husband and wife" to celebrate the 25th anniversary of our marriage. It seems that he thought about traveling abroad, but from the aspect of security etc., he went to Japan.
"... for some reason all the time Iriomote cat I've always wanted to see the existence of Remote island of Okinawa To find out.
Then, I found a reasonable condominium where I could stay in Ishigaki Island for a long time! While staying in the field for a month as a couple I like the nature of Ishigaki Island and the relaxing flow of time. Determined to relocate I heard you did.
Mr. Milky Way said that he decided to move to Ishigaki Island for some reason because he wanted to see the Iriomote cat. I felt that "nature is a mysterious thing".
Milky Way moved to Ishigaki Island Around 2002, "There was no cameraman to shoot the starry sky." And that. Therefore Thinking "If so, I'll take a picture", to a professional cameraman ..
In 2012 Portrait shooting of starry sky and people When I started, it became popular. After that, Mr. Milky Way Ishigaki Island x Starry Sky Shooting Leader Widely used as is.
Enjoy the beautiful night sky of Ishigaki Island at home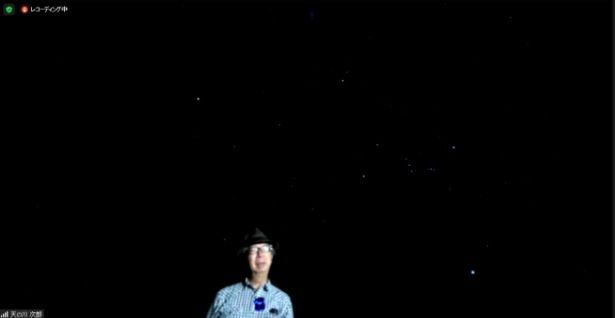 After introducing myself, it's finally time Online tour experience starts !!
Mr. Milky Way will explain while watching the video taken in Ishigaki Island in advance. First Orion, the constellation that represents winter Observe. Orion Easy to find in the shape of a ribbon is.
" What is the difference between the stars seen in Honshu and Ishigaki Island? Interesting quiz Go to the next constellation (the answer is the online tour experience!).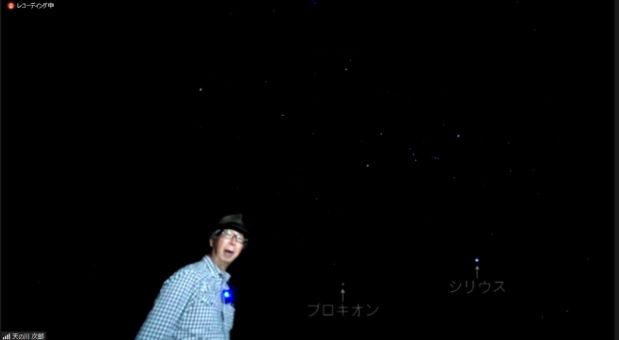 In the winter night sky The brightest shining star, Sirius in Canis Major .. Procyon and Sirius in Canis Minor , Betelgeuse in Orion When you connect with " Winter triangle " Will be.
as a side note Taurus and Gemini are also winter constellations .. Taurus and Gemini Constellation of people born in April-June That's right. So I thought it was a constellation that looks like spring, but for the first time I knew it was a constellation in winter.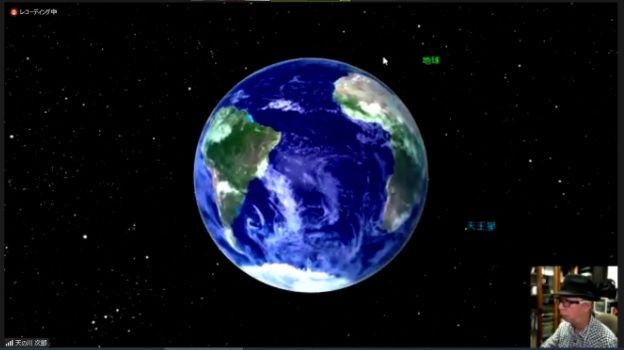 And here Jump out of the earth and into space .. The scale grows at once. I was looking at the stars from the earth, but this time on the contrary Observing the earth and stars from space To do.
" The identity of the Milky Way Explain, A special gift at the end Mr. Milky Way who gives me. "The identity of the Milky Way" and special gifts By all means in the online tour experience !!
Impressions of participating in the online tour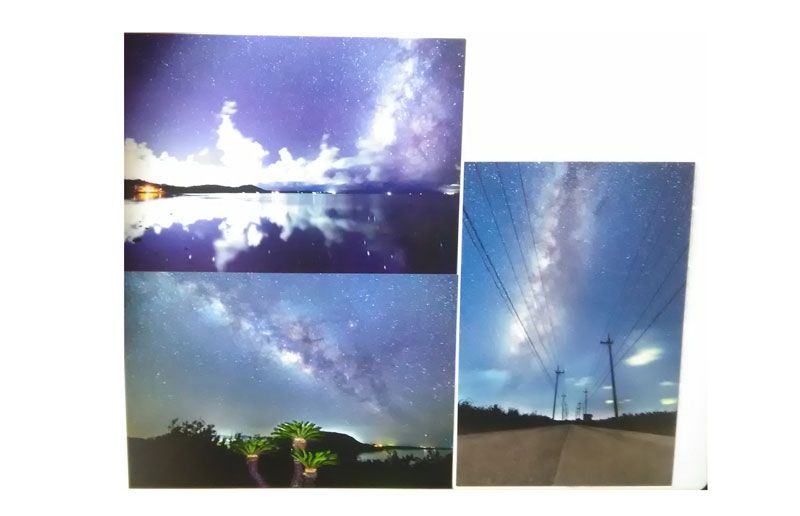 This time Explaining the constellations that can be observed in winter on Ishigaki Island Next time, I wanted to see constellations other than winter.
The season when you can see your constellation It is also recommended to check in advance and participate in the online tour experience!
After the online tour experience Taken by Mr. Milky Way on Ishigaki Island Beautiful postcards arrive The nice part of. While looking at the postcard, Mr. Milky Way's light talk and the beautiful starry sky of Ishigaki Island revived.
Online tour experience You can observe the beautiful starry sky of Ishigaki Island without worrying about the weather For, Great for families with small children is!
Heavenly River Jiro Photo & Tour
Ishigaki Island
2,750

Yen ~

(tax included)
5.0
(1 review / experience)
This is a tour where photographer Tenkawa Jiro will guide you through the beautiful starry sky of Ishigaki Island online from Ishigaki Island. On Ishigaki Island, we are doing a real tour called "Churasei Sanpo" at Fusaki Beach Resort, but you can only get a postcard for this online tour. It can be enjoyed by children of all ages and older people. ZOOM
Okinawa
Okinawa (remote island)
Ishigaki Island
Domestic online experience tour
From April 2014, we started a starry sky tour at Fusaki Beach Resort Hotel on Ishigaki Island. This is the second starry sky tour of Ishigaki Island that has been held for a long time, and there are many repeaters. Four excellent staff with 4 to 7 years of experience as a starry sky guide will guide you through the starry sky.
business hours
10: 00-22: 00
Regular holiday
Irregular holidays
Activity Japan is an affiliated company of the travel agency HIS, and is one of the largest reservation sites specializing in activities in Japan, where you can easily find and make reservations for activities and experiences in Japan. We have our own contracts with more than 5,000 affiliated partners all over Japan, and we handle 400 events, more than 15,000 plans of outdoor activities, manufacturing, day trips, leisure, online experience tours, etc. In addition, HIS's 170 bases in 118 cities in 61 countries / 163 stores in Japan (as of September 2021) and the media media of more than 200 companies on Activity Japan's own network are popular and cheap and recommended activity information in Japan and overseas. In addition to Japanese, we are currently accepting online reservations and reservations from travel agencies in English, Chinese (simplified and traditional), Korean, and Thai. In addition, you can make reservations at a discounted price by using the discount experience plan limited to Activity Japan and discount coupons, and there is also a point back after the activity experience. Book cheap outdoor sports, day trips, leisure, activity experiences, and online experience tours at HIS Group Activity Japan.
---
---
---
---
---
---