Izu sightseeing model course|Recommended spots to visit by car and day trip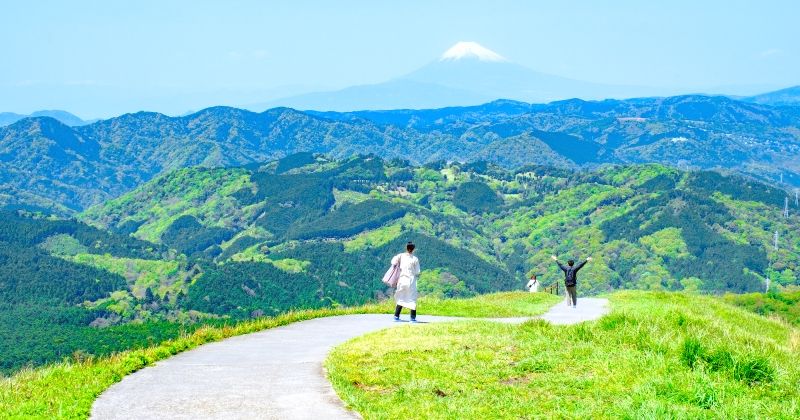 Activity Japan Editorial Department
Izu sightseeing that can be done on a day trip from Kanto will be featured!
This time Higashiizu model course by car Introducing. We will tell you about standard sightseeing spots and scenic spots that you can visit on a day trip!
Along the way of the model course, Activities and experiences that can be enjoyed around each spot I am also introducing
Hot springs, gourmet food, activities and experiences, and full of charm Izu Why don't you visit and enjoy your holiday?
Izu Sightseeing Recommended Model Course: Route & Map
A memorable starting point for the Izu sightseeing model course/day trip is Atami, a resort area facing Sagami Bay!
First, let's rent a car around JR Atami Station.
Once you leave, head south along the coastline and visit classic spots and scenic spots on a day trip!
Izu teeth Kanto However, as it is a popular tourist spot, congestion is expected depending on the season. .
It's OK to change the model course depending on the situation while checking the traffic situation! !
Atami Onsen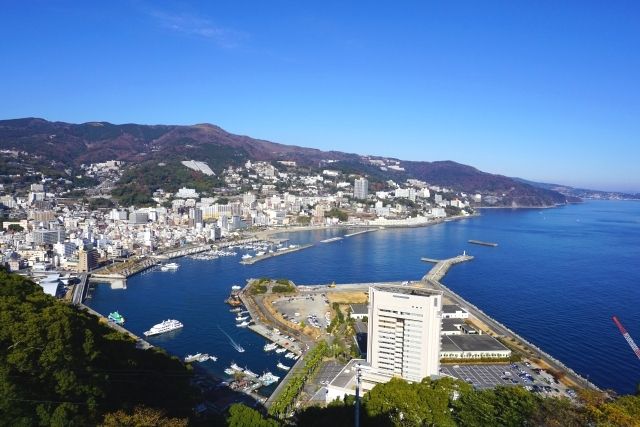 The starting point is the gateway to the Izu Peninsula from the city center. Atami Onsen ".
Atami city There are six major hot spring villages (Atami, Izu Yugawara, Izusan, Izu Taga, Ajiro, Hatsushima), and Atami Onsen is one of them.
Once a hot spring resort loved by the military commander Tokugawa Ieyasu, it is now known as a popular resort area in the Kanto region facing Sagamihara Bay. .
There are also plenty of hot spring facilities that can be used on a day trip without staying overnight.
At the beginning of your trip, how about relaxing in Atami's hot springs to relax?
After bathing in Atami Onsen, A panoramic view of Sagami Bay with various collections including national treasures " MOA Museum of Art It is also recommended to enjoy art at .
another, A castle overlooking the Izu Peninsula and remote islands, including Atami Onsen Atami Castle There are plenty of sightseeing spots that you can enjoy together with the hot springs, such as .
In addition, a large-scale fireworks display that launches from the sea " Atami Marine Fireworks Festival "teeth, One of the most popular events in the Atami area, held more than 10 times a year!
The sound of the fireworks echoes off the mountains surrounding Atami Bay, and you can enjoy the powerful scenery and sound!
Congestion is expected in the surrounding area during the Atami Sea Fireworks Festival .
If you want to enjoy Izu slowly while enjoying the Atami fireworks, please allow a little extra time in your schedule. Izu × 1 night 2 days driving trip and so on.
Around Atami Onsen, in the lush green mountains Paragliding experience or in the Bay Area SUP yoga is popular!
You can participate empty-handed photo frame making or Indigo dyeing experience etc. are held indoors, so you can enjoy them without any problems even in rainy weather.
Atami Trick Art Labyrinth Museum
About 15 minutes by car from JR Atami Station.
Atami This facility is located on the grounds of Atami Castle mentioned above, close to Nishikigaura, a scenic seaside spot in the southern part of the city.
" Atami Trick Art Labyrinth Museum As the name suggests, We are exhibiting unique trick art using optical illusions. .
In the facility, there are many surreal and comical exhibits, such as works in which animals in the paintings can be seen popping out, and works in which you can enter famous paintings.
There are works that allow you to take pictures of a giant animal about to be eaten, and works that make people in the same room look like different sizes. You can actually experience the optical illusion and there are plenty of exhibits that are outstandingly topical and can be posted on social media. .
Visit with your family or couple and take lots of great photos as a memory of your trip to Izu!
Since it is an indoor facility, Recommended spots for rainy days and bad weather you know!
Mount Omuro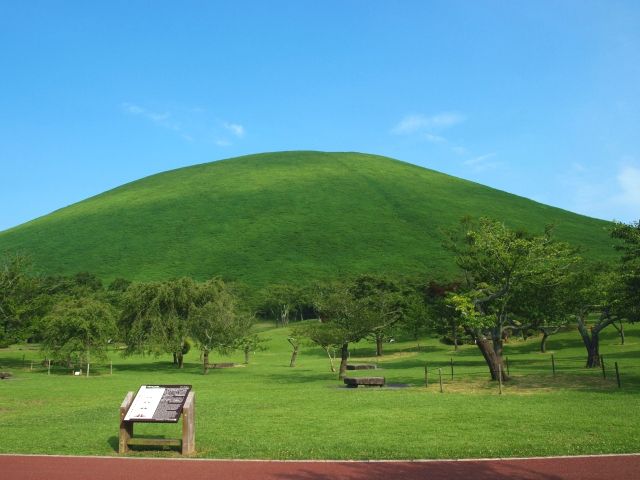 About 1 hour and 10 minutes by car from the Atami Trick Art Labyrinth Museum.
of the Izu Peninsula and the central part of the east coast Ito ・ Izukogen area It is a volcano in the city and is a regional landmark.
" Mount Omuro " is a unisexual volcano that was formed in a single eruption. It was formed by depositing pebbles (scoria) ejected during an eruption about 4,000 years ago. .
At an altitude of about 580m, the entire mountain is covered with lush greenery and has beautiful curves that make it hard to believe that it was formed by a natural eruption. .
Once you see it, you will never forget the silhouette that makes an impact, as if a bowl or rice bowl has been turned upside down!
In addition to being designated as a national natural monument, in 2009 (Heisei 21), it won the Shizuoka Prefecture Landscape Award for Excellence, and in 2018 (Heisei 30), it was certified as a UNESCO Global Geopark.
Easy lift access to the summit . From the crater site with a circumference of about 1 km, you can enjoy a 360-degree panorama overlooking Mt. Fuji, Sagami Bay, Izu Seven Islands, etc.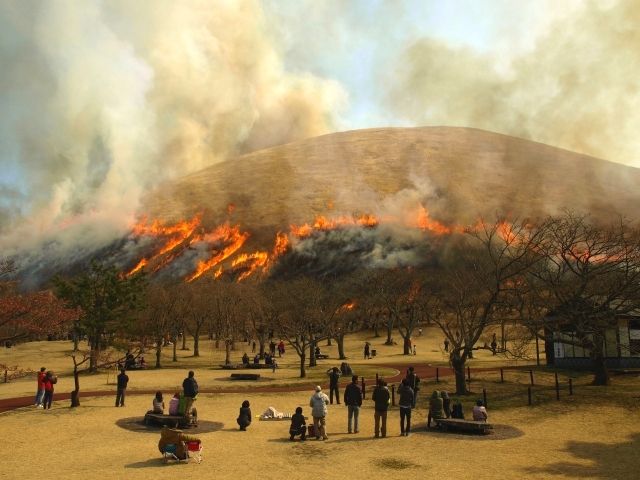 Every spring, in order to preserve the landscape, the traditional event of burning the entire mountain Omuro Yamayama Yaki " is performed. You can see the spectacular view of the mountain surface gradually burning!
If you enjoy activities around Mt. Omuro, Paragliding experience and beginners welcome on the Ito coast snorkeling ・ Diving experience is recommended.
electric potter's wheel used Pottery experience is also popular! How about a memento of your trip to Izu?
Jogasaki Coast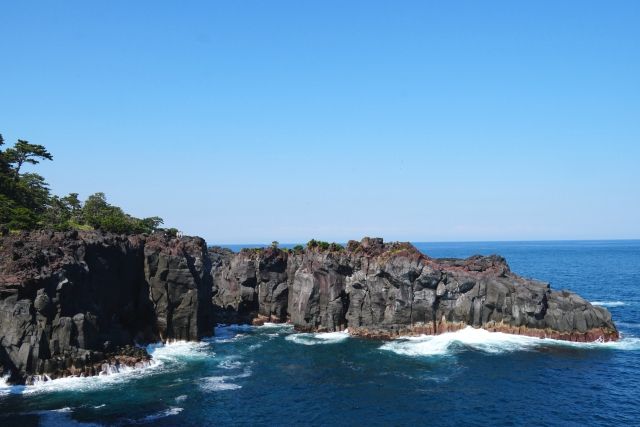 About 25 minutes by car from "Omuroyama", Ito ・ Izu Kogen Located on the east side of the Jogasaki Coast ".
It is a scenic spot characterized by rugged rock walls and lush green plants growing on them.
The terrain with height differences was created by the eruption about 4,000 years ago that led to the formation of Mt. Omuro. Combined with the crashing waves, it creates a powerful and thrilling landscape. .
around "Picnical Course", a 9km walking path is well maintained, so you can enjoy the scenery created by the greenery and the sea while walking lightly.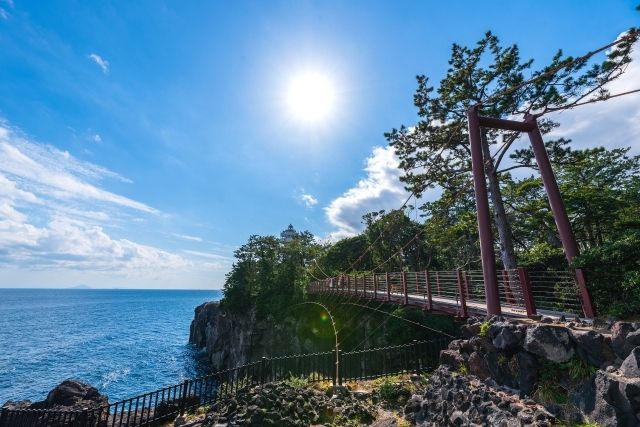 When strolling along the Jogasaki coast, one thing you definitely want to check out is the " Kadowaki Suspension Bridge "!
"Kadowaki Suspension Bridge" is a suspension bridge with a total length of about 48m and a height of about 23m. .
For those who want to enjoy the superb view and those who want to get excited, please try crossing!
Izu Kogen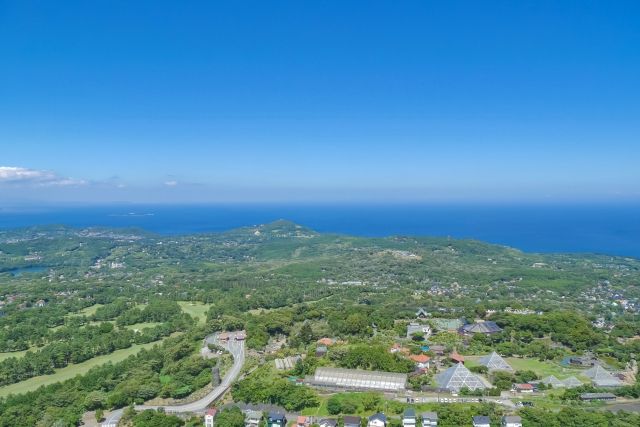 About 15 minutes by car from Jogasaki Kaigan.
The plateau area spreading at the foot of Mt. Omuro is called " Izu Kogen " is called.
Mt. Omuro and the Jogasaki coast mentioned above are also included in "Izukogen."
In addition to sightseeing spots created by nature, there are plenty of attractive indoor sightseeing spots that can be enjoyed even in rainy weather, such as the following.
A unique museum that displays Showa retro toys, fashion, cursed dolls, etc. Suspicious Boys and Girls Museum ".
Focusing on cats, including tigers, lions, and cheetahs, you can actually interact with cats. cat museum ".
Mainly valuable antique music boxes, automatic musical instruments and gramophones collected from all over the world are exhibited, and you can actually listen to the performance. Izu Music Box Museum "etc.
Each facility has a completely different theme, so you won't get bored!
Talk to your travel companions and visit the spots that interest you.
In the Izu Kogen area, you can enjoy it with an instructor's lecture Diving experience is popular.
Eat the finished product with tempura Soba making experience or, Handprint/footprint plate making experience for children/dogs I also recommend it!
Akasawa day trip hot spring building
About 15 minutes by car from Izu Kogen.
Located in the southern part of the Ito/Izu Kogen area, Akazawa Hot Spring Village It is a facility located in
Located on a hill facing Sagami Bay, you can soak in the hot spring while gazing at the superb view that makes the most of the location. .
The open-air bath is the place where you can especially enjoy the superb view at Akasawa Day Trip Onsenkan!
Spacious bathtub with a long width is attractive " 25m view open-air bath (Choboro Tenburo) "and" 20m view open-air bath (Temboro Tenburo) "From You can enjoy a large panorama overlooking the horizon of the mountains of the Izu Peninsula, Sagami Bay, and the Pacific Ocean together with the hot springs. .
The edges of the two open-air baths facing the sea are designed to be low, so if you soak in the water up to your shoulders, you can enjoy the unique view of the bath and the sea connecting!
There are also private rooms with open-air baths where you can enjoy the ocean view, and depending on the room, there are bathtubs made of different materials, such as rock baths, pottery baths, cypress baths, and barrel baths. .
When you visit Akasawa Day Trip Onsenkan with your family, friends, or couple, how about spending some relaxing time in a private room to take a break before heading home?
In addition, at the restaurant in the facility, you can enjoy Izu gourmet dishes using local seafood, such as sashimi, boiled fish, and tempura, while gazing at Sagami Bay.
Let's enjoy the taste of Izu, fortunately, after healing the fatigue of the trip in the hot spring!
Izu Popular Activity/Experience Ranking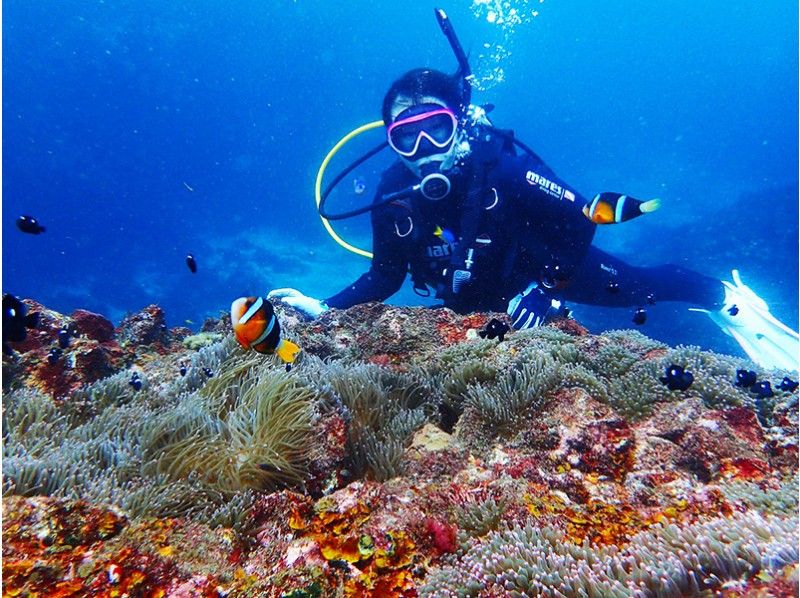 In addition to the above, you can enjoy various activities and experiences in Izu.
Izukogen area Then, even those who can't swim can enjoy it for beginners Diving experience is popular!
Right next to the Izu Kogen area Ito area can be used privately in a reserved tent sauna. .
A remote island floating in Sagami Bay Hatsushima If you visit You can enjoy flower tours admiring colorful subtropical plants!
If there are activities and experiences that interest you, adjust the schedule and include them in your model course!
Let's go around Izu sightseeing efficiently with a model course!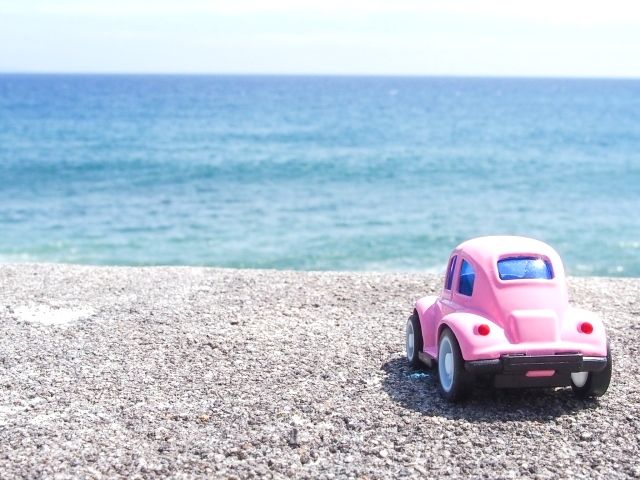 Izu can be visited on a day trip from central Tokyo, Kanto's leading tourist spot !
There is no shortage of activities and experiences, so if you visit regularly, you will find new attractions.
For a day trip to Izu, It is recommended to go around efficiently by model course & car is!
*The information in this article is current as of May 2023.
Editorial department recommended feature articles