Where is Forest Adventure Ueno? Thorough introduction of prices, times, reviews and courses of popular athletic facilities!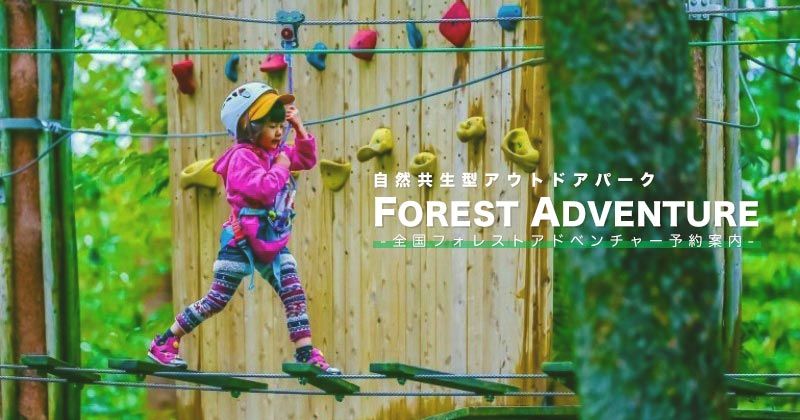 Activity Japan editorial department
On this page, you can see the nature-friendly outdoor park "Natural Symbiotic Outdoor Park", which has facilities all over Japan. Forest Adventure Is a big feature! Including information on all 38 parks, price (price), course content, required time, clothes / belongings, word-of-mouth experiences from users, etc. Thorough introduction of useful information for advance reservations To do. The theme is "Adults turn into children, and children become adults." Popular athletic park Let's enjoy the great outdoors of Japan!
What is Forest Adventure?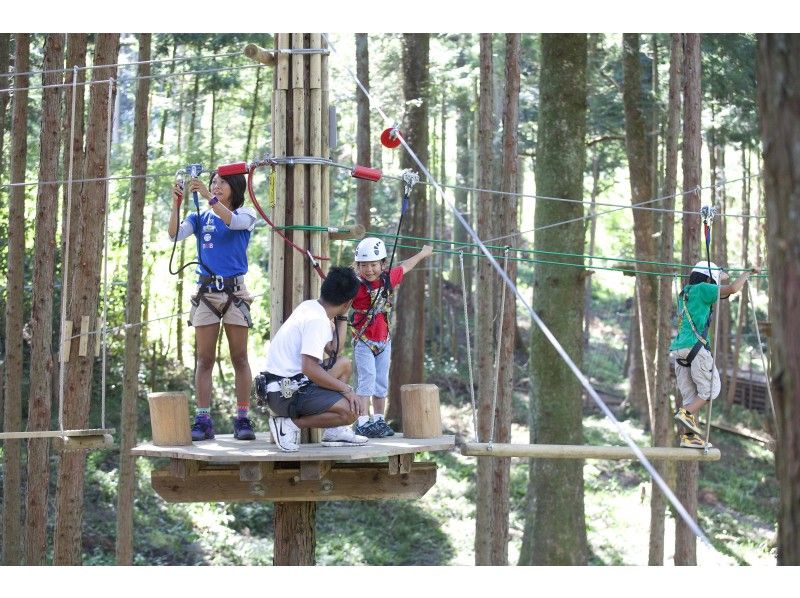 First of all," What is Forest Adventure in the first place? For those who have doubts, I would like to review the basic outline such as its history and origin.
Forest Adventure History
Forest Adventure is "La foret de l'aventure = Forest of Adventure" "Nature symbiotic outdoor park" born in the suburbs of Annecy, France It is the name of.
When it first opened in 1997 Started as a training facility for Swiss companies It was the beginning.
afterwards, Reputation for athletic equipment and concepts When it is opened to the public, its popularity in France will spread in a blink of an eye.
Currently, it is deployed worldwide, and in Japan, in the form of a business alliance between Altus, France, and Pacific Network. Operated as "Forest Adventure" It has been.
Forest Adventure Features
The most attractive and most distinctive feature of Forest Adventure is " Creating a park that utilizes untouched forest as it is ".
Since the opening of Japan's first park on August 7, 2006, in a forest at an altitude of 1100m at the foot of Mt. Fuji. Thorough creation of a park that minimizes the burden on the natural environment It has been.
Also as a forest adventure Part of the profit will be used for forest maintenance We have established a model case as an experimental facility for "sustainable forest management".
Exactly Activity content suitable for the name of "Nature symbiotic outdoor park" Can be said to be the charm of Forest Adventure.
Forest adventure rules
In Forest Adventure, whether you're an adult or a child, Protect your own safety "Is the rule of the principle.
Accidents and injuries, such as operating safety equipment and ensuring safety At your own discretion how to avoid all dangers I have to do it.
And "playing seriously" itself is the greatest attraction of Forest Adventure. Factors that capture the hearts of many people, regardless of age or gender But there is also.
" Adults turn into children, and children become adults. Enjoy an exciting day that can only be experienced in Forest Adventure.
Forest Adventure Course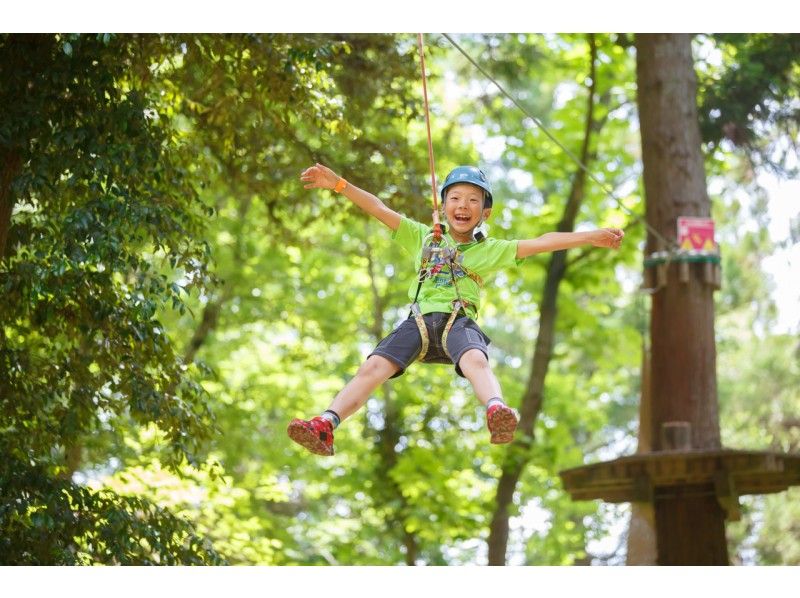 Forest Adventure has different conditions such as difficulty and safety system 5 types of courses are set It has been.
In the following, " Adventure course , " Trek course , " Discovery course , " Canopy course , " Kids course The characteristics of each are summarized.
Adventure Course
The most difficult course in Forest Adventure is " Adventure Course "is.
Participation conditions and usage fees vary depending on the safety assurance system (self-belay and continue belay) adopted.
Discovery Course
Adopt a self-belay system that ensures your own safety at your own discretion. Discovery Course ".
Because the difficulty of the course is lower than that of the Adventure Course Enjoyable for a wide range of age groups regardless of age or gender Is attractive.
Canopy Course
The course is less difficult than the Adventure Course, and it is easy to operate and adopts a safe continuation belay system. Canopy Course ".
Even families with young children and beginners of outdoor athletics can enjoy it with confidence. Recommended for your first Forest Adventure experience It is a course of.
Kids Course
The course is set up within the reach of parents and adopts a continue belay system that can ensure safety without operating the equipment by yourself. Kids Course ".
Although the height is set to a low position within 1 m to 2 m, a full-scale zip slide using the mountainous terrain is also installed. A course that will satisfy children is.
Trek Course
From the Forest Adventure facility, you can enjoy selecting your favorite site as many times as you like on an hourly basis. Trek Course ".
Because you can select a site according to the difficulty level for beginners, intermediates, and advanced users. A course that meets various needs including repeaters is.
About Forest Adventure Reservation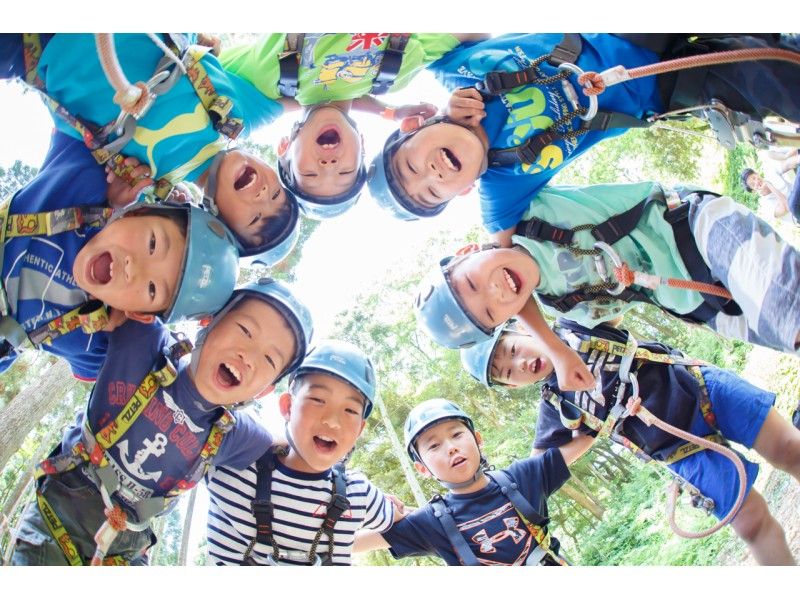 If you're looking for an admission ticket to Forest Adventure Easy and affordable internet advance reservation Is recommended.
Not only smooth admission on the day, but also discount campaigns and point backs, etc. You may be able to receive various services I have.
Here, based on the data of 7 parks currently accepting reservations at Activity Japan Information such as price (price), required time, participation age, etc. Is summarized.
Forest Adventure Price (Price)
The price of Forest Adventure is Set for each facility or each course It has been.
Currently at Activity Japan 2,800 yen (tax included) per participant at the cheapest price You can reserve a plan that can be reserved from.
The experience fee is Common to both adults and children It includes everything you need, such as experience fees, harness rental fees, and consumption tax.
Forest Adventure Participation Age
Forest Adventure depends on the course you participate in Participation conditions such as age or height and weight Is stipulated.
The following is a summary of the participation conditions for each course.
Adventure Course
Discovery Course
Canopy Course
Kids Course
Trek Course
In addition, the participating parks may have their own rules.
For details, please check the details of the course / experience plan to be booked.
Clothes suitable for Forest Adventure
When participating in Forest Adventure Clothes that are easy to move and can get dirty Participation in is a prerequisite.
Sneakers at your feet Wear shoes suitable for exercise However, avoid wearing shoes that are easy to take off, such as sandals or pumps with heels.
For women, wear skirts and wide-hemmed clothing. Avoid long pants (pants such as jeans) However, it is recommended to tie the hair with a hair tie.
Forest Adventure Ueno Inventory List
Where is Forest Adventure Ueno?
" Where is Forest Adventure Ueno? I think that few people are confused about choosing a park to reserve.
Below, "Activity Japan" based on the latest reservation data Forest Adventure Experience Plan Reservation Popularity Ranking I will introduce.
Please use it for comparison and examination of plan selection by referring to the location (location) of the park, price (price), course content, reputation based on reviews and word-of-mouth experiences.
Forest Adventure Reviews and Reputation
Below, it was submitted to the activity Japan publication plan Forest Adventure Reviews and Reviews Introducing.
I actually participated Reputation and evaluation by live voice from users Please use this as a reference for comparing and examining the selection of Forest Adventure experience plans.
Forest Adventure Chichibu
Forest Adventure Okugami Nabe
Forest Adventure Ritto
Forest Adventure Asso
Search from Forest Adventures nationwide
Finally, there are 38 locations nationwide, from Hokkaido in the north to Okinawa in the south. Forest Adventure Facility Information Introducing.
Search for destinations such as travel and driving, and parks near your home A nature experience that is very satisfying for children and adults Please enjoy!
Forest Adventure in Hokkaido / Tohoku area
| | |
| --- | --- |
| Forest Adventure Eniwa | 275 Nishishimamatsu, Eniwa City, Hokkaido 061-1356 |
Forest Adventure in the Kanto area
| | |
| --- | --- |
| Forest Adventure Ohira | 857 Nishiyamada, Ohiramachi, Tochigi City, Tochigi Prefecture 329-4405 |
| Forest Adventure Tsukuba | 1688 Numata, Tsukuba City, Ibaraki Prefecture 300-4353 |
| Forest Adventure Ueno | 1169 Katsuyama, Ueno-mura, Tano-gun, Gunma 370-1613 |
| Forest Adventure Yokohama | 1425-4 Kamishirane-cho, Asahi-ku, Yokohama-shi, Kanagawa 241-0001 |
| Forest Adventure Odawara | 4391 Kuno, Odawara City, Kanagawa Prefecture 250-0055 |
| Forest Adventure Hakone | 749-1 Yumoto Aza Chanohana, Hakone-machi, Ashigarashimo-gun, Kanagawa 250-0311 |
Forest Adventure in the Koshinetsu / Hokuriku area
| | |
| --- | --- |
| Forest Adventure Nagano | 2471-608 Ageya, Nagano City, Nagano Prefecture 380-0888 |
| Forest Adventure Tateshina | 4026-2 Kitayama, Chino City, Nagano Prefecture 391-0301 Tokyu Resort Town Tateshina |
| Forest Adventure Kosuge | 3445 Kosuge-mura, Kitatsuru-gun, Yamanashi 409-0211 Roadside station Kosuge / Tama headwaters hot spring "Kosuge no Yu" adjacent |
| Forest Adventure Fuji | 8545-1 Narusawa-mura, Minamitsuru-gun, Yamanashi Prefecture Mt. Fuji 8545-1 Yamanashi Prefecture Onshi Prefecture Property |
| Forest Adventure Matsukawa | 2805-1 Ojima, Matsukawa-cho, Shimoina-gun, Nagano 399-3304 |
Forest Adventure in the Tokai area
| | |
| --- | --- |
| Forest Adventure Mishima Skywalk | 313 Sasahara Shinden, Mishima City, Shizuoka Prefecture 411-0012 |
| Forest Adventure Gotemba | 1380-15 Inno, Gotemba City, Shizuoka Prefecture 412-0008 |
| Forest Adventure Shinshiro | Inside Shinshiro General Park, 66-1 Omi Yage, Shinshiro City, Aichi Prefecture 441-1315 |
| Forest Adventure Toyota Kuragaike | 713-2 Hozawa, Yanami-cho, Toyota City, Aichi Prefecture 471-0002 Kuragaike Park |
| Forest Adventure Yunoyama | 4958 Komono, Komono-cho, Mie-gun, Mie-gun, 510-1233 |
Forest Adventure in the Kansai area
| | |
| --- | --- |
| Forest Adventure Kobe Rokkosan | 4512-98 Kitarokko, Rokkosan-cho, Nada-ku, Kobe-shi, Hyogo 657-0101 |
| Forest Adventure Tamba Sasayama | 265-3 Hiuchiwanji Hatayama, Tamba-Sasayama City, Hyogo Prefecture 669-2301 |
Forest Adventure in the China area
| | |
| --- | --- |
| Forest Adventure Hiroshima | 1593-75 Yoshiwa, Hatsukaichi City, Hiroshima Prefecture 738-0301 |
Forest Adventure in Shikoku area
| | |
| --- | --- |
| Forest Adventure Saijo | 486-1 Kawanouchi Ko, Saijo City, Ehime Prefecture, 799-1314 Motoya Park |
| Forest Adventure Iya | 379 Oinouchi, Nishiiyayamamura, Miyoshi City, Tokushima Prefecture 778-0101 Inside Iya Fureai Park |
| Forest Adventure Kochi | 5422 Yoshiunootsu, Tsuno-cho, Takaoka-gun, Kochi 785-0504 (Nagasawa Falls) |
Forest Adventure in Kyushu area
| | |
| --- | --- |
| Forest Adventure Itoshima | 312-390 Nijoikisan, Itoshima City, Fukuoka Prefecture 819-1622 Inside Hinokuchi Highland |
| Forest Adventure Hisayama | 1226-1 Oaza Yamada Aza Tsukazaki, Hisayama-cho, Kasuya-gun, Fukuoka 811-2502 |
| Forest Adventure Yoshinogari | 2753-375 Mitsu, Yoshinogari-cho, Kanzaki-gun, Saga 842-0104 Adventure Valley SAGA |
| Forest Adventure Beppu | 4380-1 Shidaka, Beppu City, Oita Prefecture 874-0000 |
| Forest Adventure Okuhita | 3750 Nakatsuemura Gose, Hita City, Oita Prefecture 877-0302 |
| Forest Adventure Misato | 3083-1 Uneno, Misato-cho, Shimomashiki-gun, Kumamoto 861-4703 Misato-no-Mori Campsite Adjacent to Garden Place |
| Forest Adventure Osumi | 6048-1 Iwagawa, Osumi-cho, Soo City, Kagoshima Prefecture 899-8102 |
Forest Adventure in Okinawa area
| | |
| --- | --- |
| Forest Adventure in Onna | 1525 Maeda, Onna-mura, Kunigami-gun, Okinawa 904-0417 |
Editorial department recommended feature article