[Saitama Chichibu] exhausted to play in the forest! Forest Adventure (Adventure course)




















Click on your Preferred Date
Please click on the date of your choice from the calendar.
Forest adventure · Chichibu (FOREST ADVENTURE CHICHIBU) video
Starting time

09:00

09:30

10:00

10:30

11:00

11:30

12:00

12:30

13:00

13:30

14:00

14:30

15:00

Participating age

Age 10 ~

Time required

2-3 hours

ScheduleRegularly
Assemble point Watch on GoogleMap
Description of plan
Adventure course is a standard course of forest adventure. In the forest with a mix of the atmosphere of the plantation and natural forests, to place the six zip slide that exceeds the valley, now Japan's largest scale of the Park. The property is, making it a course to maximize the adult satisfaction has become a course design at a high position throughout the entire course.
Everyone together both adults and children!
Adults get used to children. Children go into adulthood. Such experience can not only here. And you can enjoy together.
Originally Chichibu, Nagatoro area, but the river, such as rafting and canyoning is thriving, please enjoy the new Chichibu of play in this facility that can Yamaasobi!
Adventure adults play in earnest!
More than fourth grade is the property of the target, making it a course to maximize the adult satisfaction has become a course design at a high position throughout the entire course.
Since high, precisely because look dangerous, everyone will be seriously.
Security of the system
Security of the system has adopted Serubirei. In the self-belay system will be carried out at the user's own their own safety. Be carried out in an orderly manner, it will be in the state that is always safe on the tree has been secured, but there are risks associated with the use of since there is a possibility that the mistake. In order to reduce the risk, use everyone will be happy received prior to the safety briefing (safety training). This is the secret that adults also become seriously children.
Attractions of the plan

There is also Bouldering which is popular. Pounding of Gangan ~!

Cross over a high place with a thin rope. I can not stop feeling flat! What?

Activity swaying back and forth. Senior citizens are encouraged to let go (≧ ▽ ≦)

Landscape net movement will exhaust both strength and leg strength! Get over at a stroke with the momentum!

It seems easy, actually it can not be grueling (゚ Д ゚;).

There is a zip slide for every course! Let's fly in the air with refreshing eye on the animal's eyes (≧ ▽ ≦)
Information
Minimum number of people
1 person
Number of people who can book
1 to 10 people
Schedule
Regularly
Start time
8: 30-14: 30 (Please come to the reception 30 minutes before the time you booked)

* Reservation time will be the time to start the safety briefing (safety lecture), so if you can visit around 30 minutes beforehand, you can receive and prepare with a margin.
If you've delayed, if the following safety briefing (safety training) has reached the capacity, please understand that it may be you wait.
Assemble point
Forest Adventure Chichibu

Located in the Chichibu Muse Park] sport forest area of ​​in.
Please park in a parking lot (P4) where there is a go-karting place. This facility is in front of you.
Reservation deadline
2 days before
Advance preparation
Clothings and must-bring items
Comfortable clothes
sneakers
towel
drink
Suitable for outdoor exercise, please come in good clothes is also dirty.
It is not possible to participate in shoes with sandals, crocs, heels. We recommend bringing gloves and wearing gloves such as gloves.
About rental items
Rental shoes (¥ 500)
Rental wear (top / ¥ 500)
Rental wear (bottom / ¥ 500)
※ There are limited numbers. Please keep in mind that it may not be left.
Facility information
Changing room
Restroom
shower
Hot spring
Locker
Hairdryer
Parking Lot
convenience store/
supermarket
Access and map
Location
Forest area of ​​Chichibu, Saitama Prefecture Kuna 637-2 Chichibu Muse Park in Sports
How to reach by car
Kanetsu 45 minutes before and after from the motorway Garden IC in the No. 140 national highway to Nagatoro-Chichibu direction.
KenHisashimichi 45 minutes before and after from Sayama Hidaka IC out to 299 National Highway to the Chichibu-Ogano direction.
How to reach by train
From Seibu Shibata station or Chichibu station to Seibu Bus [Muse park circulation] at the music temple ahead, Chichibu Hospital ahead of time around 20 minutes.
After getting off "Supotsunomori", about a 1-minute walk.
※ Please confirm the bus timetable from HP.
About price
Basic charge
| | |
| --- | --- |
| Adult /person 3,600yen | 18-year-old - |
| Child / person 3,600yen | 10 years old ~ 17 years old |
※Prices including all taxes.
※ This is the basic charge.
* Prices may vary depending on the schedule, so please see the price list displayed after selecting the date.
| | |
| --- | --- |
| Included in price | Harness rental, insurance, consumption tax |
About payment / cancellation
About payment
Please pay at the day of cash.
※ credit unavailable
Payment method
The payment method specified by the operator.
About cancellation fee
Cancellation fee of the members of the public will not be generated. Please feel free to contact us.
Cancellation by operators.
Please contact us in advance because there is a case where forced obtained not closed by weather conditions, and the like.
It may also be closed by the sudden change of weather conditions.
You can open as long as a normal rain, hail, thunder, in the case of strong wind there might be to close for safety.
Others
Matters require attention
[Conditions of Participation]
Fourth grade or higher or height 140cm or more, weighing up to 130kg
There is the case that the age limit may be changed in some cases ※.
Those under the age of 18 should join with parents over the age of 18 or those with equivalent qualifications.
※ High school students are allowed without accompanying parents. However, it is subject to guardian monitoring from under the course.
Up to 3 children can be accompanied per parent.
Other notices
[Ask at the time of use]
· Upon available, you will be asked to sign the available Pledge of facilities specified.
- Notes on safety, the person who can not observe the rule not available.
- The direction is not available you are under the influence of alcohol or drugs.
Please come, easy to move clothes and shoes (sandals not) to wear.
---
Everyone's experiences
ゲストユーザー
愛想が悪いスタッフが数名居た事がマイナスですが…
ジップスライドを中心に非常に楽しいアクティビティでした。

参加日: 2018 年 08 月
Forest Adventure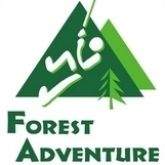 事業者からの返信コメント
こんにちは。

この度はフォレストアドベンチャー・秩父をご利用頂き、ありがとうございました。
愛想の悪いスタッフがいたとの事、申し訳ありませんでした。
笑顔での接客を徹底したいと思います。
ご指摘、ありがとうございました。

またのご利用、お待ちしております。.
---
3,600円~(税込)
Adult per person
Included in price
Harness rental, insurance, consumption tax
When you book this plan 33 pt I will save it!
| | |
| --- | --- |
| | Starting time 09:00 09:30 10:00 10:30 11:00 11:30 12:00 12:30 13:00 13:30 14:00 14:30 15:00 |
| | Participating ageAge 10 ~ |
| | Time required 2-3 hours |
| | ScheduleRegularly |
| | Assemble point Watch on GoogleMap |