What are your clothes and what you need to bring when you experience canyoning and shower Climbing?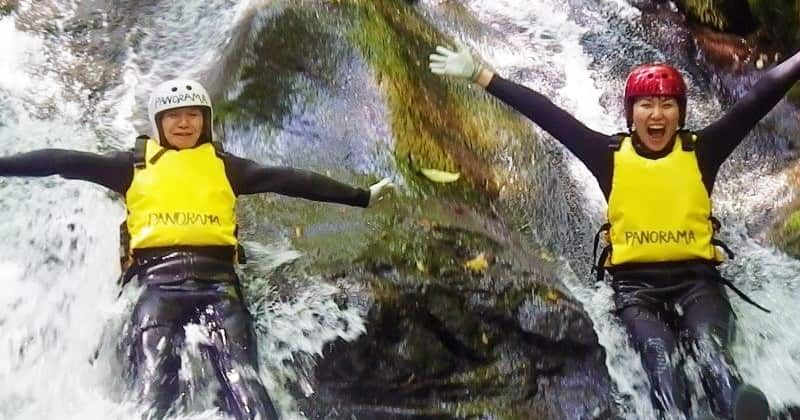 In the majestic nature, Canyon is a thrilling experience where you can go down a stream or go down a waterfall with a rope. Not only core outdoor fans enjoy it, Recently, there are many tours that even beginners can feel free to experience.. Therefore, this time, I will introduce at a glance what clothes and things I should know when I try canyoning for the first time.
What is canyoning?

Go down the stream along the mountain stream as if you were sliding down a natural waterslide."Canyoning". Born in Southern France, Activity was brought to Japan in 1998 Year by Mike Harris, a New Zealander, and spread to Japan mainly in Minakami Town, Gunma prefecture. I went. Today, it is extremely popular with the core outdoor enthusiasts. Such canyoning, in fact, is not Activity, which simply enjoys "Sawadori".
Canyoning starts from trekking the valley toward the starting point. And it includes multiple outdoor elements, such as Climbing down a stream, rope rope rappelling, dive into the water, and possibly Rafting and canoeing.
Canyoning Exactly A comprehensive Activity where you can experience the magnificent nature all by yourself It is.
What is the difference from shower Climbing?

For Activity similar to canyoning"shower Climbing"But what is the difference between the two?
Put simply, Canyoning goes down the mountain stream, while shower Climbing is an Activity going up the mountain stream Refers to
In this way, there are differences in the destinations you can aim for between canyoning and shower Climbing, but depending on the tour company in Japan, Including the elements of shower Climbing Canyoning It is sometimes called.
Whether you're canyoning or shower Climbing, your outfits and what you need will stay the same.
Thoroughly solve common questions for beginners!

Q. Can you enjoy the outdoors even if you have no experience?
Canyoning, which also has multiple outdoor elements, uses various functions of the whole body to play, so beginners tend to find it difficult.
However, the near Year in Many tours that welcome beginners are held in various parts of Japan So even those who have never experienced the outdoors will be able to fully enjoy it.
A knowledgeable and experienced veteran guide will accompany you throughout the tour and will always be there to help.
By the way, Events such as "dive into a waterhole" in the plan are not compulsory. If you are not good at diving, the guide will suggest another way to play, so it's a good idea to consult in advance.
In addition, depending on the tour, Time required also holds a half-day course of about 2 to 3 hours. Beginners can try the half-day course first. is not it.
Q. Can I participate even if I can't swim?
Because you wear a life jacket during the experience, you will be able to float naturally with the buoyancy of the life jacket without moving your limbs. for that reason, Those who are not good at swimming can participate with peace of mind Will
Life jackets can be Rental free of charge from the tour company, so you don't have to arrange your own.
Q. Can I wear glasses or contacts?
Canyoning jumps into the water or slides down a waterfall, Dangerous with glasses on is.
It is possible that it may come off or break with speed, so if you have poor eyesight, It's better to wear contact lenses than glasses Will
However, even when using contact lenses, there is a possibility that the lenses may become soiled with water during the experience or may come off and be lost. Therefore, Use disposable contact lenses or wear goggles over the contact lenses We recommend that you take precautions, such as
If you can't use contact lenses, make sure you have goggles and glasses for outdoor use.
Q. What should I do during my period?
You can enjoy canyoning even during your period is.
However, during the experience, my whole body will be soaked, so Ordinary napkins absorb water and become heavy, which inevitably causes discomfort..
Therefore, you should use a tampon or a menstrual cup that you put in your vagina to collect menstrual blood.
Also, as you cannot go to the toilet during the tour, we recommend using a tampon for daily use.
Q. Is it OK to bring a camera?
"You can bring your own camera with a waterproof function!" There are many tour companies such as.
But, It will be broken by the impact of the dive or the slider, or it will be dropped in the underwater and lost. Be careful when you bring your camera, as it can happen.
Also, depending on the tour company Take a picture of the situation during the experience, present the shooting data There is also a service that does.
In order to concentrate on canyoning, it may be better to use these services rather than bring your own camera.
Tell us how you look when you experience canyoning!

Most of the specialized equipment required to experience canyoning can be Rental from tour companies.
But, Some items that you should have in order to enjoy more comfortably There is also, so I will introduce it together.
Wetsuit & life jacket
During the canyoning experience, Wear wetsuit and life jacket To do.
But a wetsuit is literally "It's supposed to get wet" The suit that became. Since it is a mechanism to warm the body temperature with fasteners and water coming in from the hands and feet, Under the wetsuit, wear swimwear and clothes that can get wet. Let's do it.
If you wear a swimsuit, Female simple things without frills and ribbons are recommended, for Male, knee-length surf pants are recommended. is.
Also, if you are worried about wearing a wetsuit directly on top of your swimwear, you may want to combine your swimwear with a rash guard.
Canyoning shoes and gloves
In canyoning, where you often walk on wet rocks, Wear gloves to protect your hands from rocks and slippery shoes for canyoning To do.
However, during the experience, the shoes will inevitably contain fine gravel, so the socks worn in the special shoes Choose something that can get wet and torn.
Five finger socks In that case, each toe is easy to move, so it is recommended that it is easy to hold down and hard to get stuffy.
Helmet to protect the head
Like any Activity, canyoning involves some danger, Always wear a helmet To do.
Choose a size that fits your head so that you don't get misaligned in case of accident.
Those who tie hair have ribbons and decorations, and choux and so on so that they do not get in the way when wearing a helmet. It is safer to avoid voluminous hair elastics is. Choose a simple one.
Slider pants to protect the buttocks
Slider pants are made of materials that slide well So it helps when playing with water sliders.
There is no cushioning effect, but since it is strong and thick, you do not have to worry about rubbing and breaking the buttocks during the experience.
Canyoning harness
When using a rope to rappel, Wearing a harness exclusively for canyoning To do.
In the first place, if the harness is handled by a tour company, it should have been made in consideration of the canyoning-specific situations, so you can rely on it.
Other is also a useful help merchandise!

Towel to wipe the body
Towels are a Required for all water Activity is.
At that time, it is convenient to have a large towel to wipe the whole body after the experience and a small towel to wipe swimwear and goggles.
Excellent in water absorption and quick drying "Swim towel" In that case, if you squeeze even if you include water, the water absorption will be restored immediately. One piece is enough Will
It is light and easy to carry, so it is recommended for various outdoor scenes.
Spare underwear and socks
Experience canyoning with clothes worn from home If Be sure to bring extra underwear and socks.
Above all, I tend to forget about socks. You will wear special boots during the tour, but they are not completely waterproof. Be sure to prepare a replacement as it will get dirty with water and gravel.
A bag to store wet things
You should also have a bag to take home your bathing suit, clothes, socks, etc. wet from the canyon.
Big plastic bag If, It is convenient because you can carry all wet things in one is.
Goggles that can be comfortably enjoyed underwater
I often go into the water during the tour, so More comfortable with goggles is.
Even people who use contact lenses are dangerous if they come off during the experience Therefore, we recommend wearing goggles.
Depending on the plan contents, sun protection goods are also Required!
During the canyoning to wear a helmet Required you, but, canoeing and some tour content Kayak that you do not have to wear a helmet such Activity it may have been included.
During the tour If you take your helmet with you, bring sunscreen items such as wide-brimmed hats and sunglasses. let's do it.
Makeup tools for remakeup
During the experience, it often happens that the face is splashed with water, so Makeup tool to remake after finishing Don't forget to bring it with you.
Other grooming should you pay attention to?

Don't forget UV care for your face!
During the experience, I wear a wetsuit that covers the whole body, so I can hide my arms and legs, The face is always exposed to UV light.
Make sure to take proper measures against UV rays by applying sunscreen cream on your face.
Given that you can't repaint often, We recommend the waterproof type that does not easily fall off even with water or sweat is.
Cut your nails short!
Canyoning sometimes Move while grasping rocks and ropes There is also something to do, Nail needs to be cut short there is.
Also, even if the nail tip is short, there is a possibility that it will be caught somewhere during the experience, or in the worst case it may be peeled off, so remove it in advance.
Let's tie long hair!
If your hair is longer than your shoulders, Tie your hair in advance to prevent it from getting entangled in wetsuits, life jackets, etc. Let's finish.
It's easy to remove the hair elastic with shish and decorations, A simple one that can be tied firmly is recommended is.
Also, since I wear a helmet during the experience, Bundle at a position below the ear Please be so.
Waterproof is recommended for makeup!
I often jump into the water during the experience, so I'm worried about my makeup breaking. In order to keep makeup firmly until the end of the experience, It is better to use a waterproof type makeup tool that is resistant to water and sweat Will
In addition, it is highly possible that you may remove the false eyelashes on the way, so we recommend that you remove it beforehand.
Canyon rafting plan recommended for beginners
There are many spots where you can enjoy Canyon rafting all over Japan, but Experience plan at a particularly recommended popular spot I will introduce each.
Canyoning
Shower climbing
Summary of clothes for enjoying canyoning

Wet suit
Life jacket
Canyoning shoes
Globe
helmet
Slider pants
Harness
more is the way to enjoy canyoning.
All these specialized equipment can be Rental free, so you don't have to prepare it yourself.
Some people may have their own wetsuits, but during the experience they may slip down a rugged rocky place or jump into the water, which may damage their wetsuits.
for that reason, We recommend using the Rental service rather than bringing your own To do.
On the other hand, what I want to prepare myself
Swimwear or wet underwear to wear in a wetsuit
Socks that can be wet or torn
Towel to wipe the body
A bag to store wet things
Etc.
more, please enjoy canyoning as much as you can on the On the day!
アクティビティジャパンとは、HISの100%子会社であり、日本全国 約4,000社の提携パートナーが取り扱っている、350種目、15,000プラン以上のアウトドアスポーツ、日帰り旅行、レジャー、アクティビティ体験をWEB上に掲載しております。HISの世界70か国 海外162都市265拠点/国内252店舗や200社以上のメディア媒体にも、国内、海外に人気で格安、おすすめアクティビティ情報を発信しており、現在、日本語の他に英語、中国語(簡体字、繁体字)、韓国語、タイ語にて全世界より予約受付を行っております。
また、アクティビティジャパン限定の割引体験プランや、割引クーポンを利用してお得により安く予約ができて、アクティビティ体験後は、ポイントバックもあります!格安なアウトドアスポーツ、日帰り旅行、レジャー、アクティビティ体験は是非HISグループのアクティビティジャパンでご予約ください!
---
---
---
---
---