What is canyoning?
Canyoning (canyoning) is one of the ultimate outdoor leisure to play the river with one body and is a river activity also called shimizu, rice shower and shower climbing. You can experience serious adventures going on adventure into a deep forest valley course that you will not normally step in while feeling the flow of the river and the sound of nature. There is a thrilling attraction such as waterfall dive, natural water slider, zip line, etc. It is a premium river playing experience that you can experience exhilaration that you can only experience in spring / summer season.
Canyoning experience tour plan offers various courses from beginner to advanced. Depending on the area, there are also courses where small children can participate, so it is a recommended experience activity for families as well.
1

2

3

4

5

6

7

8

9

10

11

12
※ The number is attention degree data based on the number of searches.
The season of the canyoning experience which can be played with the water of the river is extremely short, from May to the end of summer until September. For that reason, in the red part of the graph, the inquiries are rushing and vacant days are reduced so early reservation is necessary. Especially for summer vacation and other top season popular areas and popular plans to book at least one month in advance is recommended.
Since many plans that can be experienced from elementary school students are also popular activities for children, popularity concentrates in the school's summer vacation period. Let 's schedule adjustment and reservation arrangements as soon as possible.
Canyoning watch on video
2017 Season We introduce canyoning videos taken with the cooperation of the Okutama area "Grandex Okutama Base". Even beginners can enjoy relaxing beginners course Zip line and waterfall dive etc. It is a content of fulfilling plan full of canyoning fun. As the theme of the animation 'Let's become a child occasionally', a super recommended tour that makes both the experiencer and the staff smile. The access from the city center is also an attraction of the Okutama area.

[Interview coverage]
Gran index Okutama base
[Movie Production]
Groovoost Inc.
Experience plan for this video

プランID:11
Gran index Okutama base
6,000

yen~

​ ​(tax included)
Full canyoning tour of in the transparent valley surrounded by deep green that does not seem to Tokyo! Short travel distance of the course, because the course can play point is jammed tightly, you can enjoy the fully a swim in a river, even half a day. Or slipped natural waterslide that can be cut rock by the water, Dari jumped Omoikkiri natural pool, packed with having a swim in a river points! The sense of unity and the thrill of a large nature, please come and experience.
Those who wish to have a more thrilling canyoning experience are recommended Okutama Canyoning Advance Course which is held specially for the limited period until 7/14 (Friday). It is a canyoning experience for professionals guided by the tour guide which played the river. Please also visit our activity activity Japan coverage video.
Experience plan for this video
What is the popular spot for canyoning?
In the Kanto region, Tokyo Okutama and Gunma Minakami, in the Kansai region the Nara Yoshino River (Kinokawa), Shikoku's Kochi Yoshino River and Ehime's sliding canyon, Okinawa enjoying the subtropical Yanbaru nature's canyoning, etc. In nature rich in Japan north is Hokkaido, south There are many popular spots to Okinawa. Also, as many shops organize experiential tours as well as rafting and the like, you can experience safe and pleasant canyoning with guide staff who are familiar with the course by area.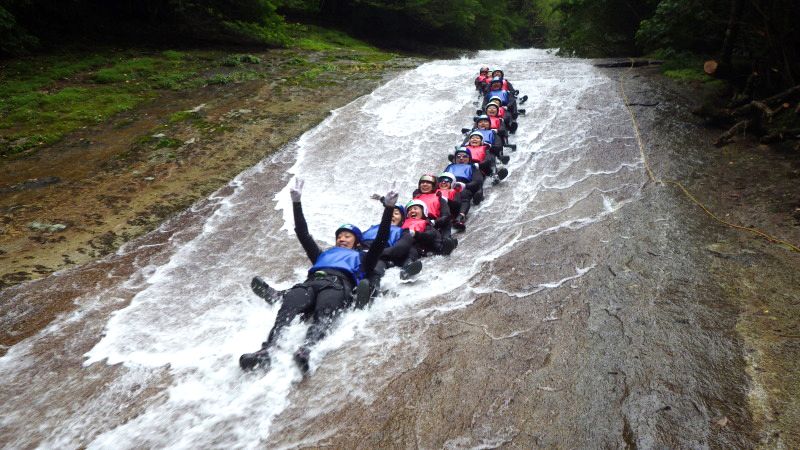 Ehime Sliding Valley Full Length 40 m Natural Slider

10,500

yen~

​ ​(tax included)
ベースキャンプのある滑床ベース2018を出発し、午前中はハーフコースをお楽しみいただきます。 ・・・・とここからさらに渓谷の奥へと冒険は続きます。地元の食材をふんだんに使用した特性ランチを食べて頂いたあとはいよいよ後半戦!5メートルの高さの橋上からのロープを使ったスパイごっこや岩と岩の間を協力してすり抜けていくトレッキングなど、キャニオニング本来の楽しみ方がすべて完結された贅沢なコースです!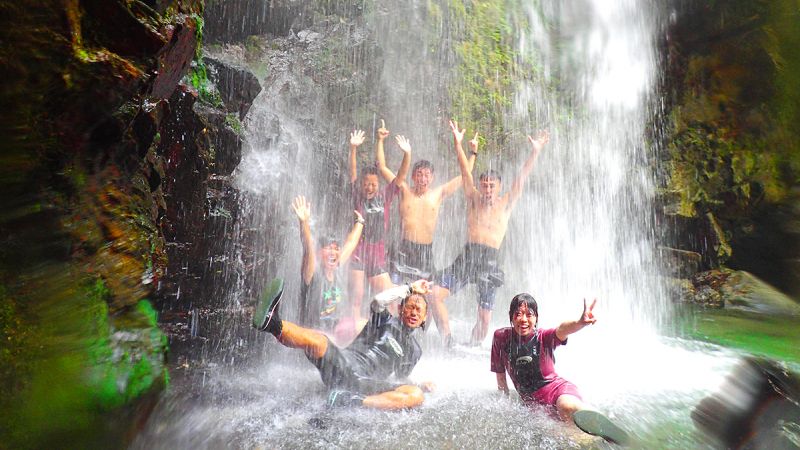 Canyoning at the forest of Okinawa Yanbaru

プランID:10922
Earthship Okinawa (earth ship okinawa)
7,000

yen~

​ ​(tax included)
It is clear stream trekking tour that aims to oasis of Yanbaru. In the forest, called the northern Okinawa ゛Ya N Bal ", distinctively walk Jabujabu a beautiful creek surrounded by greenery. Or struck by waterfall 12m, ··· or jump to the basin from the cliff of height 3m . Let the healing and new sense of journey active in the forest Yanbaru.
What is necessary for canyoning?
Equipment and tools necessary for safely enjoying canyoning such as insurance, wet suit and helmet, life jacket and slider pants, gloves and shoes can be rented, and in many shop plans it is included in the experience fee. There is no problem if there are basic preparations necessary for water play such as bathing suits and towels to wear in the wet suit. Recently there are plans for staff to shoot action cameras such as GoPro (Gopro) and photos and videos during the experiment.
How to enjoy canyoning
If you experience leisure and river activities such as canyoning, let's make a tour schedule that you can enjoy the river and the mountains nature. There are other activities such as canoeing in the river, snorkeling etc. in Okinawa, there is also a great set plan combined with lunch and BBQ is recommended. Also, the activity experience is attractive to enjoy with the sightseeing of the land such as hot springs so let's enjoy the whole day by selecting the appropriate plan from the morning course, afternoon course, one day course etc.

プランID:8684
Panorama Adventures
13,000

yen~

​ ​(tax included)
It is canyoning and "Raffi computing" or package plan that can be combined to "HydroSpeed" freely. Full day fun!

プランID:10561
ocean guide HONU (Ocean guide Honu)
10,000

yen~

​ ​(tax included)
Snorkel and shower climbing (sawanobori) is a popular beach area is a luxury plan to enjoy a set. Not the sea only, why not experience the Okinawa charm? In snorkel ♪ 2 one of the activities to enjoy sawanobori and sea devouring play the river, you will be able to enjoy the dynamic Okinawa wilderness! Only around a transparent sea and clear stream and soul Let's refresh.

プランID:480
Forest & Water Water base
12,500

yen~

​ ​(tax included)
Canyoning and canoes of a great deal!
Please touch on the basic knowledge of canyoning and experience it first if you are interested. At Activity Japan, you can book a canyoning experience tour plan of over 150 plans nationwide. There should surely be a nice canyoning plan for travelers and good access from home.