Director of WILD-1 manager direct! "How to choose a lantern" that even beginners can understand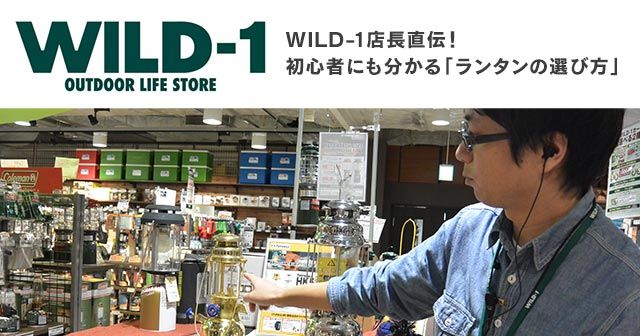 If you are enjoying a variety of outdoor, you will want to have a set of your own tools. It is hard to examine a lot, such as "tent" to "shruff" and "tarp" to "lantern". . .

So, how do you actually choose it! What? For those in need, I also introduced Mr. Morita, manager of WILD - 1 Odaiba Dex Tokyo Beach store, how to choose various outdoor goods and recommended items again!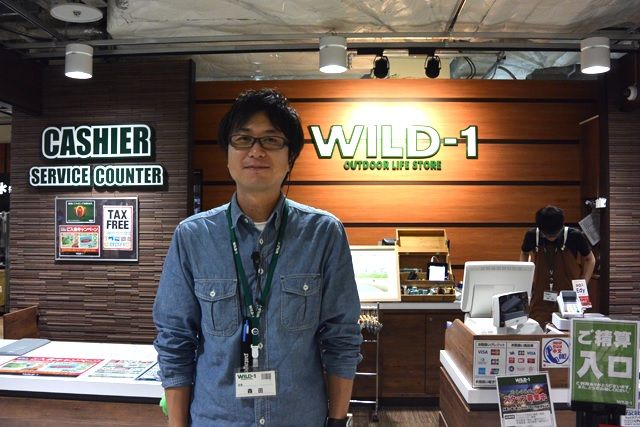 As this time WILD-1 collaboration project, we will tell you "How to choose a lantern" that even beginners can understand.

It is quite modest supporting character, but lanterns are as essential as tents and tarps. Without a lantern you can not see anything with a pleasant camp. If the barbecue also has no lightness it will be like a dark-pot.

So, first of all, I asked the type of lantern and their respective characteristics.

"Lantern is largely divided into two," Fuel type lantern "and" Battery type lantern "that use gas and gasoline etc. Fuel type lantern is the best light as campsite main light, but it is suitable for handling Beware of battery type lanterns, although the lights are weak, they are safer because they do not use fire. "

So, I summarized the advantages and disadvantages below.

◆ Fuel type lantern
○Light is strong
×Handling needs attention
(Because it is burning it is dangerous for small children, there is a danger of becoming carbon monoxide poisoning in the tent, etc)
×I need to memorize how to use "mantle"
* The mantle is necessary for igniting lanterns, like a filament in bulb.
◆ Battery type lantern (LED lantern)
○Safe for not using fuel
×Light is weak

Indeed, which one should you end up after all? However, because they have different roles, it is necessary to have them separately for dining tables, tents and so on. Then how many are necessary when you buy for the first time ,,,,.

"Ideally it is necessary to prepare three fuel models one after the street light, one small LED or fuel type as a desk as table, one battery type for inside the tent, three ideal. I think that it is enough if there are two, but there seems to be many people who want another one when actually using it. "

Certainly, when going to camping there are many scenes of drinking party under BBQ and Tarp, so if there are 3 desktops together it may be quite useful. Just after all there was a small child, there was anxiety about the fuel formula. .

"There is such a product that is safe and has brightness for those who are resistant to using gas, gasoline etc. absolutely."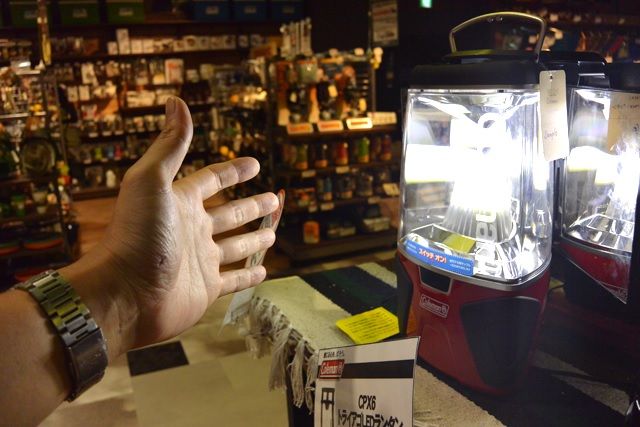 Coleman (Coleman)
"Millennia LED Campsite Lantern"
It does not convey so much in the picture, but, it is awesome brightness! The light is reflected by the mirror, is not it? If it is this, it may be a change in fuel formula certainly.

Also introduced such products.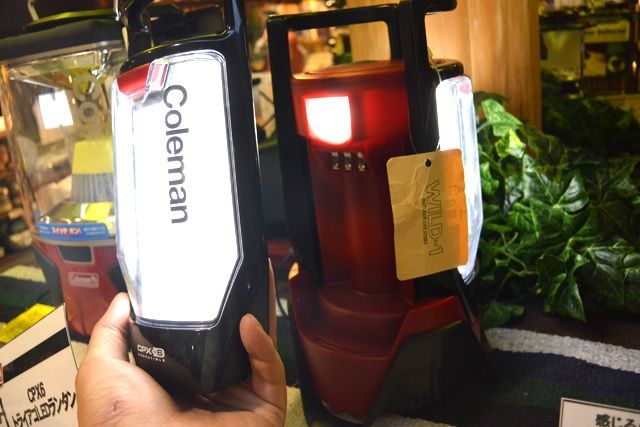 Coleman (Coleman)
"CPX 6 triago LED lantern"
Since the light portion of this LED lantern is removable, when you go to the toilet etc you do not need a flashlight and it is very convenient.

By the way, there are such things everywhere in the store of WILD - 1.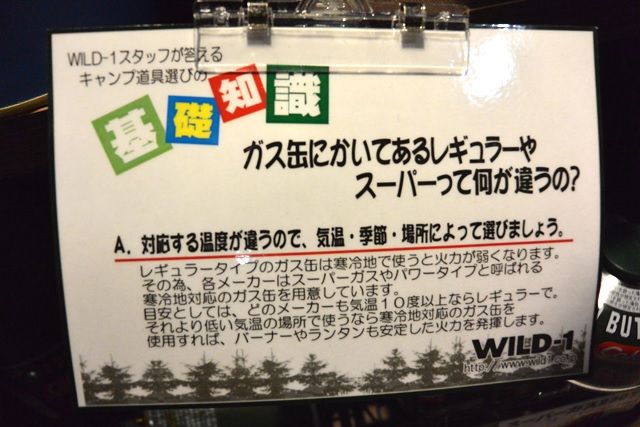 There is an explanation about the part which is concerned about the tool entitled "basic knowledge of WILD-1 staff's answering camping tool selection". There were also a lot of contents that I thought was quite good, and I thought that these fine attentions are happy ~.

Also, the story goes back, when I see various lantern corners, I also found a kerosene lantern!
There are various kinds of fuel formula as well.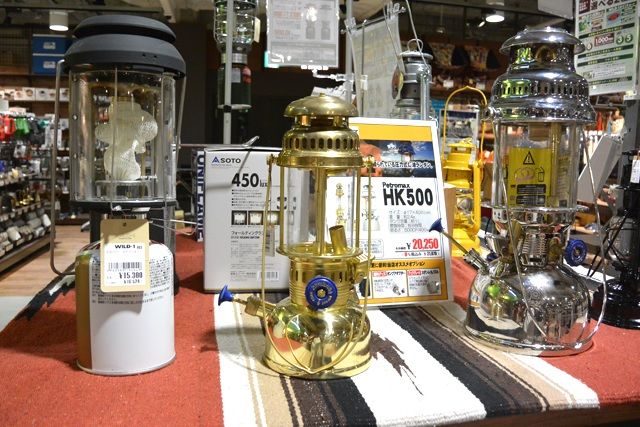 It looks like a luxurious appearance and it feels cool.
It just feels like a professional, but how about the kerosene formula for beginners?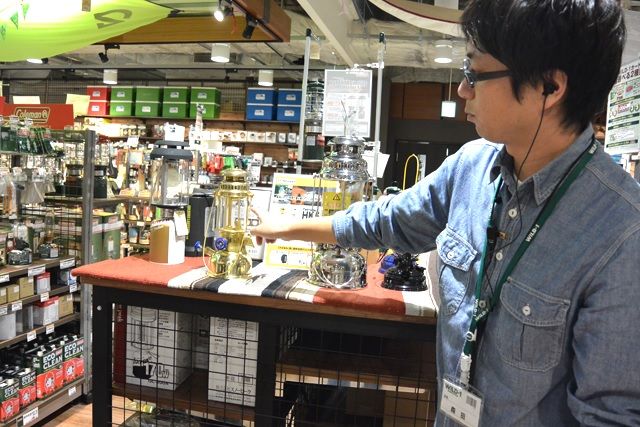 "Since it is also a fuel type, it can achieve considerable brightness, but since kerosene is difficult to vaporize, it takes more time to ignite, it is harder to handle and it is not recommended for beginners too much."

It is wisely that novice hands out.
Just try using various things, perhaps even such a process will be fun if you get used to it.

When I tried to shift to the next corner, I wonder if there are many different kinds, when I turn to the side shelf, I found a fashionable lantern! What is this? !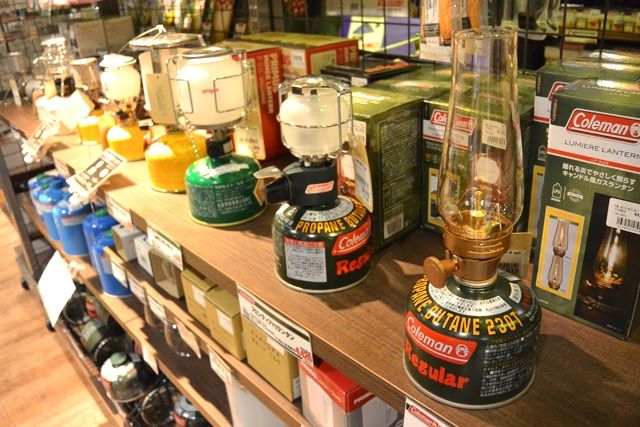 Coleman (Coleman)
"Lumiere lantern"
Actually, it seems that flames shake like a candle appear when lighting a fire. How stylish. .

"Although Lumiere lantern is fashionable, it seems that this gas can part is feeling stylish, so these covers are on sale."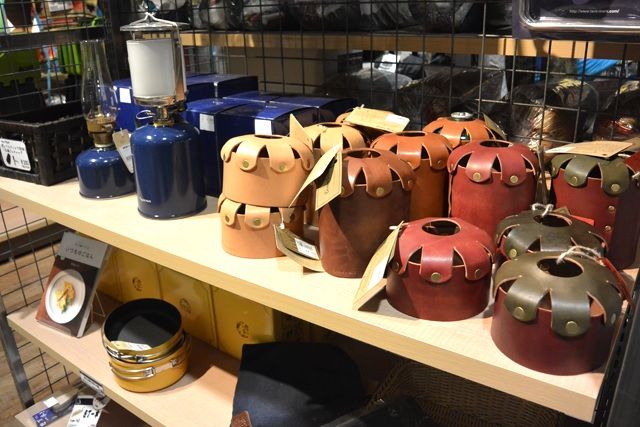 Oh, it is good. The casual stylish feeling will increase at once. I realized that the lantern products have evolved day by day.

So this time for the first time to buy lanterns, Mr. Morita introduced various ways of choosing and how to choose. Next time will introduce the recommended way to buy barbecue stove and cooler box etc for the first time!

Previous article here
○
"WILD-1 Collaboration Vol.4 How to Choose a Shruff / Sleeping Bag to Use Now"
○
"WILD-1 Collaboration Vol.3 Now Useful Winter How to Choose Outdoor Wear"
○
"WILD-1 Collaboration Vol.2 How to Choose a Useful Trekking Zach"
○
"How to choose WILD-1 Collaboration Trekking Shoes"
WILD-1 Dex Tokyo Beach shop
Hotel Address: 1-6-1 Daix Tokyo Beach and Island Mall 5th Floor, Minato-ku, Tokyo
TEL: 03-3599-5311
business hours: 11 am to 7 pm
WEB SITE: http://www.wild1.co.jp/index.jsp