Enjoy nature on the water-Canyoning half-day tour Hanagae course natural waterslide!
プランID:00292 提供:Max Water base
7,500yen~​ ​(tax included)
大人1人あたりの料金
プランID :

00292
Gunma / Water-Tsukiyono-Sarugakyo-Hoshi
canyon rafting
BBQ
Transfer Yes
1 person participation Allowed
Rain departs Allowed
子供参加可
アクティブ爽快
ファミリーで楽しむ派
Starting time

09:00

12:45

Participating age

9 才~

Time required

3-4 hours

ScheduleLate May - mid-October
Assemble point Look in GoogleMap
Description​ ​
Canyoning is synonymous with summer in the river! It is also referred to as alias shower climbing.
Riverbed around Minakami polished to a thaw is very smooth and slippery. Such as rocks, which protrudes toward the river, and spread the best of the environment in canyoning! Also held Famy Lee course during the summer months. Group of Families with children can also enjoy without concern for those of other participants. Let's enjoy wading in the natural field athletic! Whole body!
Hanagae course is recommended for beginners!
At the foot of Tanigawa, the riverbed is continuously Namerataki (Namedaki) is slippery, such as a natural waterslide and diving point, play location Lots of course. For the first time, even friendly point of relief Lots! Easy start walking from the back of the Max Doai base!
A lot of natural waterslide!
Among a lot of sliders, super long slider "aka zoom slider" is located in the course the top, the challenge OK ♪ this fun in various slip sideways or connect with fellow suddenly in front of that experience and do not know and do not try ☆ eyes appear "Hanaka Falls" is great power! ! While walking the valley, it spreads out before full nature impressed ... Please Experience the exhilaration plenty of playing in the water ☆
Guidance ♪ veteran river guide
Since it accompanied by an experienced guide, also the first one all right! It is safe in the safety preeminent equipment and courteous support. That day condition in a variety of arrangements ♪ fun perfect score of the tour of the play, of course, will boost the safety first on the tour!
---
Attractions of the plan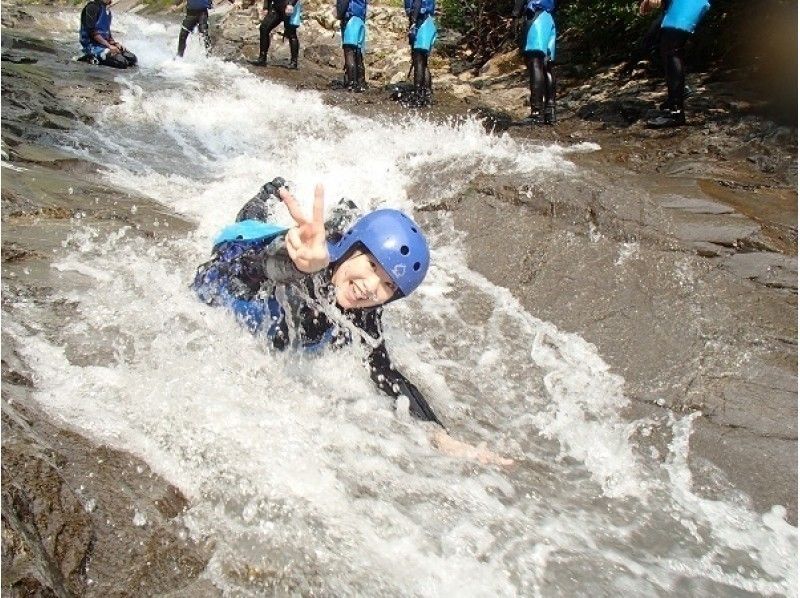 splash! Numerous natural waterslide is heart and soul also Rifuresshu!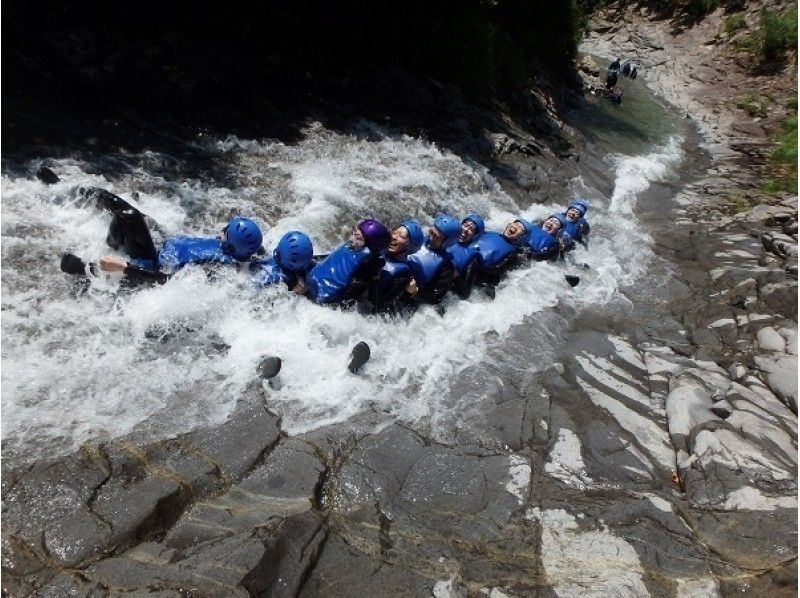 Consolidated slider! Recommended to zoom slider is sliding connected piled with everyone!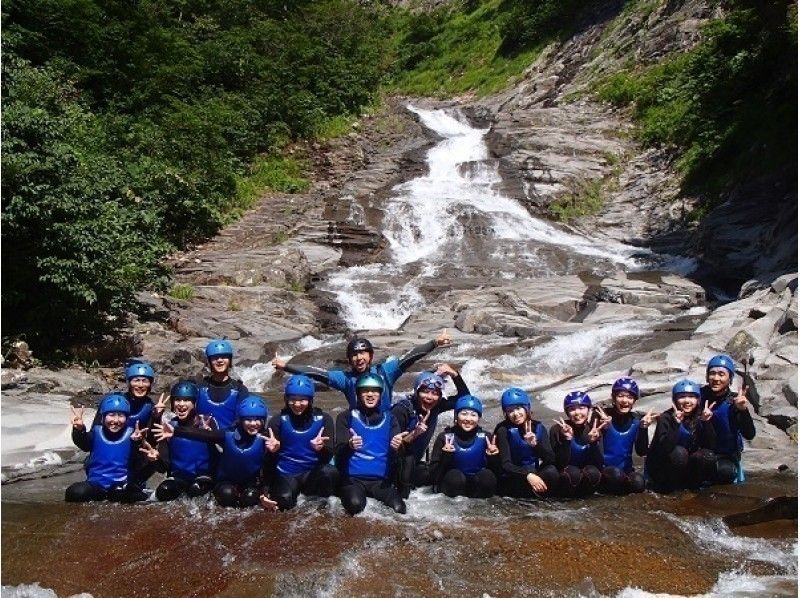 Waterfall of Hanagae Suddenly appear in front of "Hanaka Falls" is great power! !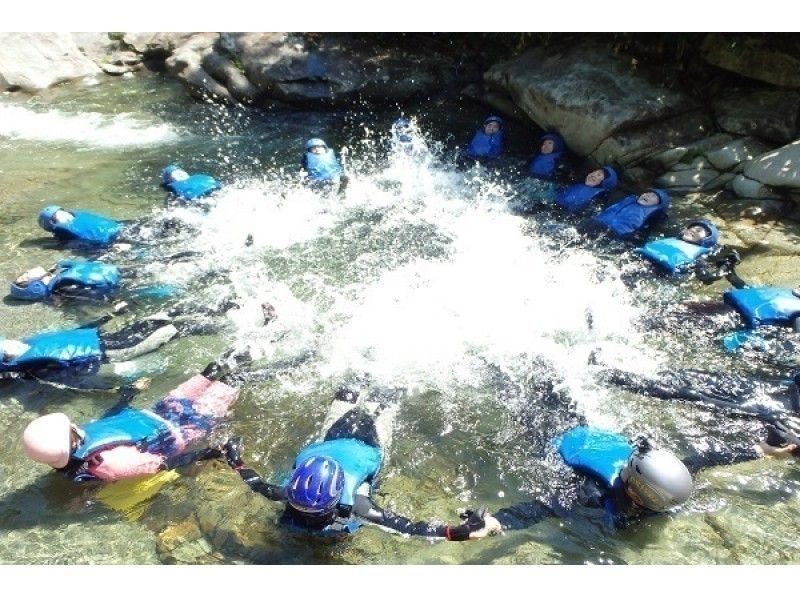 Sound of smth. Floating ♪ Also ♪ relax - way to enjoy Nante "zero gravity experience! Connected with everyone"!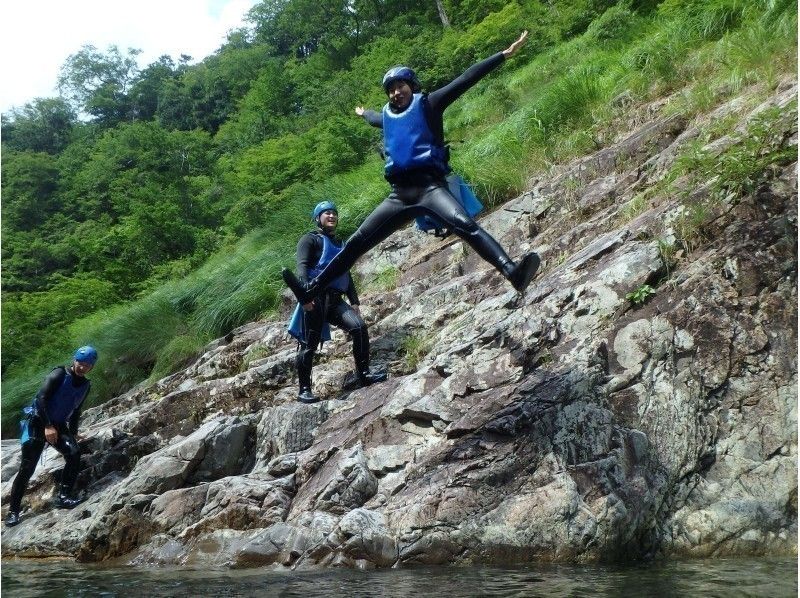 Ja-pump! Jump point of courage to try! Omoikkiri fun in various poses!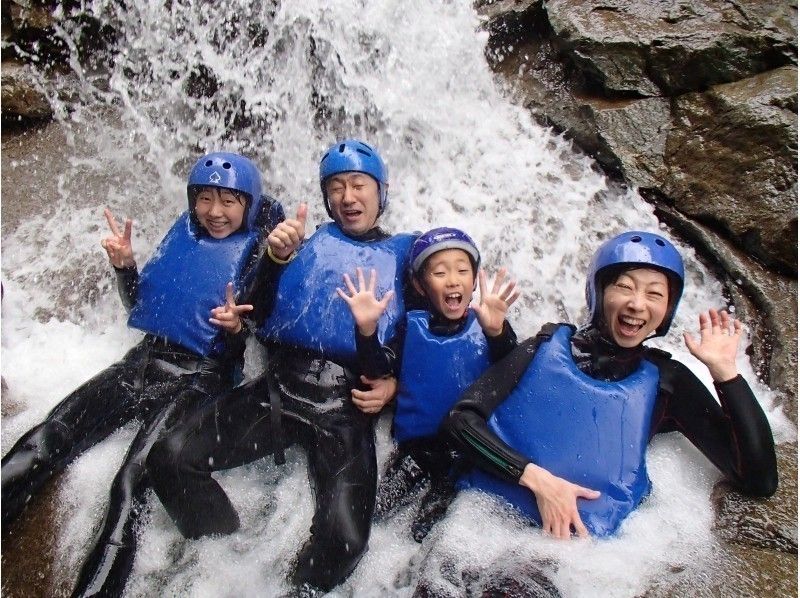 Natural Jacuzzi! Natural jacuzzi Kugureru the back side of the waterfall! Throb is excited!
---
Information
Minimum number of people
1 人
Number of people who can book
1人〜
Schedule
Late May - mid-October
Assemble time
<午前> 9:00スタート(集合:8:45)
<Afternoon> 12:45 start (set: 12: 30)

※ Duration: 3.5 hours
Assemble point
Yubinbango379-1727
Gunma Prefecture Tone-gun Minakami Yubiso hot water 吹山
MAX [Doai base]
(Kanetsu 20 minutes from the motorway water IC)
Reservation deadline
Before 2 days
---
Regarding advance preparation
About clothings and must-bring items
◆ swimsuit: Because to wear in a wet suit, it is a good thing that was perfect for the body.
※ man of person boxer type of underwear and for swimming is recommended
If there is no swimsuit ※ It is OK in underwear, but please bring a sure changed things so wet.
◆ towels: wet the whole body! It uses the change of clothes at the time after the tour.
<If available convenient> goggle glasses band sunscreen
About rental items
◆ all wet suit, only shoes and equipment, etc. COMICOMI! Stocks various sizes.
---
Facility information
Changing room
toilet
shower
Hot spring
Locker
Hairdryer
Parking Lot
コンビニ
スーパー
---
Access and map
所在地
〒379-1727 群馬県利根郡みなかみ町湯桧曽湯吹山
How to reach by car
Max Doai base
About 20 minutes from Kan'etsudo water IC
※ If you do not appear in the navigation will be along the road and get search in Tanigawa Ropeway foothills station (0278-72-3575).
Please check the destination on the map just in case
How to reach by train
There is free transfer from JR Joetsu Line Minakami Station, Joetsu Shinkansen Jomokogen Station and neighboring accommodation.
※ any reservation is needed
※ The pick-up is possible only course morning to Jomokogen Station. (Please come by bus or taxi to the water station.)
その他の方法でお越しの方
◆ Pick up time table (Please check the time details from the link below)
Http://www.max-raft.com/pickup_timetable_2016summer.pdf
---
time schedule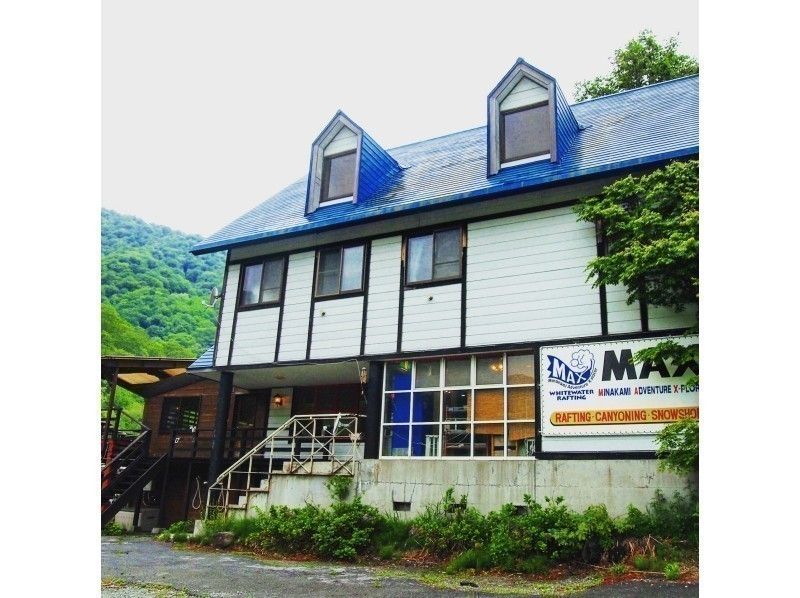 08:45
集合・受付
みなかみのマックス土合ベースに集合します! 受付を済ませ、参加確認書を記入していただきます。 ※集合時間はツアー開始時間の15分前 8:45/12:30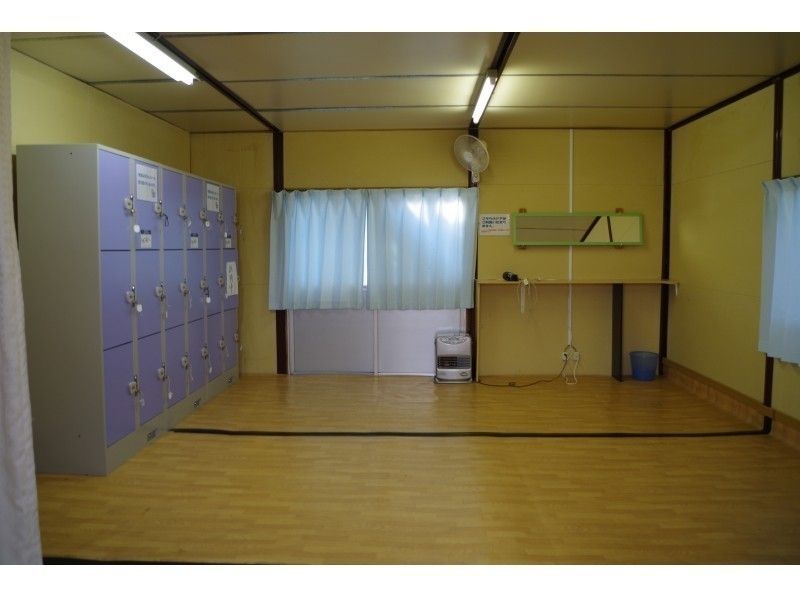 09:00
着替え
着替える際の注意事項など説明を聞いていただきます。 ウエットスーツなど装備を受け取ったら、更衣室にて着替え♪ その日のコンディションに合わせたベストな装備をお渡しします。 お手洗いも済ませてくださいね。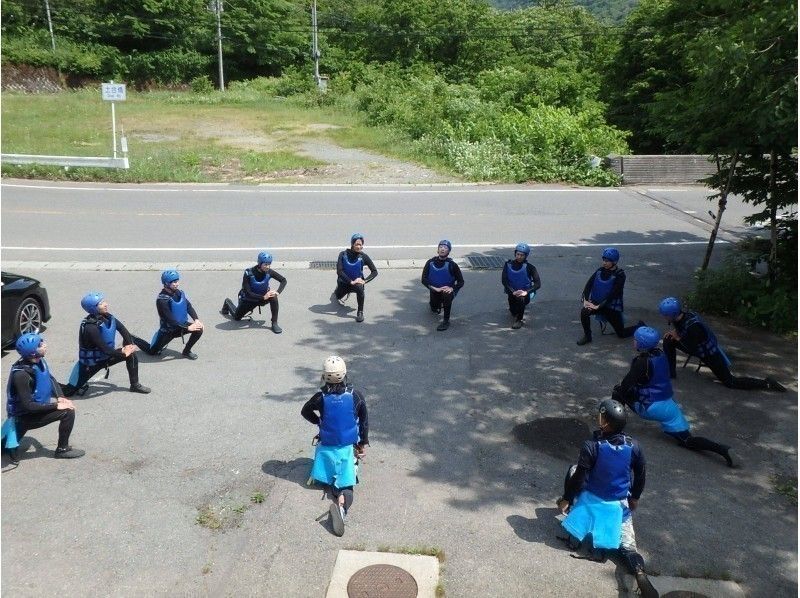 09:15
安全説明・準備体操
ツアーを安全に楽しむための注意点などの説明を聞いていただきます。 装備のチェックと、準備体操は念入りに!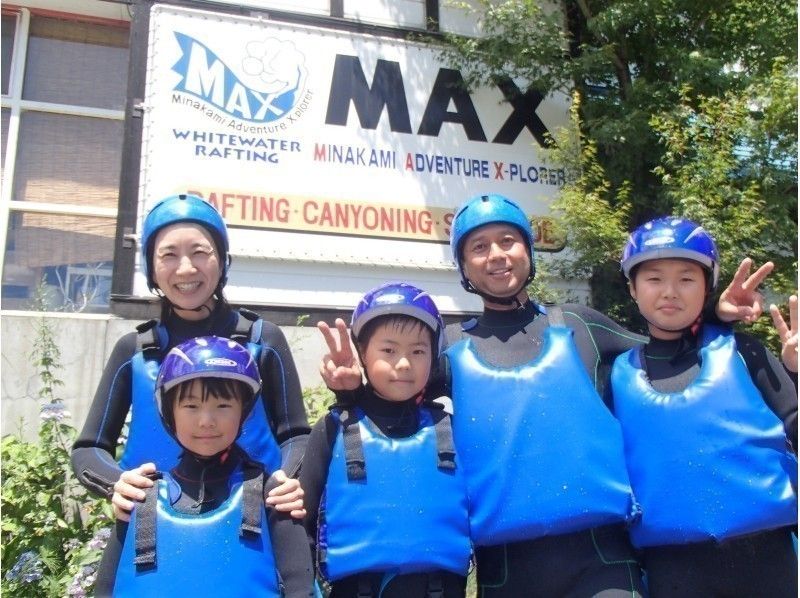 09:30
出発
自然のおもてなしをたっぷり味わいにしゅっぱーつ! 目の前がスタート地点(東黒沢入口)なので移動がなく、すぐにツアーをスタートできます♪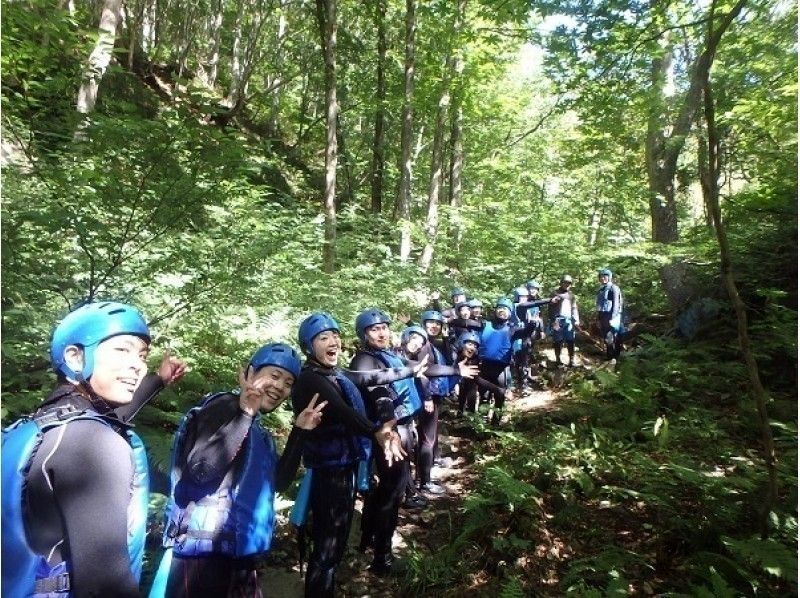 But please be careful because the aim of Sawa is also steadily ♪ feet slippery points!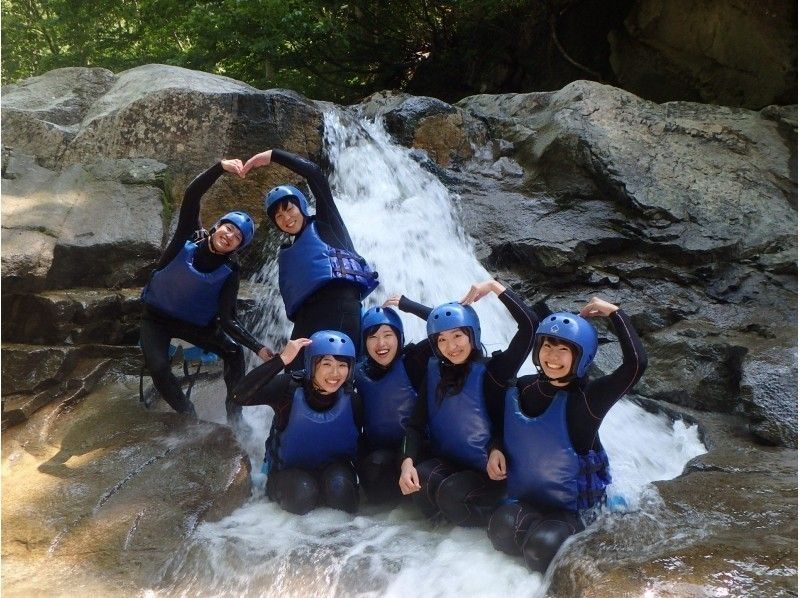 The flushed the body cool down! A stretch tension MAX bathed in the cold river water!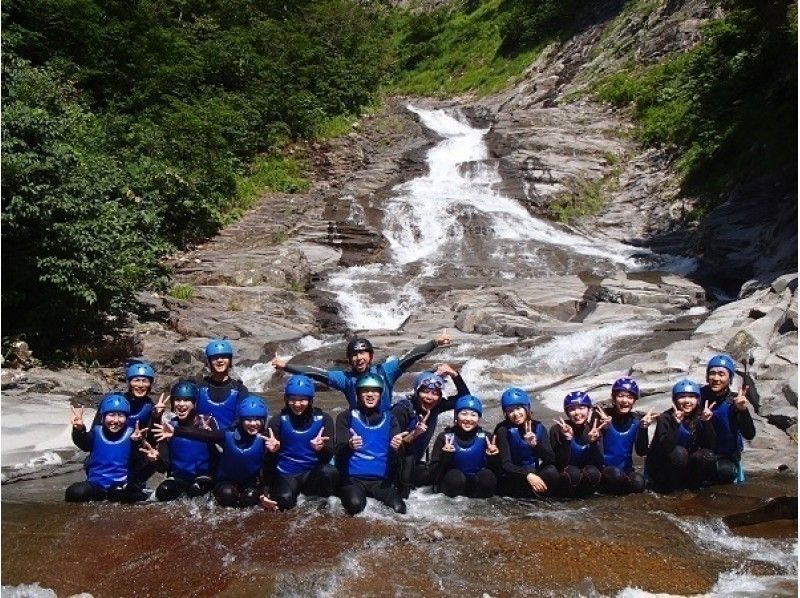 Deep forest surrounded by "Hanagae of the waterfall" is of great power drop 30m! Negative ion was over pre-! From here is the production ♪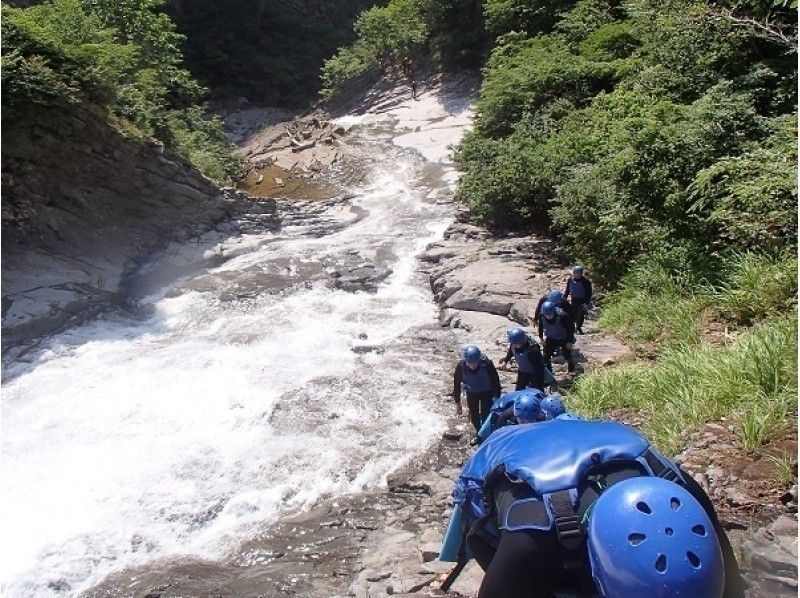 It will climb steadily while bathed in a waterfall splash! Occasionally, even a break while enjoying scenery around ♪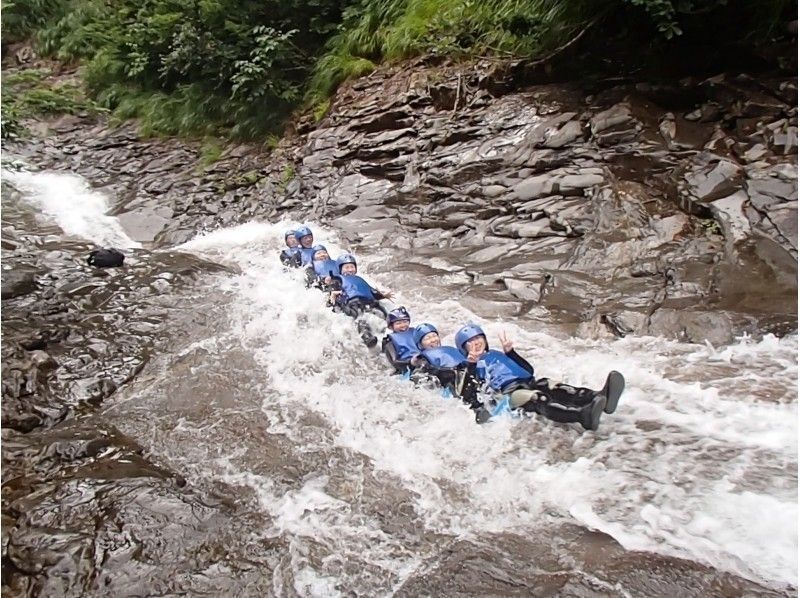 Protagonist of Hanagae course this! About 40m of long slider in Namerataki of slippery! Should Well enough once!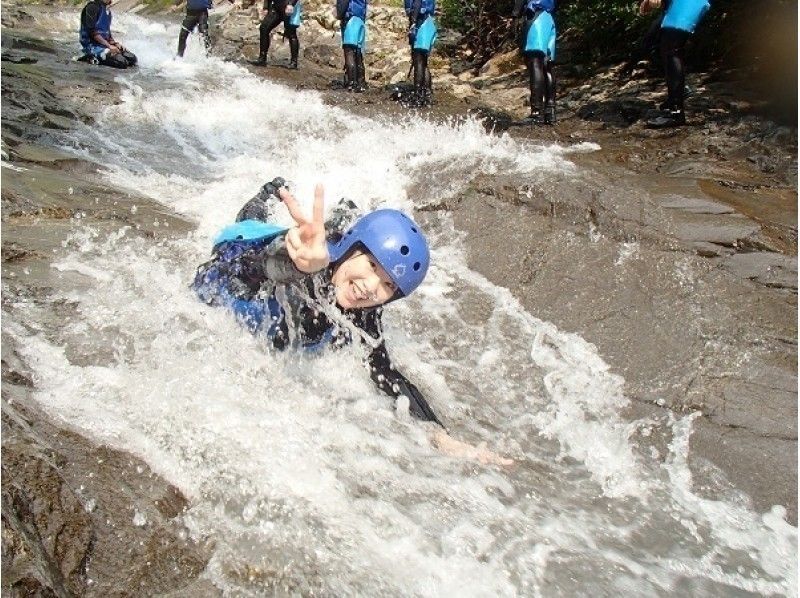 Also to slide down from the head OK! You can exciting experience!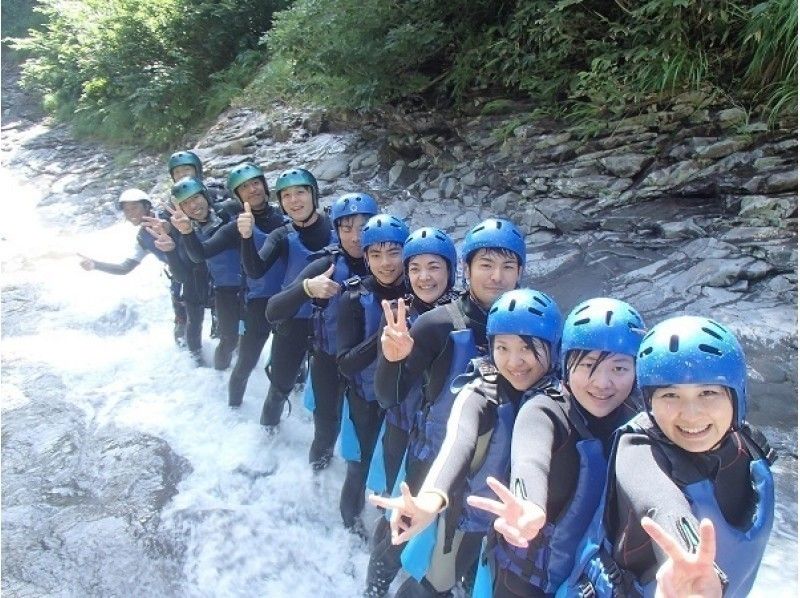 Please enjoy the ♪ natural field athletic or slid down connected with fellow noisily!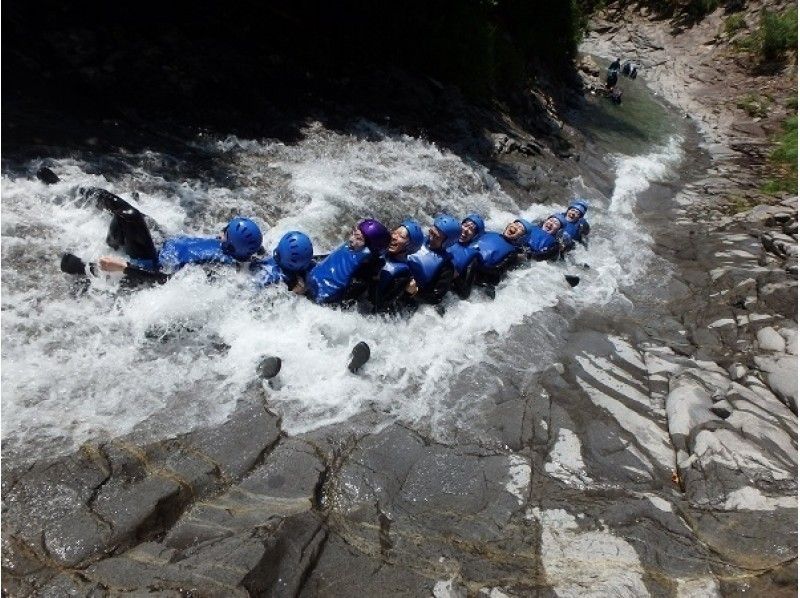 Tri ♪ this thrill even backwards! Fun is stop such over over physician!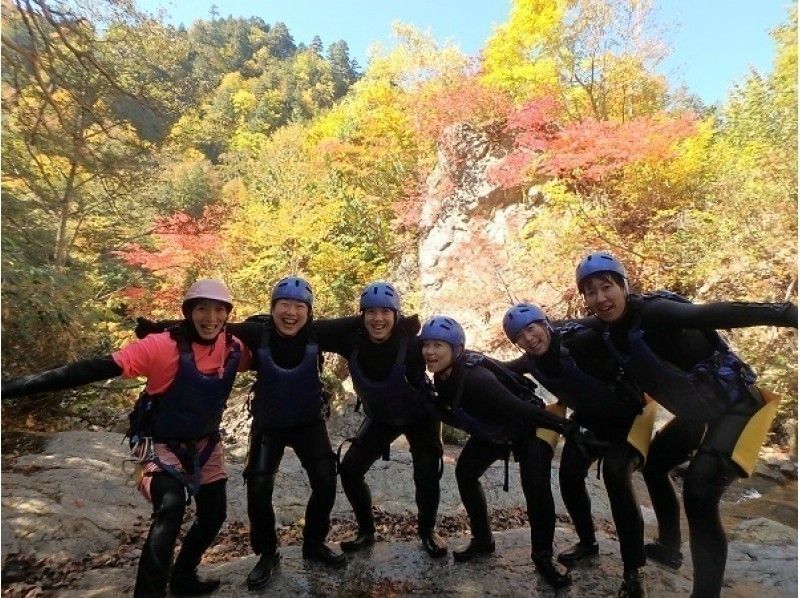 手つかずの大自然の中、振り返れば雄大な谷川岳の絶景も見れたり! 秋には、キレイな紅葉も!贅沢な景色が広がります。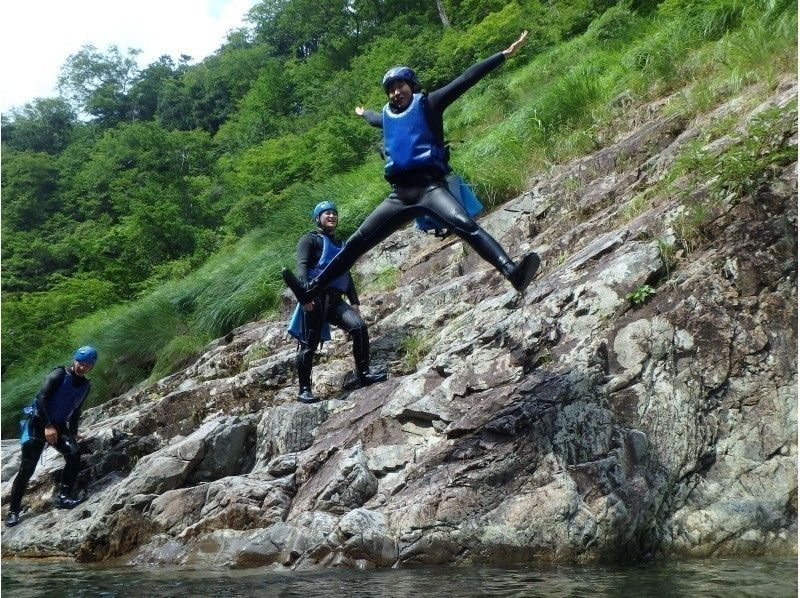 Omoikkiri Janpu courage! I'm sure ♪ should be the habit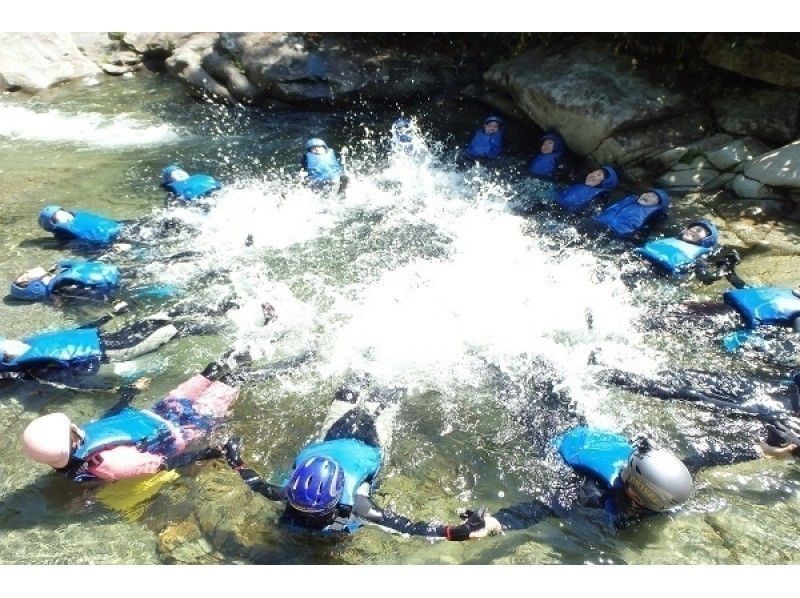 空を見上げての〜んびり!プカプカ水に揺られながらリラックス。 「みんなでつながって無重力体験!」なんて楽しみ方も素敵ですね! 自然の音に癒されてください♪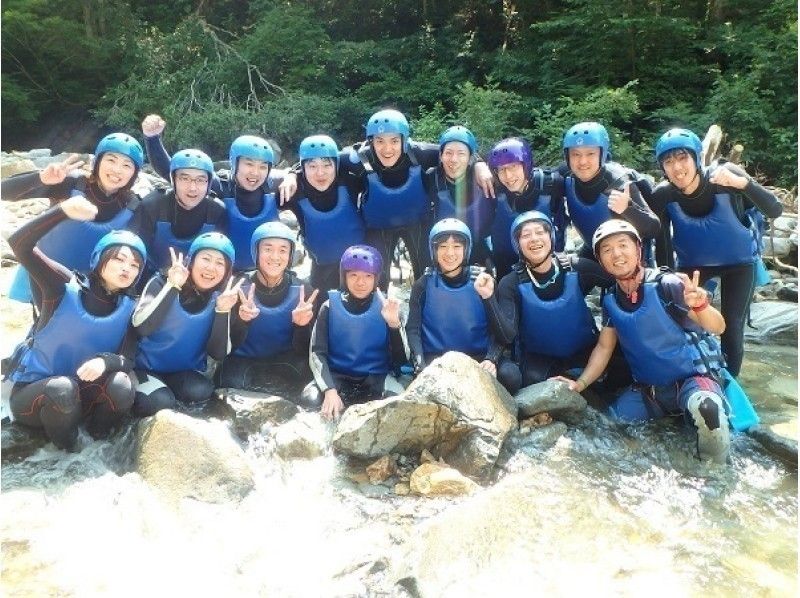 11:30
ゴーール!
たっぷり遊びつくしましたね! ゴールしたら全員で記念にチーズ☆ 帰り道も大盛り上がり!帰るまでが遠足ですよ〜!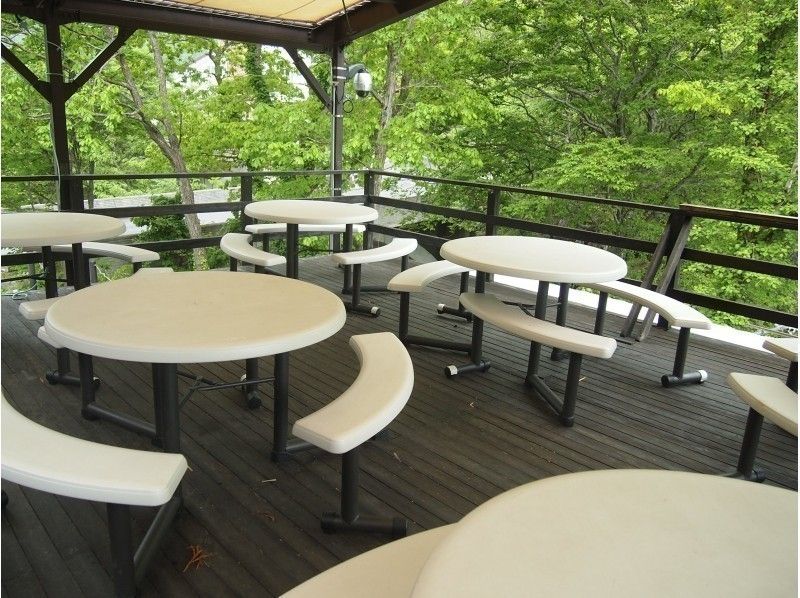 12:15
解散
ベースに到着。着替えを済ませたら、みんなでツアーの写真を見ながらのんびりターイム♪ おススメのお食事処や観光スポットなど、お気軽にお尋ねください。 温泉の割引券などもあります!
---
Price list
Basic charge
| | |
| --- | --- |
| Adult / person 7,500yen | ※ It is usually 6500 yen for weekday charge. |
| Elementary school students (more than three-year) / person 5,000yen | 7/22~8/27は小学生のお申込みはできません。 同期間はファミリーキャニオニングにお申込みください。 |
| Organizations: Adults / person 7,000yen | 団体割引:7名様以上で割引適用。 ※通常は平日団体割引料金6000円です。 |
| Groups: elementary school (more than three-year) / person 4,500yen | 団体割引:7名様以上で割引適用。 |
※Prices including all taxes.
※上記は基本料金になります。
※日程によって料金が異なる場合がございますので、日程を選択した後に表示される料金表をご覧ください。
---
---
お支払い・キャンセルに関して
About payment
予約が確定した後、お支払い合計金額を一週間程度以内に、下記の口座にお振込み下さいませ。 群馬銀行 水上支店 普通口座 0298367 口座名 有限会社 マックス ※お振込みの際はお名前の前に参加日もお入れ下さい。 例) 4月25日参加の場合 0425 トネガワ タロウ 直前のお申込みの場合は当日受付時に現金にてお支払ください。
Payment method
Pre-card payment, the ways assigned by operators
About cancellation fee
The convenience of the customer cancellation number of people change, you will be charged a cancellation fee of provisions. Please note.
Yes the day: 100% Yes the day before: 50% Yes 6 days from 2 days before: 30% Yes 10 days from 7 days before: 10%
※ If you have any change of schedule, if you thank you like you please contact us at one time because there is likely to be subject to the cancellation fee by.
※ business hours (8: 00-20: 00) If you have only the will be the next business day treatment.
Cancellation by operators.
It can be held if less than one millimeter of light rain about an hour. If more rain and continuous rainfall exceeds 10 mm, it may be and the way withdrawal should be discontinued at the local tour in preparation for flooding if and heavy rain warning has been issued if the development of the thundercloud is expected . Please note.
---
Other
Matters require attention
◆ under the age of 18 is a partial guardian.
◆ participation of you are pregnant, I will refrain.
◆ tour before drinking is strictly prohibited. Clearly tour participation of the person who is determined to be one and the hangover that drunk might get refused at the discretion of the tour leader. Also in this case, we will consider it as the day of cancellation.
※ I do not do charge for refund in the case the day of cancellation.
Other notices
Elementary school third grade or more (foot size 20cm or more, or more height 120cm) healthy person.

■ than link below before booking, please be sure to check the tour participation confirmation matters.
Http://www.max-raft.com/confirm.html
みんなの体験談
とても楽しかったです。ガイドの方も親切で自然を満喫できました。また違ったアクティビティにも参加したいと思います。
参加日: 2016 年 08 月
canyon rafting
初体験でしたので緊張しましたが、水が気持ちよくあっという間の楽しい時間を過ごせました!滑り落ちるときはかなりスリルがあって面白かったです!また仲良しのメンバーで参加したいです!
参加日: 2014 年 06 月
canyon rafting
カップル
ファミリー
友人と
ストレス解消
初挑戦
ステップアップ
Included in price
Experience fee, equipment rental fees, facility charges, consumption tax
| | |
| --- | --- |
| | Starting time 09:00 12:45 |
| | Participating age9 才~ |
| | Time required 3-4 hours |
| | ScheduleLate May - mid-October |
| | Assemble point Look in GoogleMap |