【Okinawa · Miyakojima】 ☆ encounter rate 100% ☆ Photo tour swimming with sea turtle
【Okinawa · Miyakojima】 ☆ encounter rate 100% ☆ Photo tour swimming with sea turtle
Plan ID:

15824

Provided by:​ ​​ ​Miyakojima snorkel specialty store umi
Okinawa / Miyakojima
Snorkeling
Hand-held OK
Transfer Yes
With drink
1 person participation Allowed
Private tour
Charter Allowed
Operation available - rain or shine
Children can join
Active refreshing
Nature fullness relaxing school
Families enjoying family













Starting time

08:00

10:00

12:30

14:30

Participating age

Age 3~

Time required

1-2 hours

2-3 hours

ScheduleRegularly
Assemble point Watch on GoogleMap
Today I had a nice experience
Owner's staff is really feeling at home who went to relatives' house to play


I enjoy snorkeling up close to a sea turtle.

I was touched only by watching television.

By all means

Description of plan
The encounter rate with the wild sea turtle is continuing 100%! It is!
Free gift of underwater picture data.

Long-sleeved rush guard, Torenka, bath towel are also available for free.
The sea turtle encounter rate continues to be 100% in 2017 ♪
We will present photographs on beautiful beaches of Miyakojima and snorkeling pictures with Sea Turtle in data.
Please feel free to swim with sea turtle at surprisingly close range, please come and visit us.
Information
Minimum number of people
1 person
Number of people who can book
1 to 12 people
Schedule
Regularly
Start time
Please get together ten minutes before each start time.
Assemble point
Miyakojima snorkel specialty store umi
Yubinbango906-0305
Okinawa Prefecture Miyakojima Shimoji Yonaha 1137-1
Reservation deadline
Before 2 days
Advance preparation
| | |
| --- | --- |
| Clothings and must-bring items | I'd like to wear swimsuits. |
| About rental items | Since the number of wet suit is limited, please apply in advance. |
Facility information
Changing room
Restroom
shower
Hot spring
Locker
Hairdryer
Parking Lot
convenience store/
supermarket
Access and map
Location
Okinawa Prefecture Miyakojima Shimoji Yonaha 1137-1
How to reach by car
About 10 minutes from "Miyakojima Airport"
※ Immediately from Miyakojima Tokyu Resort Hotel
There is free parking space ※
About price
Basic charge
| | |
| --- | --- |
| Adult /person 7,000yen | More than junior high school students - |
| Child / person 6,000yen | 3 years old ~ elementary school student ※ Those under 13 years old should be accompanied by parents. |
Option fee
Wet suit rental / wearing 1,000yen
June to October is unnecessary.

Long-sleeved rush guard, Torenka, life jacket free lending is also available.
Chart plan / group 5,000yen
We will show you private private rooms.
You can play at their own pace without concern.
Because it is only one group, the number of pictures will also increase!
Transfer desired / person 1,000yen
We are careful not to make your rental car clean.

Please note that transfer is only in the following districts.
Base / Ueno · Airport · Nishigori · Shimokori · Hisaishi · Matsubara · Higashi Kanon Son
Many hotels in Miyakojima are in this area.
Please tell me the hotel name or address.
※Prices including all taxes.
※ This is the basic charge.
* Prices may vary depending on the schedule, so please see the price list displayed after selecting the schedule.
Included in price
Experience fee, underwater photography fee, photo data, equipment set, consumption tax
Not included in the price
Wetsuit rental fee
If you wish to transfer, 1000 yen / person
Miyakojima Snorkel Specialty Store Hama Sea umi handling plan list
About payment / cancellation
About payment
Please pay in cash on the tour day.
Payment method
The payment method specified by the operator.
About cancellation fee
Cancellation charge 0%

We do not have a cancellation fee in particular, but if you cancel, please contact us as soon as possible.
Cancellation by operators.
Weather may be canceled due to weather and ocean conditions.
In that case, please understand beforehand because we can not respond to compensation such as transportation cost to the tour host place.
Others
Matters require attention
About health condition
Participation in this plan may not be accepted if you have the following symptoms or medical condition.
If you have any unclear points or worrying symptoms, please fill in the remarks column when applying.
We will respond from the organizer.
- Respiratory and lung disease (such as asthma, emphysema, pulmonary tuberculosis)
· Epilepsy
- Insulin-dependent diabetes mellitus
, Heart disease, etc.
Other notices
Those pregnant can not participate.
---
Everyone's experiences
Today I had a nice experience
Owner's staff is really feeling at home who went to relatives' house to play


I enjoy snorkeling up close to a sea turtle.

I was touched only by watching television.

By all means

Joined date: February 2018
Snorkeling
Guest userThe best memories!
I have chosen this tour because I want to swim in the sea even in January. The weather has been cloudy since the previous day but decided. I was able to swim from the coast without taking a boat so we were able to enjoy it without any seasickness I was worrying about! I found a sea turtle as soon as I swam. It was as close as I could swim so close! ! Having weight on the first challenge for submarine! ! It was too much fun! ! Four people experienced, but the 4 people cited this experience with my best memories! I thought it took some time to get photos, I got it within half a day and I was happy to see the pictures during the trip! This is the first time for a satisfying tour! ! ! Really recommended! !
Joined date: January 2018
Snorkeling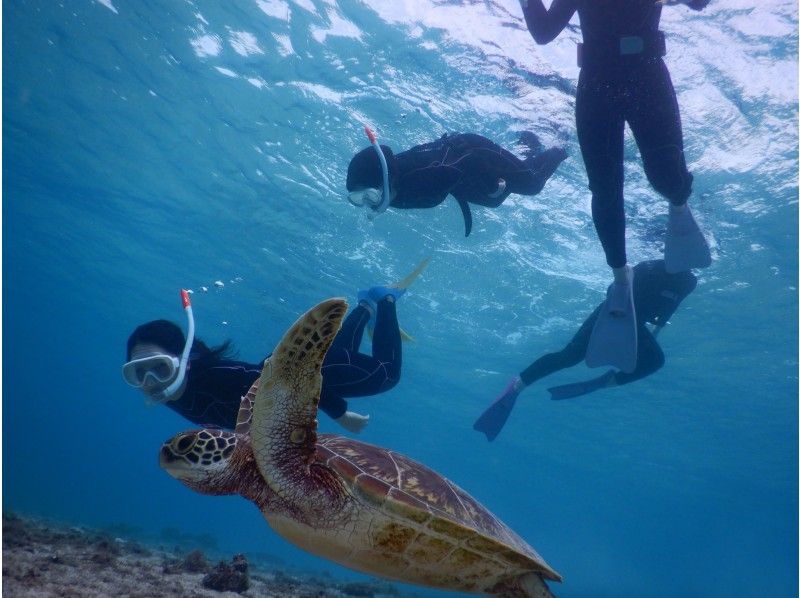 Guest userIt was a lot of fun.
There was no experience of snorkel equal, initially I was really worried. However, I gently and carefully instructed me, gradually became accustomed, time passed too quickly. I wanted to try it in various places in the future! If there is another opportunity, thank you for your consideration!
Join date: December 2017
Snorkeling
Guest user
Very close to the sea turtle was seen and moved!
Participation date: October 2017
Snorkeling
I met a lot of sea turtles than I thought!
Although it seemed that it was rarely possible to meet with Aye, we could not confirm it, but I am looking forward to seeing the photos as they are contained in the photograph.
Although I was able to show you more points, I was sorry for the staff because the waves were strong and I got drunk and I returned to the land, but I was satisfied to see the sea turtle nearby!
Those with weakness in the semicircular canals are essential for preventing sickness.
It is attention to eat too much aftertaste.
Participation date: October 2017
Snorkeling
Couple
family
with friends
alone
Guest userI am very satisfied.
I thought that there were not so much opportunities to swim with sea turtles and participate.
The staff was kind, so it was nice and safe as well.
The content of the tour is still satisfactory because I can swim with the sea turtle like this.
A wave warning came out, the waves were uneven and the last had been getting intoxicated, so we recommend that you take medicine for those who are drunk!
Participation date: October 2017
Snorkeling
Couple
family
with friends
7,000円~(税込)
Fee per adult
Included in price
Experience fee, underwater photography fee, photo data, equipment set, consumption tax
When you book this plan 64 pt I will save it!
| | |
| --- | --- |
| | Starting time 08:00 10:00 12:30 14:30 |
| | Participating ageAge 3~ |
| | Time required 1-2 hours 2-3 hours |
| | ScheduleRegularly |
| | Assemble point Watch on GoogleMap |